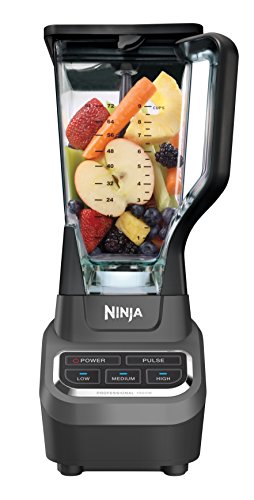 The Ninja Professional 1000 BL610 Blender is very popular gadget among the affordable blenders under $100. It is glorified in a number of infomercials by some famous people. Does it do performs as well as the advertising claims or it just infomercial hyping? Read the review to find out the answer.
Alternatively, check our article Ninja Professional Blender 1000 (BL610) vs Oster Pro 1200 Blender and Best Countertop Blender Under $100.
Functionality and Versatility
Smoothie: The Ninja Professional 1000 BL610 Blender is only able to pulverize properly soft fruits and vegetables. Tough ingredients are blended into grainy consistency drinks with some bigger chunks present no matter how many minutes you blend and what setting you use. The carrots or green leafy ingredients are never get fully liquefy into proper smooth consistency. So this machine will not produce any decent green smoothie even if you will process it for few minutes. This gadget also not able to handle the strawberry, blueberry, and other berries seeds but leave seeded residues in the drinks.
Juice: Although it is advertised as a juicer, it does not make any classic type juice that separates liquid from a fiber. It also unable to make very smooth smoothie aka "whole juice". So this machine is no means suited for squeezing juice or even making "whole juice" drinks.
Frozen ingredients/desserts: The Ninja Professional 1000 BL610 designed to crush ice well in the drinks. This Ninja gadget is perfectly suited to make frozen desserts and powerful enough to produce snow cones out of pure ice cubes even without any liquid added.
Pureeing: No matter what setting you run, this blender is just unable to produce perfect consistency puree. The best result it can achieve is grainy chopping even if you add extra liquid.
Soup/ hot ingredients: This machine is not able to heat liquid from friction and even it is not designed to handle hot liquids. So, this machine is not suitable for making bulletproof coffee and to process ingredients for a soup they must be cooled properly otherwise the hot liquid could cause container cracking or melting.
Chopping/food prep: This machine is very good at doing the chopping and mixing job. It processes food up into a course chop even at the highest speed. So this machine is just perfect for making all kind of shopping for coleslaw, it will be good at making marinades, salad dressings, and mixes.
Nut milk: This machine is not very good for making nut milk because it will not be able to liquefy well nuts in liquids.
Nut butter: Ninja Professional Bl610 machine is hardly suitable for making nut butter as it is not designed to puree food properly, the maximum it will achieve fine chopping nut consistency.
Dough/batter: It is not able to knead a dough but is able to make pancake, cookies and other types of batter.
Grinding/milling: This Ninja machine cannot grind the seeds, herbs or grains to the good quality powder consistency. It also not suitable for grinding coffee beans. But it will do the coarse grinding of oats or other similar soft ingredients.
Overall, the Ninja Professional 1000 BL610 is not designed to produce decent quality smoothies and certainly will not be able to make any kind of green smoothies. The only task this machine perfectly performs is ice crushing and it also able to do good chopping job. So, it is not the blender for smoothies and simply is not able to create a vortex to blend effectively anything apart of ice.
Speed Settings and Programs
Ninja Professional 1000 BL610 control panel is equipped with power (ON/Off) button, three speeds – Low, Medium and High – and Pulse function. Low speed is designed for chopping soft ingredients for preparing salsas, marinades and puree soft veggies. Medium will chop hard food such as cheese, nuts, and others, it also will handle ice crushing for snow cones and chilled drinks. The high-speed actually supposed to process smoothies and shakes. Pulse function is quite a useful feature and used not only for chopping task but also helps to remove air pockets during blending without a need to open the jar to mix it with a spatula.
Three speeds and pulse function are quite limited speed choice for professional type blender and will not allow much control over the blending process, so it is the obvious weak side of this machine.
Ease of Using and Cleaning
Operating: Ninja Professional BL610 design of blade assembly, the lid, and pitcher locking system makes it quite complicated to assemble and disassemble for using. In order to assemble this machine user have to place the jar on the base unit special way and lock it, if the locking was done wrong the blender will not run, then the very sharp 6 prong blade tower have to be placed inside of pitcher and plastic lid must be lock again following the special way to start running. The same complicated procedure must be followed for disassembling this blender.
This unusual construction makes this machine not only complicated to assemble but also using. For example, the bulky blade tower which must be fitted into container makes the procedure filling the jar with ingredient very challenging as the blade occupies significant space inside the container. The blades are very sharp what makes this blender not only quite dangerous to handle safely when assembling/dissembling but also makes it tricky to pour the drink after processing because blade tends to pop out from the place and may cut the user. In addition, the complicated locking lid system and lack of tamper do not allow the user to add extra ingredients or to remove air pockets easily during blending because the user has to remove the lid for this purpose.
Cleaning: This gadget pitcher, lid, and blade tower are according to the user manual are dishwasher safe what must make the job of cleaning the machine quite easy. But blade system is quite bulky and will take considerable space in the dishwasher rack and jar, although supposed to be dishwasher safe, but many customers report that after dishwashing procedure it may develop melted edges or cracks what makes the pitcher useless in a result.
The hand cleaning of this blender is also quite an uneasy procedure. The blades are very sharp and not very safe to handle. The tower itself is quite tall and narrow, so it is quite difficult to clean it with a sponge or washcloth. The pitcher lid has so many different cavities that it leaving a lot of room for bacteria to develop and drop into the drink.
Base Unit and Motor Power
Ninja Professional Blender 1000 comes with fairly powerful 1000 Watt Motor that must handle fairly heavy duty job. However, the motor construction is not of the best quality with a lot of plastic parts, the almost completely plastic blade to motor coupling make the motor very fragile. So, the reported average life expectancy of this gadget is ranging from 1 to 1.5 years.
The base unit is made of plastic, it is not very heavy, and so it may travel during blending if you process tough ingredients.
Containers
This Ninja comes with 72 oz. BPA free polycarbonate container. The quality of plastic is not of good quality and the durability problem of the container is common issues with this blender. The plastic is not temperature and stress resistant. So the container is not able to handle also hot liquids and user has to cool everything before liquidizing ingredients. The cracking is also a common problem with the blender, the stress cracks occur at the bottom near the blade assembly and all over the pitcher.
The lid is also made of cheap plastic and may have durability issues. The gasket around lid wears out within few month of using this machine with the chance to find the rubber residues in the drinks.
Blades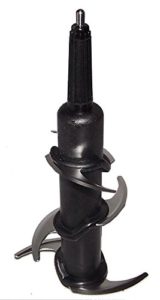 TheNinja Professional 1000 BL610 machine comes with an unusual blade which is constructed as 6 stainless steel blades staggered around the plastic shaft. Although this design presented by Ninja as unique that will improve the machine performance, in fact, it causes a few problems to the user. First, the blade system occupies considerable space what not only significantly reduce the usable capacity of the jar but also make difficult to fill it with ingredients, so the user has to stop the blender few times during processing to put food in.
Second, the very sharp blade assembly is not locked inside of the jar what makes them very secure, easily fall out and during pouring the drink and injure the user. In addition, the sharp blade tends to dull after few month of using and make them less productive. So all the blade construction even advertised as unique and very efficient in real life is dangerous and not performs well.
Special Features
Colors: This gadget available in gray plastic with silver trimming. However, there is sleek design black with silver color available that comes in the different package with 2 extra Tumbler 24 oz. Mugs and sold at higher price than the standard model.
Tamper: This machine does not include tamper.
Certified Refurbished: There are certified refurbished models available for Ninja Professional Blender 1000 and they priced around $10-$20 cheaper than an original model.
Use in countries outside of USA/Canada: This machine sold in the USA comes with 110-120 voltage system suited to be used only in USA and Canada. However, this blender available in many other countries and if the machine will be used in the country with 202-240 volt system it is better to buy in the relevant countries. But for consumers who wish to use the machine while traveling the voltage transformer could be purchased separately.
Check here the best price for the Ninja Professional Blender 1000 BL610
Noise
Ninja Professional Blender 1000 is a very loud blender that produces around 100 decibels even when it process soft ingredients, the ice or other tough ingredients must output even more noise. The standard advice for noise home appliances is to place rubber matt underneath of the blender while in use.
Warranty and Customer Service
This gadget comes with 1-year limited warranty and may apply extra charges for repair and replacement parts shipping. Most of replacement part are also usually apply extra charges. Overall, the warranty and customer service for Ninja are probably one of the worst in industry. The company does not stand by their product and is very reluctant to resolve issues with the blender.
Optional Accessories and Attachments
This machine does not have any extra attachment and accessories available. And the pitchers, blade system, and other attachment are not usually interchangeable between different Ninja models. It is only possible to buy replacement parts from this machine.
Set Includes
1000 Watts of Professional Performance Power base unit;
72 oz. polycarbonate pitcher;
6 prongs blade assembly;
Pitcher Lid;
Instruction Book;
Inspiration Guide.
This machine does not include cookbook but inspirational guide includes some recipes.
Dimensions
This gadget is only 15.8 inches tall and will easily fit under standard kitchen cabinet but will take some space on the counter space with the footprint of 10.6 x 8.2 inches. The fairly light 9 pounds unit is not very stable on the counter and may move during operation. The blender also stores the unused cord under the base unit.
Pros and Cons
Pros:
The Ninja Professional 1000 BL610 crushes ice easily and makes snow cones consistency.
It will chop fruit and veggies well for preparing marinades, coleslaws, and salad mixes.
Cons:
The Ninja Professional 1000 BL610 machine is not able to produce the decent quality of smoothies. It is absolutely not suitable for blending green smoothies.
This machine is very complicated to assemble/disassemble and not easy to operate.
It comes with a very sharp blade that usually becomes significantly dull within few month of using what seriously reduce the quality of blending.
The machine is not durable with the most part made from cheap quality plastic including blade drive connection what makes the motor a weak part of the construction. So, the average life expectancy of the blender is about 1.5 years.
The container develops stress cracks easily. The lid also prone to cracking and has the problem with a sealing gasket that falls apart within few month of using the blender.
Would you like to look at alternative options? Check here our article the Ninja Professional Blender 1000 (BL610) vs Oster Pro 1200 Blender and Best Countertop Blender Under $100.
Consumer Reviews
Despite the low-quality manufacturing and low quality blending this machine has quite a high reviews. It confirms that infomercial has a great power on consumers especially on those who never used the good quality powerful blenders before and will write their praising reviews within few days of using it and continue to love it despite all the faults it shows. Sometimes reviews could be misleading and it is the case of the Ninja.
Amazon rating – 4.5
Ninja Professional Blender 1000 BL610 Price
The price for this gadget dropped significantly in recent months and if a few months ago the machine would be sold for under $80 only on the special offer but now it is available at this price from the majority of retailers.
Check here the best price for the Ninja Professional Blender 1000 BL610
Summary
The Ninja Professional 1000 BL610 has an attractive design and looks nice. But it definitely will not suit for someone who looking for the blender that will make decent smoothies quick and easy. It is not able to produce smooth smoothies but output quality of $20 blender, it could be useful only those who intend to crush ice with it.  It has very fancy advertising but very poor performance and quality built. It is a way more glorified than it should be considering that there more the enough decent quality blenders available on the market for the price of under $100 but less known and advertised.