There are so many various personal blender brands and models available, but consumers hardly know them except the one or two most advertised ones. Those advertised ones are often marketed as "whole juicers or nutrient extractors" that extract the nutrients from the food the way no other blenders are able to do. Consumers have no desire to look any further and rush to buy those blenders in order to become healthy quick. In fact, those unique "nutrient extractors" are just an upside-down blender that, like any other blender, pulverizes food for easier digestion. For example, if you throw an orange, banana, kale or frozen strawberry into such an upside-down gadget, the result will be a blended smoothie with no extraction/separation of juice or pulp.
In this article, we will no longer continue to praise those blenders, aka nutrient extractors, but honestly compare the parameters and functionality of a list of single-serving units. We intend to discover seven affordable, reliable and high powered single serving blenders for consumers who are looking for a compact, easy to use and clean personal gadget.
How Blenders Were Selected and Rating Assigned
We selected a list of 20 best-selling bullet blenders from Amazon and Walmart, with motor power from 300 to 900 watts. Then we studied manufacturer user manuals, consumer reviews, and videos, and personal experience with functionality, durability, ease of use and clean criteria to select a short list of the blenders. After a detailed study of the relevant criteria, we selected the 7 best values for the money personal blenders that the consumer may be interested in.
Why did we select for our list a wide range of 300 to 900 watts, and refer to them as powerful? It is common to judge a blender on power, functionality and performance ability by motor wattage, but an experienced blender and juicer users are well aware that lower wattage products often easily outperform machines with a higher power. Quality engineering, design, and manufacturing play a more important role than just bare motor power.
During the study, it also became obvious, and we want consumers to take it into consideration when deciding to go for a bullet type blender, that the majority of personal blenders come with the common build and design weaknesses. The major one is that all single serve gadgets (excluding high-end Vitamix s30/s50/s55) come with a plastic motor-blade coupling that significantly reduces their durability and often causes the blender to have a short lifespan. Another weakness is that the blade assembly is made of plastic parts that make it too fragile to handle higher loads. The common high load is the ice crushing and user manuals usually point out that the unit is not designed and tested to handle frozen ingredients without liquid added. If users ignore this fact, then they risk considerably shorten the lifespan of their blender. Personal blenders are supposed to be more affordable and thus are not very versatile or well built.
With all weaknesses mentioned above, we come out with the following results.
#1 Nutri Ninja Pro (BL455/456)
Nutri Ninja BL455/456 comes with a 900 Watt motor and high 21000 rpm. The motor is truly powerful and this is the only personal blender in the price range under $100 that can crush ice without added liquid, turning it into the snow like consistency.
Functionality: It is also quite good for making green smoothies and has no problem processing tough ingredients like carrots into a fairly smooth drink. The blender is able to perform some chopping, making nice salsa, dips, salad dressing and mixes. It is able to handle seeds and nuts in the smoothies also. But it will not handle hot ingredients, and you have to cool food to room temperature before processing with this gadget. And this gadget has limited grinding abilities.
Using, cleaning: Nutri Ninja Pro is a pulse type blender, and it is very easy to use. It is assembled the same way as a coffee grinder and starts running with a clockwise twist. It is also very easy to clean after use by hand or in a dishwasher, and all parts of this machine are dishwasher safe.
Containers, blades: This blender comes with two or three 12 oz., 18 oz. and 24 oz. polycarbonate containers (not a premium quality) and sip and seal lids to take the drink out with you. The number and volume of cups depending on the package. The BL456 set includes 18 oz. and 24 oz. cups, while the BL 455 includes an extra 12 oz. cup.
This machine is also equipped with one set of quite strong 4-pronged stainless steel blades. However, the blade and cup accessories have some durability issues. The blade assembly and motor-to-blade coupling are made of plastic, and they are prone to wear quickly. In addition, the blade assembly and cups need to be tightened well to avoid leaking and it is often very difficult to unscrew the blade assembly from the cups, and thus the cups may develop some early cracks.
Warranty: This machine comes with a 1-year limited warranty. The unit is not terribly durable and well-built, but it is made of reasonable quality. The Ninja customer service has a questionable reputation.
Summary: It is not the cheapest, sturdiest single serve gadget on the market, but it is the only personal blender under $80 to $100 that can crush ice cubes without added liquid and make shaved ice or snow cone desserts. It also makes decent quality smoothies and it is fairly compact for easy storage. However, it is not designed for grinding, and if you intend to use your single serve blender for grinding rather than smoothies and ice crushing, look for another choice below.
This blender comes in two models: Nutri Ninja Pro BL455 and BL456. The difference between the models is only in the number of accessories and recipe books, and the BL456 is the cheapest one of these 2 models.
Amazon rating – 4.4
#2 NutriBullet 600 watts Blender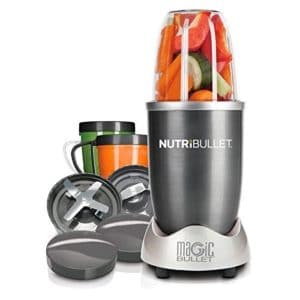 NutriBullet comes with a quiet, powerful 600-watt at-peak motor power, but comes with a very unreasonable price. This unit looks sleek with a stainless steel unit base and seems durable at first look.
Functionality: It makes quite good smoothies, but when green ingredients are used, the smoothie may come out a bit chunky. It does process frozen ingredients, but only if you add enough liquid. This blender is not designed and tested to shave ice without liquid making ice cones. This gadget is able to make salsa, salad dressing and any other recipes that include chopping food. The blender does not handle hot ingredients and is not able to process nut butter. It is able to chop nuts and herbs with a separate dry blade assembly.
Using, cleaning: NutriBullet, like any other personal blender, is easy to use. It does not have any control panel and is operated by pushing the cup against the base unit. The user just adds ingredients, places it upside down on the base unit, and then turns it clockwise for operation. It is running while the user keeps pushing, the same way as a coffee grinder.
The blender has cups that are dishwasher safe, but the blade assembly must be hand washed only. Most users find personal blenders easy to clean because the cup is taken out with drink and the blade is the only part that needs immediate cleaning.
Containers, blades: The NutriBullet 600 watts blender comes with many accessories that include one or two 32 oz. and 24 oz. cups depending on the package (8-piece, 12-piece and 14-piece packages available). The containers are made of polycarbonate but are of quite low quality, so the cup tends to crack within 1 year of use. Many customers also find it quite difficult to screw it to the blade assembly.
The set also includes wet and dry blade assemblies for making smoothies and for grinding. The blades, however, are not very durable and may dull soon or develop chips on the metal part.
Warranty: It comes with a 1-year limited warranty, and does not seem very durable, as reported by many customers. Magic Bullet customer service has a rather bad reputation with its customers.
Summary: It is an overpriced blender. Although it does quite good smoothies, it is not designed to crush ice. The quality of the cups and the blades is quite bad as the cups tend to crack and the blades wear within 1 year of frequent use. The motor is not too durable either and usually will not last more than 1 year. It is very popular and heavily advertised, but that does not mean that it is worth the money.
Read here full NutriBullet blender review.
#3 BELLA 13984 Rocket Extract Pro Personal Blender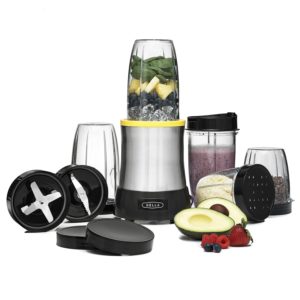 BELLA 13984 Rocket Personal Blender comes with a 700-watt power motor and is quite reasonably priced.
Functionality: This gadget will make a good quality smoothie with no sizable grit or chunks even from tough ingredients like frozen fruit, leafy vegetables, and flax seeds. Do not forget to add enough water or other liquid. This machine will not crush ice cubes or shave pure ice without liquid. It is also not able to handle strawberries or any other berry seeds very well. They usually will be left intact in the drink. But this machine is very good at grinding nuts, spices, and coffee beans (it comes with a separate grinding blade assembly). It will chop some vegetables for salsa, mixes and salad dressing. You can also puree hummus and other deeps with some liquid added very well. This unit is not recommended for making nut butter as it was not designed to process wet ingredients without a sufficient amount of liquid.
Using, cleaning: As are all single serve blenders, BELLA 13984 Rocket is very easy to use: put the ingredients into the jar, screw the cup to the blade assembly, flip it upside down and position it on the base unit. It will click and will turn instantly. Blend it until you achieve the desired consistency; however, the user manual says not to run it over 3 minutes at a time.
It is also very easy to clean, and the cup and blade assembly are dishwasher safe.
Containers, blades: This blender comes with a lot of accessories; BELLA 13984 Rocket set includes three 24oz., two 12oz. polycarbonate cups and a few travel lids for drinks on the go. The cups are made of strong and durable heavyweight plastic.
This blender is also equipped with one grinding and one blending high-grade stainless steel blade. Both of the blade assemblies are made of plastic with a wearable sealing gasket, but this is the common personal blender issue.
Warranty: It comes with a two-year limited warranty and according to customer reviews it is likely to last for at least two years, even with frequent use.
Summary: This very sturdy little machine is a very good value for money. It is likely to serve you 2 years or longer, which is quite good considering the price. The blender works great, is quite versatile and comes with many accessories, but most importantly it costs a lot less than the very comparable NutriBullet. It is compact and takes up very little space on the kitchen counter or in a storage drawer.
#4 Hamilton Beach Go Sport Blender (51140)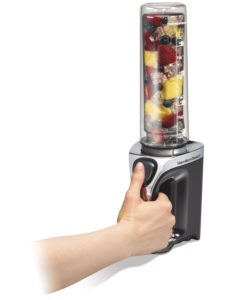 This is a recently released personal blender that comes with a quite powerful 600-watt motor and a very reasonable price.
Functionality: Hamilton Beach Go Sport Blender is able to produce good quality smoothies from soft fruits and tough green vegetables. It will also process seeds and nuts well for added blended ingredients. It will crush ice cubes with up to ½ of liquid in the container. The user manual advises to use crescent-shaped ice cubes, but it also will do well with circles or sticks.
This personal unit is also good for making nut milk, light salad dressing or mixing and chopping some soft ingredients. However, it is not designed to process hard food like meat, crackers or cheese. The manual advises not to process hot liquids in it.
Using, cleaning: The blender is very simple to put together and operate. It is equipped with a one-touch button that allows a pulse function or blending while you hold it.
It is easy to clean-up in the dishwasher or just fill the blender jar with water, a drop of soap detergent and pulse it for 10-20 seconds.
Containers, blades: Hamilton Beach Go Sport Blender comes with a 20 oz. premium polycarbonate shatterproof Tritan container, and it is double walled for insulation. This blender is very convenient to take out after making a smoothie, just remove the collar and blade from the jar, replace with the lid and it is set to go. The cup is well sized for traveling, the bottle fits in most car cup holders and the handle is built right into the lid.
It comes with a 4-pronged blade with a permanent gasket, but separate collar to screw on the blade assembly. The assembly is made of plastic, but it seems quite sturdy and well made.
Warranty: The blender is made in the USA and comes with a good for personal blender 3-year limited warranty, so most likely it will last at least 3 years.
Summary: Overall, it is a sleek, well-made, and reasonably priced gadget for the smoothie fans and it is ready to grab and go. The blender is very lightweight (only 2.5 pounds) and perfect to take with you when traveling. The small footprint of only 4.65 x 5.63 takes up very minimal counter space or can be stowed in a drawer when not in use. Unfortunately, the set includes only one bottle but it is possible to buy the extra one from many online retailers.
#5 Oster MyBlend Pro Series BLSTPB2-GTL Blender

The Oster MyBlend Pro bullet blender is a fairly robust gadget with 500 watts at peak and 350 effective watts motor power. It is clear that this gadget is intended for smoothies.
Functionality: This is a pretty powerful blender that is easily able to make smoothies and shakes from fresh fruit, leafy vegetables, fibrous ginger root, protein powder, flax seed, nuts, and frozen fruit ingredients. This blender does a great job of liquefying all the ingredients into even consistency without noticeable chunks. The gadget will crush ice only with at least 1/2 cup of liquid in the jar, but it is not able to shave ice cubes to the snow cone consistency. This blender also could be used for light chopping or making salad mixes and dressings. It is not very good at grinding dry ingredients, but it will pulverize them in your smoothies with liquid.
Oster MyBlend Pro is not recommended for blending hot liquids. Making nut butter may overload the motor and cause premature death of the blender.
Using, cleaning: There is no control panel or any buttons on this blender. It is operated by just pushing and turning the cup clockwise in the base and it operates until you unlock it. This blender comes with good airflow and can be run for up to 3-4 minutes without overheating.
This machine is easy to clean, and the cup, lid, and blade are all dishwasher safe. This blender also can be self-cleaned by running 30 seconds with a few drops of soap and water.
Containers, blades: This machine comes with a durable and premium quality 20 oz. container made of Tritan polycarbonate. The container is double walled, and that prevents external condensation and keeps the drink temperature colder longer than ordinary cups. Unfortunately, it comes with only one cup, but it is a very well designed lid, so it is quite easy to take to go. The cup and lid are also equipped with a carry clip and a snap closure that could be clipped to the bag for taking out.
It comes with a stainless steel blade that does not unscrew from the base. The rubber ring can be removed for cleaning. The Oster blade assembly and motor-blade gearing is made of plastic, but it is well made and likely to last for 2-3 years.
Warranty: The blender comes with a 1-year limited warranty and a 3-year satisfaction guaranty. The unit is sturdy and the Oster brand usually stands behind their products.
Summary: This little blender is cute, powerful enough to make good smoothies even with green vegetables or frozen fruits, is quite compact, and with a base unit diameter of 6 inches, it takes little space on the counter. It is perfect for people on-the-go, and the cup perfectly fits into a bag or car cup holder, and it is tight with no spills. And most importantly, it is a very good value for money.
#6 Conair Cuisinart CPB-300 Blender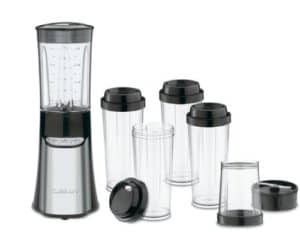 The Conair Cuisinart CPB-300 Blender comes with a high torque, 350-watt motor. It has a very sleek stainless steel housing with an electronic touchpad and light LED indicator front panel. The base unit weighs 3lbs and is about 5 inches in diameter. This blender would be fine for those who want to take it with them to travel.
Functionality: This blender does fruit and vegetable smoothies very well, and handles frozen ingredients and small cubes of ice well when you combine it with a sufficient amount of water. When blending drinks with frozen ingredients, it is best if you start from pulsing and then use high speed. It does quite textured smoothies from tough or green vegetables, but it seems it was not designed for high-quality green smoothies. It also will not handle cubes of ice as most personal size blenders. However, this blender can brilliantly chop different vegetables and is well suited for making salad dressing and mixes. It also handles nut and seed grinding very well using grinding blades.
Using cleaning: This machine is very easy to use and clean as are the majority of personal blenders. To start running, just add all the ingredients, attach the blade assembly, turn it upside down, pop the cup on the base unit and it is ready to use. Unlike other single-serve machines, this one has 3 speeds – High, Low and Pulse controls – and allows more control over blending.
This machine is dishwasher safe, but it also can be self-cleaned using a few drops of soap, water and running it for 30 seconds at a high speed. It has wide containers, so it is also no problem to wash by hand.
Containers, blades: The set includes two blade assemblies – blending and grinding. The set also comes with a plastic blade assembly and coupling. The blades are quite durable, while the gasket will need to be changed in about 1 year of frequent use.
This gadget includes a 32-ounce blender cup, an 8-ounce chopper cup and four 16-ounce cups for taking out. All cups are made of high quality, durable and shatter-resistant Tritan copolyestor, and they will not break easily if you drop it. The quality of the containers is definitely the strong side of this blender.
Warranty: This machine comes with a 3-year Limited warranty, good for a personal blender. The warranty reflects the blender's durability. And, as confirmed by many customers, it is likely to last for 3 years.
Summary: This is a great, reliable, good quality personal blender for light-duty use, but if you plan to use it mainly for frozen drinks or green smoothies, then this blender is probably not for you. However, this machine is very good for nuts, coffee, and spice grinding. It will also perfectly do any light kitchen chopping.
#7 Epica Personal Blender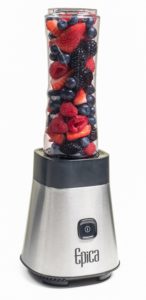 Although the Epica Personal Blender is not equipped with the most powerful motor (300 watts) in our selection, it does operate with a high torque of 23000 rpm. Most importantly, it comes with a fantastic price, making it affordable for many people who are looking for a personal unit with a take-along cup.
Functionality: Epica is able to make quite good smoothies from fruits, raw vegetables and frozen ingredients with no unblended lumps. This blender will not shave ice, but it does a great job on frozen ingredients and crushes ice with a sufficient amount of liquid added.
This machine is also great for light chopping and makes good dips, sauces and whipping cream. It will chop nuts finely, and herbs without any trouble. This machine comes with a quality cup that is able to process ingredients with a temperature range of -40° to 175°F, so you can blend hot and cold liquids using this blender. 
Using, cleaning: No doubt, this compact machine is easy to use; fill the container with ingredients, and lock it into the base unit. The machine is operated with the on/off button that is pushed until the blended ingredients reach the desired consistency. Once you are done, replace the blade assembly with the spout drinking lid and you are ready to take it out. The cup you take away, and the blade assembly are the only parts you have to clean. All of the blender parts are dishwasher safe, but this type of compact blender is also easily cleaned by hand with a little soap.
Blades and containers: This single serve gadget comes with one 20 oz. Tritan copolyster container that is break and temperature resistant. The container is well made, and unlike many other personal types, this one does not require the effort to screw/unscrew the blade assembly and cup before and after use.
The Epica blender comes with good quality stainless steel blades and a plastic assembly and motor/blade coupling. Nevertheless, all assembly parts are well-made and this blender is produced to last.
Warranty: This gadget comes with a 2 year, 100% risk-free warranty which says that the manufacturer believes in their product.
Summary: While it is not the most powerful and versatile blender in our selection, it has a fantastic price. It does quality smoothies and protein shakes to take out. With a small footprint of 5.25 x 5.25 inches, it does not occupy too much room on the kitchen counter, and it is very lightweight to take it with you on travel.
Amazon rating – 4.8
Summary
The Nutri Ninja won the first position in our rating despite the fact that it is the most expensive one and is not a very durable blender. But it has the most powerful motor and it is the only gadget in this range of affordable blenders that is able to crush ice without liquid added. It also delivers the best quality green smoothies and is able to make frozen desserts. It has one drawback, as it is not able to do grinding and milling very well.
So, if crushing pure ice is not crucial for you and you mostly intend to use your blender for smoothies, then you will be better off with one of the rest of our choices.
The NutriBullet 600 watts is the second best option. Although, it does not handles ice without liquids added but it is fairly versatile gadget, it grinds, chops well. It also has some issue with gasket, however, it is common problem for small personal upside down blenders. Overall, it performs reasonably well and very popular with customers.
The third position Bella 13984 Rocket Extract Pro is the most multifunctional machine, even if it does not crush ice. It handles frozen ingredients well, and ice with liquid added. It is also able to perform a grinding/milling job very well. Most importantly, this blender comes with a very reasonable price. It does a comparable job to the NutriBullet 600W but costs slightly cheaper than the NutriBullet.
The next two blenders – Hamilton Beach Go Sport Blender and Oster MyBlend Pro Series BLSTPB2-GTL- have very similar parameters and both are very new on the market. They have the similar design, good quality durable cups, very similar power and quality of blending. Neither will handle a milling/grinding job very well but will make excellent quality smoothies. But they look trendy, are offered at a very attractive price and although they are new on the market, both seem quite durable.
The Conair Cuisinart CPB-300 does not offer a very powerful motor but has won its customers over for its durability, functionality and good brand reputation.
The Epica blender is also a very new blender on the market, but it is well made, durable and sold at a very attractive price.
So, there is a large selection of decent and affordable personal size blenders as an alternative to the over-marketed Nutri Ninja and NutriBullet. If you do a little research and homework, you will not buy the most advertised ones on impulse.