HealthMaster Elite and Oster Pro 1200 are both powerful and versatile blender that sold at the price of under $100. However, if the HealthMaster Elite is a relatively new machine on the kitchen appliances market and supported by professional and tempting advertisements. But Oster Pro 1200 is just well-known for its durability and quality for a few generations of Americans.
Read our review to find out which of these two machines is worth of customer consideration.
HealthMaster Elite Blender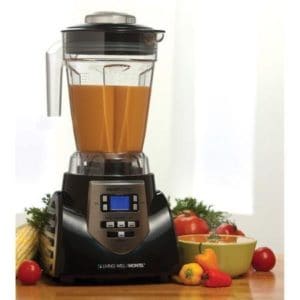 The HealthMaster Elite equipped with powerful 1200 watts motor which rotates blades at 22,000 RPMs. Still, this very nice machine has a major construction fault. The poor design of retainer nut makes it loosening quite soon and cracking of the bottom of a container.
The container is also made not from very good quality material and has a tendency to break and crack. And most important, the replacement for a container is very expansive and maybe almost equal to the price of a new machine.  However, the blade quality is very good and well-designed which able efficiently process the toughest ingredients.
This machine's digital control panel that equipped with 8 speeds, an ice cycle, and a pulse function that gives a user good control over the blending process and allows them to create a large variety of recipes. The machine is truly versatile and able to perform the following tasks:
Process decent drinks from soft and tough ingredient and thus suitable for green smoothies, however, it may take about 2-3 minutes;
Crush and shave ice in drinks and make delicious frozen desserts, snow cones, ice cream and alcoholic frozen drinks like margaritas or Pina Colada from pure ice cubes;
Handle hot liquids and makes a hot soup by heating liquids via frictions up to 201F (94 C);
Chop food to produce salsa, dressings, coleslaws, grated cheese, and crumbs;
Able to make a bit crunchy nut butter;
Purees raw and cooked food for dips, spreads, and baby food;
Grinds herbs, coffee beans, and mills baking quality flours from any type of grains;
Designed to knead dough and mix batter.
This machine comes with 3 months' only limited warranty for machine and lifetime for the motor. However, this warranty is useless because the company tends to avoid servicing their products.
Oster Pro 1200 Blender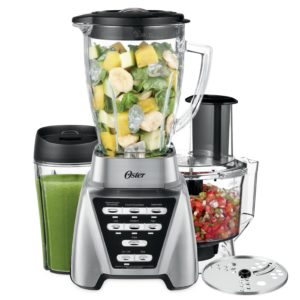 The Oster Pro 1200 comes in two models that have identical technical parameters but differ by the extra attachment included – (1) package with a large jar and single-cup attachment and (2) 2-in-1 with the package with the main jar, a single cup, and food processor attachments. Both models equipped with powerful 1200 watts motor and 19,000 rpm blade rotation speed. The motor is solid and durable with all metal parts blade assembly and blade to motor drive coupling. The blender also comes with two other extra removable blade systems for personal blender and food processor attachments.
The gadget equipped with 64 oz. lab-quality shatter and temperature resistant glass jar, polycarbonate 24 oz. single-serve cup and 40 oz. food processor bowl (the package with food processor attachment ONLY). All the containers are made from quality material and durable.
The machine has three speeds (Low, Medium, and High), pulse function, and 3 pre-programmed settings (Green/Frozen Smoothies, Food Chop/Salsa, and Milkshake). Such selection of speeds and programs allows to perform a variety of tasks:
Make good quality smoothies from soft and tough ingredients, so it is suitable for making green smoothies also;
Crush ice well in drinks and also able to shave ice cube for making frozen desserts, snow cones, and frozen alcoholic drinks;
Designed to blend hot liquids and suitable for making bulletproof coffees but do not heat liquids with frictions;
Able to make good quality nut butter and nut milk;
Puree well-cooked and raw ingredients and make a variety of deeps and spreads;
Chop vegetable for such recipe as salad dressings, marinades, coleslaw and other;
Grind coffee and herbs, mill baking quality flours;
It does not knead the dough but can mix batters.
This machine has a 3-year limited warranty on all parts and a 10-year limited warranty on the all-metal gears. The Oster customer service has a very good reputation for resolving consumer's issues.
HealthMaster Elite and Oster Pro 1200 Blenders Differences and Features
 
HealthMaster Elite Blender
Oster Pro 1200
Motor
1200 watt with faulty retainer nut at the bottom of the pitcher;
1200 watt with all-metal blade assembly and motor to the blade couplings;

 

Blades

Quality stainless steel blades permanently inbuilt into the container;
All removable blade assemblies for the main jar, single-serve cup, and food processor blades; the main jar blade system is not necessary to remove after each use;
Containers
60 oz. polycarbonate container made from low-quality plastic that fairly easily brakes and cracks;
64 oz. lab-quality shatter and temperature proofed glass container, polycarbonate 24 oz. single-serve cup and 40 oz. food processor bowl;
Using & Cleaning
Very easy to assemble for use, however, the control panel requires some learning how to use, very easy to clean with the self-cleaning procedure, not dishwasher safe;
Not very difficult to assemble but the machine has a locking mechanism for a main jar and lid so needs some non-significant efforts; all parts of the machine are dishwasher safe and could be cleaned with hands or in a self-cleaning way;
Control panel
Digital with 8 speeds, pulse function, and pre-set Ice program;
Has 3 speeds, pulse function, and 3 pre-set programs;
Warranty
3 months Limited warranty for machine and lifetime warranty for motor; Manufacture try to avoid servicing unit and do not honor the warranty;
3 years Limited warranty on all parts and 10 years for the motor with good reputation customer service;
Performance

Makes quality smoothies including green ones;
Crushes ice well with and without liquid added, suitable for making snow cones, frozen desserts, and drinks;
Designed to heats liquids via frictions;
Makes nut butter and nut milk;
Purees cooked and raw food;
Chops and dice vegetables for salsa, salad dressing, and others
Grinds herbs and coffee beans, mills baking quality flours;
Kneads dough and mixes batter.;

Produces good drinks from soft and tough food;
Crushes and shaves ice, produce snow cones, frozen desserts and other frozen treats
Chops and minces all type of vegetables;
Puree swell raw and cooked food;
Handles hot liquids but does no heats them via friction;
Able to produce nut butter and nut milk;
Mills grains baking quality flour grind coffee beans and herbs;
It does not make dough but mixes batter.

Dimensions
The footprint is 8.25 x 9 inches, profile height is 19.75 inches with the pitcher on the top of a base unit. Does not fit under a standard kitchen cabinet. The weight is 10 pounds.
The footprint is 8.5 inches x 10.2 inches, profile height is 14 inches with the 6 cup container on the top of the base unit and lid on a place. The weight is about 10 pounds.
How to Choose Between the Two Blenders
Both HealthMaster Elite and Oster Pro 1200 blenders are equipped with the 1200 watts motor, a good range of speeds control, and show almost equal quality performance. They both produce excellent quality of drinks including green smoothies, crash and shave ice well, make slightly textured nut butter, able to prepare a variety of recipes such as salsa and dips and spreads and mill baking quality flours. Yet, HealthMaster Elite is a slightly more versatile blender and designed to heat liquids via friction and knead the dough while the Oster is not able to perform these tasks.
However, the major difference in these machines is their reliability and durability. Oster Pro 1200 is a very well made gadget with quality components and has a decent average life expectancy over 5 years. While the HealthMaster Elite comes with a significant fault in retainer nut design and crackable containers material what makes this machine not lasting with an average life expectancy of 1-1.5 years.
In addition, Oster has a decent 3 years for parts and 10 years for motor warranty and very good customer service. While HealthMasetr Elites comes with only 3 months on parts and lifetime motor warranty which is usually not honored by manufacturers.
Summary
The customers who are looking for a solid and durable machine that is able to perform well typical blender tasks must choose the Oster Pro 1200. While those who have a faith in flashy commercials and charmed by the versatility of multitasking gadget will go for HealthMaster Elite. But the HealthMaster customers should be prepared that the gadget can die prematurely and the customer service will avoid performing warranty obligations.