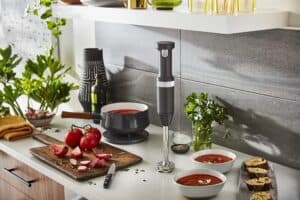 The KitchenAid has a few very popular corded hand machines and 5-speed PROLine cordless hand blender that belong to the premium niche. This is the new mid-level KitchenAid cordless hand blender that was released in 2020, comes only with a blending arm, and available at a very reasonable price.
Read our detailed review to find out if this blender could be a valuable addition to your collection of kitchen gadgets.
Functionality
This cordless immersion blender with the blending arm attachment has a tremendous power to perform a variety of tasks:
Soups – it is designed to puree soups and the user can do it directly on the stove, the blending arm also equipped with the plastic guard to keep non-stick pans safe from damaging;
Smoothies – it is more than capable to blend smoothies from soft ingredients, it will not handle ice cube though;
Sauces, salsas, dressings, and dips – it is great for mixing small batches of food and user can do it right in the Mason jar;
Baby food – it is no problem for this versatile gadget to puree cooked veggies and soft raw fruits;
Whipped cream, chocolate mousse or mayonnaise;
Mashed potatoes – it is capable to mash potatoes while it is better to add some liquid otherwise the mixture gets very sticky;
Mix cakes – it is powerful enough to mix cakes and cookies batter, etc.
Chop veggies such as carrots, onion, garlic – however, you have to pre-cut large veggies smaller pieces;
Chop cooked meat – cut meat into ¾ inches/2 cm cubes before processing;
Chop nuts – Users have to use a pulsing function for these tasks.
Motor Unit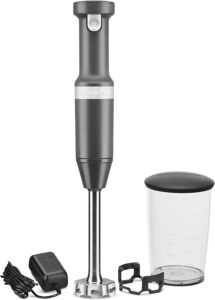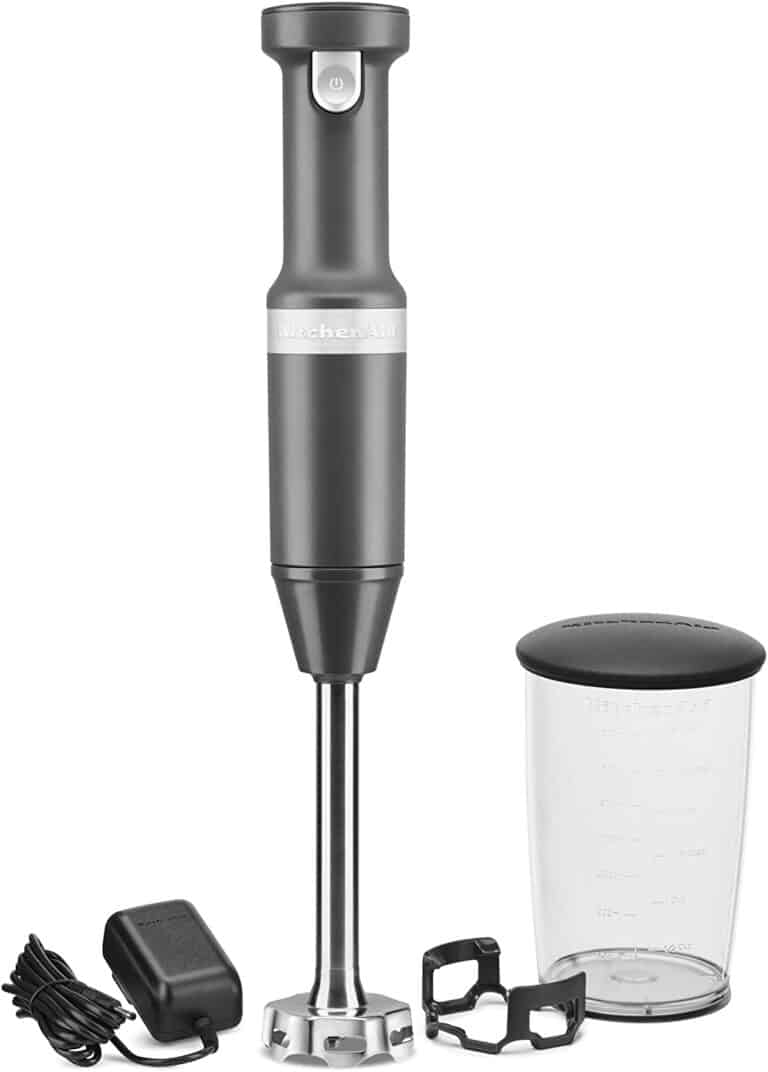 The KitchenAid Cordless Hand Blender comes with a plastic and stainless steel body and comfortable grip. The body encloses 8 volts rechargeable lithium-ion batteries. It is also equipped with the battery indicator light that is located on the top of the body unit. This is a cordless blender and its power interpreted in different to wattage terms.
The blender battery is charged with an adapter in two hours for a full charge and 20 mins for a quick charge. The fully charged blender will operate for 2 hours and can blend up to 25 bowls of soup with a capacity of 12 ounces. They quickly charged blender will have enough power for blending 44 ounces of soup and 16 ounces of smoothie.
The battery indicator light is designed to shows blender power capacity. If it has a static green light than it has up to 30-100 % of capacity, when it starts to flash with red light it informs the user that it is less than 30% and needs recharging.
Speed Settings
This blender has only two control buttons to operate. The safety switch on the front and the variable speed trigger on the back palm side of the body unit. The safety switch is designed to prevent activating the machine accidentally. The variable speed button is pressed with palm and designed to adjust the blender speed depending on the firmness of pressing it from light to firm push.
Attachments and Accessories
The KitchenAid Cordless Hand Blender comes with only one but most essential attachment and measuring cup.
Blending Arm/Shaft – it is removable stainless steel 8/20.3 cm inches blending arm with a 4-prongs blade. The set also includes a removable plastic pan guard that is designed to protect from scratching the cookware while using.
Mixing cup – the blender set also includes the 3 cups/700 ml BPA-free plastic Blender cup with lid and narrow non-skid ring on the bottom.
There is also available to buy separately the optional accessories – the Cordless 5 Cup Food Chopper (KFCB529) and 7 Speed Hand Mixer (KHMB732).
Assembling, Dissembling, Using and Cleaning
Blender Shaft: Assembling and disassembling the blender is very easy, users just have to twist/untwist to lock/unlock the Blending arm. There is no release button, just make sure it clicks into place.
Using: To start blender running, the user has to press the safety button and the trigger button at the same time. Then release the safety switch and keep holding down the variable speed trigger while the blender is running. When the user releases the variable speed button the blender stops.
Although it is a bit tricky to press two buttons at the same time, these buttons are conveniently located and ones you learn using them it becomes intuitive. Thus, you can easily operate the blender with one hand.
Cleaning: It is so easy to clean, just wipe the motor unit with a damp cloth and use mild dish soap to wash the blending arm. Besides, the blending arm, pan guard, and mixing cup could be washed on a top-rack of the dishwasher.
Warranty
The KitchenAid Cordless Hand Blender is equipped with one (1) year full warranty that covers delivery of replacement blender free of charge the blender fails within one year of use from the date of purchase.
Dimensions
It is 16.3" long and has 2.5" diameter with weighs of only 3 pounds that is light enough for the cordless gadget.
Country of Production
The KitchenAid Cordless Hand Blender is manufactured in China under strict supervision and quality control.
Set Includes
Body Unit;
Blending Arm;
Removable pan guard;
Mixing Cup with lid;
Charger Adapter;
User manual.
Pros and Cons:
Pros:
Powerful cordless blender;
Designed for up to 2 hours of running after full charge;
Versatile and performs a wide range of tasks;
Comes with the pan guard to protect the cookware from scratching;
Weigh only 3 pounds that is not heavy for cordless immersion blender;
Designed to be operated with one hand;
 Cons:
Comes with only a 1-year warranty.
Price
KitchenAid KHBBV53 Cordless Hand Blender is an affordable cordless blender and available at a very reasonable price.
KitchenAid KHBBV53 Cordless Hand Blender, via Amazon
Summary
The KitchenAid KHBBV53 Cordless Immersion Blender is a true powerhouse with the long-lasting up to 2-hour batteries.
It is a well sleek, built, and a high-quality machine. Although it comes with only with the blending shaft (while most people need only this attachment it is a versatile machine. Besides, it comes with a nifty attachment that protects the pans from scratching pans and you can blend the soup right on the stove without scratching your favorite cookware. Besides, it can be easily operated with one hand and weigh only 3 pounds that not heavy for cordless machines. So you cannot go wrong with this useful KitchenAid gadget.