The Ninja Chef Series 800 – CT805, CT810, and CT815 – blenders were introduced in 2017 and so far it is probably the best Ninja blender currently on the market. They have a powerful motor, inbuilt blade system, high-quality Tritan copolyester Jar, Smart Vessel Recognition, and LCD control panel. With all these features Ninja Chef seeks to compete with Vitamix and Blendtec blenders.
Read our comprehensive review to find it this machine is a worthwhile addition to your kitchen countertop.
Would you consider an alternative option? Check our popular article:
Functionality and Versatility
Smoothie: Ninja Chef CT805/810/815 makes quality smoothies, creamy, and smooth without lumps. It easily processes hard ingredients like carrots, kale, and other greenies, however, it does choke up sometimes. It also handles flaxseeds, strawberry, blueberry, and other seeds, not perfectly but does a decent job with them. The blending is not quite Vitamix /Blendtec quality but fairly close.
Juice: The blender will not make textbook juice separating the juice from the fiber, however, it can process ingredients into a smooth texture. You can always use a nut bag to separate the fiber and get the close juice consistency.
Ice Crushing and Frozen Treats: The blender has the power to crush ice in the smoothies and drinks to a super-fine level. The machine makes perfect snow from the ice cubes without many efforts. It can make quality Pina colada, daiquiris, and other iced drinks of perfect frothy consistency. You can make an ice-cream, sorbet, or frozen yogurt using a pre-set ice-cream program and Ninja Chef Recipe book. If you are sugar or dairy-free you can use the appropriate ingredients for your dessert recipes.
Nut milk: The blender is capable to process nuts to homemade nut milk. For better results, it is advised to soak nuts overnight and use a nut bag to remove fiber from a blended drink.
Nut butter: Also it is a powerful machine and claims to make nut butter easily, in fact, it does not. The producing nut butter will require to soak nuts prior to processing or/and add some oil during the processing. Otherwise, you will be involved in the tiresome process. Surely, you will have to use tamper during processing.
Soup/Hot ingredients: The blender designed to process hot liquids. It does a great job of pureeing hot ingredients to make a creamy soup or process bulletproof coffee but does not heat them up with friction like Vitamix. For the heating liquids with the frictions, the blender needs to process over 5 minutes with 25000rpm while Ninja Chef is limited to process only up to 2 minutes with the highest speed of only 18000 rpm.
Chopping/food prep: This machine is also good at preparing vinaigrette, dressings, sauces, dips, salsa, and spreads. It makes a very creamy hummus and smooth pates. Not only it has 10 variable speed and very useful pulse function but a few pre-set programs such as puree, dip/salsa, and the dressing that are perfect for this job. Use the pulse function for making cauliflower rice and other processing tasks.  It also does well at chopping stuff and will chop a carrot, cucumber and other ingredients for a salad.
Pureeing:
It has an IQ mode Puree inbuilt program. The recipe book also has a number of purees and dips recipes, so to puree carrot, for example, is not a problem for this gadget.
Dough/batter: Although the manual claims it can make perfect dough and batter, but from my experience, the outcome was not flawless. I tried using it to make a lava cake from a Ninja Chef cookbook. The batter required some manual help to get flour mixed in and I ended up using a spatula instead of tamper and blender. However, for a more watery mixture like pancake batter, it is able to do a good job.
Grinding/milling: This blender allows to mill flour. I tested it with the wheat berries, flaxseed, rice, and chickpeas and it worked very well on them turning every seed/berry into a consistently fine, perfect flour. The functions indispensable if you like experimenting in the kitchen. Or if you have dietary restrictions like allergic to gluten allergies, this machine will allow you to incorporate back the flour into your diet.
Despite the fact, that machine has a lot of power and does a great job, I noticed, that the manual mode is the only way to properly blend particular recipes to avoid cavitation.
Speed Settings and Programs
The blender Touch control panel looks rather confusing but when you learn how it works it turns out to be simple. The control panel has
6 buttons (Power, Clean, IQ, Manual, Timer+ and Pulse modes) at the bottom of the panel;
dial-up knob, with start/stop button in the center;
The Ninja Chef blender equipped with a Smart Vessel Recognition system that allows the machine to automatically display pre-set iQ Programs specific to each vessel attached (72 oz. pitcher or 24 oz. single-serve cup).
72 oz. container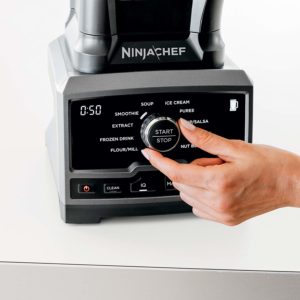 Ones you place 72 oz. container on the top of the base and turn the power button ON (while using), the 72 oz. IQ programs become activated. Now the 10 pre-set programs (Flour/mill; Frozen Drink; Extract; Smoothie; Soup; Ice Cream; Pureee; Dip/Salsa; Dressing; Nut Butter) are lighted up around the dial knob and available for use. You turn the knob to the desired program and push the Start/Stop button in the center of the knob and blender will start running. The timer on the interface counts down until the program is finished. These 10 pre-set programs combine a unique set of pulsing, pausing, and blending with variable speeds patterns to achieve the best result.
Alternatively, you can use Manual mode by pushing the Manual button, the 10 variable speeds graduated indents (ranging from 7, 000 to 18, 000 rpm) will be lighted up around the dial knob. Push the Start/Stop button runs the blender. You can use the dial to reselect another speed while it is running. To stop manual mode just push the Start/Stop button again.
If you want to set up your own countdown timer, push the Time+ mode, the flashing timer at the corner of the control panel will show 10 seconds, push repeatedly Time+ button to add blend time in 10-second intervals for up to 2 minutes, then select the speed with the dial and push Start/Stop button in the center of the dial. Blending will stop automatically when the countdown is complete.
For using the CLEAN mode, select the Clean mode button and then press the start/stop to begin. The unit will shut down when the cycle is complete.
The PULSE mode is activated by turning the dial to the desired speed, pressing the start/stop button in short bursts to pulse. The Ninja Chef will blend only while the button is pressed.
24 oz. Single-Serve Cup
When you attach singles serve cup, the IQ mode will show the pre-set programs for single-serve vessels including Frozen Drink, Extract, Smoothie, Puree, Dip/Salsa, Dressing. Apart from the limited selection of IQ pre-set programs the control panel works the same for 72 oz. container and single-serve cup.
Check here today's best price for the Ninja Chef CT810
Ease of Using and Cleaning
Assembling/disassembling/operation: The Ninja Chef model is equipped with inbuilt blades and improved lid design what makes it, unlike to majority of Ninja blenders, rather easy to assemble and use.
You just have to place the container onto the motor base and rotate the pitcher clockwise until it clicks into position. Add ingredients, making sure that they do not exceed the MAX LIQUID line indicated on the pitcher. Lower the lid onto the container, so that side clips on lid snap onto the lip of the container, place the lid cap into the lid and lock. Now the blender is ready to use.
The blender comes with the tamper which makes it easy to process stubborn ingredients.
Cleaning: The blender comes with an irremovable blade system and self-cleaning program pre-set, so it makes it extremely easy to clean. You just place some warm water in the pitcher with few drops of soap, select Clean mode, and then press Start/Stop to begin. The blender will shut down when the cleaning cycle is finished.
All the gadget attachments gadget is dishwasher safe, so it could be cleaned in a dishwashing machine, make sure to place the lids and tamper on the top rack. Hand-Washing with kitchen utensils is another alternative.
The motor could be cleaned with a damp cloth and a control panel with a soft cloth to avoid scratching.
Base Unit and Motor Power
The Ninja Chef blender comes with a powerful 1500-watt, 120V, a 60Hz motor system that allows its blade to rotate with variable speed from 7000 to 18000 RPMs. Although, it is the obviously powerful motor but not the most efficient when comparing to Vitamix motor that with the 1400 watts able to reach 23000- 2800 RPMs.
The motor base, although, is bulky but has quite a modern design and sleek OLED screen control panel. There are suction cups at the base so it does not move around while blending. The electrical cord infolds around a base unit tidily for storage.
The Machine also equipped with a safety system that prevents damage to the motor and drive system. When the machine is overloaded the safety system temporarily disables the motor. You can resume using the machine again after allowing it to cool for approximately 15 minutes.
Containers
Ninja Chef CT805/CT810/CT815 comes with the 72 oz. high-quality shatterproof BPA-Free and BPS-Free Tritan copolyester pitcher. Tritan copolyester is lightweight, shatterproof, clear as glass, and resistant to stains and dishwasher discoloring material. The container has a clearly graduated measurement in liters, milliliters, ounces, and cups. There is a 'Max-Liquid' for cold and for hot ingredients.
The pitcher equipped with a plastic lid, which locks firmly into place with two clips, and a lid cap to use with the included Tamper or to add extra ingredients during blending. The only complaint is that the lid made of plastic rather than more ecological rubber and pitcher does not have a spout, so it is impossible to pour the liquid out of the pitcher without dribbling it all around.
The Ninja CT810 and CT815 models include an additional 24-oz. double-walled to-go tumbler/single-serve cup and spout lid.
Blades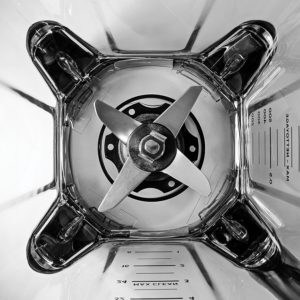 The 72 oz. blender pitcher is equipped with the inbuilt four-prong stainless steel quality Vitamix design blades that guarantee proper downward suction. It is a much better solution than traditional Ninja pillar style blades. While inbuilt blades usually are no trouble to use, be aware the Ninja blade is crazy sharp, so sharp that you can injure yourself if you decide to hand wash the pitcher or dry it with the cloth.
The Ninja Chef CT815 model also comes with a single-serve cup and removable Pro extractor blades assembly.
Special Features
Differences between CT805, CT810, and CT815 models: The Ninja Chef CT805, CT810, and CT815 come with the same motor base and 72 oz. pitcher, the only difference that the CT810 model includes an additional single-serve cup with spout lid while the CT815 model has an additional single-serve attachment system that includes a personal cup and Pro extractor blade. All three models equipped with the "Smart Vessel Recognition" system. That means when you attach the single-serve system, the blender will automatically recognize it, and with the IG mode show the pre-set programs suitable for the single-serve cup. Which are include only six (Frozen Drink, Extract, Smoothie, puree, Dip/Salsa, Dressing) out of ten that are available for 72 oz. pitcher.
Colors: The Ninja Chef CT805 and Ninja Chef CT810 are both available only in black color.
Certified Refurbished: The Amazon sells the Ninja Chef CT805/CT810 certified refurbished model with a reasonable discount, however, they are not all the time available, only while the stock lasts.
 with a reasonable discount, however, they are not all the time available, only while the stock lasts.
Use in countries outside of USA/Canada: This blender equipped with a 110-120 voltage system and designed to operate in the USA/Canada and the regions with similar voltage. Customers with 220-240 voltage are recommended to buy the machine from the local supplies. Alternatively, the voltage adapter may be a solution.
Optional Accessories and Attachments
Ninja blenders' parts, accessories, and attachments are not compatible with each other and suit only for specific models. The Ninja Chef CT805, CT810 and CT815 compatible with following attachments:
24 oz. double-walled to-go tumbler/single-serve cup with spout lid (relevant for CT805);
Pro Extractor Blades Assembly (relevant for CT810);
Ninja Chef motor base.
Set Includes
| | | | |
| --- | --- | --- | --- |
| | Ninja Chef CT805 | Ninja Chef CT810 | Ninja Chef CT815 |
| 1500-Watt Base | yes | yes | yes |
| 72 oz. Tritan copolyester Pitcher | yes | yes | yes |
| Lid with Vented Lid Cap | yes | yes | yes |
| Tamper | yes | yes | yes |
| Quick Assembly & Instruction Manual | yes | yes | yes |
| 50-Recipe Booklet | yes | no | no |
| 35-recipe inspiration guide | no | yes | yes |
| 24 oz. double-Walled To-Go Tumbler with spout lid | no | yes | yes |
| Pro extractor blades assembly | no | no | yes |
Noise
The Ninja Chef as all the Ninja blenders is a very noisy machine, so noisy that your entire neighborhood will be aware when you make your morning smoothies. The only relive that the average blender cycle lasts around 1 minute.
Warranty and Customer Service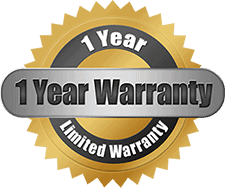 Ninja CT805/810 Chef as a majority of Ninja machines have only 1 YEAR LIMITED WARRANTY. The limited means that you must pay the shipping cost if you send it for repair, replacement or return. In addition, the producer may charge you for some replacement parts. Generally, Ninja customer service is not very helpful and does not have a good reputation for its services.
Dimensions
The Ninja Chef blender is bulky, approximately 8.46 x 9.72 x 17.99 in and weighs 10.33 lbs (CT805), 13.45 (CT810), and 14.1 lbs (CT815). It is too tall to fit under the traditional upper cabinets thus it is most unlikely that you will leave it to be sitting out on your countertop. It also has industrial strength suction cups on the bottom of the base to keep it stable.
Pros and Cons
Pros:
Powerful, versatile blender which crushed ice without efforts, makes smooth smoothies, mills flours, and etc.;
Comes with inbuilt blades thus very easy to use and clean;
Equipped with a tamper that makes it more functional for tough food processing;
Has a modern look, equipped with 10 speeds and 10 pre-set programs with a sleek LCD control panel;
It comes with a recipe book that includes a large variety of recipes from smoothies to salad dressings.
Cons:
It comes with only a 1-year warranty and not the best in the industry customer service;
The dial knob is too sensitive, so even the slightest touch can make it turn up or down even;
The pre-set programs are not always bringing the perfect result, so for many recipes, the manual mode is the only way to achieve an essential result;
The blender is huge and takes up a lot of counter space.
The machine is very loud.
Consumer Reviews
The Ninja an over advertised brand. No wonder, it is very popular among consumers. It has over 80% excellent reviews. Despite the fact that the Ninja Chef is certainly the best blender produced by SharkNinja but the model is relatively new on the market and it is hard to make an opinion about blender reliability. However, the customer praises the Ninja Chef Functionality and the ability to deal with ice and frozen ingredients.
Amazon rating – 4.6
Price
The blender priced around $199 with the majority of the retailers, however, often available with the discount up to 40%. The fair price for this type of blender is around $160, so if you decide that this gadget satisfies your requirements and found a fair price then you can be sure you found a bargain.
Check here today's best price for the Ninja Chef CT810
Summary
The Ninja Chef CT805/CT810/CT 815 is a versatile mid-range blender. It is powerful, makes smooth smoothies, mill grains, and makes dips, dressings, salsa, soups and so much more. It blends well and easy to maintain with irremovable blades and self-cleaning functions. The machine has a modern design with LCD control panel and suction caps. So, if you do not have spare cash for one of those high-end Vitamix or Blendtec though the Ninja Chef is certainly a good option.
Would you consider an alternative option? Check our popular article: