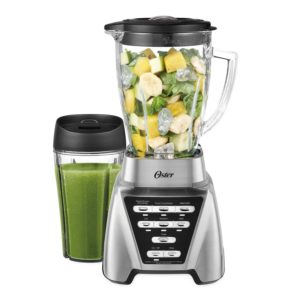 This Oster blender comes in two different packages – Oster Pro 1200 Blender 2-in-1 with Single Cup and Food Processor Attachment and Oster Pro 1200 Blender with only Single Cup attachment.
This versatile machine is relatively new on the market and became available only in the middle of 2015. With a price under $100, it falls in the range of the affordable low to mid-price blenders.
In general, Oster has a good reputation among consumers.
Read the rest of this review to find out more details about the Oster 1200 Pro.
Consider alternative options? Check our articles 
Best Countertop Blender Under $100,
Best Powerful Blenders with Glass Jar, 
Ninja Professional Blender 1000 (BL610) vs Oster Pro 1200 Blender, 
KitchenAid 5-Speed Diamond Blender vs Oster Pro 1200 Blender.
Functionality and Versatility
This powerful Oster 1200 Pro gadget puts out an impressive array of blending.
Smoothie: It makes a truly creamy smoothie from fruits and even from green vegetables, while many of the blenders in this price range have problems processing green and leafy ingredients. This gadget also able to pulverize even seeded ingredients like strawberries or blackberries without any seed residues left. During the blending, it may require some stirring to get rid of air pockets, but in general, it does the job very well.
Juice: This machine will not produce classic juice because it is just a blender. It will separate the liquid from the fiber. But if you intend to make a very smooth smoothie which is sometimes called whole juice than this blender is very good this task.
Ice Crushing and Frozen Desserts: This gadget also has enough power to crush ice and blend frozen ingredients. It is also able to shave ice to snow cones consistency and could be easily used for the preparation of frozen desserts and drinks.
Pureeing: It purees raw or cooked vegetables very well. Even the carrot puree will come with a perfectly smooth texture. So it could be the perfect solution for those who are looking for a gadget to make baby food. And, this blender comes with a single-serve cup that processes small batches of food.
Soup/ hot ingredients: The blender does not have a heating element and it is not able to heat food by friction, but it perfectly handles boiling temperature food and may process soup vegs that come straight from the oven. No question, this machine is perfect for making bulletproof coffee too.
Chopping/food prep: On pulse mode, use the large or single-serve pitcher and it will make perfect, salad, hummus, salsa, or shred vegs for slaw. The blender's low speed is truly low, so the quality of the chopping is very good. The unit with a food processor attachment with the chopping blade and stainless steel slicing disk will also do the chopping, slicing, and dicing tasks for the variety of recipes.
Nut milk: It is also possible to make good quality nut milk with this blender.
Nut butter: To make nut butter is a bit of a challenge for the blender. This usually requires some stirring, and this blender does not come with a tamper. However, by stopping periodically and pushing the content using a medium blending speed, you will be able to make fine nut butter in about 10 minutes. Yes, it is a bit time-consuming.
Dough/batter: It cannot knead the dough but able to mix the batter. The package with food processor attachment also comes only with chopping and slicing accessories and does not include any dough hooks.
Grinding/milling: The pulse or slow speed functions will grind herbs, chopped nuts, or mill oats but it is not able to make baking quality flour.
When blending tough or leafy ingredients in smoothies, place them first in the pitcher, process with the pulse mode for few seconds and then add the rest of the food and blend it on the smoothie pre-set program. Working with the programs and speeds this way, you will learn how to achieve perfect results with any ingredients you use. The blade assembly for 48 oz. and single-serve 24 oz. containers are the same, so there is no difference in the quality of blending when you use one or another. The only difference is the volume processed.
Overall, this is an excellent and versatile machine for under $100, especially for someone who needs a blender for small and large batches of food and does not need a heavy-duty food processor.
Check here the best today's deal for the Oster Pro 1200 Blender 2-in-1
Speed Settings and Programs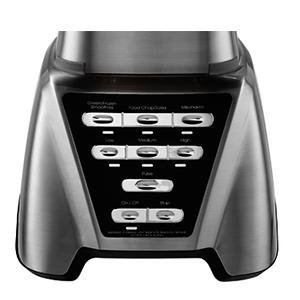 The Oster 1200 Pro control panel has 9 buttons in total. There are three programs – Green/Frozen Smoothies, Food Chop/Salsa, and Milkshake; four speeds modes – Pulse, Low, Medium, and High; and Stop and On/Off buttons.
The machine settings for smoothies and milkshakes usually do the job very well. The reverse crush motion blades pull all the food to the bottom, incorporating it continuously into a vortex, so it is unnecessary to stir ingredients during blending. If any program settings are too short for particular tasks, you can use the pulse mode or repeat the program.
Speeds and modes blend in both directions, and stages from low, medium to high and back; to interrupt any speed mode you have to press the Stop button; the pulse button works until you hold it. This gadget does not have a setting for crushing ice cubes, but you can do it in pulse mode. With all the speed and program settings, this blender has good control over-processing. The user can work with speeds and programs to adjust to any needs. The user's manual also provides good instructions on how to operate this machine for different purposes.
Ease of Using and Cleaning
The Oster 1200 Pro has a removable blade, so it requires some effort to assemble and disassemble this machine for blending and cleaning. According to the user's manual, it should be dismantled and cleaned each time it is used. Since this is very inconvenient, it is okay to clean it after each use by simply rinsing it with water or blending for a few seconds with some soapy water. Take it apart for a thorough cleaning at least once a month. Remember, the space between the container and the bottom of the plastic jar cap will accumulate some dirt.
To disassemble this gadget, begin by unscrewing the black plastic cap at the bottom of the glass pitcher. The sealing gasket should then be removed, and at that point, you will notice that the blade system is unlocked and ready to be taken away. When re-assembling this blender, make sure that the base is tightly screwed to the pitcher and the resin gasket is placed the right way. Otherwise, it may leak, something that is quite common for all blenders with removable blades.
There is only one blade assembly which serves the main pitcher and the single-serve cup. Follow the same procedure for assembling and disassembling the single-serve cup and the main pitcher.
Base Unit and Motor Power
The Oster 1200 pro comes with a very powerful 1200 watt motor at the peak, and a blade speed of 19,000 RPMs. The processing power decreases to around 900 watts, and that is very good for a blender in this price range. The motor system is constructed with an all-metal drive shaft and connections that add durability to the motor.
The base housing is made of a brushed plastic, but it looks quite nice and it is easy to keep clean. Though the unit is well made, the base of this gadget is not very stable and it tends to skitter across the countertop.
Oster Pro 1200 Containers
This blender comes with the main 48 oz. (6 cups) pitcher, the single-serve 24 oz.cup, and 5 cups food processor bowl (for the set with food processor attachment only). The main container is made of very heavy lab-quality, stress, and temperature resistant borosilicate glass. The Oster is one of the few brands that still offers the glass container that is so popular among the consumers. The glass container is easier to clean and it prevents unknown chemicals from leaching into food.
The large container for this model has an innovative design. It comes with an extra-wide bottom for easy blending. The black plastic cap that is screwed to the glass jar is equipped with a lever that ensures that the jar locks to the base and will not break loose during operation. However, the plastic lid of the pitcher is not very tight. If you have this issue with your blender, contact customer service in order to replace the lid.
The single-serve or smoothie cup and food processor bowl are made of BPA-free polycarbonate. The single-serve cup comes with a secure and spills safe lid, with an open/close latch.
Blades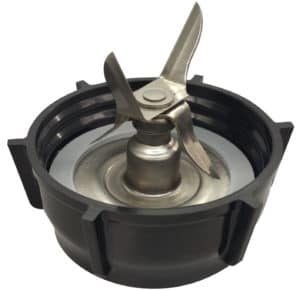 This blender comes with a removable blade assembly, the blade is sharp and 3.5-inches in diameter which is quite large for this type of blender. This is the 6-prong three dual-direction blade assembly, which has the blades protruding up and down, allows food to move freely with minimal air pockets. This all gives very good results and a perfect consistency for milkshakes or smoothies.
The blender blades, food processor chopping blade, slicing disk and the post they are mounted to are all made of stainless steel, and this adds longevity to all of the blade systems. The blade assembly looks very sturdy and durable.
Special Features
This blender is available in brushed nickel and black colors and has few attachments to choose from. The main package comes with the countertop and personal blender attachment. There is an additional package available that comes with the main, single-serve container and the food processing attachment. It should be noticed that the food processor attachment is not suitable for a heavy-duty job. The price for the package with the food processor is only $20 higher than for the main one.
Noise
Although the noise level is a personal preference, it is clear that this unit is quite loud. It roars when crushing ice or frozen ingredients. It is clearly louder than my late Vitamix 5200 blender which had an output of 86 decibels. The only solution I can offer is to place some rubber under this blender when in use, and that may noticeably reduce the noise level.
Warranty and Customer Service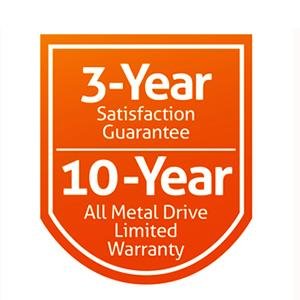 This gadget offers a 3-year Limited Warranty on all parts and a 10-year Limited Warranty on the all-metal gears. However, limited warranty means that any replacement and repair shipping is paid by the customer. If for some reason the customer does not like the item, it may be returned within 14 days from the date of purchase with return shipping paid by the customer unless the item was faulty.
The Oster Customer Service is great, and they tend to solve the problems and send replacement parts normally without problems.
Optional accessories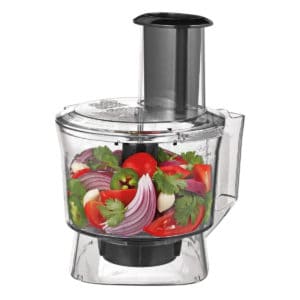 Even though most Oster accessories and pitchers are interchangeable among the different models, this Oster 1200 Pro comes with the new design that includes the wider bottom pitcher and the larger blades. Therefore this restricts the variety of Oster accessories. There are only three attachments that go with this model; the main blender, the personal cups, and the food processor, which can be bought in packages or separately.
Oster Pro 1200 Set Includes
1200-watts base unit;
6-cups dishwasher safe glass container;
24 oz. polycarbonate BPA-free single-serve cup;
One dual-direction blade assembly suitable for container and single-serve cup;
5-cup BPA-free food processor bowl (for the package with food processor attachment only);
Chopping blade and stainless steel slicing disk (for the package with food processor attachment only);
Quick Start Guide and the User's Manual.
Dimensions
This gadget has quite a compact design with a footprint 8.5 inches x 10.2 inches and it is only 14 inches tall with the 6 cup pitcher on the top of the base unit. It fits perfectly in traditional kitchen cabinets, saving a lot of space in your kitchen. The shipping weight of the blender is ten pounds.
Pros and Cons
Pros:
It is a versatile gadget at a very reasonable price that comes with the countertop, personal blenders, and/or food processing.
This machine is very powerful for its price range and is capable of making excellent quality smoothies and shakes without any coarse texture in the drink.
This gadget has a glass pitcher, and that is very rare for such a powerful blender.
The 7 speeds and programs offer good control over the blending.
This machine is well built and durable, with all-metal motor drives and couplings and also the all-metal blade system. Oster has quite good warranty programs and helpful customer service.
Cons:
This machine is louder than average for its power.
It is also not very stable on the counter and can travel during operation.
It may have an issue with the tightness of the main pitcher lid.
Oster Pro 1200 Blender Consumer Reviews
The Oster brand has a good reputation among customers and this relatively new model is quite popular with many reviews on Amazon. The average Amazon rating for this item is 4.4.
Price
The price for this gadget fluctuates while usually available under a hundred dollars with different online retailers. Nearer the weekend, it tends to become cheaper. To get the best deal, click this link to check the lowest price listing I found on Amazon.
Check here the best today's deal for the Oster Blender | Pro 1200 with Glass Jar
Check here the best today's deal for the Oster Pro 1200 Blender 2-in-1
Summary
Overall, this is an excellent and versatile machine for under $100, especially for someone who needs a blender for small and large batches of food (it includes a single-serve cup attachment) and does not need a heavy-duty food processor. This durable and powerful Oster Pro 1200 Blender is able to produce high-quality fruit and green smoothies and shakes. As a result, it is not only a well-performing and affordable machine, but also has a compact design which saves you cabinet and shelving space.
Alternatively, check our articles Best Countertop Blender Under $100, Best Powerful Blenders with Glass Jar, Ninja Professional Blender 1000 (BL610) vs Oster Pro 1200 Blender, and KitchenAid 5-Speed Diamond Blender vs Oster Pro 1200 Blender.