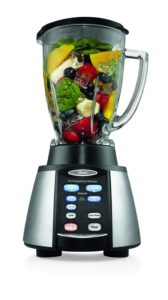 The Oster Reverse Crush Counterforms BVCB07-Z00-000 Blender is a sturdy, durable and affordable gadget that was released in January 2007. This machine is relatively basic but has a glass pitcher, compact enough to fit under most kitchen cabinets and a good brand reputation. You do not have to wonder why Oster Reverse Crush is one of the most popular budget countertop blenders on the market today. It has a reasonable price for its functionality and blends frozen food pretty well.
Read this review to find out if this blender is what you are looking for.
Functionality and Versatility
Smoothie: This machine is able to make fine texture smoothies from soft fruit and vegetables without any problem. However, to make decent quality frozen drinks and green smoothies from leafy vegetables, you have to learn some tricks to achieve the best results. To get perfectly smooth drinks from hard fruits and vegetables, you have to run two or more Frozen Drink cycles or use manual high speed for 2-3 minutes. This may also require occasional stirring from the user.
It does not handle strawberry and blueberry seeds well, and you also have to run a few Frozen Drink cycles to achieve acceptable results. The machine will not process any dried fruits well, and also will output quite textured consistency.
When making smoothies, this machine produces a considerable amount of foam on the top of the drink. To remove air pockets and lessen this foam, just blend your smoothie on low speed for another 30 seconds.
The gadget also does not process whey protein very well. When making smoothies and shakes, it outputs a fairly textured consistency. To get a decent result while processing whey protein, add your protein powder after your shake or smoothie is ready and pulse it into your drink.
Frozen ingredients: This machine comes with an ice-crushing blade that is designed to crush ice every time. The pre-set Frozen Drink program is designed to do this job properly. Running the Frozen Drink cycle a few times will deliver a perfect frozen drink consistency. This gadget is also capable of chopping pure ice cubes into small crystals on the Frozen Drink program or High speed.
Pureeing: It will puree soft fruit and vegetables, but with the harder ones extra liquid will be needed. It can make hummus or mayonnaise without much effort, but for pesto, it will require more liquid than usual.
Chopping: It has the pre-set Chop Food button and with this program, you can make perfect-quality salsas, dips, or mixes. Do not use the program for chopping tomato or onion, for example, as you will end up with puree rather than chopped vegetables. Use the manual control for this purpose to attain the desired consistency. You can chop nuts with this blender, but not perfect flour. For the best results use the pulsing function until you get to the right size.
Soup and hot liquids: This gadget will not heat food. However, you can blend hot liquids with this blender because it has a temperature stress, resistant pitcher.
Nut butter: It is not recommended that you make nut butter with this blender as it may overload the machine. Still, you can try to achieve something close to nut butter using the pulse function, but it will take a very long time.
Grinding: This gadget will not grind coffee beans, grains, or herbs properly. For this purpose, consider the Oster food processor or a more powerful blender.
Dough: This machine is not equipped to make a dough.
This blender is able to make good quality drinks, but it requires some control over the blending, such as turning off and stirring to get rid of air pockets. You have to be prepared to do this from time to time for decent quality blending.
Speed Settings and Programs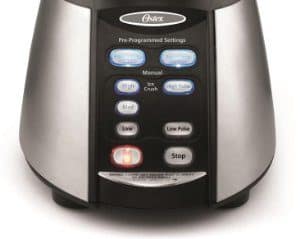 This machine control panel is equipped with a backlit display and 7 speeds according to the manufacturer, although 7 speeds is a bit deceptive. In fact, it has 3 speeds – Low, Medium, and High (for crushing ice); two pulse settings – Low Pulse and High Pulse; and 2 pre-set programs – Food Chop and Frozen Drink.
The Frozen Drink program is designed for smoothies and shakes and is the one that reverses, starting the blade in one direction and then automatically reversing it in another direction before continuing full blending. The Food Chop program is also designed to reverse, but it is not very useful and chopping is performed better using the High and Low Pulse buttons. Low, Medium, and High-speed buttons and Low Pulse and High pulse buttons are intended for manual operation of the blender and work in one direction. The pulse buttons are operated until you press them, and Low, Medium, and High speeds until the Stop button is pressed. There are also On/Off buttons for activating/deactivating the blender.
Oster Reverse Crush Blender Ease of Using and Cleaning
Setting up: The blender set up is easy. The plastic addendum cup must be screwed tight with the blade and gasket in between the jar to avoid leaking. Then put it onto the top of the base unit and twist it slightly until there is no resistance and it is ready for operation. The container sits on the base unit quite securely and firmly without any locking mechanism.
Tamper: There is no plunger or tamper available for this gadget.
Cleaning: This machine is very easy to clean, but the blade assembly must be removed from the plastic cap for cleaning. All the blade assembly parts and the glass pitcher are safe for dishwashing. It is also possible to wash the container and all pieces by hand in warm soapy water. The base unit may be wiped with a damp cloth when needed.
Base Unit and Motor Power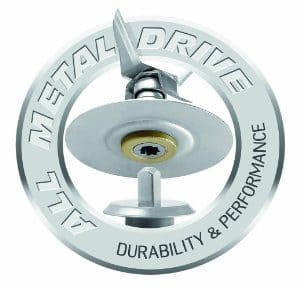 The Oster Reverse Crush Machine is a well-designed machine with an all-metal drive assembly and blade mounting that ensures a longer lifespan and durability. It is a fairly powerful gadget for the price, with a 1000 watt peak power motor, and with an effective capacity of 600 watts. The gadget peak power means the upper possible output without loading, while effective is more representable and indicates the real capacity of the gadget.
The machine exterior is made of stainless steel covering on plastic housing with black plastic trimming. This gadget is solid and well-built with rubber feet for stability, and it does not vibrate or travel over the counter during processing.
Containers
This machine comes with a 6-Cup (48 oz.) Boroclass glass pitcher. It is made of premium, stress-resistant Borosilicate glass and will not crack even if the hot container is subject to low freezing temperatures. Since this jar does not have measuring marks, it comes with a measuring cup. Complete with a glass jar and no plastic parts inside of the jar, this Oster machine is the perfect solution for the customer who has no toleration for plastic and is looking exclusively for a glass pitcher machine. Still, it has a BPA free plastic lid, but it has almost no contact with food. The lid fits tight on the pitcher and it has no leaking issues, but can be hard to remove sometimes. However, it becomes easier to open over time. The lid also comes with a lid plug that is convenient for adding extra ingredients during the blending process.
Blades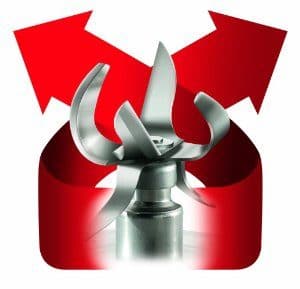 The machine is equipped with 6 sharp pointed blade – 4 facing up and 2 facing down. This stainless steel blade sits on metal mounting and is very sturdy. It has a replaceable and removable assembly with a plastic nut, screw-on cap, and sealing gasket. The gasket that goes inside the bottom cap around the blade is very secure and prevents any leaking from the pitcher.
Special Features
Most of the Oster brand products have interchangeable accessories. A wide choice of jars, blades, and other accessories will fit this blender, and this is a convenient way to upgrade it with more functions.
Colors: Oster Reverse Crush Blender comes in silver and red with black trim.
Refurbished: There is a refurbished machine available for this machine. But the blender is in the low price range, so it is doubtful if it is worth it to invest in the refurbished model.
Using in other countries: This gadget comes with a standard USA 120/127 V and 60 Hz cord and power plug and it can be used with a transformer in other countries.
Noise
It is a very loud machine with a noise output of 90 – 95 decibels depending on what is being blended. The noise is comparable to that of a diesel truck that outputs 100 decibels located 10 meters away. The machine is noisier when the blender is chopping ice using high speed. The low-speed processing is more tolerable. The standard advice for a noisy gadget is to place a rubber mat under the blender to reduce its loudness.
Warranty and Customer Service
Recently, all Oster products were upgraded to a 3-year limited warranty for the gadget and a 10-year limited warranty for all-metal drive parts. The limited warranty means that all shipping costs are paid by the customer and any necessary repairs for the gadget may incur extra charges. The Oster warranty is not transferable and is valid from the date of the initial retail purchase. It requires proof of purchase to start the Warranty. The machine also comes with a 30-day money-back guarantee if you decide to return it.
The Oster Customer Service is helpful and has a good reputation among consumers.
Check here today's best price for the Oster Reverse Crush Blender
Optional accessories
Many of the Oster product accessories are interchangeable, so there is a wide variety of choices to upgrade your gadget. The most popular accessories the owners of the Oster Reverse Crush Machine choose to buy to expand their blender functionality are:
1. Milkshake blade for better quality shakes;
2. Regular mouth Mason jar with a screw-on thread cap to fix the blade assembly that could be used as a single-serve container for smoothies;
3. Oster Kitchen Centre attachments, namely: BPA-free food processor jar, stainless steel S-blade, Milkshake Blade, and 5-Cup Stainless Steel Milkshake Jar.
Set Includes
Oster Reverse Crush Gadget set comes with: 1000 power watts base unit, 6 cups (48 oz.) glass jar, blade, sealing ring, threaded jar bottom cap, jar lid, filler/measuring cup (pitcher does not have measuring marks), a user manual with some recipes included.
Dimensions
It is a quite compact machine for a countertop blender, with a total height of the unit from the counter to the top of the lid of just under 14 ½ inches. It will fit easily under most kitchen cabinets. The height of the jar without the base is 9 inches. However, it has quite a sizable base unit footprint with 7 ½ inches by 9 ¾ inches and requires some space on your counter.
Pros and Cons
Pros:
It is an affordable machine with a nice combination of good value for the money.
It is a well built and durable blender with all metal fittings and blade assembly. The manufacturer also backs this gadget with a fairly long 3-year blender warranty and a 10-year motor warranty.
This gadget comes with a premium quality glass pitcher that ensures that you will not be exposed to any chemicals leaching into your drinks.
Cons:
It is a rather basic blending machine with limited functionality, but good for this price. It is mostly suitable for smoothies and shakes and is capable of producing some salsa, sauces, and mixes.
Oster Reverse Crush Blender Consumer Reviews
With such a good combination of value for money and durability, this machine is one of the favorite customer choices for the price range. It has a solid Amazon rating of 4.2
Price
The price usually fluctuates with many retailers, however, there is often a special offer available for this gadget. Check the price from time to time for the best deal for the Oster Reverse Crush blender.
Check here today's best price for the Oster Reverse Crush Blender
Summary
Although this Oster Reverse Crush gadget is not very functional and requires some "babysitting" such as shaking the container during processing or stirring to prevent air pockets, it still crushes ice very well and makes fine quality smoothies. It also has a very attractive price considering the motor power, performance abilities, and well-built design. This all makes it a very desirable investment for people who do not require more from their blender than just a basic smoothie and frozen drinks function.