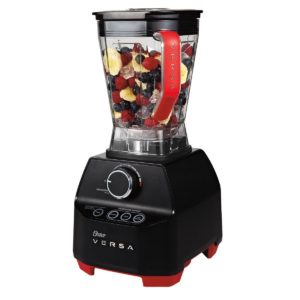 Oster VERSA 1400-watt Blender comes in two models, one with a newly designed low profile container BLSTVB-RV0-000. The earlier version with the old design had a high profile container BLSTVB-000-000. Both models have absolutely the same parameters with only a slight difference in exterior finish and in the size and shape of the containers.
The Oster VERSA 1400-watt Professional Blender is a high power machine that boasts 12 amps and nearly 2 HP. It is the first Oster heavy-duty blender that makes soup or nut butter from friction easily. With a reasonable price of under $200, it can compete with the best high-end blenders on the market.
Would you like to look at alternative options? Check here our articles:
Functionality and Versatility
This gadget handles tough tasks like those the high power, heavy-duty machines usually perform.
Smoothie: This Oster Versa machine pulverizes soft fruits and vegetables into very fine smoothies easily. It also makes almost perfect quality drinks from tough and leafy vegetables like carrots or kale stems. When nuts are added to smoothies, you may need an extra cycle to get rid of the tiny pieces and achieve a smooth consistency. This machine handles seeded grapes, apples, and pears with no traces in the final drinks. It also processes well-frozen ingredients and crushes ice cubes in the smoothies.
Nut milk: It is able to blend nut or coconut milk, but you will need a strainer to sieve liquid to get rid of the traces of fiber.
Shakes: Protein shakes require a slow initial speed to blend properly, but this blender's variable-speed function allows you to mix perfect shakes without lumps or unmixed lots stacking on the walls of the pitcher.
Crushing Ice and Frozen desserts: These machines process easily any frozen ingredients or ice cubes with added liquid in smoothies. It also crushes well ice cubes but handles it easier if you process at least 4 cups of cubes, use pulse, and high speed for this purpose. This Oster Versa will make perfect frozen yogurts desserts, sorbets, and ice creams. It also handles without efforts frozen margaritas or frappes. You can find a few very nice ice cream, frozen dessert recipes in the cookbook included in the blender set.
Pureeing: This Versa blender turns well-cooked and uncooked ingredients into a puree using the dips, spreads pre-set program, or the manual control dial knob. The plunger is a great help to get rid of air pockets when dealing with pureeing. This machine is able to make perfect quality hummus, spreads, dips, or baby food. However, small quantities are a bit challenging for this gadget, as it deals better with bigger batches of ingredients.
Chopping: It will do an everyday vegetable chopping, mincing onion, garlic ginger, and others very well using low speeds that are really low. So it makes perfect salsa, salad dressing, mixes, and even thick sauces. But it does not do well at processing a mayonnaise.
Hot soup: This blender is powerful enough with 28 RPMs to heat liquids with blade friction to steaming temperature. It also has a pre-set soup program so you can fill the ingredients, push the button and in 5 minutes you will get steaming hot soup.
Nut butter: Although making nut butter is a challenging task for any powerful blender, this Oster Versa makes smoothly textured nut butter without any extra liquid or oil added. The initial amount of dry nuts is 4 cups minimum, and you must make sure to start with the pulse button, gradually increasing the speed to the highest level. The only problem that can occur is that the ingredients may quickly heat up and you will need a lot of tamper help and you might have to stop the blender to cool the mixture.
Grinding and milling: This machine will grind coffee beans, cacao nibs, any herbs (large batches only), chia seed, or flax seeds pretty well. Although it was not designed or tested by the manufacturer to mill any grains, it is able to turn corn, dry peas, wheat grain, and others to decent powder. The cookbook that comes with the blender does not include any milling or grinding recipes.
Dough: Although this gadget is quite versatile and powerful, it cannot knead the dough.
Over time, you will learn the proper way to use the variable speed knob for best results, this blender low speed is really low what allows enough flexibility over processing food. For example, the low speed will push big chunks to the bottom, and the high speed will pulverize and liquefy ingredients after playing with the low speed. This machine, like any other high-powered blender, is able to do a lot of things if you know how to use it the right way.
Speed Settings and Programs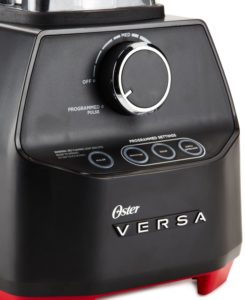 The Oster Versa comes with an 8 variable speed dial knob, a pulse mode, and 3 pre-set programs – Smoothies, Dips/Spreads, and Soup. To activate the pre-set programs the dial knob should be turned to the pre-set program position and then you can choose the desired setting button on the control panel. The pre-set programs are timed and will run until the end of the pre-set cycle. If you intend to use variable speeds, just move the dial nob to the desired speed position and it will run until you turn it to the off position.
Soup, Dip/Spread, and Smoothies pre-set programs run respectively for 5 min 20 seconds, 40 seconds, and 30 seconds. Presets are not only timed, but they are also programmed for different speeds and usually start on low and then switch to high speed. The pulse setting will run until you hold it.
All of the 8 variable speeds with the low speed that is truly low, 3 pre-set programs, and the pulse mode allows the user a lot of flexibility with the blender to prepare cookbook provided recipes or create their own recipes with the desired consistency.
Check here today's best price for the Oster VERSA 1400-watt Professional Blender
Ease of Using and Cleaning
Setting up: This blender comes with a jar in-built blade and is hassle-free when assembling or dissembling before and after using. The single-piece pitcher connects easily and quickly to the base unit; you just pop it on and it is ready to operate. There is a sensor on the top of the unit base and the blender will not start until the jar is placed the right way. In order to start running, you have to turn the dial knob to the preprogrammed position or any variable speed position.
Tamper: This is the first Oster model that comes with a tamper. It is the high-powered models that often require help with stubborn ingredients that need to be pushed down for better circulation. The tamper is often needed when processing thick ingredients like frozen desserts or nut butter. You should not use the tamper for longer than 30 consecutive seconds because you can overload the motor. Consumers complain that some blenders come with a long tamper that touches the blades, and you have to contact customer service to replace or just shorten the tamper yourself.
Cleaning: All blenders with inbuilt blades are easy to clean. This is, in fact, a self-cleaning gadget, and you fill it with 2-3 cups of water, add a few drops of soap and run it for 30-60 seconds on high speed. Sometimes it may be enough just to rinse the blender with water if watery ingredients were blended before. This blender is not proofed for dishwashing, but the self-cleaning option makes the cleaning task very easy.
Base Unit and Motor Power
This Oster is equipped with a high power 1400 Watt at peak motor and an all stainless-steel spline power transfer from the motor base to a jar that ensures durability for this gadget. With this power, the motor can rotate the blade at a speed of 250 mph or 28,000 RPMs, which allows the user to heat blended liquids inside of the pitcher with friction to a boiling temperature.
The quality of the Oster Versa construction is rather a top-notch, and although the base unit housing is plastic, it feels solid and sturdy. The gadget has rubberized feet and does not travel or slip over the counter during operation, even at top speed. This machine also has cord storage and the cord can be hidden when not in use.
The motor has inbuilt sensors to protect the machine from overheating and overload. If you run the machine for too long, and it could be overheated, it will automatically shut off. You have to wait for 30-45 minutes to run it again after turning the external resettle fuse under the base unit. The sensor also will trip if very thick food is processed, and to avoid shut off when you notice the blender starting to halt, you have to remove some food or use the tamper. The overheating and overloading shut off system protects the motor from untimely damage and extends its lifespan.
Containers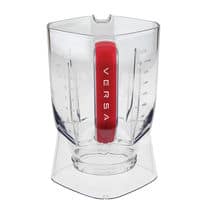 Oster VERSA 1400-watt Professional is available in two models – Oster VERSA BLSTVB-000-000 1400-watt Professional with the newly designed low-profile container, and Oster VERSA BLSTVB-RV0-000 1400-watt Professional with the older design high profile container. Both pitchers have the same 64-ounce (2000 ml) capacity and are made of Tritan copolyester, the BPA-free premium quality polycarbonate. The pitchers come with measurement marks. Both jars have an inbuilt blade assembly that is sealed well and better proofed from leaking than removable blade jars.
Both containers have a very secure plastic lid with a plug for ease in adding ingredients during blending. The lid plug also can be used as a measuring cup with a capacity of 2 oz. or 60 ml. The low profile jar is 9 3/8" tall, has a wide bottom, and a modern sleek design with an innovative soft-grip handle. The high profile jar has an older design, it is 12 1/4" tall and is not as sleek as the low profile design. However, the tall container is preferred by those consumers who intend to process small batches of food.
Oster VERSA Blender Blades
This blender, like most high-powered and high-torque machines, comes with an inbuilt blade assembly. The 6-pronged blade and driveline are made of tough stainless steel. The blades are very sharp by design. The all-metal blade assembly ensures good sealing, eliminates any leaks, and strengthens the durability of this gadget's mechanical system.
Special Features
Colors: Oster VERSA BLSTVB-RV0-000 1400-watt Professional with the low profile pitcher comes in black color with red trimming, while Oster VERSA BLSTVB-000-000 1400-watt Professional with the high profile container is all in black.
Refurbished: There are no refurbished models currently available in this gadget.
Using in other countries: The blender sold in the USA comes with 110-120 voltage and is covered under warranty for the USA and Canada. There is a European 220 V model sold in UK Amazon that could be used in countries with a 220 voltage system. Some customers use the USA 100 voltage blenders using a power transformer. However, the manufacturers do not back the machine used via transformers with any warranty.
Noise
Oster blenders are known to be quite loud and this high power model is no exception. The standard advice to reduce noise output from loud gadgets is to use a rubber placement underneath of the machine that will reduce the noise output considerably.
Warranty and Customer Service
These Oster VERSA BLSTVB-RV0-000/ BLSTVB-000-000 models come with a 7-year Limited Warranty. The limited warranty customer may be charged for shipping costs and some repair costs. For example, if your jar starts leaking it will be replaced at no extra charge, but if you break the jar then you will be charged the full cost and the shipping fee. The Oster Versa warranty is not transferrable and it starts from the date of purchase. It is also not covered if you purchase via non-authorized dealers. Oster has a very highly regarded customer service that is always ready to help customers.
This machine comes with a 30 day, money back guaranty.
Optional accessories
Oster VERSA BLSTVB-RV0-000/ BLSTVB-000-000 machines are not compatible with any other Oster attachment or accessories, and that is a drawback because most of the Oster models come with interchangeable accessories. However, both the low profile jar model and the high profile jar model of the Oster 1400-watt Professional blender have compatible containers. So, if you own the low profile blender you can use it with the high profile jar and vice versa. The tall version # is 156658-000-000, while the short version # is 172873-000-000.
Set Includes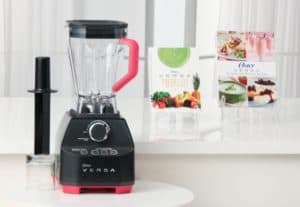 Oster VERSA BLSTVB-RV0-000 1400-watt set includes:
The 1400-watt motor base unit,
64 oz. Tritan plastic pitcher with an inbuilt blade,
lid with measuring cup plug,
tamper,
two colorful cookbooks – Gourmet Cuisine, Fresh and Fit Recipes.
The recipes include Smoothies, Sensible Sips, Sustaining Soups, Nutritious Butters, Satisfying Spreads, Trimmer Treats, and Baby Food categories. The high profile version BLSTVB-000-000 includes only one recipe book.
Dimensions
This machine has quite a large footprint of approximately 9.3 inches x 10.3 inches and will require some space on your counter. The total height of the blender with base and low profile pitcher on the top along with lid is about 17.6 inches, so it will fit under most kitchen cabinets, but make your own measurements to ensure it fits yours. The high profile pitcher is 20.5 inches tall and will definitely not fit under any kitchen cabinets. The shipping weight of the package is 13.2 pounds.
Pros and Cons
Pros:
It is a versatile blender that handles recipes ranging from frozen desserts to hot soups.
Oster Versa most tasks quality performance is very high and could be easily compared to the quality of Vitamix blending, it outputs the green smoothies at the 85% quality of well known high-end blenders.
This machine is durable and comes with an all-metal, sturdy motor drive coupling and a considerable 7 years limited warranty.
Oster Versa is stable and does not travel over the counter.
It comes with pre-set programs and 8 variable speeds that allow you to experiment with a wide range of recipes.
Inbuilt blades make it very easy to use and to clean this machine.
Cons:
No other Oster attachments and extra accessories are compatible with this model.
The pitcher is even made from premium quality Tritan copolyester, but it is not very thick and could break if exposed to high stress.
Oster VERSA Blender Consumer Reviews
This blender has a good 4.2 Amazon consumer rating with about 450 Amazon reviews. Many customers praise the blender as a good value for the money gadget, and would highly recommend it to other customers.
Price
The price fluctuates with different retailers that are very competitive, and Amazon is one of the best in keeping the price low. Often it sold with a discount. Some consumers may confuse this blender with another 1100 watt Oster blender that is priced around $110-150. Both the low and the high profile jar with 1400 watts power will not drop under $170.
Check here today's best price for the Oster VERSA 1400-watt Professional Blender
Summary
Oster VERSA BLSTVB-RV0-000/BLSTVB-000-000 1400-watt Professional is a very good blender. It does a great job on smoothies, it is powerful enough to heat liquid by friction and make perfect frozen desserts. The long warranty and all-metal mechanical system also ensure that the construction quality of the machine is top-notch.
This blender is often compared to high-end machines on the market like Vitamix and it is able to perform almost all of the tasks this blender does with the quality of very comparable to Vitamix (80-90%). On an absolute basis, the Vitamix is a better-built machine, but the Versa is a good value for the money. Although the Oster Versa is not a total clone of Vitamix, it has borrowed many of the nice design features from it. So in the Oster Versa, you will get quite an adequate substitute for a high powered, commercial type blender while paying no more than half the price for it.
Alternatively, check here our articles: