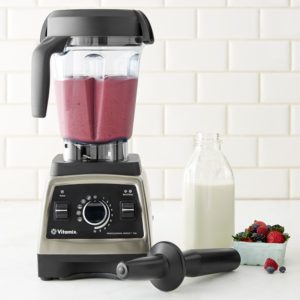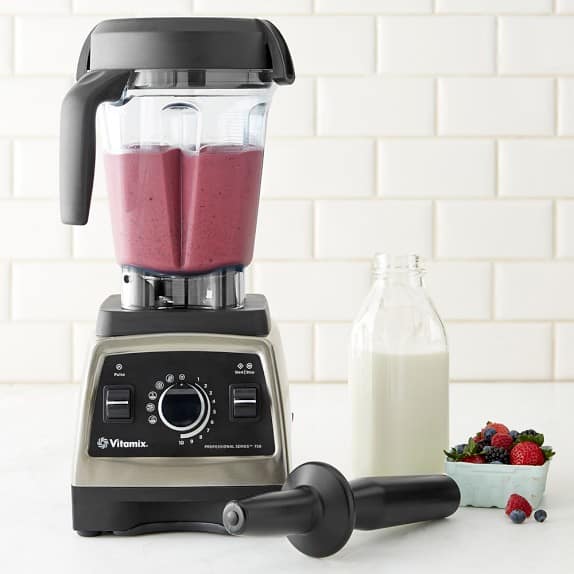 The Professional Series 750 blender is the most expensive Classic Series Vitamix model which has the same 2.2HP upgraded motor and low profile jar as a baseline 7500 model and other former G-series machines. But it is equipped with 5 pre-programmed settings that are quite popular with many customers.
So if you are an avid cook or wish to become one, or wish to start a healthy lifestyle, then you may be interested in finding out more about this powerful and durable machine that will make your food preparation not only easy but very enjoyable.
Are you also interested in alternative Vitamix blender options? Check our article Which Vitamix to Buy? – Vitamix Models Explained.
Functionality and Versatility
Smoothie: The Professional Series 750 blender does make perfectly smooth smoothies out of any ingredients, you name it. It does not matter what you put in the pitcher – soft fruits, leafy or hard vegetables, seeded berries, chia seeds, or nuts – you are guaranteed to get a silky quality drink every time, even with little water added.
Pureeing: No doubt the blender also will pulverize perfectly smooth puree out of any ingredients with the pre-set program or variable speed. The tamper that comes with the blender will be a great help to easily puree hard or raw vegetables.
Chopping can be done with variable-speed or using the pulsing mode. This way you can achieve the desired consistency for whatever you need it for – coleslaw, salsa, sauces, mixes, salad dressing, or anything else.
Soup: It will make fresh vegetable soups heated to boiling temperature with friction using the pre-set program push button. You may also use the variable speed dial to create the consistency you want or the pulsing mode to add some texture to a readymade soup.
Nut milk is no problem for this blender. It will blend perfect nut milk out of soaked or dry nuts. You will need a strainer, however, to sieve your blending for perfect consistency, dairy-free milk.
Ice Crushing and Frozen Treats: It crushes ice easily in smoothies or frozen fruits for sorbets. This blender will make nice and natural homemade ice cream, quick and easy in under one minute.
Nut butter: It makes excellent, straight and pure nut butter without any liquids or oil added. You have to use the variable speed dial and also use the tamper to help.
Dough: This blender makes dough for pizza, cookies, and bread. There is a dedicated grain & dough blade container, but the standard one makes the perfect dough as well.
Grinding: This blender grinds anything you wish – coffee beans, herbs, or grains. It makes perfect fresh flour even from very tiny grains like amaranths or poppy, or from hard ones like rice. Ordinary grains like wheat are easily milled by this machine.
Vitamix is the perfect choice for those who are allergic to dairy, gluten, or something else. It will be indispensable also to any person with a special diet or to those who want a multifunctional blender with a perfect consistency output.
Vitamix Professional Series 750 Blender, via Amazon
Vitamix Professional Series 750 Blender, via Vitamix
Speed Settings and Programs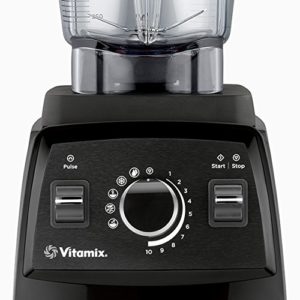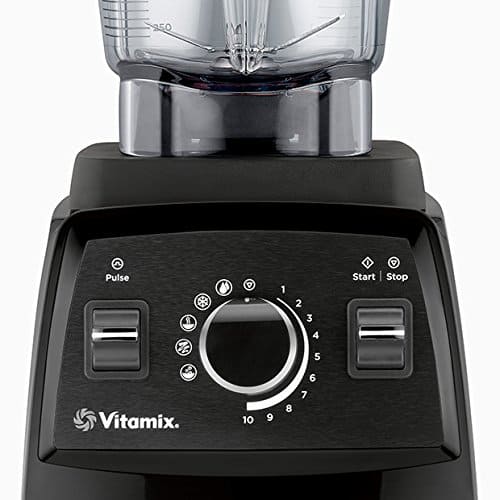 The Vitamix Professional 750 blender control panel is equipped with 10 variable speeds, five (5) preset programs, pulse function, and ON/OFF control.
It has a turning knob in the center and two switches – the left one is a Pulse function switcher, and the right one is the ON/OFF switcher. The turning knob is rotated to the left for the five pre-set programs and to the right for manually controlled variable 10 speeds. Every speed and pre-programmed setting lights up when the knob arrow points to it.
The five pre-programmed settings are as follows: Smoothies, Frozen Desserts, Hot Soups, Puree, and Cleaning. The blender continues to run each of the selected timed settings until the finish of the pre-programmed cycle. Each pre-set program has a different RPM speed and various timing patterns. The soup program heats ingredients from the blade friction and it brings the temperature to steaming. You will see steam coming out of the top.
Are the pre-sets programs absolutely necessary? Many customers love the pre-programmed settings on the Pro 750 machine. They make the job of preparing drinks and soups much easier. You just turn on the button and walk away while the Vitamix is doing the job. These set programs are especially popular with people who use the recipes provided in the cookbook all the time and do not create their recipes, either because they are very busy or because they have limited cooking abilities. All the cookbook recipes are designed especially for the pre-set programs, so that means when you follow the Vitamix Cookbook recipes, the pre-sets are designed to deliver to you perfect results without control on your side. If you blend with chosen speeds but do not follow the exact recipe, you may not achieve the anticipated texture each time. This Pro Series 750 model also provides you with 10 full variable speeds that allow you to manually modify any recipes.
Some people mistakenly think that this model has the sensor that automatically chooses the speed or time if it senses harder, softer or frozen texture of blended ingredients. It is only timed pre-set programs, although there is some type of sensor. For example, if you blend your smoothie and choose speed 10, then the sensor may sense the high load and reduce the speed a little and return to 10 when the resistance is gone. It may tune your setting with one or two speeds but there is not an auto-pilot system that overrides the user's choice.
Ease of Using and Cleaning
Operating with pre-set programs: The Vitamix machines are super easy to use and this attracts many customers. It has a jar inbuilt blade, so there is no assembling or dissembling required for cleaning. Place ingredients in the jar, close the nicely fitting and secure lid and it is ready to run with pre-set programs or manually operating speeds.
Tamper: Every Vitamix machine comes with a tamper that is designed to help process thick and stubborn ingredients such as nut butter or ice cream easier and faster.
Cleaning pre-set program: Professional 750 series model is equipped with a pre-set cleaning cycle/program. You drop some dish soap in the pitcher which is half full of water and switch on the dial to the cleaning mode. This setting does a really good job. It is timed for approximately one minute, with speed variations during the cleaning cycle. This blender is not dishwasher safe, but what could be easier than a self-cleaning gadget. Often, if you use watery ingredients for blending, it is just enough to rinse with water and some soap. The cleaning does not take any longer than 2 minutes. Alternatively, you can clean the blender with hand, just with water, soap, and a brush.
Base Unit and Motor Power
The Vitamix Professional Series 750 comes with a 2.2HP at-peak motor, which is approximately 1500 Watts. At peak means what the motor is capable of without any load. The real power is less. The Vitamix motor is constructed with ball bearing technology that outputs a high coefficient of efficiency and provides low wear factor and long durability. Besides, the power performance of the blender does not depend purely on the motor watt power but a combination of factors such as the design of the motor, drive connections, blade technology, and jar shape. And the Vitamix 2.2HP almost always outperforms much more powerful blenders with up to 3.5HP. Besides, all Vitamix models have a thermal protection system with an automatic shutdown mechanism that is activated when the motor is overloaded, and this greatly extends the service life of this machine
This blender base unit is quite heavy, and that adds stability to this machine. It does not travel over the counter no matter what ingredients you process. The base unit also comes with an electric wire storage system that keeps the unused cord tidy underneath the base unit.
Containers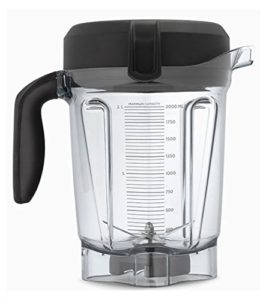 The Vitamix Professional Series 750 comes with a standard 64 oz. WET blade Vitamix container. There are also available 48 oz. and 32 oz. containers and new 48 oz. stainless steel container with a WET blade to buy as accessories for processing smaller portions of food, or a 32 oz. dry blade container for dough kneading and grain milling. All the containers are made of premium quality, Eastman Tritan copolyester, and have measurement marks in milliliters and liters, with ounces and cups on the opposite sides. The container tolerates high temperatures and is durable and stress-resistant. It also comes with a Santoprene rubber lid that sits very tightly on the top of the jar. The lid is equipped with two flaps on the sides that allow for easy removal after use. The lid also has a plug that is designed to fit the tamper, or if you want to add extra ingredients during blending.
This blender is not available with a glass container, even though it is an expensive machine. The glass containers are not shattered proof when used with high powered blenders, so all-powerful blenders come with a strong polycarbonate or metal jar. Before 2007, Vitamix manufactured blenders with a metal container, but from 2007 on it switched to a Tritan copolyester material. However, in July 2020 Vitamix released a new stainless steel container that is compatible with all Vitamix blender models.
Blades
This blender comes with a 4-pronged blade that is made of high-quality aircraft-grade stainless steel. Wet and dry Vitamix blades have blunt edges by design but are constructed in a way so that they provide excellent performance no matter whether they are liquefying smoothies, crushing ice, or milling flour.
Although this blender does all the Vitamix jobs with excellent quality, including grinding, milling, and making the dough, you have an option to buy an extra 32 oz. dry blade container. This is recommended only if you are an avid baker and intend to make home fresh flour often, as this blade pitcher costs around $100. It is only worth investing in if you want to bake chefs like quality bread.
Special Features
Color: The Vitamix Professional 750 blender comes in a black, brushed stainless metal or a copper metal finish. The black is the least expensive one. The stainless metal finish is approximate $50 and the copper is $100 more expensive than the black one, depending on the special offers available from different retailers.
The brushed stainless and copper finish is not real metal housing, but a coating designed to replicate metal applied on over the plastic housing. This coating is also slightly more scratch-resistant than the plastic housing. The brushed stainless and copper finishes, however, have a stylish look and will complement other stainless steel kitchen appliances in your kitchen.
Certified Refurbished: There are Vitamix Professional 750 refurbished machines available for this model, but they are quite rare and have a waiting list with the manufacturer.
Use in countries outside of USA/Canada: Vitamix Pro 750 sold in USA designed for operation in USA, Canada, and other countries that support 110-120 voltage system (most of Central and South America region, Japan, Taiwan, and Saudi Arabia). The gadget can be used via a voltage transformer but as advised by the manufacturer, only over a short time period. Otherwise, it could compromise the functionality of the blender. However, the 220-240 version of this model is available in the UK, Australia, and a few other European countries. But UK retailers have the most competitive price for the 220-240 volts Vitamix Pro 750 blender.
Noise
All the G-series Vitamix blenders including Professional Series 750 have an upgraded base unit system regarding noise. This gadget produces 85-93 decibels depending on the speed and the ingredients it is processing, and that is comparable to the noise of conversations in a restaurant. It also should be mentioned that the standard large 64 oz. and 48 oz. containers produce considerably less noise than the wet or the dry 32 oz. pitchers.
The standard solution to reduce the sound made by any kitchen gadget is to place a rubber mat underneath of the base unit.
Warranty and Customer Service
The Professional Series 750 model comes with a 7-year Full Warranty, which is the same for most of the Vitamix products. A full warranty means that all shipping and repair costs are covered by the manufacturers and there is not any extra charge that will occur. The Vitamix Warranty is transferable within 7 years between 2 or more possible users and starts from the date of purchase. To start the Warranty you have to fill out and send the warranty card included in the package or register online or via telephone with customer service by providing the serial number that can be found at the back of the base unit of your machine.
Vitamix has an excellent reputation for its customer service. Keep in mind that you also have the option to return your Vitamix within 30-days from the date of purchase if you find that this blender does not suit you.
Vitamix Professional 750 Blender Optional Accessories
All the Vitamix pitchers are interchangeable and all will go with any blender model. So the Standard Vitamix 48 oz., Wet blade, 32 oz. Wet blade and 32 oz. Dry Grain blade pitchers available from any retailer and manufacturer will go with this Vitamix Professional Series 750 model.
Vitamix 48 oz.  Wet Blade Stainless Steel Container that will satisfy not only the requirements of most demanding health aware customers but also provide tremendous durability.
Vitamix 48 oz. Wet Blade Container is usually bought for small households or single people who want to process smaller portions of food. Some customers also buy this container when they have an issue with space in the kitchen and want to fit this machine under the kitchen cabinet.
Vitamix 32oz. Wet Blade Pitcher will benefit people who often process very small portions of food such as baby food. Processing nut butter is also easier to do in a smaller container, and this container has a smaller blade and thus requires fewer ingredients to cover the blades in order to avoid air pockets and allow quick and smooth processing.
Vitamix 32 oz. Dry Grains Container is designed for more efficient processing of grains and kneading all types of dough easily. The dry blades have a slightly different design than wet ones and this ensures a chef-quality milling and kneading job.
Vitamix Personal Cup Adapter: The Personal Blender attachment for the Classic models. 
There are also 3 spatulas Vitamix sets available from different retailers. The spatulas will help easily remove thick blends from all types of containers.
Set Includes
The Professional Series 750 blender comes with a standard package from all retailers, and the set includes a G-series 2.2HP base unit, 64 oz. Wet blade container, rubber lid with plug, tamper, Getting Started Guide, instructional DVD, and Create Cookbook with over 200 recipes.
In addition to the standard Pro Series 750, it is available in a Vitamix 750 Professional Artisan Baker Premium package that includes an additional 32 oz. dry blade container and an extra Whole Grains Cookbook.
Dimensions
These models come with a low profile container that was specifically designed to fit under most upper kitchen cabinets. It is 17.4 inches tall with the pitcher and the lid placed on the top of the unit base. However, this machine has quite a large footprint of 9.4 x 7.7 inches and will take up some space on your countertop. The shipping weight of the package is approximately 20.4 lbs.
Vitamix Pro 750 Blender Pros and Cons
Pros:
Vitamix Pro 750 is a very versatile blender that performs all functions, from cooking soup to making ice-cream up to very high standards.
The blender is equipped with pre-set programs for those who do not like any guesswork while preparing food, but it has variable speed recipe modifications for the convenience of family members who do not like pre-sets.
It is a very well built machine with a long lifespan. The earlier models have lifelong durability and most likely the G-series will also perform as well.
Cons:
It is a very expensive blender and will suit only those who do a lot of home cooking or a health enthusiast who will use this machine for every penny it costs.
For the single feature of 5 pre-set programs, it charges quite a considerable premium of around $100 if compared to the Vitamix 7500 machine.
Vitamix Pro 750 Consumer Reviews
Vitamix is a well-known and popular powerful blender, and there are around 450 reviews on Amazon even for this relatively recent model. The average Amazon rating is 4.7.
Price
The Vitamix Professional Series 750 price varies with different retailers and over time. This happens because the manufacturer offers special deals from time to time on this machine and major retailers try to underbid it or keep close. Check here for the best deal with Amazon that often underbids the manufacturer's price.
Vitamix Professional Series 750 Blender, via Amazon
Vitamix Professional Series 750 Blender, via Vitamix
Amazon also offers Flexible Financing Options for sales over $599, so you may consider one for this blender.
Summary
Although the Vitamix Professional Series 750 is not the latest Vitamix model, it has quite a high price tag compared to other Legacy models and has approximately the same price as the most advanced Vitamix model today the Ascent A3500 blender.  Nevertheless, the Pro 750 blender is very popular with the consumer most of whom think for some reason that it is a most advanced model.
The consumer who considers buying the Pro 750 model must be sure that it will be used for every penny paid for it. The person who considering buying it must plan to use this machine often and make not only smoothies but experiment with different recipes. Using it often and enjoying the pre-set programs is also a must because this feature alone will cost the consumer a $70 premium over the same 7500 model but without these 5 program settings. Otherwise, it is worth considering the 5200 Standard, Explorian, 7500 models, or the latest Ascent series  Ascent A2300  or A2500 blenders that are available at the 15%-20% cheaper price. People with limited cooking skills but who want to start a healthy diet journey will definitely benefit from this model, as it allows you to prepare most of the sophisticated recipes provided in the Vitamix cookbook without any problem as far as the user is concerned.
Do you want to find out which Vitamix blender suits to you best? Go to our Vitamix Blender Guide article and reviews.