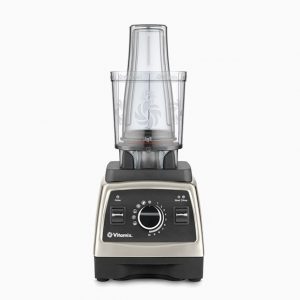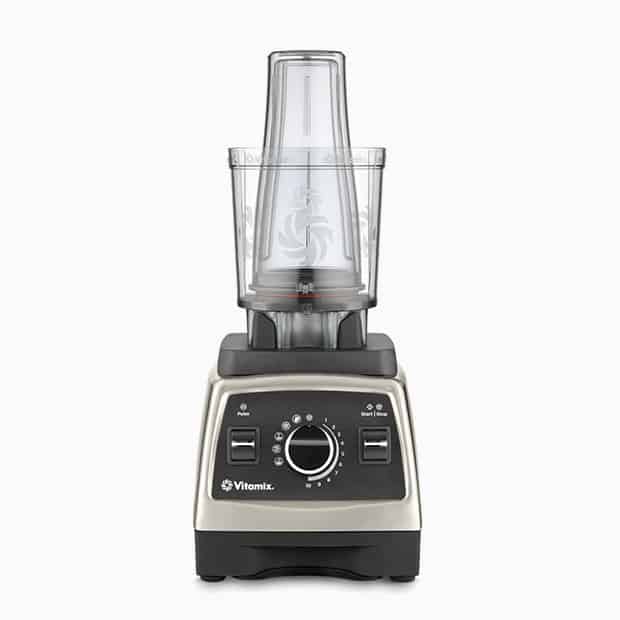 Personal Cup Adapter for Classic Vitamix models is the brand's answer to the personal blender popularity which began with the introduction of Magic Bullet blenders in 2004.
The Vitamix initially introduced the Single Serve attachment for the Ascent series blenders, and since Ascent blenders are the newest product line released in December 2016 they were designed with the personal blender attachment possibility in mind which was released in 2017. The Blending Cup Starter Kit is not compatible with any of the Classic Series blenders thus the Personal Cup Adapter for Classic blenders came to life. To resolve the compatibility problem for the very popular personal blender attachment the Vitamix released an adapter that makes the Personal Cup starter Kit compatible with any classic model, any G-series model without exclusion.
Especially it is valuable as Vitamix discontinued its Space Saving S-series S30/S50/S55 personal blenders.
Compatibility: The Personal Cup Adapter is compatibles with 5200, Standard with Programs, Explorian E310 and E320, 5300, 6300, 6500, 7500, Pro 750, 780, Aspire Series, Creations Series, Total Nutrition Center, TurboBlend Series. 
Not compatible with Vitamix Ascent Series machines which have its dedicated personal blender attachment called Blending Cup Starter Kit.
What does it include?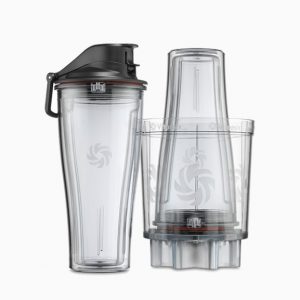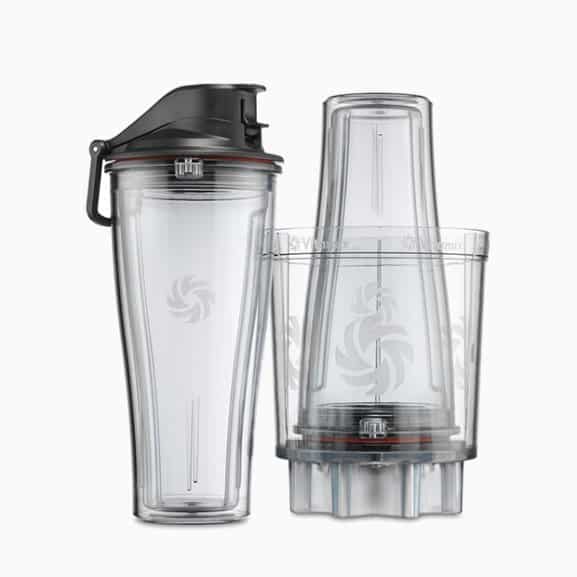 The Personal Cup Adapter Set includes:
An Adapter with inbuilt laser-cut blades;
Two (2) 20 ounces double insulated Cups;
Two (2) removable gaskets;
Two (2) spill-proof and flip-top lids;
Getting Started Guide with recipes;
User Manual;
3 Year Full Manufacturer Warranty.
Dimensions: 10″ x 5.5″ x 5.5″, weight: 2.2 lbs
Adapter and Blades: An adapter is a device that provides a connection between the single-serve cup and the Classic blenders' base. It has inbuilt blades on one side and metal gear on another that fits the adapter into the base unit socket. The inbuilt 4-prongs blades are made from the usual for Vitamix aircraft quality stainless steel.
The base of the blade assembly is made of hard and quality plastic while all blade to motor coupling is made of metal. Overall, the Adapter device is very solid and well-made and if handled with care and cleaned well it will last for many years without wearing out and need to be replaced.
Cups and Lids: The two 20 oz. (0.6l) single-serve cups are made from very durable Tritan copolyester material that it impacts and temperature resistant. They are shaped like typical bullet type cups with narrowing tip and operated upside down and after blending the blade assembly could be replaced by the to-go lid and taken away in a car or outside. The 20 oz. cups are very thick and have double insulation that will keep cold or hot temperature 30-50 % longer than ordinary cups.
Two to-go lids are also well designed for easy drinking and come with a sealing gasket and clip to prevent any leaking when on the go.
How does it work?
Assembling/Disassembling: Fill the 20 oz. bullet cup with ingredients first. To achieve the best blending result you must cut the ingredients into 1-inch size pieces because of the narrow container and place them in the right order – Ice and Frozen Ingredients first and followed by the soft fruits and veggies, leafy greens, dry goods (grains, seasonings, powders), liquids (water, juice, yogurt). Never overfill the cup. The cup does not have any MAX line bit it has two vertical indents on it, so do not fill over those indents.
Fit the sealing gasket snugly and evenly around the thread of the adapter. Attach the adapter to the cup by threading the cup in a clockwise direction tight enough to avoid leaking. Place on the base unit and it is ready to run, start blending at a low speed (1 or 2) for 5-7 seconds, it gives the blades a time to capture all ingredients into the vortex, when all ingredients start circulating increase the speed needed for your recipe.
Once you finished blending invert the adapter with a cup, wait for 10 seconds to allow settling for you blending, and unscrew the adapter from the personal cup in a counter-clockwise direction. Put a seal on the flip-top lid and thread the flip-top lid onto the personal cup in a clockwise direction until just tight and it is ready to be taken on the go or to drink.
Warning: (1) If you decide to re-blend your cup after opening, always wipe the threads with a towel if it spills over. (2) Ingredients may have problem to blend properly if the cup not filled in a right order of overfilled.
Cleaning: All blender parts – containers, lids, lid plug, tamper, blade assembly, and seals – are top-rack dishwasher safe. The gasket must be removed from the blades or the lid before cleaning. The gasket also must be cleaned separately to avoid build-ups.
It also could be cleaned following the self-cleaning procedure by running soapy water in the blender or hand washed with a brush. It may seem inconvenient to some customers but it is the usual procedure for all personal blender types with the removable blade assembly.
What does it blend?
The Personal Cup Adapter is designed to make single-serve smoothies and it does it best.
It also makes other thin small recipes like marinades, salad dressing, salsas, or small batches of pesto.
It is perfect for baby food.
It can grind nuts but hardly will make nut butter without stopping and shaking it. So it is better to use a full-size jar for this purpose.
It does not design to blend hot ingredients because the cup is not vented.
It can grind spices and coffee beans but it will handle the task if only you fill the cup up to 1/2 or 2/3 and no more.
Warning: The Vitamix issued a warning not to use the Personal Blender Adapter with the Ascent series Blending Bowls as it could have a problem unscrewing what can damage your adapter. The Vitamix will not validate the warranty if you damage it using with the Ascent Blending bowls.
Check here today's best price for Personal Cup Adapter
Summary
The Personal Cup Adapter Kit looks a bit clumsy but it does the smoothies and small and thin recipes job perfectly. Also, it has some other benefits such as having extra blending containers at your disposal, minimizing smoothies' loss while you transfer to different vessels, or encouraging your family members to take the healthy smoothie on-the-go. Overall it is a perfect addition for those who want to increase your Vitamix functionality with the personal blender attachment.