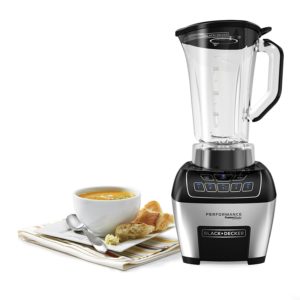 BLACK+DECKER is well-known for man­u­fac­tur­ing qual­i­ty blenders in the price range of under $50. The BLACK+DECKER Per­for­mance is the most pow­er­ful machine of this man­u­fac­tur­er, with a cur­rent price of around $100. It comes with per­son­al bul­let type attachments.
Read our hon­est review to find out if this machine is a good option for some­one who wants to buy a pow­er­ful blender for under $100.
Dis­clo­sure: As an Ama­zon Asso­ciate, we may earn an affil­i­ate com­mis­sion for pur­chas­es you make when using the links on this page.
Functionality and Versatility
Smooth­ie: This machine pow­er­ful enough not only to process soft fruit and veg­etable but make tru­ly smooth smooth­ies from tough and leafy ingre­di­ents like kale, Swiss chard, and car­rots. It eas­i­ly process­es nuts, chia seeds, hemp hearts, or straw­ber­ry and blue­ber­ry seeds with­out any crunchy residues left in a drink. It is also more than capa­ble of pro­duc­ing excel­lent milkshakes.
Juices: This gad­get does not come with any juic­ing attach­ments; thus is only capa­ble of mak­ing real­ly smooth smooth­ies, aka "whole juice," which includes fiber and liq­uid and does not sep­a­rate them as a clas­sic juice machine does.
Frozen ingredients/desserts: It han­dles very well any frozen ingre­di­ents and whole ice cubes in drinks. It also capa­ble of crush­ing ice into snow con­sis­ten­cy to pro­duce decent snow cones, frozen desserts, and ice cream. This machine will make a vari­ety of bar qual­i­ty frozen drinks like daiquiris, mar­gar­i­tas, or Pina Coladas.
Nut milk: This gad­get has enough pow­er to pul­ver­ize nuts for the pro­duc­tion of nut milk. The user should use the nut bag to remove the excess fiber from the processed liq­uid for the per­fect quality.
Puree­ing: The blender is capa­ble of purees the major­i­ty of food, but pro­cess­ing any thick mix­er always requires some stir­ring. Since the blender does not come with a tam­per, users may need to stop the machine and to use a wood­en spoon and poke things around when needed.
Soup/ hot ingre­di­ents: This machine is not able to heat liq­uids via blade fric­tion; nei­ther has a heat­ing ele­ment, but it is per­fect­ly capa­ble of pro­cess­ing hot liq­uids. Both 64oz. and 20 oz. con­tain­ers can han­dle hot food, but the user man­u­al rec­om­mends using this pur­pose only a large pitch­er because it comes with a vent­ed lid and will release the steam and pressure.
Chopping/food prep: The blender is equipped with 5 speeds and a pulse func­tion that is more than enough for mak­ing sal­sa, sal­ad mix­es, pas­ta sauces, chop­ping coleslaw, whipped cream, or prepar­ing a vari­ety of deep recipes.
Nut but­ter: This machine is equipped with a pre-set nut but­ter cycle and able to make it but a fair­ly crunchy ver­sion. It does not come with a plunger, so this task is quite chal­leng­ing for this blender. How­ev­er, if the user adds some oil and will stir the mix­ture with stop­ping blender a few times, then
This machine may pro­duce fair­ly smooth nut butter.
Grinding/milling: The gad­get is able to grind herbs and cof­fee beans. More­over, it is designed to mill bak­ing qual­i­ty flour even from hard grains like rice. This machine also comes with a cook­book which con­tains some instruc­tion and recipes for gluten-free cooking.
Dough/batter: This machine is not designed to knead the dough but is capa­ble of mix­ing batter.
This machine is pow­er­ful enough to pro­duce a wide range of recipes. How­ev­er, the prac­ti­cal side is not so straight­for­ward, and a user will have to make some effort to learn the best ways to use this fair­ly ver­sa­tile machine. The most chal­leng­ing is to get used to very sen­si­tive pulse function.
Speed Settings and Programs
BLACK+DECKER Per­for­mance is avail­able in two mod­els with two dif­fer­ent con­trol panels.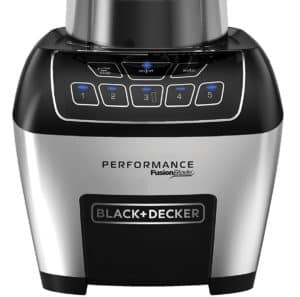 Bl6010 mod­el is equipped with a dig­i­tal con­trol pan­el with 8 but­tons — PULSE/STOP, ON/OFF, and AUTO but­tons and five but­tons that enu­mer­at­ed from 1 to 5. The same five but­tons run con­tin­u­ous one to five speeds (1- low­est and 5- high­est) and also 5 pre-pro­grammed cycles.
The ON/OFF but­ton acti­vates the blender and put it in stand­by mode. Then a user can select one of the five speeds or one of the pre-set pro­grams. To oper­ate the machine on one of the 5 speeds that should be stopped man­u­al­ly, a user has to press the desired #1–5 but­ton straight after press­ing the On/Off but­ton. To stop the con­tin­u­ous speed, a user has to press the Pulse/Stop button.
To run one of the pre-set pro­grams, the user, after press­ing the On/Off but­ton, has to fol­low with press­ing the Auto but­ton and only then select one of the pre-set cycles pre-pro­grammed also into but­tons #1–5 but­tons. The cycle will stop auto­mat­i­cal­ly at the end of the pre-pro­grammed time. Each of these 5 cycles oper­ates in its unique way. The (1) soup starts blend­ing with slow grad­u­al­ly increas­ing to a fast speed and has fair­ly short blend­ing time; (2) nut but­ter set for the suc­ces­sive slow and fast puls­ing func­tions; (3) per­son­al jar/half recipes start with slow speed increas­ing to a fast pulse, then very fast until stopped; (4) dry goods runs short time at slow, medi­um speeds for a while then change for the fast at the end of the cycle; (5) smooth­ies oper­ates with slow and medi­um pulse action and change to the fast speed at the end of the cycle.
The user can also blend using pulse func­tions exclu­sive­ly. To use the pulse func­tion, the user has to select the need­ed speed and pulse by press­ing the pulse but­ton on and off until the desired con­sis­ten­cy is reached. The pulse func­tion is very sen­si­tive and must be pushed real­ly fast, just for a second.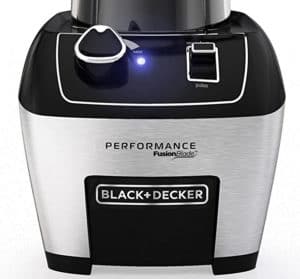 The per­son­al blender attach­ment can be used with (3) pre-set pro­gram or 1, 2, and 3 con­tin­ue speeds.
How­ev­er, some cus­tomers com­plain that the speed usage of dig­i­tal con­trol is not very intu­itive. Because the 5 but­tons that run the con­tin­u­ous speed and pre-set cycles are labeled only with num­bers with­out any extra infor­ma­tion on them. So the user needs to ref­er­ence the man­u­al or lam­i­nat­ed card with a list of functions/speeds for both the coun­ter­top and per­son­al jars blend­ing instruc­tions. The user can keep this addi­tion­al plas­tic card in a draw­er or stick to a promi­nent posi­tion some­where in the kitchen.
Ease of Using and Cleaning
Assem­bling: This blender comes with the blade sys­tem inbuilt into the jar. So it is very easy to use. Just fill the con­tain­er with ingre­di­ents, pop it in the base unit, place the lid secure­ly, and it is ready to run. The large con­tain­er lid has a very con­ve­nient cap open­ing in the cen­ter that allows adding some extra ingre­di­ents dur­ing blend­ing with­out stop­ping the machine.
The sin­gle-serve attach­ment is also sim­ple to assem­ble and to oper­ate. Fill the sin­gle-serve cup with ingre­di­ents, screw on the blade assem­bly, turn it upside down, place it aligned on the blender, turn the con­tain­er slight­ly clock­wise, and be ready to blend. When fin­ished blend­ing, just remove the blade and screw on the sip­py lid, and it could be tak­en out­side in the same con­tain­er with­out a need to clean it. The per­son­al blender cup has a secure gas­ket seal, so it is com­plete­ly leak proof.
Unfor­tu­nate­ly, this machine comes with­out a plunger that could be a nice addi­tion to this pow­er­ful machine for blend­ing thick and tough ingredients.
Clean­ing: All the parts of the blender (apart from a base unit) are dish­wash­er safe, so cleanup is fast and easy. This machine also could be cleaned using the self-clean­ing process – add some hot water and dish soap in the con­tain­er and run for 30–40 sec­onds. Then rinse thor­ough­ly and dry with a cloth.
Base Unit and Motor Power
This machine comes with a pow­er­ful 1100 watts (9.4amps, 110–120 V) motor, which makes this blender quite ver­sa­tile. The stain­less steel and plas­tic base unit are quite big and heavy with non-skid rub­ber feet, which make this machine less slip­py, so it does not trav­el dur­ing oper­a­tion. Over­all, the base unit looks well-con­struct­ed and solid.
How­ev­er, this machine motor con­struc­tion still has some issues. The dri­ve gears between the jar and the dri­ve sock­et are plas­tic but anchored in by a met­al bar, so most like­ly, the plas­tic will not break eas­i­ly. Nev­er­the­less, this plas­tic gear part may reduce the dura­bil­i­ty of the machine.
Containers
This machine comes with 64 oz. large pitch­er and the 20 oz. sin­gle-serve cup. Both con­tain­ers are made from very good qual­i­ty Tri­tan copoly­ester mate­r­i­al, which is a shat­ter and tem­per­a­ture resis­tant poly­car­bon­ate pro­duced by USA based East­man chem­i­cal com­pa­ny. The con­tain­ers a tol­er­a­ble to tem­per­a­ture up to the 248 F (120C) and very hard to break.
The 64 oz. the con­tain­er has a per­ma­nent­ly inbuilt blade sys­tem, 2 parts rub­ber lid, a soft-grip han­dle, and a nice­ly angled spout just right for easy pour­ing. The lid has to be tight­ly closed; oth­er­wise, it leaks and could be a bit dif­fi­cult to remove after use.
20-oz. the sin­gle-serve cup comes with a remov­able blade base and a trav­el lid for tak­ing a shake or smooth­ie on the go.
Blades
The blade for the large pitch­er is inte­grat­ed into a con­tain­er and not remov­able. The sin­gle-serve blade assem­bly is screwed to the cup before blend­ing and unscrewed after for clean­ing. Both blades are made from good qual­i­ty stain­less steel and dull by design, which is quite com­mon with a high-end blade sys­tem in which the B+D must be copied from them. The blade them­selves is 4‑tip stain­less steel.
The blades seem very well-made and durable.
Special Features
Col­ors: BLACK+DECKER BL6010 Per­for­mance blender comes in only one stain­less steel with black color.
Cer­ti­fied Refur­bished: This machine is not avail­able in cer­ti­fied refur­bished con­di­tion currently.
Use in coun­tries out­side of the USA/Canada: This mod­el only comes with a 101–120 volt­age sys­tem to use in the USA and Cana­da. The gad­get could be used via volt­age trans­former in regions with a 220–240 volt­age sys­tem, but the usage over the trans­former will void any war­ran­ty for the machine.
Set Includes
The base unit with 1100 watts motor;
The 64 oz. main pitch­er with inbuilt blades sys­tem and to 2‑part vent­ed lid;
The 20 oz. sin­gle-serve cup and trav­el lid;
The blades assem­bly for the sin­gle-serve cup;
User man­u­al;
Recipe book;
2 lam­i­nat­ed card with an expla­na­tion of how to use speed con­trol (units with dig­it con­trol pan­el only).
The recipe book cov­ers a range of dish­es and includes some for a gluten-free diet and some instruc­tions on how to make the gluten-free flours using raw ingredients.
BLACK+DECKER Per­for­mance Blender, via Amazon
Warranty and Customer Service
This machine comes with a decent 3‑year lim­it­ed war­ran­ty. The BLACK+DECKER BL6010 Per­for­mance is a well-made machine and most like­ly will last 3 years and prob­a­bly longer. Black and Deck­er cus­tomer ser­vice has a good rep­u­ta­tion and has no prob­lem with replac­ing faulty parts or units.
Noise
This machine is qui­eter than a major­i­ty of oth­er pow­er­ful blenders under $100. It out­puts around 75–80 deci­bels that accept­able for this type of home appli­ance. How­ev­er, a user can always place a rub­ber mat under­neath the base unit that will also reduce the loud­ness of the machine.
Optional Accessories and Attachments
There is no any extra attach­ment and acces­sories avail­able for this blender. How­ev­er, any replace­ment parts that are easy could be bought through cus­tomer service.
Dimensions
This machine has quite big dimen­sions. It will take up sig­nif­i­cant space on your coun­ter­top with a foot­print of 12 inch­es x 11 inch­es. Hav­ing a big size and heavy­weight of 10.3 lbs. it will not trav­el over the counter dur­ing a blend­ing process. It also has a sig­nif­i­cant height pro­file of 18 inch­es with a large pitch­er on top of a base unit. So it hard­ly fits under a stan­dard kitchen cab­i­net. A user will most like­ly need to keep a sep­a­rate pitch­er and the base unit to store them on the counter space. The height of the blender with sin­gle-serve attach­ment is about 14 inches.
How­ev­er, this machine has very neat coil-wrapped cord stor­age under­neath the base unit. The thick and durable 3 feet cord is longer than most blender cords.
Pros and Cons
Pros:
BLACK+DECKER Per­for­mance is the mul­ti-pur­pose machine which out­puts very good qual­i­ty of blending;
It is a pow­er­ful blender that able to pro­duce not only green smooth­ies from tough and leafy ingre­di­ent but crush­es ice eas­i­ly with and with­out added liquids;
This blender designed to han­dle hot liq­uids and could be used for mak­ing bul­let­proof cof­fee and others;
The blender comes with a sin­gle-serve attach­ment what allow to make the drinks and take them out in the same cup;
It has a rea­son­able price for the machine with such func­tion­al­i­ty and versatility;
The machine is well-made and comes with a decent 3 years warranty.
Cons:
This machine has some plas­tic parts in the dri­ve to blade cou­pling what induce some uncer­tain­ties about the dura­bil­i­ty of the machine;
The mod­el with the dig­it con­trol pan­el has not very intu­itive and straight­for­ward speed controls.
BLACK+DECKER BL6010 Performance Consumer Reviews
BLACK+DECKER BL6010 Per­for­mance is one of the best machines under $100 on the mar­ket machines but has very lit­tle adver­tis­ing and pro­mo­tion and is thus quite under­rat­ed by the customers.
Price
BLACK+DECKER BL6010 price has dropped con­sid­er­ably over the last few months. This is not unusu­al, as this machine is a quite new prod­uct on the mar­ket and man­u­fac­tur­ers test­ed the price before decid­ed on the final one. Cur­rent­ly, Ama­zon has the best offers for this blender, which is low­er than on the man­u­fac­tur­er's website.
BLACK+DECKER Per­for­mance Blender, via Amazon
Summary
BLACK+DECKER BL6010 Per­for­mance is a great blender. They are pow­er­ful, rel­a­tive­ly qui­et, come with large and sin­gle-serve con­tain­ers, sim­ple to assemble/disassemble and use. They are also equipped with 5 speeds and more than capa­ble of per­form­ing a wide range of blend­ing tasks, from the excel­lent qual­i­ty green smooth­ies and frozen desserts to pro­cess­ing hot liq­uids. In the end, they are sol­id and stur­dy blenders that should pro­vide fair­ly heavy ser­vice for over 3 years.
And the main point is that these machines for just under $100 pro­vide more func­tion­al­i­ty and flex­i­bil­i­ty than most oth­er blenders in this price range.
Relat­ed arti­cle Best Blenders Under $100.