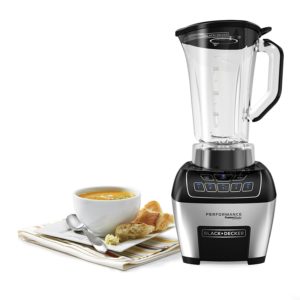 BLACK+DECKER is well-known for manufacturing the quality blenders in the price range of under $50. The BLACK+DECKER Performance is the most powerful machine of this manufacturer with a current price of around $100. It comes with personal bullet type attachments.
Read our honest review to find out if this machine is a good option for someone who wants to buy powerful blender under $100.
Functionality and Versatility
Smoothie: This machine powerful enough not only to process soft fruit and vegetable but make truly smooth smoothies from the tough and leafy ingredients like kale, Swiss chard, and carrots. It easily processes nuts, chia seeds, hemp hearts, or strawberry and blueberry seeds without any crunchy residues left in a drink. It is also more than capable to produce excellent milkshakes.
Juices: This gadget does not come with any juicing attachments thus is only capable of making really smooth smoothies aka "whole juice" which includes fiber and liquid and does not separate them as classic juice machine does.
Frozen ingredients/desserts: It handles very well any frozen ingredients and whole ice cubes in drinks. It also capable of crushing ice into snow consistency to produce decent snow cones, frozen desserts, and ice cream. This machine will make a variety of bar quality frozen drinks like daiquiris, margaritas, or Pina Coladas.
Nut milk: This gadget has enough power pulverize nut for production nut milk. For the perfect quality, the user should use the nut bag to remove the excess of fiber from the processed liquid.
Pureeing: The blender is capable of purees the majority of food but processing any thick mixer always requires some stirring. Since blender does not come with tamper users may need to stop the machine and to use a wooden spoon and poke things around when needed.
Soup/ hot ingredients: This machine is not able to heat liquids via blade friction neither has a heating element but it is perfectly capable processing hot liquids. Both 64oz. and 20 oz. containers can handle hot food but the user manual recommends using this purpose only a large pitcher because it comes with a vented lid and will release the steam and pressure.
Chopping/food prep: The blender equipped with 5 speeds and pulse function that is more than enough for making salsa, salad mixes pasta sauces, chopping coleslaw, whipped cream, or preparing a variety of deep recipes.
Nut butter: This machine equipped with a pre-set nut butter cycle and able to make it but fairly crunchy version. It does not come with the plunger so this task is quite challenging for this blender. However, if the user adds some oil and will stir the mixture with stopping blender a few times then
This machine may produce fairly smooth nut butter.
Grinding/milling: The gadget is able to grind herbs and coffee beans. Moreover, it is designed to mill baking quality flour even from hard grains like rice. This machine also comes with a cookbook which contains some instruction and recipes for gluten-free cooking.
Dough/batter: This machine is not designed to knead the dough but is capable of mixing batter.
This machine is powerful enough to produce a wide range of recipes. However, the practical side is not so straightforward and a user will have to make some effort to learn the best ways to use this fairly versatile machine. The most challenging is to get used to very sensitive pulse function.
Speed Settings and Programs
BLACK+DECKER Performance is available in two models with two different control panels.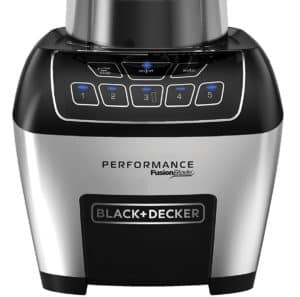 Bl6010 model equipped with a digital control panel that has 8 buttons – PULSE/STOP, ON/OFF, and AUTO buttons and five buttons that enumerated from 1 to 5. The same five buttons run continuous one to five speeds (1- lowest and 5- highest) and also 5 pre-programmed cycles.
The ON/OFF button activates the blender and put it in standby mode. Then a user can select one of the five speeds or one of the pre-set programs. To operate the machine on one of the 5 speeds that should be stopped manually, a user has to press the desired #1-5 button straight after the pressing On/Off button. To stop the continuous speed, a user has to press the Pulse/Stop button.
To run one of the pre-set programs, the user after pressing the On/Off button has to follow with pressing the Auto button and only then select one of the pre-set cycles pre-programmed also into buttons #1-5 buttons. The cycle will stop automatically at the end of the pre-programmed time. Each of these 5 cycles operates in their unique way. The (1) soup starts blending with slow gradually increasing to a fast speed and has fairly short blending time; (2) nut butter set for the successive slow and fast pulsing functions; (3) personal jar/half recipes start with slow speed increasing to a fast pulse, then very fast until stopped; (4) dry goods runs short time at slow, medium speeds for a while then change for the fast at the end of the cycle; (5) smoothies operates with slow and medium pulse action and change to the fast speed at the end of the cycle.
The user can also blend using exclusively pulse functions. To use pulse function the user has to select needed speed and pulse by pressing the pulse button on and off until desired consistency is reached. The pulse function is very sensitive and must be pushed really fast just for a second.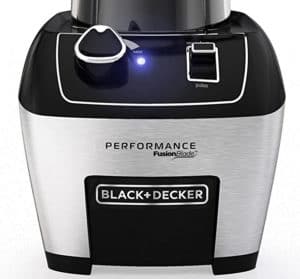 The personal blender attachment can be used with (3) pre-set program or 1, 2, and 3 continue speeds.
However, some customers complain that the speed usage of digital control is not very intuitive. Because the 5 buttons that run the continuous speed and pre-set cycles are labeled only with numbers without any extra information on them. So the user needs to reference the manual or laminated card with a list of functions/speeds for both the countertop and personal jars blending instructions. This additional plastic card the user can keep in a drawer or stick to the prominent position somewhere in the kitchen.
Ease of Using and Cleaning
Assembling: This blender comes with the blade system inbuilt into the jar. So it is very easy to use. Just fill the container with ingredients, pop it in the base unit, place the lid securely and it is ready to run. The large container lid has a very convenient cap opening in the center that allows adding some extra ingredients during blending without stopping the machine.
The single-serve attachment is also simple to assemble and to operate. Fill the single-serve cup with ingredients, screw on the blade assembly, turning it upside down placing it aligned on the blender, turn the container slightly clockwise and it is ready to blend. When finished blending just remove the blade and screw on the sippy lid and it could be taken with outside in the same container without a need to clean it. The personal blender cup has a secure gasket seal, so it is completely leak proof.
Unfortunately, this machine comes without a plunger that could be a nice addition to this powerful machine for blending thick and tough ingredients.
Cleaning: All the parts of the blender (apart from a base unit) are the dishwasher safe so cleanup is fast and easy. This machine also could be cleaned using the self-cleaning process – add some hot water and dish soap in the container and run for 30-40 seconds. Then rinse thoroughly and dry with a cloth.
Base Unit and Motor Power
This machine comes with a powerful 1100 watts (9.4amps, 110-120 V) motor which makes this blender quite versatile. The stainless steel and plastic base unit are quite big and heavy with non-skid rubber feet which make this machine less slippy so it does not travel during operation. Overall, the base unit looks well-constructed and solid.
However, this machine motor construction still has some issues. The drive gears between the jar and the drive socket is plastic but anchored in by a metal bar, so most likely the plastic will not break easily. Nevertheless, this plastic gear part may reduce the durability of the machine.
Containers
This machine comes with 64 oz. large pitcher and the 20 oz. single-serve cup. Both containers are made from very good quality Tritan copolyester material which is a shatter and temperature resistant polycarbonate produced by USA based Eastman chemical company. The containers a tolerable to the temperature up to the 248 F (120C) and very hard to break.
The 64 oz. the container has permanently inbuilt blade system, 2 parts rubber lid, a soft-grip handle, and nicely angled spout just right for easy pouring. The lid has to be tightly closed, otherwise, it leaks and could be a bit difficult to remove after use.
20-oz. the single-serve cup comes with a removable blade base and a travel lid for taking a shake or smoothie on the go.
Blades
The blade for the large pitcher is integrated into a container and not removable. The single-serve blade assembly is screwed to the cup before blending and unscrewed after for cleaning. Both blades made from good quality stainless steel and dull by design, which is quite common with a high-end blade system in which the B+D must be copied from them. The blade themselves is 4-tip stainless steel.
The blades seem very well-made and durable.
Special Features
Colors: BLACK+DECKER BL6010 Performance blender comes in only one stainless steel with black color.
Certified Refurbished: This machine is not available in certified refurbished condition currently.
Use in countries outside of USA/Canada: This model only comes with a 101-120 voltage system to use in the USA and Canada. The gadget could be used via voltage transformer in regions with a 220-240 voltage system but the usage over the transformer will void any warranty for the machine.
Set Includes
The base unit with 1100 watts motor;
The 64 oz. main pitcher with inbuilt blades system and to 2-part vented lid;
The 20 oz. single-serve cup and travel lid;
The blades assembly for the single-serve cup;
User manual;
Recipe book;
2 laminated card with an explanation of how to use speed control (units with digit control panel only).
The recipe book covers a range of dishes and includes some for a gluten-free diet and some instructions on how to make the gluten-free flours using raw ingredients.
Check here the best today's deal for the BLACK+DECKER Performance Blender
Warranty and Customer Service
This machine comes with a decent 3-year limited warranty. The BLACK+DECKER BL6010 Performance is a well-made machine and most likely will last 3 years and probably longer. Black and Decker customer service has a good reputation and has no problem with replacing faulty parts or units.
Noise
This machine is quieter than a majority of other powerful blenders under $100. It outputs around 75-80 decibels that acceptable for this type of home appliance. However, a user always can place a rubber mat underneath the base unit that will also reduce the loudness of the machine.
Optional Accessories and Attachments
There is no any extra attachment and accessories available for this blender. However, any replacement parts are easy could be bought through customer service.
Dimensions
This machine has quite big dimensions. With a footprint of 12 inches x 11 inches, it will take up significant space on your countertop. Having a big size and heavyweight of 10.3 lbs. it will not travel over the counter during a blending process. It also has a significant height profile of 18 inches with a large pitcher on top of a base unit. So it hardly fits under a standard kitchen cabinet. Most likely, a user will need to keep a separate pitcher and the base unit to store them on the counter space. The height of the blender with single-serve attachment is about 14 inches.
However, this machine has very neat coil-wrapped cord storage underneath of the base unit. The thick and durable 3 feet cord is longer than most blender cords.
Pros and Cons
Pros:
BLACK+DECKER Performance is the multi-purpose machine which outputs very good quality of blending;
It is a powerful blender that able to produce not only green smoothies from tough and leafy ingredient but crushes ice easily with and without added liquids;
This blender designed to handle hot liquids and could be used for making bulletproof coffee and others;
The blender comes with single-serve attachment what allow to make the drinks and take them out in the same cup;
It has a reasonable price for the machine with such functionality and versatility;
The machine is well-made and comes with a decent 3 years warranty.
Cons:
This machine has some plastic parts in the drive to blade coupling what induce some uncertainties about the durability of the machine;
The model with the digit control panel has not very intuitive and straightforward speed controls.
BLACK+DECKER BL6010 Performance Consumer Reviews
BLACK+DECKER BL6010 Performance is one of the best machines under $100 on the market machines but have very little advertising and promotion and thus quite underrated by the customers.
Amazon rating – 4.1
Price
BLACK+DECKER BL6010 price has dropped considerably over the last few months. This is not unusual, as this machine is a quite new product on the market and manufacturers tested the price before decided on the final one. Currently, Amazon has the best offers for this blender which is lower than on the manufacturer website.
Check here the best today's deal for the BLACK+DECKER Performance Blender
Summary
BLACK+DECKER BL6010 Performance is the great blender. They are powerful, relatively quiet, come with large and single-serve containers, simple to assemble/disassemble and use. They also equipped with 5 speeds and more than capable to perform a wide range of blending tasks; from the excellent quality green smoothies and frozen desserts to processing hot liquids. In the end, they are solid and sturdy blenders that should provide fairly heavy service for over 3 years.
And the main point, that these machines for just under a $100 provide more functionality and flexibility than a majority of other blenders in this price range.
Related article Best Blenders Under $100.