The smoothie became a synonym of healthy lifestyle in recent years. No wonder, the question – What is the best blender for smoothies? – is a very frequent question many consumers look for answer online.
In fact, almost any blender even the immersion one can make a smoothie. The most important the ingredients you are going to process – greens, frozen fruits, ice, protein powder, berries and etc. – with your blender and the quality of the smoothie you expect from your machine. The money you are ready to pay for the blender is also very important. As you may expect, the price for this gadget is often directly correlates with the quality of the drinks it is able to produce.
Hardly surprising, the typical consumer who is not familiar with the blenders industry may easily become lost in a multitude of available gadgets and abundance of advertising the current market is offering. Unfortunately, online resources are full of misleading information about the subject, most resources that claim to review the best blenders for smoothies (and other purposes) do not do a proper research. It is common that they randomly pick up a dozen of top retailers bestsellers and present them as the 'so called' best blenders on the market. And many of these reviews are often rewritten from other similar ignorant reviews.
How We Nominated the Best Blender for Smoothie
First, we will outline the typical blender categories and clarify what functionality or range of tasks each blender category can perform, quality of the smoothies and other recipes it can accomplish, the price and durability you may expect from particular gadget category. So, you will be able to select the best blender for your own needs with respect to the functions it can perform and the price it is available on the market.
Essentially, there are 3 major types of blenders present on the market – 1) The High-end/Commercial Type Blender for Home Use; 2) The Mid-Range Blenders and the 3) Low-Range/Basic Blenders. However, venturesome Chinese manufactures made their correction to the classic blender market. For example, they are responsible for the introduction to the market Personal Blenders and High-End Blenders' Knockoffs that represent a cheaper blenders' price segments.
In this article, you will find comprehensive information about the blenders and we hope you will be able to make your own decision which blender is the best for your needs.
High-End Blenders
High-end or commercial type blenders for home use are no doubts the best blenders for making smoothies and they represent a benchmark for what the true smoothie should be. They make smoothest smoothies from any ingredients – greens, berry seeds, ice, tough ingredients like chia seed, and can pulverize even avocado seed. These machines are able to micronize the ingredients to the enzyme level, so they can deliver extra health benefits when consumed.
Basically, these blenders were born in the commercial environment when the Vitamix, Waring and Blendtec companies released their first commercial types of blenders for home use.  The High-End blenders feature usually very powerful motor, automatic shut-off motor protection system, ability to perform multiples tasks and durability of the machine.
It should be mentioned that the high power motor is the not the major covert why High-End gadgets are able to perform so well. There are must be other engineered secrets which make these machines such excellent performers. For example, few Ninja blenders have even more powerful motor than Vitamix machines but they are not able to show comparable to Vitamix blending result.
In addition to making perfect smoothies, they can do a number of other tasks so you can replaces with a high-end blender a few kitchen appliances. These gadget can process a whole juice, make hot soup, heating it with friction and replace soup make, will make ice creams or frozen yogurt and replace the ice-cream maker, they can easily grind any grains into flour and replaces flour maker and grinder. These machines even able to knead a dough.
High end blenders are very expensive and priced $350-$800 usually. However, you will get very durable and well-made machine (may serve you over 15-20 years) with very long warranty and helpful customer service, that will easily replace a few appliance in your kitchen.
Best Vitamix Blenders for Smoothie
The Vitamix is one of the oldest blender manufacture on the market and it is represented by over 15 models for home use. Some of them such as Ascent A3500 have a few latest technology features and a number of other "bells and whistles" while a few models such as Vitamix Explorian or 5200 target consumers on a budget. Although, budget blenders do not have so many features as most advanced models but able to perform exactly all functions and exactly at the same quality level as the most advanced blenders.
Vitamix A3500 Ascent Blender
The A3500 is a latest and most advanced Vitamix blender. Although it comes with the same 2.2HP (1440 Watts) motor as Classis G-series Vitamix models, but it has completely new exterior design and few new technology features.
Functionality: The blender perform all the standard range of Vitamix tasks such as:
Process smoothest Smoothie including Green ones;
Makes "Whole" juice;
Prepares Frozen desserts, Crushes ice and frozen fruit and vegetable;
Makes Nut and Soy milk;
Purees perfect hummus, pesto, and variety spreads and dips;
Handles hot ingredients and makes hot soup heating it via friction from cold;
Makes silky smooth Nut butter;
Mills all types of grains and beans into flour;
Grinds spices and coffee beans;
Makes Dough and batter.
Container and Blades: This model comes with standard Vitamix 64 oz. Tritan copolyester low profile container with standard semi dull inbuilt blades. However, the container comes with Self-Detect technology that recognizes the type of the container placed on the base unit and adjust the blending settings accordingly.
Tamper: As typical Vitamix blender it is equipped with the tamper.
Control panel: It comes with state of the art capacitive touchscreen control panel, that includes the digital dial knob regulates 10 speeds, 5 pre-set programs (Smoothies, Frozen Desserts, Hot Soups, Dips/Spreads, and Self-Cleaning) and programmable timer.
Using and Cleaning: The blender is very easy to assemble/disassemble and use. It comes with inbuilt blades and require only filling the jar with ingredients and it is ready to blend. The control panel is very intuitive to use.
All parts are dishwasher safe, however, self-cleaning procedure is preferable.
Perfect Blend App: The A3500 blender equipped with Bluetooth technology that allows program the blender with 17 extra pre-set programs and use over 500 recipes with Perfect Scales at precise volumes.
Extra accessories: The Vitamix sales an array of extra accessories compatibles with A3500 machine as single serve attachment and small bowls for grinding and very small recipes, 48 oz. Wet and Dry container, Aer Disc Container, Smart Scales that go with the Best App and others.
Warranty: This models comes with outstanding 10 years Full Warranty and best in the industry Customer Service.
Summary: Although the Vitamix A3500 blender is very expensive but it worth every penny. It will not only replace few of your kitchen appliance but also will serve you for many years often much longer than even 10 years warranty period. In addition this A3500 model is equipped with an array of new technology features that make this gadget truly most advanced blender on the market.
Check here today's best price for the Vitamix A3500 Ascent
Vitamix Explorian Blender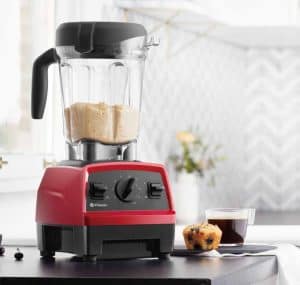 The Explorian blender comes in two models E310 and E320. The blenders feature powerful 2.2HP (1440 Watts) motor and durable all metal power train and gear stripping. The Explorian is the budget Vitamix blender and was designed as a cheapest the entry Vitamix model.   
Functionality: The gadget is designed to perform following tasks:
Process perfectly smooth smoothies from soft, hard, and fibrous ingredients, berries and greens;
Process the ice into snow, makes ice cream, frozen desserts and slushy drinks;
Creates "whole juice";
Handle hot ingredients, heats liquid for soup with frictions;
Prepares sauces, dips, hummus and pesto, chops veggies and nuts;
Mashes raw and cooked veggies;
Makes nut milk;
Processes silkiest nut butter;
Grinds spices, seeds, coffee beans,
Mills baking quality flour from grains, beans and seeds.
Kneads dough and mixes batter.
 Container and Blades: The both E310 and E320 blenders come with high quality shatter and temperature resistant containers with clear ounces, ml and cups marking. Both blender have the standard Vitamix designed top-notched blades that are permanently inbuilt into container.
The two models however have different containers, the E310 model comes with 48 oz. and E320 with 64 oz. jar.
Tamper: Both blenders are equipped with the tamper.
Control panel: Both E310 and E320 blenders equipped with identical and simple control panel that features 10 speed dial knob and ON/OFF and Pulse levers. However, such options of control functions allow user a lot of control over the blending processes.
Using and Cleaning: As all Vitamix models E310 and E320 blenders are very easy to use and clean.
Extra accessories: The manufactures sale a wide range of accessories for the Classic Product line where the Explorian models belong to. This range includes 32 oz. Wet and Dry containers, personal Blender Attachment, Air Disc jar, Perfect Scales and a choice of smaller accessories such as under blades scrapper and others.
Warranty: The Explorian E310 comes with the 5 years and E320 new with 7 years and E320 (reconditioned) with the 3 years FULL WARRANTIES that cover all machine from top to bottom. The Vitamix also well known for the best Customer Service in the industry. 
Summary: Although, the Explorian Models are marketed as budget and entry level Vitamix models they perform exactly all function that any other Vitamix model is able to do. So this is perfect blender for anyone who wants to explore the world of high-end blending but has a tight budget to spend money on other more expensive Vitamix models that features the same functionality but a range of "bells and whistles".
Check here today's best price for the Vitamix Explorian E310 unit
Best Blendtec Blenders for Smoothie
The Bledntec is the true Vitamix competitor that present on the market for over 30 years. It has 9 blenders' models currently in a price range between $350 and $800. The same as with Vitamix blenders any budget Blendtec machine is able to perform all functions as most advanced and expensive one.
Blendtec Designer 725 Blender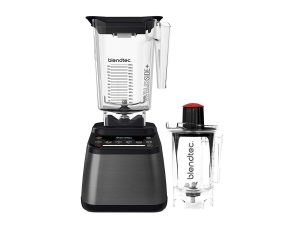 The Designer 725 blender is the most advanced Blendtec model. It has the most powerful among the Designer Series models 1800 Watt motor, most functional control panel and an array of other premium features.
Functionality: Sure, the Blendtec 725 is designed to perform all High-End blenders task at the highest level:
Processes smoothest smoothie, including green ones;
Crushes and shaves ice for frozen desserts, snow cones, ice cream and iced drinks;
Blends "Whole Juice";
Heat soup to the steaming hot temperature with frictions;
Mashes raw and cook veggies;
Chops food veggies;
Mixes salad dressing, marinades and mayonnaise;
Processes nut and soy milk;
Produce finest nut butter;
Mills grains and beans into baking quality flour, grinds herbs and coffee beans;
Knead dough and mixes batter.
Container and blades: The Designer 725 blender features 90 ounces high-quality Tritan copolyester material WildSide+ container with permanently inbuilt patented thick and strong absolutely dull stainless steel wing tip designed blades.
Tamper: The machine does not equipped with the tamper, since manufactures advocates the idea that the truly powerful blender does not require one.
Control Panel: It is equipped with very sleek and modern capacitive touch screen control panel. That has the 100 speeds, Pulse function and six (6) pre-set cycles – Smoothie, Salsa, Ice Cream, Whole Juice, Hot Soup, and Clean- and the option to add additional 10 seconds with an easy tap to any blend cycle you are currently using.
The speeds and pre-set programs will suggest you additional usage functions (stirring, mixing an ect.) and usage for pre-set cycles.
Using, cleaning: The Blendtec comes with the blades permanently inbuilt into containers, so it is very easy to assemble, disassemble and use.
Cleaning is also extremely easy and it is designed for self-cleaning procedure.
Extra accessories: The Blendec sells the range of extra accessories such as smaller jars, the special jar for thick blends with inbuilt tamper and personal Blender attachment.
Warranty: This model is equipped with exceptional 8-year Limited Warranty and very co-operative and responsive customer service.
Summary: The blender is very compact considering its power and with dimensions 7" wide x 15.5" tall x 9.25" deep and will not occupy much of your counter space and easily fits under any kitchen cabinet. This blender is truly multi-functional and delivers really awesome blending results.
Check here today's best deal for the Blendtec Designer 725 Blender
Blendtec Total Classic Original Blender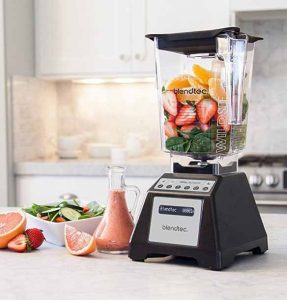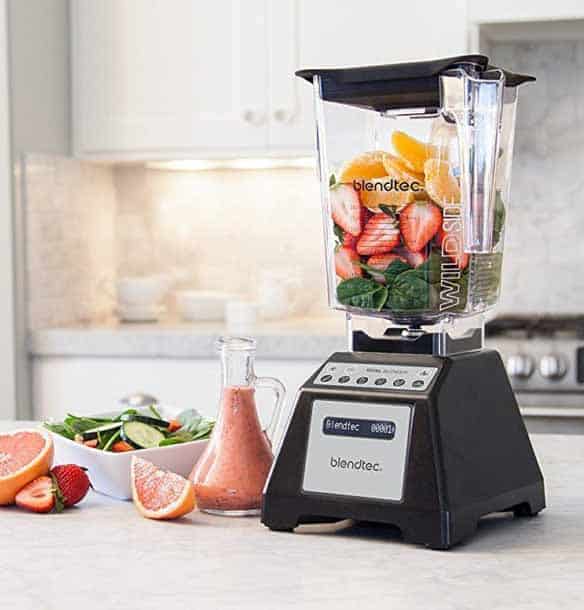 The Blendtec Total Classic Original Blender was released in 2004 as the first Blendtec model for home use. It featured very powerful 1560 watt motor with durable all metal blades to motor coupling. Over the last 15 years Blendtec introduced a few other powerful blender models for home use while Total Original blender was discontinued. However, it was so popular that Blendtec released it again with an option of two different jars and at the budget price.
Functionality:
Produces remarkably smooth smoothie from hard, soft and fibrous fruit and vegetable, and greens;
Processes frozen ingredients for ice cream, sorbet, frozen yogurt or frozen drinks;
Makes whole juice;
Prepare hot soup via blade frictions;
Chops raw and cooked veggies for salads, salsa, and dressings and other; 
Purees and baby food, raw and cooked veggies;
Makes nut milk;
Produce excellent quality nut butter;
Kneads dough and batter;
Grinds coffee beans and spices;
Mills baking quality flour from grains and beans.
Container and Blades: Blendtec total is available with 75 oz.  FourSide jar and new 90oz WildSide+ Jar. Both have square designed and made from the same Tritan copolyseter material. However, the WildSide+ container has the latest innovative design for better vortex.
Both containers have the same in shape and design inbuilt into containers standard Blendtec wing tip extra strong and thick stainless steel. The FourSide jar has smaller and WildSide+ bigger in diameter blades.
Control Panel:The Blendtec Total Classic Original Blender control panel equipped with LCD information center display and 9 touch-pad controls that includes 6 pre-set programs (Ice Cream/Frozen Yogurt, Ice Crush/ Milkshakes, Soups/Syrups/Fondues, Sauces/Dips/Dressings/Batters, Whole Juice, and Smoothies), Pulse mode, and two ("+" and "-") buttons for setting 10 incremental speeds.
Using, cleaning: As any Blendtec blender it is very easy to use, assemble and clean.
Extra accessories: The Blendec offers a variety of optional accessories that include smaller jars, special jar for thick blends with inbuilt tamper and personal Blender attachment.
Warranty: Total Classic Original Blender comes with 8-year and certified reconditioned models has 3 years Limited Warranty and very co-operative and responsive Customer Service.
Summary: The Total Classic Original Blender is a budget Blendtec model that offers all Blendtec gadget experience for the smaller price. However, only machine with FourSide jar is available at the discounted price, however it is as functional as a latest design WildSide+jar. Overall, the Total Original model is the best values for money Blendtec blender. The blender is very compact 7 x 8 x 15.5 in, fits under any kitchen cabinet.
Check here today's best deal for the Vitamix Blendtec Total Classic Blender
Best Alternative to Vitamix Blender for under $200 for Smoothie
There is a huge demand among the consumers for the decent Vitamix blender alternative at the lower price. These machines represented by the huge variety of models which often have all functionality of High-End blenders but not as well built and have much shorter life span than originals.
Some reputable brand released their answer to this demand and one of them is Oster 1400 Watts pro blender. The Chinese manufactures also make a lot of efforts to copy the best Commercial type of blenders for home use, the Cleanblend blender is the most successful of them.
Сleanblend Blender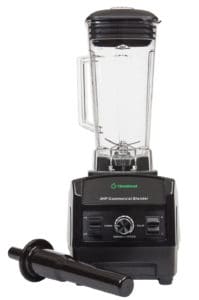 The Cleanblend comes with very powerful 1800 Watts (at peak) motor and a well-made all-metal motor to blade coupling, blade shaft, and drive socket. It also has the standard for high-end blenders overload protection and cooling systems that protect motor from overheating.
Functionality: The Cleanblend is able to perform all High-end blenders task at very close (80-90%) to Vitamix and Belndtec quality:
Make a very smooth smoothie, handles well green smoothies;
Crushes and shaves ice for snow cones, ice cream, frozen desserts and iced drinks;
Makes Whole Juice;
Processes hot soup via friction;
Purees raw and cook veggies;
Chops food veggies;
Mixes salad dressing, marinades and mayonnaises;
Makes nut and soy milk;
Processes good quality nut butter;
Grind herbs, chop nuts or mill grain into baking quality flour;
Knead dough and mixes batter;
Cleanblend the only Vitamix copycat/dupe that is designed to knead a dough.
Container and blades: The blender features 64 ounces high-quality Tritan copolyester material container, permanently inbuilt into the container strong stainless steel 6-pronged blades. The blades are fastened with a metal locking nut at the bottom of the container.
Tamper: The machine equipped with the tamper, the standard feature for high-end blenders that helps processing tough ingredients.
Control Panel: The Cleanblend control panel is very simple and very similar to Vitamix 5200 model. It is equipped with 10 variable speeds dial knob, Pulse function and On/Off switches.
Using, cleaning: The gadget equipped with the blades permanently inbuilt into containers and simple control panel. So, it is very easy to assemble and use. 
Cleaning is also extremely easy as it is designed for self-cleaning procedure.
Extra accessories: Cleanblend sells only smaller 42 oz. container for processing smaller recipes. However, Cleanblend does not manufactures the personal blender attachment.
Warranty: Cleanblend equipped with very good 5-year Limited Warranty and very co-operative and responsive customer service. Though, it has only email contact and no telephone helpline.
Summary: Cleanblend is a good Vitamix copycat, the only one that performs all the high-end blenders' tasks including dough kneading. The quality of performance of this machine is very close to Vitamix and Blendtec. Unfortunately, it is not as durable as typical high-end commercial type blenders for home use.
Check here today's best price for the Cleanblend Blender
Vitamix Knockoff under $100 for Smoothie
There are a number of Vitamix dupes under $100 made in China that have a powerful motor, very questionable quality of built and durability but they often can make very smooth smoothies and perform majority of the High-ends blenders tasks such as making ice cream and frozen desserts, heating liquids with fractions and milling a baking quality flour.
These blender usually copy almost every Vitamix design detail but available under a huge variety of newly appeared brands which disappear from the market with the same speed as they appear on it.
Homgeek Blender 1450W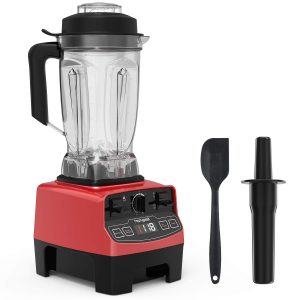 The Homegeek blender is available in two very similar models (NY- 8608MC and H24956). Both have a very close look to the Vitamix 5200, powerful 1450W/2.25HP off-peak motor and all-metal motor to blades driver.
The motor has overheating and overloading protection system. It could be operated continuously for up to 5 min and must be cooled 10 min before the new operation.
Functionality: 
Produce quality smoothies including the green and from frozen ingredients;
Makes to snow cones, ice cream, sherbets, and frozen drinks;  
Prepare nut milk;
Handles hot liquid and heat food during blending with frictions up to 180F;
Mixes salad dressing, sauces, dips and salsas including hummus or pesto;
Makes nut butter;
Purees cooked and raw vegetables;
Mills grains into flour for baking, grinds coffee beans and spices;
Mixes batter;
Does not make dough.
Container and blades: Both NY- 8608MC and H24956 models have very similar in design and shape to Vitamix 68 oz. Tritan copolyester containers. The containers made from the same quality heat and shock resistant plastic.
The blenders also come with soft vented silicon lid that allow to process hot food and add the extra ingredients while blending.
It is equipped with the 8 prongs sharp blades inbuilt into the containers.
Tamper: The blender equipped with tamper that is key feature of Vitamix blender. The tamper is very useful tool which assists with eliminating air pockets during thick food processing.
Controls: The Homgeek NY- 8608MC model control panel is almost identical to the Vitamix 5200 and has 10 speeds dial knob, on/off and Pulse switches. However, the H24956 models has 9 speeds in total, 8 speeds dial, the High/Variable and on/off switches but additional LCD time display and four (4) pre-set programs buttons – Smoothies, Frozen Desserts, Ice Crush, and Soup.
With the lowest speed of 1,500 RPM and highest speed of 30,000 the blender able to perform all the high end blenders functions. It can even heat the blended liquids with frictions up to 180F (82C).
Using and cleaning: The gadget is very easy assemble/disassemble, use and clean. The blender is not dishwasher safe.
Warranty: The blender has only 1 year limited but with option to buy an extending warranty for 2 or 3 years from the manufacture.  The customer service can be contacted via email ONLY.
Summary: The Homgeek model perform closely to Vitamix and Blendtec blenders. However, quality of some task performance inferior to high-end blenders. The major problem that this machine usually have not long life expectancy and manufactures/distributors of knockoff blenders usually do not stay on market for the long time, they may disappear any time and the customer hardly will find replacement parts for gadget.
Check here today's best price for the Homgeek Blender
Best Blender for Smoothie under $100 from Reputable Brands 
This blenders usually designed for light to medium tasks and make decent smoothies, salad dressing and food prep tasks, crush ice, some of them are even able to process hard food to the smooth consistency, nut butter and pesto, though, with a lot of efforts.
Generally, they are manufactured by reputable brands come with the 3 years warranty and will last for about 5 years.
Oster Pro 1200W Blender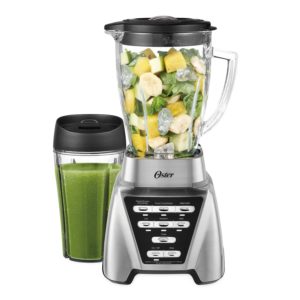 The Oster is good reputation brand. The Pro 1200 Blender is a medium duty blender with powerful 1200 Watts motor at peak. Very durable all metal to metal power train and gear stripping. The blender comes in 3 different packages. It is the best and most powerful glass jar blender too.
Functionality:
Makes fairly smooth smoothies, even from hard fruits and vegetables, fits for green smoothies too;
Possible to make whole juice;
Crushes ice very well, able to make snow cones;
Suits for hot ingredients since comes with glass jar, but does not heat with frictions;
Purees cooked and raw veggies, suitable for making Baby food;
Process dressings, chops veggies, makes dips including hummus;
With handful efforts possible to prepare nut butter;
Grinds herbs, coffee, mills oats and grains into fairly good quality flour.
Container and Blades: Distinguishing feature of the blender that it comes with good quality 48 oz. resistant-to-thermal-shock glass jar.
The 6-prong dual-direction al metal blade assembly is removable.
Tamper: The blender does not come with tamper, so thick recipes will require some efforts to prepare.
Control panel: The blender equipped with 9 buttons – Low, Med and High speeds, Pulse function and 3 pre-set programs (Green/Frozen Smoothies, Food/Chop Salsa, Milkshakes), On/Off and Stop buttons. The controls allow enough of flexibility to user over the blending process.
Using and Cleaning: The Oster 1200 Pro equipped with a removable blade and should be removed each time after use for cleaning. It needs some effort to disassemble/assemble.
The Blade system includes blades itself, screwing cap and sealing gasket. So it should screwed and unscrewed each time before and after use. It should be done with care because removable blades may leak if not assembled properly.
Extra accessories: The blender is available in four packages – 1) with 6 cups glass jar and 24 oz. personal size cup; 3) with a glass pitcher, single serve cup and food processor attachment 4) with large 8 cups Tritan pitcher and food processor attachment.
Warranty: The Oster Pro 1200 has 3 years limited warranty and 10 years limited warranty for its motor and all-metal gears. The Oster customer service is very helpful and will usually resolve most of the customer's queries and problems.
Summary: According to our research it is the best value for money blender for under $100 and also best blender with glass jar. It is powerful enough to perform mid-range level tasks, comes with personal attachment. The Tritan pitcher option package has a food processor attachment. It is very good and versatile blender that is quite durable and powerful.
Check here the best today's deal for the Oster Pro 1200 Blender
Best Personal Blender for Smoothie
Personal or bullet type of blenders came to the market in 2004 and quickly became very popular. Many people find them very handy for the convenience to blend the smoothie in the same cup and take it on go without need for blender cleaning procedure.
Although, most of the personal blenders usually are not multifunctional but make well their major job – make decent smoothies for busy person and may also perform some light dusty tasks. Good news, they are rather affordable gadgets.
Ninja Pro Personal Blender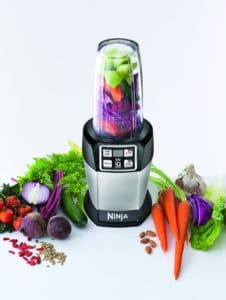 The Nutri Ninja personal blenders are available in variety of models. Fortunately, they could be describes by 3 major types. The 451, 456 models come with 900 W motor and not controls control panel, the BL455 blender comes with 1000Watss motor and no controls control panel. The 480, 480D and 482 models come with 1000 watts motor and simple control panel with 3 major functions and most sophisticated models BL487, BL487A, BL487 and Bl488W come with 1100 watts motor and a bit complicated control panel. All the blender come with different types of cups and recipes books.
Nevertheless, the performance does not differ a lot and difference almost negligible. However, it makes difference to user experience.
Functionality:
Makes good quality smoothies including greens and frozen fruits and veggies;
Crushes ice without liquid added and makes snow cones consistency and decent frozen desserts;
Mixes mayonnaise, salsa, dips, salad dressing and others;
Can puree and chop raw and cooked vegetables;
Cannot handle hot food;
Does not designed for grinding and milling.
 Control panel: The most basic BL451, BL456 and BL455 blenders does not equipped with any control panels. Instead, they are operated using one pulsing speed by pressing down the cup against the base unit.
The Ninja Auto iQ BL480, BL480D and BL482 models control panel comes with digital mini-display and 4 controls – Start/Stop buttons (runs maximum for 60 seconds), the pulse function and two pre-programed cycles for 45 seconds and 60 seconds.
The Ninja Auto iQ Pro BL487, BL487A, BL487T and BL488W models are equipped with digital display and 5 control buttons – Start/Stop, Pulse, Blend, Extract and Smooth Boost (with Yes and No option for smoother and coarser texture of blending).
Containers and blades: The blenders available in different packages with the selection of cups 12 oz., 18 oz., 24 oz., 32 oz. made from thick polycarbonate material or sometime from premium quality stress resistant Tritan polycarbonate cups, some models come with 24 oz. stainless steel cup. Each cup usually comes with sip and seal lid.
All the Ninja personal blenders come with a 7-fins, sharp stainless steel blades and a plastic blade assembly. The blade assembly interchangeable between majorities of Ninja personal blender models.
Using and cleaning: All personal blenders are usually very easy to use and especially clean. For this reason, they are very popular. You usually will clean only blades after use, while the cup will be taken on go or used for consuming the drinks from it.
Warranty: All Ninja blenders come with a 1-year limited warranty, the Customer Service is not the best in an industry but it tends to improve in recent years.
Summary: The Nutri Ninja personal blenders, the only personal blenders on a market that can crush ice without liquid added, so any ice crushing job is easy task for it. The typical price starting from 50-60 to over the $100 depending on the model. Overall it is decent personal blender. The only problem it does not have long life expectancy and has only 1 year warranty.
Check here the best today's deal for the Nutri Ninja Auto iQ BL482
Best Blender for Smoothie Under $50
The basic blenders usually comes with up to 1000 watts motor and designed to perform only basic tasks. They will not prepare for you frozen desserts, heat soup with frictions, mill baking quality flour and hardly will mash potato and puree vegetables. But they usually absolutely capable for making decent smoothies even from tougher ingredients.
The good news, this blender does not cost a fortune and you can easily buy decent basic blender for under $50.
Hamilton Beach Wave Crusher Blender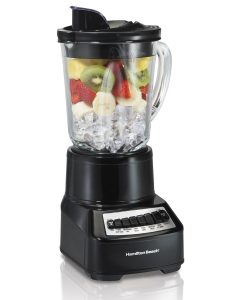 Hamilton Beach Wave Crusher Blender equipped for powerful for basic blender 700 Watts motor and available in 2 pancakes: 1) just blender and 2) blender with chopper attachment. The distinguishing features of this gadget are the glass jar and compatibility with Mason jar.
Functionality:
Makes decent smoothies and milkshakes, the hard and leafy ingredients requires extra time for blending (up to 2 minutes) for the best result;
Crush ice and frozen ingredients but you may need to pulse them first before continues speed processing;
Handles hot liquids without problems;
Chops raw vegetables, grates cheese, baking chocolates, cookies and cracker crumbs;
Mixes salsa, salad dressings, and marinades;
Grinds coffee beans, spices and soft grains like oats;
DOES NOT mashes potatoes, mixes dough, whips egg, and grinds raw meat.
Container and Blades: The Hamilton Beach Wave Crusher comes with heat and shock resistant 40 oz. glass container that has clear markings in ounces and cups. The jar equipped with plastic vented lid with spout for convenient pouring.
This blender has removable blades that consist of blades assembly with fixed gasket and collar for screwing it to the jar. The sharp 4-fins sable shape blades are made of stainless steel and have a wave action designed for forcing ingredients down for better vortex.
Tamper: This machine does not include tamper what is typical for low-end blenders.
Control panel: The machine equipped with 8 control functions:
Two pulse speeds – low pulse and high pulse
Six (6) speeds with indication of suitable tasks for particulars speed – stir/clean, puree/whip, chop/salsa, milkshake/mix, smoothie/grate, grind/ice drink.
Using and Cleaning: Although the blender needs some effort for assembling/disassembling, it is generally quite easy to use and clean. It is dishwasher safe but also could be cleaned with self-cleaning procedure. The blades is better to clean after each use also.
Extra accessories: This machine is available with chopper attachment option (for light food processing tasks) and compatible with Mason jar for single serve blending tasks.
Warranty: It comes with 3 years of Limited Warranty and helpful customer service.
Summary: This is a very good entry level blender that is capable to make decent quality smoothies and shakes. Just remember that you may need more time for processing hard and fibrous food and use smaller ice cubes or frozen ingredients pieces for better result.
Check here today's best price for the Hamilton Beach Wave Crusher Professional Blender
How to Select Best Blender for Smoothies
If you can afford a High End blender, then not questions just go for it. It will not only replace you a number of kitchen appliances but will serve for you many years, so you will no need to buy new blender every year or two. Which High end blender to buy premium one or budget may also depends on your personal preferences. For example, If you like new technology than you must go for Vitamix A3500, if you like to press the blender button and go than the Belndtec 725 offers the best selection of pre-set programs. If you value simplicity and functionality in the blender then go for Vitamix Explorian model.
The people who want to buy the high end blender but at fraction of price may be interested to consider Clenblend blender, it is a very decent Vitamix copycat.
If you want more durable blender but can scarifies a bit quality of blending then go for Oster Pro 1200 gadget under $100.
However if you ready to risk and try short live brand but that have all the Vitamix functionality at a fraction of Vitamix price you may want to consider one of the Homegeek models.
If you are a fan of personal blender, then one of the Ninja Single serve machine is in a field of your interest, because ninja the only personal blender brand that can crush without any liquid added
If you only ready to spend money on the entry blender model you will also be benefited from the Hamilton Beach blender.
Do you want to know which blenders are best in each category? Go straight to our in-depth blender reviews: