The under $50 blenders do not come with all those fancy bells-and-whistles that are typical for high-end machines. They will not cook soup or similar but do a great job with blending for those who only make fruit smoothies and need the blender for light-duty kitchen tasks. These budget gadgets are also could be an attractive gift, especially for blender beginner users. Although this cheap and simple machine will not last for many years they are so cheap and if they die after the warranty it will not be big trouble.
How the Ratings were Assigned
We selected the most popular blenders on Amazon, Walmart, Bed Bath, and Beyond from the Oster, HamiltonBeach, Black and Decker, Bella, VonChef, Proctor-Silex, and FARBERWARE brands. Then we selected the brands that produce the best selection and variety of blenders with a motor not lower than 450 watts.
However, to select the best blenders under the $50 is not really an easy task. The problem is that most of them equipped with almost identical technical parameters that influence the performance of machines – the motor power and construction, design of jar, the design of blades, and motor to blade coupling. They are also designed to perform a similar range of light-duty tasks and only differ only by colors, the shape of the base unit, and the design of the control panel. So, we decided to rate not the individual blenders but the best brands – Oster, Hamilton Beach, Black + Decker – with a good selection of machines within the brands. And allow a consumer to choose the most attractive to them interior design among the similar machine within the brand.
#1 Oster Blenders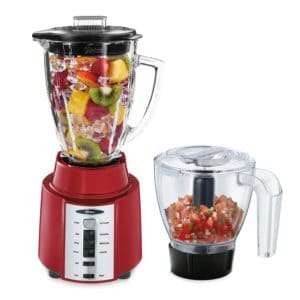 The Oster manufactures a very large selection of blenders under $50. This multitude could easily confuse any consumer. In fact, all these machines could be broken down into two categories – 1000 watts motor and 700 watts motor. However, some machines indicate 450 watts power but in fact, they are 700 watts power at peak and 450 of effective power performance. It is all about how the Oster presents this technical parameter. If most manufacturers indicate only at a peak power of their blenders but Oster usually specify both at peak and effective power. So the 1000 watts mean the at peak performance and 600 watts of the effective power of the same motor, while those that have 700 watts at peak performance correspond to 450 effective power.
So all basic Oster blenders under $50 come with 1000 at peak (600 effective) watts and 700 at peak (450 effective) watts power motor and some include extra attachments such as the single-serve cup or food processing accessories.
Functionality and Control Panel
The control panels differ between blenders hugely from the classic Oster Beehive gadget design with only 2 speeds to the 16 speed in some model. In fact, for such a basic blender and relatively low power a motor, there is no room for such variations of speed and they are mostly designed for marketing purposes. The real functionality will never exceed 2-4 speeds in total and the other buttons more or less just a fancy feature that functions the same way as all other buttons and presents on the control panel just for marketing purposes.
So, all the Oster blender can output the following range of functions:
Make smoothies from soft, hard, and leafy ingredients. The drinks do not come out perfectly smooth as with the high-end machines but if the user runs the process for at least 2 minutes the quality of output will be close to smooth. Another fact the user should remember when using these basic blenders, that they will require to stop it a few times during processing for shaking the jar or mixing ingredients manually with the spatula. Especially this valid for the protein shake and the drinks made from large pieces of food.
Crush ice and frozen ingredients in the drinks fairly well if the user pulses it initially to break the ice first, then use the constant high speed for 20-30 seconds to bring it to the homogenized consistency. The blenders also capable of shaving pure ice cubes into nice textured snow but handles usually not more than 5-6 cubes at ones. However, those machines with 1000 (600) watts power handle more than 5-6 cubes at ones and process them much easier than 700 (450) watts gadgets.
All Oster blenders with glass jars are perfect for processing hot liquids and homogenize them without prior cooling. They will puree hot ingredients for soup or process bulletproof coffee. While the Oster Simple Blend 100 10-Speed Blender with plastic is not suitable for this task.
Perform light food prep tasks such as making salsa, salad dressings, and marinades, chopping nuts, veggies for coleslaw, grating cheese, or cooked meat. All blenders are equipped with a pulse and low-speed functions which are necessary for this kind of task.
Puree cooked vegetables for dips, spreads, and pesto but with enough liquid added and manual mixing the ingredients.
Grind herbs, coffee beans, or mill soft grains like oats.
Containers and blades
Oster blenders equipped with quality shatter and temperature proofed 48 oz. boro glass containers. Only the Oster Simple Blend 100 10-Speed Blender comes in a plastic container and thus it is the cheapest blender in our selection considering that it also comes with a single-serve bullet attachment.
The Oster machines come with removable high-quality stainless steel blades and all-metal assembly including shaft, gear, and drive socket. It has a plastic collar cup but good quality and does not have contact with the food. Thus the Oster machines are truly the very durable machine.
Since the blade assembly is not necessary to remove after each use and it is supposed to be disassembled completely only for a thorough cleaning, these machines are very easy to use and clean. Moreover, all removable gadget parts are dishwasher safe or may be cleaned by hands.
Warranty and Customer Service
All Oster blenders come with a good 3 years limited warranty for all part and 10 years warranty for an all-metal drive and motor. Oster Customers' service has a very good reputation. There is a 30-day return policy.
Weak points – the machines travel and vibrate during blending; the 700(450) watts blenders have rather insecure lids which are made from very pliable and thin rubber, while 1000(600) watts machines come with good quality lids.
| | | | | |
| --- | --- | --- | --- | --- |
| Blender | Power | # of Speeds | Container | Extra Attachments |
| Oster BRLY07-B 600-watt | 1000(600) watts | 7 | 48oz. (6 cups) Glass | No |
| Oster BPCT02-BA0-000 Beehive Blender | 1000(600) watts | 2 | 48oz. (6 cups) Glass | No |
| Oster Core 16-Speed Blender (6878) | 700(450) watts | 16 | 48oz. (6 cups) Glass | Food processor |
| Oster 12-Speed Blender (6811/6812/6844) | 700(450) watts | 12 | 48oz. (6 cups) Glass | Compatible with mason jars |
| Oster Simple Blend 100 10-Speed Blender (6640/6706) | 700(450) watts | 10 | 48oz. (6 cups) Plastic | Single-serve cup option |
| Oster 6647 10-Speed Blender | 700(450) watts | 10 | 48oz. (6 cups) Glass | no |
| Oster Blend 8-Speed Blender (BCCG08) | 700(450) watts | 8 | 48oz. (6 cups) Glass | Food processor option |
#2 Hamilton Beach Blenders
Hamilton Beach is well known for manufacturing budget quality blenders with an average price of $25-$33.The majority of our best selection Hamilton Beach Blenders equipped with 700 watts and an HB 52400 model with 650 watts at peak motors what is more than enough for a low-priced machine.
Functionality and Control Panel
Hamilton Beach has no intention to impress consumers with fancy control panel and equip them with 1 to 6 speeds and pulse function. This reflects the true speed capacity of this kind of 700 watts machines designed to perform only light-duty tasks. So the typical budget Hamilton Beach blender must be capable of accomplishing the following functions:
Make reasonable quality smoothies from soft and hard ingredients including the leafy greens. The output will be slightly grainy but perfectly drinkable and decent for the budget blender. The green smoothies will be although a bit gritty but drinkable with the straw. However, the hard ingredients will require manual mixing and scrape walls to push them into a vortex. Protein shakes may require more stirring but it mixes them well at the end.
Process ice and frozen ingredients well enough but only with liquid added. Even with manual stirring, these machines will leave some chunks of unprocessed ice or frozen fruits. They are not able to make snow cones, frozen desserts, or shave ice into slush.
Process hot liquids. It is perfectly capable of pureeing any hot veggies for soup or producing bulletproof coffee.
Chop food for preparing different recipes like salsa, salad dressings, sauces, and marinades. The machines are even able to produce pesto, various dips, and spreads. The units are very good at chopping veggies, nuts, and other ingredients.
Grind coffee, herbs, and mill soft grains like oats, especially models with food processor attachment.
Container and blades
The majority of Hamilton Beach gadgets come with a quality shatter and temperature resistance 40 oz. glass containers. While the HB (52400) model with high-quality Tritan copolyester 32 oz. container. The (58149), (58161) and (52400) Hamilton Beach models come with single-serve bullet cup or simple food processor attachments. Although these attachments are quite primitive they slightly expand the functionality of units.
All units are equipped with removable for easy cleaning but designed not to be disassembled after each use. That makes the units very easy to use and requires minimum efforts to set up them for running.
The blades are made of stainless steel blades and the assembly including the blade shaft, the drive gear, and drive socket made of plastic or rubber. This makes machines not very solid and durable. 
Warranty and Customer Service
All Hamilton Beach blenders come with 3 years limited warranty that is quite good for such a cheap gadget. The HB also is known for helpful customer service. 
Weak points – the motor to blade connection is plastic, short (2 feet), the blender is not designed to handle ice well.
Blender
Power
# of Speeds
Container
Extra Attachments
Hamilton Beach Power Elite Blender (58148A/58149)
700 watts

4 speeds

2 pulse

40oz. Glass
Chopper option
Hamilton Beach Wave Crusher Blender (54221)
700 watts
6 speeds 2 pulses
40oz. Glass
Compatible with mason jars
Hamilton Beach Blender (56206)
700 watts

3 presets

1 pulse

40oz. Glass
No
Hamilton Beach Wave Crusher Blender (58161)
700 watts

4 speeds

2 pulse

40oz. Glass
20 oz. single-serve cup
Hamilton Beach Blender (52400)
650 watts

1 speed

1 pulse

32oz. Tritan
16 oz. single cup/chopper
#3 BLACK+DECKER Blenders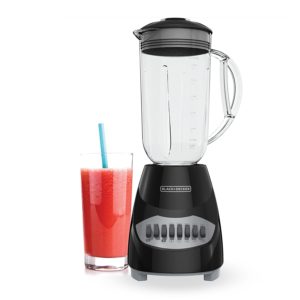 The Black + Decker is also famous for producing inexpensive blender for under $50. These machines are equipped with 450 watts, 550 watts, and 700 watts at peak motor power and output less noise than other comparable blenders on the market. The prices for them are directly correlated with the power of the motor. 
Functionality and Control Panel
Black + Decker machine equipped with generous 4 to 12 speeds and pulse function options. However, the same as with another budget blender these speeds are almost useless and show little real RPMs difference. The pulse mode with low and high speeds are just enough to do most of the job. So, a typical Black + Decker machine is designed to accomplish the following functions:
Able to process soft, hard, and leafy ingredients into slightly textured consistency with some chunks. The food should be cut into smaller sizes of 1-1.5 inches for easy blending. Otherwise, the user needs to stop the machine a few times for shaking the jar or manual mixing the ingredients with a spatula. The large pieces are hard to push into a vortex. The whole flaxseed, sesame seeds, and nuts are also not fully pulverized. There are will be some small unprocessed residues left in the drink.
Process frozen ingredients and ice cubes were only broken into a size of 1-1.5 inches and with enough liquid added. The large pieces of frozen fruits and ice are never involved in a vortex and tend to jam around the blades. They will need a lot of stirring effort to be blended. Shaving ice is also beyond the capability of these machines.
Handle easily hot liquids. Suitable for processing build and baked veggies without cooling and for making bulletproof coffee.
Chop to prepare salsas, sauces, and dressings, whip and mix ingredients for baked goods grind hard cheese or cooked meat. They will also be able to prepare some spreads with enough liquid added.
Not good at grinding coffee beans, herbs, or grains but can powder them with some efforts. 
Container and blades
All Black & Decker blenders come with 48 oz. or 42 oz. shatter and temperature proofed glass containers. The BL1820/BL1821 FusionBlade models come with an extra 20 oz. polycarbonate bullet cup for blending and taking a drink out in the same container.
All Black & Decker gadgets are equipped with a removable blade assembly. The blades are stainless steel with a plastic base and screwing collar. The built-in gasket makes the assembly very easy to remove for thorough cleaning. However, the machines come with plastic and rubber blade to a motor coupling that makes the system together with plastic collar very fragile and not durable.
The machines are very easy to assemble for running and cleaning.
Warranty and Customer Service
All Black & Decker machine comes with 2 years Limited warranty which reflects the durability of these gadgets. Customer service is helpful and has a good reputation for solving the issues with their products.
Weak point – a fragile blade assembly plastic collar; non-durable plastic blade to motor coupling system and plastic blade assembly base.
Blender
Power
# of Speeds
Container
Extra Attachments
BLACK+DECKER BL1820/BL1821 FusionBlade Digital Blender
700 watts

4 speeds

2 pulse

48oz. Glass
20 oz. Single-serve cup
BLACK+DECKER BL1110/BL1111 FusionBlade Blender
550 watts

12speeds

1 pulse

48oz. Glass
No
BLACK+DECKER BL2010BG Blender
550 watts

10 speeds

1 pulse

48oz. Glass
No
BLACK+DECKER BL1130 FusionBlade Blender
550 watts

12 speeds

1 pulse

48oz. Glass
No

Summary
The Oster machines are no doubt leaders among these inexpensive blenders. They easily handle all ice crushing tasks. While the Hamilton Beach and Black + Decker blenders are struggling when performing the ice-related job. The Oster machines are even able to shave ice to produce a variety of frozen treats. The Osters are also the best-constructed machines with all-metal blade assembly and motor to blades coupling. Thus show the best durability compare to the Hamilton Beach and Black + Decker units. The Hamilton Beach is slightly better built and more durable than Black + Decker's units.
However, the Black + Deckers produce less noise among the blenders in the price range of under $50. The Oster probably the noisiest unit in our selection.
So, the customers who are looking for a well-built and durable budget blender but prefer the one with single-serve attachment should select among the Hamilton Beach machines. And those who are looking for the quietest blender will be better off with the Black + Decker brand.
Check the Best Blender for Smoothies and More article for more options.