It is indeed a challenging task for consumers intolerant to the noise to determine a quiet blender with a sound shield. First, the choice is very limited. Second, the noise level that consumers may expect from the selected blender is not easy to verify and thus to decide if it worth buying the one.
Blender engineers usually incorporate two ways of designing quiet blenders. They muffle the noise coming from the motor housing and seal with the sound enclosure of the blender container, the major emitter of the annoying sound. Even using the best practice, there is no way to build the mute machine but it is likely to reduce the sound to tolerable decibels that are not disturbing for sensitive ears. The example for what the noise level consumer may expect from the "quiet" blender is the noise the commercial type blender with sound enclosure emit in the Jamba Juice and other popular smoothie shops.
We are here to help you to solve all problems with selecting a decent quiet blender. We will assign and rate the best blenders with a sound shield available on the market.
How We Selected The Blenders
As was mentioned above, there is a limited choice of quiet blenders with sound enclosure for home use. Because this type of gadget is usually manufactured for commercial use and the most popular among them are Vita-Mix Quiet One Blender, Vitamix 36021 Blending Station, Blendtec Stealth 825/ 875/ Q-Series blenders, Waring Commercial B00BHQSR6U MX1500XTX with Sound Enclosure, and Hamilton Beach Commercial HBH755 The Eclipse Blender.
However, commercial blenders are not a good choice for the home environment. Not only because they are normally overloaded with custom programs and programmed cycles (often there are more than 30 of them) and thus not easy to use. But also, they are designed for heavy use (up to 200 cycles a day) that is not needed in the home environment. As a result, they are very expensive and come with the 1-3 years limited warranty that is much shorter than the household blender's warranty. The average consumer will not load the machine with so many cycles and will expect a much longer warranty for the blender.
So, there is no point to overpay for commercial gadgets. Until recently, household blender with sound enclosure was not available and the consumer had to use tricks to reduce annoying noise or buy separate sound shields which are usually suited only for high-end blenders and were also very expensive. Fortunately, this situation changed. 
Hamilton Beach 950-Watts SoundShield Blender is available in 4 models. The basic 53600 model comes with 3 speeds, pulse function; the 53601 model has 5-Speed, 3 Pre-Programmed Settings, and pulse function; the 53602 model equipped with 5 speed, 3 pre-set programs and pulse function, 3 pre-set programs, and single-serve attachment; the 53603 comes 3 speeds, pulse function, and additional travel cup.
Here, we selected the best high-end, mid-range, and basic type of household blenders with sound enclosures that will suit all budgets.
#1 Hamilton Beach 950-Watts Sound Shield Blender (53600/53601/53602/53603)
Hamilton Beach 950-Watts Sound Shield Blender is available in 4 models. The basic 53600 model comes with 3 speeds, pulse function; the 53601 model has 5-Speed, 3 Pre-Programmed Settings, and pulse function; the 53602 model equipped with 5 speed, 3 pre-set programs and pulse function, 3 pre-set programs, and single-serve attachment; the 53603 comes 3 speeds, pulse function, and additional travel cup.
Motor and power
The blender is equipped with 950 watts of motor and a plastic motor drive. The machine base also has a sound-absorbing jar pad that contributes to the reduction of the sound during blending. The motor housing seems solid and stable and equipped with rubber feet that prevent the unit from moving about when processing.
Control panel and speeds
The gadget features a simple, legible, and straight-forward control panel but differs by the models. The 53600 and 53603 machines control panel has 3 speeds with speeds (low, mid, and high), the pulse, and stop buttons. While the 536001 and 53602 machines control panel comes with 5-speed buttons, 3 pre-set programs (SMOOTHIES, ICE CRUSH AND CLEAN), and the pulse and stop buttons.
The ON/OFF power switch is located on the right-hand side of the blender base.
Quiet shield
It is equipped with a transparent sound shield hinged at the back and swings up and down easily with the handle at the front. It could be removed for cleaning. The manufacturer claims that the sound shield reduces the noise coming from the machine by approx. 55%. And I rather believe this because even when I have frozen ingredients inside of the jug the noise is not overbearing and you will be able to talk over it without yelling. With the Hamilton Beach, the noise level is perfectly acceptable and you can even still converse with others in the same room.
Roughly, the gadget with the sound enclosure releases 70db at the lowest speed increasing 5db for each speed increment increase. The decibels difference between shielded and unshielded condition is approx. 3-4db at all speeds.
Functionality
Makes good smoothies from soft ingredients. If you blend greens (parsley, kale, and celery) and hard ingredients (fresh ginger), most likely it will leave some small unprocessed food fragments.
It can crush ice and frozen ingredients. The pulse function is a great help but sometimes it may struggle and leave some chunks if you use more than 2-4 ice cubes at once. Nevertheless, it is still able to make a decent margarita and other iced drinks.
This blender is very good at small chopping or pureeing tasks. It will easily puree sauces, mix salsa or dips. It is capable to blend hummus to your preferred smoothness or puree a fresh sauce.
The blender comes with the glass jar so it is designed to handle hot ingredients. It will easily puree boiling ingredients for soup or make bulletproof coffee. Remember to open the center vent lid when blending hot liquids.
It is good at chopping nuts, making bread crumbs and pulverizing cookies for pie crusts
The grinding function is not the power side of this blender.
It is certainly not powerful enough to process a nut butter or blend nut milk.
Using, cleaning
The blender comes with a removable blade assembly that includes blades and the jar collar.  The bottom collar fits well and does not leak. After connecting the blades you just place the jug on the top of the base, fill the jug with ingredients, the lid securely and sound shield and it is ready to use.
For cleaning just disassemble the blades system and you can wash them by hand or place in the dishwasher. The blades system parts, jug, and lid are dishwasher safe.
Containers, blades
All Hamilton Beach SoundShield Blender models (53600, 53601, 53602, and 53603) come with 52 oz. solid thick glass container and lid with a hatch-style pour spout where you can add ingredients during blending. The container also features handle and clear marks in ounces, cups, and milliliters.
The 53602 and 53603 models also include an additional 20 oz. glass singles serve containers which you can use as singles serve attachment with the included removable blade assembly or use it as a travel cup.
The blender comes with stainless steel 4-pronged removable blades. It is fixed to the bottom of the jar with the plastic collar.
Warranty 
The blender comes with 3 years limited warranty for U.S. and 5 years limited warranty for Canada. The customer service will repair or replace any faulty parts, however, the consumer will be responsible for all the shipping costs both way.
Summary
The Hamilton Beach 950-Watts SoundShield is a good value for money blender. It makes good smoothies from soft ingredients but may need to run longer to get a green smoothie or iced drinks than more powerful gadgets. However, it is very simple to use and clean also.
From the strong points, the blender has a glass jar and a well-designed sound shield that properly dampens blending noise. Although, with the shield, it seems bulky but still fits under a standard kitchen cabinet: 9.06 x 10.24 x 16.14 (inches).
Weak points
The jar collar is made of very thin plastic and could crack when overloaded. It also has a plastic motor drive that reduces the life expectancy of the motor and it does not have an automatic shutdown system.
Amazon rating – 3.7
Check here today's best price for the Hamilton Beach 950-Watts Sound Shield Blender 
#2 Hamilton Beach Professional 1500W Quiet Shield Blender (58870)
The Hamilton Beach Professional 1500W (full review) is another blender with sound shields for your consideration. The blender is powerful, solid, and produced by the well-known to US consumers' manufacturer, so it is defiantly worth to pay attention to it.
Motor and power
The blender strong and sturdy motor base is equipped with a powerful 1500 watt (2hp) at peak motor. That will be attained only during the first seconds of operation and when the gadget needs the most power to process ice, frozen fruits, and other stubborn ingredients. The motor is also designed with an optimal airflow system to cool the gadget and an overload protection system to protect from motor overheating and damage.
It also has the Jar Pad a rubber-mounted component that will muffle the sound emitted by the motor.
Control panel and speeds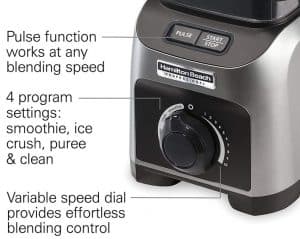 The control is pretty minimalistic and straightforward but very functional. It is equipped with PULSE and START/STOP buttons and dual knob. The dial knob controls 11 variable speeds and 4 program settings (CLEAN, PUREE, CRUSH, and SMOOTHIE).
START/STOP functions activate the blender. Rotate the control knob clockwise for selecting one of the variable speeds and anticlockwise for pre-sets. The gadget will run just by turning the knob to the desired speed or setting, the blender automatically stops at the end of the program and thus eliminate any guesswork for the user.
The PULSE function could be used with any variable speed. Turn the dial knob to the desired speed and push the PULSE function. The selection of variable speed and pre-programmed settings allows ultimate control to the user over the blending process.
Quiet shield
The removable quiet shield is designed as an upside-down pitcher placed over the blender jar. The rubber pad on the motor base also makes some contribution to the dampening of the blender noise. Although, it has a rather uncomplicated design for a sound enclosure it still able to muffle the amount of noise released from the blender to a more comfortable decibel (roughly 80 decibels).
Of course, it is not a whisper-quiet but not as aggressive and irritating as an ordinary non-quite blender. You still can hear and talk with a raised voice when the blender is running even with the frozen ingredients inside of the jar.
Functionality
Blends very smooth drinks from soft and hard fruits, veggies, leafy greens and nuts with no chunks; effortlessly destroy berries seeds;
Crushes ice and blends frozen ingredients very well using a high speed or CRUSH pre-set program; able to make sorbets and iced drinks such as refreshing margaritas and Pina Coladas;
Powerful enough to make whole juice or nut milk;
Easily mixes and purees a variety of salsa, sauces, pesto, dips like hummus and salad dressing or horseradish;
Chops veggies and onions;
Easily purees potato, broccoli or baby food recipes;
With some effort but able to makes nut butter, included tamper will help to mix thick mixtures to the perfect consistency;
Designed to handle hot ingredients and will easily puree boiling hot ingredients for soup, it also able to make bulletproof coffee; however, despite 1500 watts power motor it will not heat liquid with frictions;
Grind herbs, coffee beans and grains making decent flour for baking;
Able to mix muffin and pancake batter;
Using, cleaning
With inbuilt into jug blades it is very easy to use. Just place the pitcher on the top of the motor base, close the lid and it is ready to use.
Cleaning is a breeze as well. It has a pre-set CLEAN program, so you just add some water and soap and set it to the CLEAN pre-set. Alternatively, you can clean it by hand or in the dishwasher, the pitcher, lid, and tamper are all dishwasher safe parts.
Containers, blades
The blender comes with 32 oz. shatterproof and BPA-free plastic containers. It does not have handles, so you would need to use a hot mitten when handling it with hot liquids inside. However, it has clear measuring on its side and is equipped with a tightly sited rubbery lid and plastic filler-cap. Besides, it comes with the handy tamper tool for processing thick or stubborn mixtures such as frozen desserts and nut butter. 
The blade assembly is permanently installed in the blender container. The 4-prongs blades are sharp and made of high quality and durable stainless steel resistant to wear and tear.
Warranty
Hamilton Beach 1500W Quiet Shield Blender comes with 5 years limited warranty. It covers repair or replacement of blender and parts if found to be defective. The limited warranty assumes that the customer is responsible for all shipping costs that could be pretty high sometime. The warranty is not transferable and applied only to the original consumer or gift recipient.
Summary 
This is a powerful, sturdy, and versatile blender that able to perform quite a few functions typical for professional blenders to the very high standard. Although it claims to be professional it will not perform all the functions the Blendtec and Vitamix do and the quality of the outputs is not quite similar. Nevertheless, it is a very decent blender that will do good quality fruit, veggie and green smoothies, frozen treats, puree hot ingredients, mill flour, and others. It is very simple to operate and clean. Although, it is not equipped with the quite shield as sophisticated as the other gadgets in our list it still does help cut down on the noise to a tolerable level. It has a decent 5 years limited warranty. The gadget is quite a compact 11" X 15.5" X 12.4" and easily fits underneath the cupboards.
Finally, it is available at a very reasonable price for such a powerful blender of only $120-$160 depending on retailer and discount offers.
Weak points
It has rather the small 32 oz jar that does not have a handle. Basic sound shield design.
Amazon rating – 3.7
Check here holiday discount price for the Hamilton Beach Professional Blender
#3 OmniBlend Omni-Q Commercial Blender with Full Sound Enclosure Shield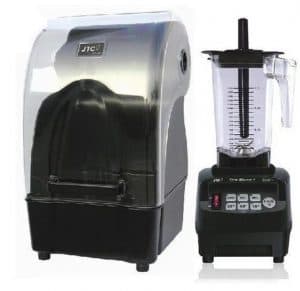 Although, the OmniBlend with Sound Enclosure Shield is marketed as a commercial machine if it is purchased for domestic use the manufacturer treats it as a household blender and offers the 7 years warranty.
The JTC Omniblend blender distributed over the world since 1996, it was engineered in Taiwan but assembled in China. The gadget was introduced to US customers in 2009 and is currently serviced for US and Canadian customers by JTC Electronics USA Inc. of Eagle Mountain, Utah.
Motor
This blender has a very powerful carbon-brush 2200W/3HP at peak motor. However, it mostly operates at only 950 watts but with a performance comparable to the high-end motor. The motor also has a noise reduction and self-cooling feature (thermal override protection).
Besides, it is equipped with automatic overload protection. When the motor is struggling to process the content, the automatic overload protection will cut off the power right away. That makes the machine to be safe and to last longer.
Control panel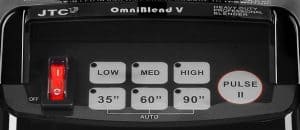 The OmniBlend Blender control panel is equipped with the Power On/Off switch encased in a transparent rubber casing, three speeds (LOW to MED to HIGH), three timed pre-sets (35", 60", 90"), and pulse function. To stop the operation at one of the speed or cycle at any time just press any button.
Timed pre-sets specify the blending time cycles – 35 sec, 60 sec, and 90 sec. When you select one of the pre-sets, the machine will run the cycle and stop automatically after the selected time has passed. During the cycle the blending speed increases from LOW to MED to HIGH. When high or med speed pressed the machine will start from low speed for 1-2 sec and then will increase to high.
The Pulse function works on the HIGH speed instantly and can be activated by pressing down the button.
Quiet shield
OmniBlend blender is equipped with the hinged, 2-piece sound shield that opens and closes over the blender jar. The sound enclosure is constructed with high-quality materials used in aircraft windshields and fighter jet canopies. It fully wraps around the blender to maximize noise reduction. The shield provides at least 80% noise reduction. The noise from the blender will reach a maximum of 72 dB and allow the user to carry on a normal conversation during the blending. The OmniBlend is truly one of the quietest blender currently available on the market.
Functionality 
Makes perfectly smooth fruit and vegetable smoothies from soft and hard ingredients including kale and other greens, skin, stem, and seeds are easily obliterated by this machine;
Process frozen ingredients in seconds to make smoothies, ice slush, ice cream, and frozen desserts;
Blends quality nut or soybean milk;
Mousses, whipping creams and other dessert treats;
Makes perfect salsa, salad dressings, various dips, sauce and pates, chops and minces vegetables and roots, grate cheese;
Minces meat for making fresh burgers, meatballs and koftas;
Can puree veggies for side dishes or baby food;
Can make super healthy and delicious baby food;
Handles hot ingredients to puree soup or make bulletproof coffee, makes hot soup from scratch via friction in 6 minutes;
Crushes any grain such as barley, wheat, buckwheat, oats, brown rice or soybean into baking quality flour; powder cashew, pine, grinds coffee beans or spices; grinds spices in seconds;
Makes the batter for cupcakes, muffins, and sponge cakes and kneads dough for bread;
Able to process nut butter;
Using, cleaning
The gadget is very easy to use and clean. Place the Jar on the top of the base, fill the container with the food ingredients, close the lid, close the Noise hood and it is ready for use. Push the on/off switch to on position, press one of the speeds or pre-set functions, the blender will run. The speed function (low, mid, high) will run continuously until they stopped by pressing any of the buttons on the control panel. The pre-set functions (35", 60" and 90") will run on the high speed (gradually increasing from the low speed) for the relevant duration and stop automatically. To stop the machine at any time just press any button on the control panel. If you need to use tamper you will have to open the hood use it.
The cleaning is also an easy task. For self-cleaning, fill the jar it with the water and soap and blend for 10-30 seconds. Another way is hand cleaning using the cleaning utensils.
Containers, blades
The OmniBlend blender comes with the quality 1.5 liters (50 oz.) Eastman Tritan copolyester container. The Eastman Tritan is a US manufacturer that produces copolyester blenders container for Vitamix and Blendtec. The shatter-proof, scratch, and impact resistant jug is FDA and UL approved. It is also designed to withstand up to 125 degrees (257F).
The container has a square design with rounded corners, allowing for convenient pouring from any of the three sides. It has ounces, cups, and milliliters are marked. It also includes a rubber lid, lid plug, and tamper. The lid doesn't "lock" in place but fits tight with rubber inserts and it is securely held in by the cover so it cannot come open unless you had the cover open. 
The 6-prongs sharp blades permanently inbuilt into the container. The blades are designed for wet and dry blending and grinding. The heavy-duty blade assembly is made from high quality, Japanese precision stainless steel. The blender also has a durable metal drive socket.
Warranty 
The OmniBlend blender comes with a 7-year limited warranty covering the motor and control functions. Limited means that the user will pay the shipping cost both ways for the gadget service. The container, blade assembly, and drive socket have only 1-year coverage. Although, the cost for the container, blade assembly, and drive socket replacement is the affordable repair for these parts the customers should accomplish themselves.
Summary
OmniBlend is very powerful and one of the quietest blenders on the market. The machine performing all function that the high-end blender do at the comparable quality (but requires 20-60 sec longer time for produce equivalent result). The good point, it is available at a noticeably lower price (around $50) then the best in our list high-end blender Blended 800 with Sound Enclosure ($799).
It is also not very bulky, even with enclosure it measures at 260 mm x 290 mm x 420 mm and will fit under the most kitchen cabinets. It comes with a nice recipe book and instructions.
Weak points 
Only 3 speeds.
US Amazon rating – no rating yet.
Check here today's best price for the OmniBlend Blender
#4 Blendtec Professional 800 Blender With Sound Enclosure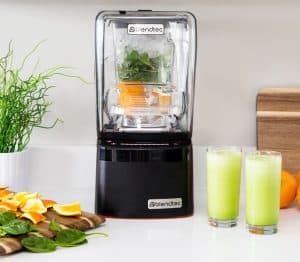 Blendtec Pro 800 is a commercial quality blender for domestic use that comes with an array of top features. It is equipped with the stealth noise reduction hood and is known as the quietest domestic blender.
Motor and power
Blendtec Pro 800 houses 15 amp/120 volts/2800 watt/3.8 peak horsepower direct-drive motor. It is one of the most powerful blenders on the market and allows the finest and smoothest blending almost to anything.
It is equipped with all-metal drive coupling and the jar blade shaft. The socket has a lifetime warranty. The motor housing contains the electric motor, drive train, and other components that optimize sound and airflow for cooler, quieter operation. No doubts it is also equipped with an automatic shut off system to ensure the longer life expectancy of the motor.
Control panel and speeds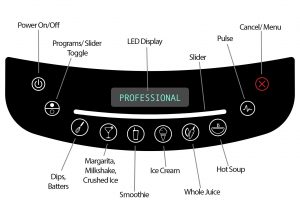 The Blendtec Pro 800 control panel is a smooth black surface (easy to clean) with back-lit touch-sensitive controls. It has from right to left a Power Key, Switcher Key (to switch between 6 pre-sets and the manual speeds), 11 incremental speed capacitive touch slider (from 4,000 RPM to 29,000 RPM), 6 pre-set programs (Batters, Mixed Drinks/Cocktails, Smoothies, Ice Cream/Frozen Treats, Whole Juice, Soup) enabling you to press a button and walk away, the Pulse Key, Stop Key, and LCD Information Center.
Such a variety of assumes an incredible versatility of the gadget.
Quiet shield
The Blendtec Professional 800 features the most advanced sleek sound enclosure, it is made of thick clear plastic that is hinged at the back and fully removable for cleaning. It dampens blender noise so well that you will not hear it blending in the next room, even when it is working at the highest speed. According to the manufacturer max out at 67 decibels and it is truly quieter than a dishwashing machine.
Functionality
It makes super smooth smoothies from soft and hard ingredients including raw spinach leaves, kale, hard frozen berries, and nuts and cored the apple. Thus it is perfectly suitable for green smoothies also. Efficiently blends berry seeds to give you perfect smoothies.
Crushes ice and frozen fruits to makes frozen treats including ice cream, sorbets, and frozen yogurt. Shaves ice for snow cones, margaritas, daiquiris, and other frozen concoctions.
Completely obliterates tough and dense ingredients, including stems, seeds, or skins, and outputs perfect whole juices.
Perfectly handle hot liquids. Moreover, heat liquids with the power of blade frictions, from cold water and fresh ingredients for homemade soup in a few short minutes will create steaming hot and ready to eat soup. Will easily make hot chocolate, syrups, fondues, or bulletproof coffee.
Will stir, chop, mince, or using a Pulse function.
Pureeing and baby food.
Makes hemp seed, almond, coconut, and other nut milk without efforts.
Although Blendtec recommends using a special Twister Jar for nut butter it is perfectly possible to make it with WildSide+ jar, it will take a bit longer but the algorithm is available from Blendtec recipes online.
Perfectly capable to make sauces, dips, dressings, batters. Quickly mix batters or knead the dough for pancakes, waffles, cookies, muffins, crêpes, pizza, and cakes.
It will grind seeds, nuts, anything you put into it. This blender can also make perfect flour from absolutely any grains.
Using, cleaning
The Blendtec Pro 800 comes with blades inbuilt into a jug and thus it is very easy to assemble/disassemble, use, and clean.
It is very easy to assemble. To set it up simply open up the noise hood and place the jug on the top of the base unit ensuring that it is correctly fitted/aligned. Stuff the ingredients into the blending jar and pour a suitable amount of liquid on the top of them. Select one of the blending cycles and run it or an 11-speed touch slider.
To clean it, just pour some water and washing liquid into the jar and select the low power setting and leave for 40 seconds before turning it off. This will remove any gunk around the blade.  Stickier jobs such as nut butter and bread dough usually require additional scrubbing after first self-cleaning. Rinse the blending jar. Clean the base by simply wiping the base and interface with a damp cloth.
Containers, blades 
The Blender comes with high-quality Eastman Tritan co-polyester 90 oz. WildSide+ container and Vented Gripper lid. The container is impact and temperature resistant (up to 212 degrees F).
The Wildside + jar has a unique five-sided design, which creates a vortex and pulls the ingredients down into the blades. You can scrape out the thicker mixtures thanks to its square, flat-sided design.
The nominal capacity of the jar is 90 oz., the actual capacity is 72oz, but the marking on the jar goes up to 36oz., but the line for 36 is only about halfway up the jar. The container does not have a spout but squared shape allows to pour out liquid efficiently without spilling it out.
The lid is made of a rubbery material, needs to be firmly pressed into position, and fits snugly.
There is an opening at the center that allows steam and pressure to escape when you are blending hot ingredients or through which you can add ingredients during processing.
It does not include a Tamper because the patented five-sided jar design automatically pulls ingredients toward the blade.
The Blendtec 800 has inbuilt into the container laser-cut stainless steel blades. It is a wingtip, two-pronged, and blunt blade design. The wingtips break up larger ingredients, allowing a quicker blend. The blunt blades making a jug to safer to clean and handle.
Warranty
Blendtec Pro 800 comes with a very good and one of the best in an industry 10 years warranty and covers shipping both ways for service. 
It also offers a free 30-day money-back guarantee if you tried out did not like and decide to return it. However, the warranty is not transferable and applied only to the original customer, so if the unit submitted for repair must be accompanied by proof of original purchase.
Customer service is good and reputable.
Summary 
It is a very sturdy and well-made machine truly the quietest blender in the world for home use that features the commercial power and versatility. So if you can manage the cost, it will be an excellent addition to your kitchen that lasts you a long time. The hinged cover makes such a big difference in the noise level. It still has the same loud jet engine feature, but the enclosure muffles the sound so much that my washing machine is louder than it while running. With an 1800 watt 3.8 horsepower peak, it has more than enough power to go through all your blending needs.
This is a heavier blender that is not meant for travel. It weighs 16.2 pounds. The height of the swayed up shield is 24 "(62 cm) and will not fit most of the kitchen cabinet. While when it is swayed down closed it is only 16.2" tall and fits under the cabinets.
Weak points
It is very expensive.
Amazon rating – 4.0
Check here today's best price for the Blendtec Pro 800
Summary
Which blender is the best for you depends on what you want from your gadget? If you are looking for the commercial type best quite blender with the sound shield then you have to choose between Blendtec Professional 800 and OmniBlend Omni-Q Commercial machines. If you are OK with basic to medium range blender you will decide between Hamilton Beach Professional 1500W and Hamilton Beach 53600/53601/53602/53603 950-Watts gadgets.
Blendtec Pro 800 is no doubts the most sophisticated high-end blender for home use with the sound enclosure available on the market today. It is not only a very powerful machine but equipped with many very advanced features such as 6 pre-programmed settings, 11 continuous speeds, a touch screen control panel, and a beautiful design. The blender will perfect at any recipe from green smoothies to hot soup or ice cream. The sound shield is also top-notch and you will be able to continue the normal conversation even if it blends ice next to you (max at 67 dB). Besides, it comes with 10 years of unlimited warranty and excellent customer service. It has only one drawback, it is very expensive. However, if you can afford the best of the best commercial type blender with the quite shield at the $800 price then it is the best option for you.
If you are still hoping to grab the high-end gadget with the sound shield but cannot splash the $800 on it then you must consider the OmniBlend Omni-Q Commercial machine. It also will make perfectly smooth green smoothies, hot soup, nut butter, and ice cream, the output is not as perfect as from Blendtec but very close and will take 20-40 sec longer to achieve a comparable result. Although, it is China assembled but has a good reputation and 7 years limited warranty serviced by US Company. It has only 3 speeds and the control panel is not the same as the state of the art as the Blendtec control panel. But the sound shield is top quality and muffles the sound almost as efficient as Blendtec. The good news, it costs only $450 which is almost half the price of the Blendtec 800.
The Hamilton Beach 950-Watts is a rather basic blender but still powerful enough to perform many functions such as decent smoothies, chopping, pureeing, and mixing, but will not do perfect green smoothies. However, it is equipped with a properly engineered hinged sound enclosure that will muffle sound-emitting to the level you can continue a normal conversation with a slightly raised voice. It has a well-known manufacturer and good for this type of blender 3 years limited warranty. The good point, it has a very attractive price of only $59-$79 (depending on the model).
The Hamilton Beach 1500W has a more powerful motor and able to perform more functions to a better quality then HM 950 watts. It will make decent green smoothest, good dips, almost perfect soup. However, it has a rather more primitive sound shield than other blenders in our list. We should acknowledge, it will not provide as an efficient sound reduction as Hamilton Beach 950-Watts.
So, if you prefer better quality blending with not very efficient sound reduction then Hamilton Beach 1500W must be your best option. If you are OK with a rather basic blender but the sound reduction is really important to you then you will be better off with Hamilton Beach 950-Watts machine.