The disruptive level of noise the majority of household blender output is the real problem for the consumers with noise sensitivity or those who prepare their morning smoothie when most household dwellers and neighbors are still asleep. The blenders with sound enclosures are the common equipment mainly for the commercial environment. Fortunately, these blenders now are coming to private homes. The Hamilton Beach Pro 1500W Quiet Shield Blender is one of them.
Read this review if you would like to find out all the "good and bad" side of this Quiet Shield Blender for home use.
Quiet Shield
The Hamilton Beach Pro 1500W sound shield has a simple design and constructed as a removable an upside-down hard plastic jug arranged over the blender pitcher. The rubber pad on the base unit base also contributes to the muffling of a noise released by the blender. Despite such an unsophisticated design it still does the job and reduces the noise emitted by the blender to the comfortable 80-85 decibels depending on processed ingredients.
Functionality and Versatility
Smoothie: This blender blends soft and tough fruits vegetables like kale or pineapple into a very good quality smoothie. Carrot and apple may come out a bit textured but still of decent consistency. It pulverizes well blueberries and strawberries seeds but will leave some seed residues when blending blackberries and raspberries.
Juicing: It will not remove the liquid from the fiber to produce the textbook classic juice. However, it will process ingredients into smooth consistency to make the "whole juice" aka smooth smoothie.
Crushing Ice and Frozen Desserts: This machine will crush ice cubes to the snow consistency or frozen fruit and vegetables in smoothies without many efforts. The custom tamper that comes with the blender will simplify to process thick or frozen mixtures to make a decent quality frozen yogurts, ice creams, and sorbets.
Soup/ hot ingredients: This blender will not heat food via friction, neither has its heating element to produce soup without precooking. But it is able to handle hot ingredients and will blend heated ingredients for soup without a need to cool it. However, you should not fill the 32 oz. jar beyond the 2-cup (473-ml) level when handling hot liquids. It also suits to make bulletproof coffee.
Pureeing: It will puree cooked and uncooked vegs into a good quality puree, but little liquid might be needed to achieve the best quality.
Chopping/food prep: The blender control panel is equipped with variable speeds and pulse function that is perfect for preparing hummus, dips, salad dressing, and salsas. It also will chop the onion, cabbage for coleslaw, or minces garlic for a wide range of recipes.
Nut milk: This gadget has enough power to pulverized nuts to the consistency suitable to produce reasonably good nut milk after straining it through the nutbag.
Nut butter:  This machine is able with some efforts to make quite a good nut butter with the help of tamper. When making nut butter, the user must process it with 1-minute intervals to avoid motor overheating, otherwise, the blender will shut off and you have to wait 15 min to start it again.
Grinding/milling: It will grind well coffee, any herbs, and chop nuts or flour the oats. It is not capable of mill baking quality grain, bean, or rice flour.
Dough/batter: It is not designed to make a dough, but is capable of mixing the batter.
Overall, this machine is able to produce a wide range of recipes but it comes with small capacity jars and is able to serve 1or 2 person households. For best performance, the minimum amount of liquid needed per recipe is one cup (8 ounces/237 ml) when using 32 oz. For processing protein powder drinks, blend less than 16 oz. (473 ml) since protein powders expand during blending.
Check here the best today's deal for the Hamilton Beach Pro 1500W Quiet Shield Blender
Speed Settings and Programs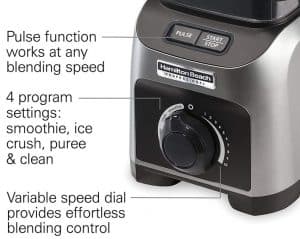 The Hamilton Beach Pro 1500W control panel has a simple design and operated by ON/OFF, PULSE keys, and dial knob with 10 variable speeds, O (start/stop) mode, and 4 pre-programmed settings positioned around the knob. The 10 speeds, CLEAN, PUREE, CRUSH, and SMOOTHIE pre-set programs and stop mode are controlled by turning the nob to an appropriate function position.
The SMOOTHIE settings are designed for stubborn and frozen ingredients, it pulses a few times and then runs on the highest speed for another 60 seconds. The CRUSH mode breaks the ice for slushies or fine cocktails by pulsing from speed 1 to 5 for 1 minute. The PUREE program process soft fruit or vegetables into a perfectly creamy consistency by slowly ramping up from speed 1 to 10 for 1 minute 15 seconds. The blender automatically stops at the end of the program.
Low speeds usually applied for chopping and food prep tasks, while a high-speed is perfect for green smoothies, grinding, and pureeing the soup.
Pulse can operate at variable speeds to control air pockets during blending when handling stubborn, iced ingredients or making nut butter.
Such a variety of speeds, settings, and pulse mode makes this machine very versatile and allows the user to easily adjust the blender power for easy preparation of a wide range of recipes for a professional quality result.
Ease of Using and Cleaning
Operating: With the blade assembly permanently inbuilt into 32 oz. jar, this blender is very easy to use. To start operation, the user has to locate the container on the base, add ingredients, and it is ready to run, the user only has to rotate the dial knob to the appropriate speed or program setting. The blender can be used with or without a quite enclosure but the enclosure has to be removed if you want to add extra ingredients during operation or use the tamper.
Cleaning: This machine is very easy to clean-up and what could be easier than the self-cleaning procedure? Simply fill the pitcher with water, add few drops of dish soap, and blend it for 30 seconds, rinse and dry thoroughly. For cleaning extra stubborn ingredients, the user can apply vinegar, baking soda, dish detergents, or use a dish brush for cleaning.
The blender parts such as the main pitcher with non-removable blade assembly, sound enclosure, single-serve cup, lids, and cap, single-serve blade assembly parts are safe for dishwashing.
Base Unit and Motor Power
The Hamilton Beach Pro 1500W motor base is equipped with a powerful 2.0 peak HP motor that corresponds to 1500 watts. The all-metal drive to the blade system seems strong and lasting. The top of the base unit is equipped with a rubber pad that also helps to reduce the noise emitted during blending.
The unit base interior is wrapped in durable plastic and. The bottom of the base unit is also equipped with non-slip details that make it stable on the counter during the operation. The base is provided also with a 3-prong grounded plug to reduce the risk of electric shock. It comes with 36 inches long cord that is not retracted to the base but equipped with a hook loop cable tie for easy storage.
The machine also has motor automatic shutoff protection to prevent system overheating during the operation, the system can resume operation after 15 minutes if the shutoff was triggered.
Containers
This blender comes with Tritan 32 oz. containers. It is made from high quality shatterproof BPA-free copolyester and able to handle the toughest jobs. The containers have easy-to-read measurement marks. The 32 ounces pitcher comes with a vented lid with a removable cap for processing hot food, adding ingredients, and using it with the tamper. The lid is made from hard plastic with and soft rubber insert to sits securely on the jar.
However, the container is rather small and although it is good for processing small batches of food you will need to run two or more cycles to serve more than 2-3 people. It does not have a handle, which makes handling the jar and pouring a little tricky and awkward. You would probably need to use a mitten when handling it with hot ingredients inside.
Blades
The blender is equipped with the permanently inbuilt into 32 oz. container blades. The blades are made from high-quality single-piece hardened stainless steel. The 32 oz. the non-removable blade is a popular construction type for high power blenders, this blender design prevents the pitcher-blade leaking problem and very convenient since it requires minimum steps for assembling blenders for operation.
Special Features
Tamper: A custom tamper helps to prevent air pockets when blending thick or frozen recipes and is a handy tool when making nut butter or frozen desserts.
Colors: This machine comes in one metal silver with dark gray trim only.
Certified Refurbished: There is no certified refurbished model available for this blender.
Use in countries outside of USA/Canada: This blender comes with the 110-120 voltage system for use in the USA and Canada, however, it is possible to use this gadget with a special adapter in other countries.
Noise
The sound enclosure considerably minimizes noise while blending and with the shield fitted over the container it reduces noise output by 40% approximately and produces around 82 decibels so you can continue the conversation with a slightly raised voice when the machine is blending.
Warranty and Customer Service
The Hamilton Beach Professional 1500W Blender comes with 5-year Limited Warranty. The Limited warranty assumes the extra charges for replacement parts and unit repair shipment. This blender seems durable and well-built machine and most likely it will have a long lifespan.
The Hamilton Beach customer service has a good reputation with their budget blender's product lines and must supply the same good service to this machine customers.
Optional Accessories and Attachments
Some models come with additional single-serve cup and blade assembly attachment. But there are no additional accessories and attachments are available for this blender. However, you can always contact customer service if you need some parts to replace.
Set Includes
Unit base with the 1500 Watts motor base;
Quite Shield/ Enclosure;
32 oz. jar with blade inbuilt and lid with filler plug;
Single-serve attachment – 20 oz. cup, removable blade assembly, blade collar for single-serve attachment(optional);
Custom tamper,
Recipe book.
The online Hamilton Beach resources are is also could be consulted for additional recipe ideas.
Dimensions
The height of this blender with 32 oz. pitcher and quite enclosure on the top of the base unit are 17.2 inches what allows this machine to fit under standard 18 inches kitchen cabinets. The footprint of the blender is reasonably compact and measures as 7.7 inches x 11.4 inches. The unit weight is 9.7 pounds.
The machine is also equipped with 36 inches power cord that comes with a hook and velcro cable tie for convenient storage.
Pros and Cons
Pros:
It is really quite a blender with noise output that allows users to carry on a normal conversation when it running.
It is a well-made and durable machine with an all-metal drive and covered by 5-year limited warranty.
This machine is versatile and allows you to make a wide range of recipes from smoothies to frozen desserts.
This powerful machine is able to produce good quality green smoothies and crushed ice to snow cone consistency.
Cons:
This is a small household blender that will serve one or two people only since it comes with a maximum pitcher capacity of 32 ounces and those who intend to blend more in one go are better to look at larger models.
Consumer Reviews
The Hamilton Beach Pro 1500W is a new product on the market but already has a high 4.0 ratings with many retailers' consumer reviews.
Hamilton Beach Pro 1500W Quiet Shield Blender Price
Hamilton Beach Pro 1500W price fluctuates around $150 with different retailers for the set with the single-serve jar and $10 cheaper if you choose the gadget with 32 oz. only. The price is very reasonable for the unit with a quiet enclosure and if you want to buy the only enclosure (without the blender) that are available for buy separately for some blender brands it will cost you around $200.
Check here the best deal for the Hamilton Beach Pro 1500W Quiet Shield Blender
Summary
The Hamilton Beach Pro 1500W Quiet Shield Blender is a good solution for someone who is looking for a reasonably priced blender that will do your morning smoothies while the rest of your household is still asleep. The Hamilton Beach Pro plastic shield does a decent job of reducing noise output. It is a well-made and versatile machine that outputs good quality blending for many tasks. It has a metal coupling gear, strong motor and promises to last for many years.
For the alternative quite blender option check our article Best Quiet Blenders – Reviews and Buying Guide 2019.