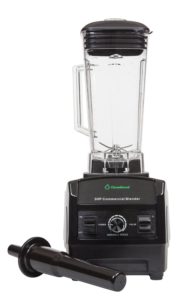 The Cleanblend is a very powerful commercial type blender that is marketed as a Vitamix competitor at half the price. It is equipped with similar Vitamix 5200 technical features – jar shape and material, motor to blade coupling, top centering pad, control panel – and operates the same way. This machine seems to be quite a decent copycat of Vitamix with the blades produced in Japan, Jar in the USA, and assembled in China.
Does this machine produce the same, excellent blending result and reliability as Vitamix? Read our review to answer these questions.
Thinking about an alternative option? Check our articles:
Functionality and Versatility
Smoothie: Cleanblend will produce excellent quality drinks, including green smoothies from any soft or tough ingredients. It pulverizes any vegetables like carrots, kale, ginger, celery, beets, and all the "usual suspects" into a perfectly smooth consistency and even avocado pits are not a problem for this gadget. This machine will also crush any strawberry or raspberry seeds in drinks with no residue left.
Juicing: This is a blender as opposed to a juicer.  It does not separate liquid from the fiber and requires liquid for the blending process. But if you want the really smooth smoothie, aka "whole juice," then this machine is able to make it.
Frozen ingredients/desserts: This machine is able to crush ice cubes into a snow-like consistency. It also easily handles any frozen fruit and vegetables when processed in drinks. With the help of the tamper or the pulse mode, this machine is capable of making good quality frozen desserts, ice creams, margaritas, daiquiris, and other.
Soup/ hot ingredients:  Cleanblend can make hot soups without pre-cooking and heat ingredients placed in the jar from friction. This process works quite the same way as with Vitamix but takes about 8-10 minutes while Vitamix does it in 5-6 minutes. This machine is also perfectly suited for making such recipes as bulletproof coffee.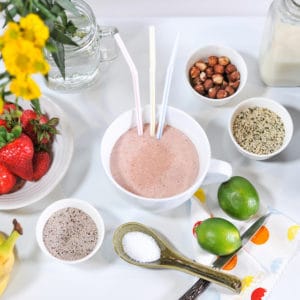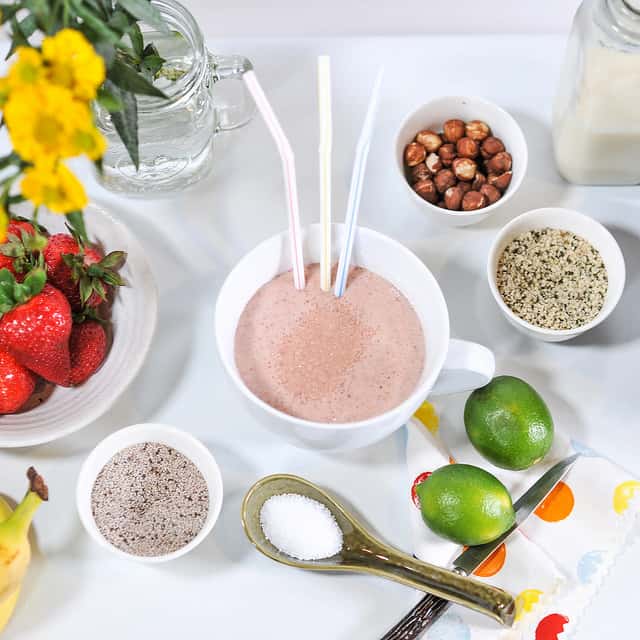 Pureeing:  It will process raw or cooked vegetables into perfect puree even without liquid added. This blender has no problem making excellent hummus, pesto, or puree the wide recipes of baby food.
Chopping/food prep:  This machine is equipped with a pulse function and variable speeds, so it is able to chop vegetables for coleslaw, minced onion, or garlic or make excellent salad dressings, salsas, and other types of recipes. It is better to use low speeds in conjunction with pulse function for food processing because the low speeds of this machine are not really low and thus require some manipulations to achieve the best results.
Nut milk:  It has more than enough power to blend nuts into nut milk. But as with any other high-end blender, the mixtures must be strained through a nutbag for the best quality result.
Nut butter: The Cleanblend is able to make good quality, smooth nut butter.  The tamper is a great help for this task, and will effectively remove air pockets during this process.
Grinding/milling: It mills herbs, nuts, and coffee beans into a good quality powder. The Cleanblend is also able to mill grains into baking quality flour. However, the user should not operate the blender longer than 90 seconds in one go when processing dry ingredients. It is better to alternate continuous milling with a pulse function for the best result.
Dough/batter: The Cleanblend is also able to mix dough and batter.
This machine is equipped with a narrow bottom and high profile container and thus it is designed to process small batches of food, so it handles 8-10 oz. of ingredients easily. The minimum portion it is able to process is about 4 ounces. Overall, Cleanblend performs very well and the blending quality of this machine is very comparable to the quality of Vitamix. As with any other powerful blender, CleanBlend requires some skill and time to become accustomed to this machine. 
Speed Settings and Programs
The Cleanblend control panel is equipped with an on/off lever, a 10 variable speed knob, and a pulse lever. The pulse mode is operated while the user holds the lever, and it is usually used for removing air pockets and for processing tough ingredients. The pulse function, in combination with high speed, allows one to process efficiently such recipes as puree, nut butter, and flour milling. The option to select from the 10 speeds and the pulse mode gives the user good control over the blending process and allows the user to create a wide range of recipes.
However, Cleanblend low speed is not very low and is approximately equals to 10,000 RPMs (compared to Vitamix lowest 500 RPMs and Blendtec – 4,000 RPMs), so it will require using a combination of low speed and pulse mode to achieve the best result while chopping food for salsa, or other recipes.
Ease of Using and Cleaning
Operating: The Cleanblend is very easy to operate. To start blending, the user has to add ingredients to the jar, clip the lid securely into place, put the jar on the centering pad on the motor base and it is ready to run. For best performance, this machine should be started at the lowest speed and then gradually increased to a higher speed. Otherwise, some of the ingredients may be thrown up and will not be processed properly.
The blender lid is equipped with a plug that makes it easy to add extra ingredients during blending, without stopping the machine. The custom tamper, included in the set, is also a very helpful tool that allows the user to accelerate the processing of thick or frozen ingredients. 
The machine does not have a locking mechanism to lock the container onto the base unit, but the jar sits securely on the rubberized centering pad enclosed by four mount guards.
Cleaning: This machine is very easy to clean with a self-cleaning procedure – add a few drops of dish detergent to the pitcher with a few cups of water and blend it 30-45 seconds, then rinse and repeat if necessary. It is also possible to clean it by hand with a dish brush and some soap. The user manual does not recommend cleaning this blender in the dishwasher, and it should not be a problem as self-cleaning is the easiest and quickest way to perform this task. 
Base Unit and Motor Power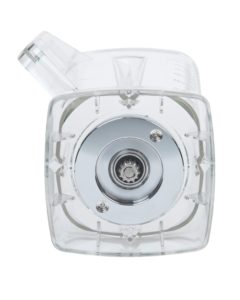 This machine comes with a very powerful 3HP (2238Watt) at peak (during acceleration) motor and 1800 Watt normal operational power at the full load. It has 38,000 RPMs the unloaded blade speed, 36,000 RPMs the highest speed, 31,000 RPMs the pulse function speed, and 10,000 RPMs the lowest speed.
The motor is also equipped with a cooling system which is operated at high speed and the overload protector that will trip the motor in case of overheating. If the machine stops due to the automatic shut off, the machine can resume operation within 45 minutes after the resetting button at the bottom of the unit.
The base unit is also equipped with four anti-slip rubber feet to prevent the unit from traveling during operation. The cord is stored under the base of the motor.
Although this machine looks solid and sturdy, a certain percentage of these machines may experience motor failure within 2 years of use. However, the warranty covers the failure and faulty units will be replaced.
Containers
CleanBlend comes with a 64 oz. BPA Free premium quality Tritan copolyester container that looks like glass and is shock and temperature resistant like Vitamix containers. However, the CleanBlend jar is a bit thinner, and it is reported by some customers that it may develop cracks at the bottom within 1-2 years of use.
The container's rubber lid is equipped with two clips on the side for securely fitting the jar. The lid is in two parts and has a removable cap for using the tamper or adding ingredients during blending.
There is also an optional 32 oz. jar available separately for processing small batches of ingredients. 
Blades
The blender is equipped with a Japanese, 6-pronged, serrated stainless steel hardened blade with 4 prongs pointing up and 2 down. This allows a user to create a proper vortex and efficiently process wet and dry ingredients. The all-metal blade assembly is well sealed with a metal locking nut that is located at the bottom of the container. However, the blade assembly seems to have some flaws in the design of the metal nut retainer because the blades have a tendency to become loose after 1-2 years of regular use. This fault also may cause the pitcher to crack at the bottom, near the retainer nut.
The blade assembly is supposed to be non-removable, however, the user can unscrew it with a special spanner if needed.
Cleanblend Blender Special Features
Tamper: The set includes a tamper for processing very thick or/and frozen ingredients and removing air pockets. This is a very useful tool that allows a user to blend even the most stubborn ingredients without stopping the blender and removing the lid.
Colors: Cleanblend is available in black only.
Certified Refurbished: There are no certified, refurbished models available for this gadget.
Use in countries outside of USA/Canada:  This blender is available only with the 110-120 USA/Canada voltage system. The voltage converter could be used for a 220-240 voltage system, but it will void the warranty.
However, for countries that use a 220-240 voltage system, there are good alternatives to Cleanblend available such as OmniBlend sold in Australia and UK, and the Enpee Commercial Grade Blender, sold in Europe.
Noise
Cleanblend is equipped with a noise-dampening catering pad and rubber feet, so the noise output is comparable to Vitamix 5200. This is around 90 decibels, which is similar to the sound coming from a motorcycle at a distance of twenty-five feet. The sensitivity to sound consumers also may place a rubber pad under the base unit to reduce the sound output.
Warranty and Customer Service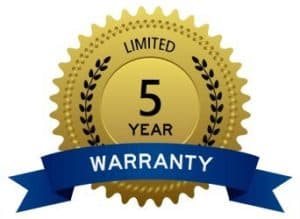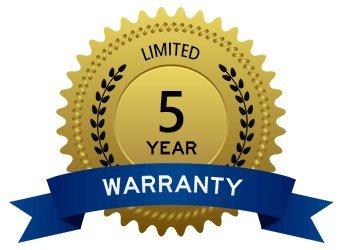 This blender comes with 5-year Limited Warranty (recently upgraded from 2 years.) Cleanblend claims that they have a low defect rate and offer also a 5-year replacement warranty if the blender or any part fails. Customers do not need to register the warranty since this is automatically processed at the time of purchase. The warranty is not transferable and covers only the original purchaser from Cleanblend.com and Amazon.com. This item also offers a 30 days money-back guarantee.
Although this is a new brand (came to market in 2013), it has excellent customer service that will replace any faulty units and parts without any questions asked. 
Optional Accessories and Attachments
The Cleanblend currently offers a 32 oz. smaller capacity container (with custom tamper and lid) as an additional accessory for those who need to process small batches of food. The 64 oz. replacement container, lid, and tamper are also available from the company website, or Amazon.
Set Includes
Base unit with 3 HP motor;
Container with the inbuilt blade;
Lid with a plug;
Tamper;
User manual.
The package does not include any recipe book, but all Vitamix recipes are perfectly suited to Cleanblend.
Check here today's best price for the Cleanblend Blender
Dimensions
The Cleanblend has a heavy, but fairly compact powerful blender footprint of 8 inches X 9 inches. The height of the machine with the jar (13 inches tall) and the lid on the top of the unit base is about 21 inches and without the lid is near 19 inches, so this blender will not fit under a standard 18-inch kitchen cabinet. 
Pros and Cons
Pros:
This machine is very versatile and produces a good quality smoothie, hot soup, frozen desserts and crushes ice, mills flour and mixes dough;
The small jar is available for processing small batches of food;
This heavy-duty machine is designed for commercial use, the Cleanblend does have sanitation seals, and it is proven to be used in commercial environments;
The Cleanblend is a well-built machine and could be the true alternative to Vitamix;
It comes with a good 5-year limited warranty and excellent customer service;
Cons:
It comes with a not very slow, low speed of 10000rpms that reduces the functionality for chopping and creating the desired texture.
It has a design flaw with the nut retainer that may cause a loosening of the blade system and cracks at the bottom of the container;
The package does not include a cookbook.
Cleanblend Blender Consumer Reviews
It comes with nearly 400 customers review on Amazon, the major official dealer of this machine. Many customers are very satisfied with the blender's performance and very friendly and helpful customer service. The average rating with Amazon is 4.3.
Price
Since Amazon is the only major official dealer for this blender, the price is quite stable and does not change much.
Check here today's best price for the Cleanblend Blender
Summary
The Cleanblend came to the market in 2013, and its true durability is not yet tested over time. But what is certain is that it is a well-made machine that is confirmed with the 5-year warranty. It is a truly versatile blender that is equipped with features very similar to the Vitamix 5200. Most importantly, it is able to deliver professional results for a fraction of the cost and is definitely a good choice for those who are looking for a professional-grade blender at a fraction of the cost of the Vitamix 5200.
Thinking about an alternative option? Check our articles: