Recently, a multitude of new, really powerful blenders was introduced to the market. Most of them made in China and each claim to perform similar to Vitamix, but at the cheaper under $200 price which is the half or less than the budget Vitamix model cost. Are there any worthy Vitamix alternatives among these newcomers?
To answer this question, we will assess a list of blenders against the few criteria such as versatility, quality performance, and durability. These criteria have allowed Vitamix to remain king of the high-end blenders for home use for many years.
How the Ratings were Assigned
Initially, we selected 25 blenders that have powerful motors with the ability to perform the multiple functions that are typical for high-end blenders like Vitamix. These tasks include:
Making green smoothies,
Crushing and shaving ice,
Making frozen desserts such as ice cream or frozen yogurts,
Preparing hot soups from the cold by heating via frictions,
Processing nut butter
Milling baking quality grain flour.
After evaluating the candidate blenders against the versatility, performance quality, and durability criteria, we came to the conclusion that only three blenders really could stand as adequate substitutes for Vitamix. However, for comparison purposes in the best blender selection list, we included also Kitchen Mega Kitchen System, Ninja Blender Duo with Auto-iQ, and Breville BBL605XL Hemisphere Control Blender. Although these machines are not close in performance to the commercial type machines, they are so popular that many consumers genuinely believe them to be the affordable Vitamix alternatives Vitamix.
And we exclude from our list another few blenders such as Homgeek Professional Countertop Blender, Aicook Professional Smoothie Blender, Elechomes 1600W Countertop Blender, Bamboo, HANMEIUS Multi-Speed, Homeleader Professional Countertop, and Salton Harley Pasternak Power Blenders. Although these machines show very good performance and have powerful motors, they are cheaply made Vitamix copycats outsourced to China with SHORT or NO WARRANTIES that are not likely to last longer than 1 year. Nevertheless, some of these machines may become the real high-end blender competitors if the manufacturing companies will improve their products construction quality and provide the appropriate customer service.
To find out more about these blenders read our article "Best Vitamix Knockoff blenders for under $100".
#1 Cleanblend Blender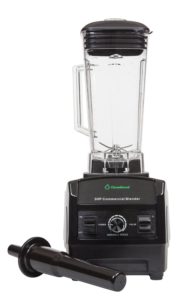 The Cleanblend comes with a very powerful 1800 watt motor and the appropriate commercial blender certification. This is a well-made machine with an all-metal motor to blade coupling, blade shaft, and drive socket.
Functionality: This gadget is designed to perform the following functions:
It makes the perfectly smooth smoothies pulverizing pretty well everything placed in the jar, no matter whether it is a soft fruit or tougher ingredients like kale, ginger, or carrots. It can even crush avocado pits;
Blends well all types of berry seeds in a smoothie without residues;
Crushes and shaves ice and produces excellent quality frozen desserts, ice cream, and iced drinks;
Makes perfect nut milk;
Chops veggies for salads and coleslaw;
Handles hot ingredients and will make hot soup within 8-10 min from blade friction without the need to pre-cook;
Homogenizes nuts into very smooth and perfectly consistent nut butter;
Purees excellent quality cooked and raw vegetables and meat, make hummus or pesto;
Makes baby food;
Mills any grains into baking quality flour and grinds herbs or coffee beans to the perfect powder;
Kneads dough.
However, this machine is equipped with quite a high lowest speed and thus has some problems chopping. But by using the pulse function, the user can learn the tricks to perform even this job. However, this is the only Vitamix decent, copycat blender that will mix a dough.
Using, cleaning: Cleanblend is easy to use. The user has to fill the jar with ingredients, pop it on the base, fix the lid to the pitcher and it is ready to use. The control panel is also quite basic and equipped with a 10 variable speed dial knob and two switches – on/off and pulse. 
Cleanblend set includes a tamper that is a great help for processing thick mixtures and removing air pockets.
Cleaning is also a very simple task for his machine – add soap and water in the jar and run it for some time at high speed, repeat if needed. It is not recommended to clean this gadget in the dishwasher as it may cause some damage to the pitcher or blade system. Many customers do not read or simply ignore the user manual which clearly states this, and thus they reduce the durability of their machine.
Containers, blades: Cleanblend comes with a high-quality Tritan copolyester resin 64 oz. container, strong stainless steel blades built into the container, and all-metal blade assembly. The quality of the jar material and blades are the highest. However, the container reportedly has an issue with cracking at the bottom. This problem seems to be due to a design fault with the retainer nut which holds the blade assembly to the jar.
Warranty: Cleanblend has a 5-year Limited Warranty and very helpful and responsive customer service which is always ready to resolve any issues and deliver the best service to their customers.
Summary: Cleanblend copied the best features from well-known professional blenders and delivers the best performance among the decent Vitamix copycats' blenders. This is the only blender that performs all Vitamix tasks with 90% quality. However, it still has a durability issue. Although the manufacturer claims a very low failure rate, it seems quite high, but customer service will replace faulty units without any questions asked.
Weak points – Crackable pitcher due to nut retainer construction flaw, relatively high motor failure compared to high-end blenders (but customer service will replace the faulty unit without any questions asked), the lowest speed is not really low (it is 10,000 RPMs as opposed to Vitamix 1400rpms for the lowest speed).
Amazon rating – 4.4
Check here the best today's deal for the Cleanblend Blender
#2 Oster VERSA Pro Performance Blender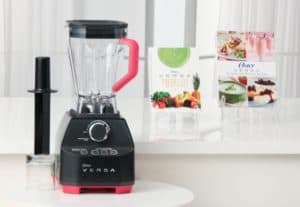 Oster Versa (BLSTVB-RV0-000) Pro comes with a powerful 1400 watt motor with blade rotation of 28 RPMs at high speed. It has an all-metal drive and blade coupling that makes all unit construction reliable and solid.
Functionality: Oster Versa is powerful enough and equipped with a proper range of truly low, medium, and high speeds, as well as a pulse function, so it is designed for the following tasks:
Makes an almost perfect smoothie, even from a tough and fibrous ingredient;
Crushes and shaves ice with or without liquid and prepares good quality frozen desserts;
Processes smooth consistency nut butter;
Blends nut milk;
Heats soup from friction within 5-6 mins manually or with pre-set Soup program;
Chops, minces, and purees cooked and raw vegetables in preparing good quality salsas, salad mixes, hummus, and pesto;
Grinds baking quality flour out of a variety of grains and grinds herbs and coffee beans efficiently, but it is not able to make the dough.
Using, cleaning: The Oster Versa is very easy to operate: Add ingredients to the jar, place it on the base unit, and choose the appropriate speed or program for running. The blender control panel is equipped with 8 variable speed knobs, 3 pre-set modes (Smoothie, Soup, Dip/Spread), and pulse function, so it offers flexibility to the user for preparing a wide range of recipes. This machine also comes with a tamper, which is an indispensable tool for processing tough and thick blends.
The cleaning is also simple using the self-cleaning procedure – add a few drops of dish detergent to the jar with water, run 45-60 seconds, rinse and let it dry. It is not recommended to wash the container in the dishwasher, as it may cause damage to the blades and pitcher.
Containers, blades: This gadget comes with the blade permanently built into the 64 oz. premium Tritan copolyester resin container. The container is made of the same material as Vitamix containers, but is a bit thinner and may develop cracks in some cases. The blades are made of stainless steel, and the blade assembly is all metal, well-constructed and durable.
Warranty: The Oster Versa 1400 comes with a good 7-year Limited Warranty that ensures machine durability. It also has a very good and helpful customer service which stands by its product. However, limited warranty means that the user may be required to pay for some replacement parts and shipping costs.
Summary: Overall, Oster Versa 1400 Watts Blender is a very well made machine with quite a low motor failure rate and a solid seven-year warranty. It is a multi-tasking gadget that produces high-quality blending (around 75-85 % of Vitamix quality) and could be a fair substitute for the high-end end type blender.
Weak points – A not very durable pitcher that can crack, quick heating of blended ingredients, and some units come with a tamper that is either too short or too long. It also cannot pulverize berry seeds as efficiently as Vitamix.
Amazon rating – 3.6
Check here the best today's deal for the Oster Versa 1400 watts Blender
#3 Dash Chef Series Digital Blender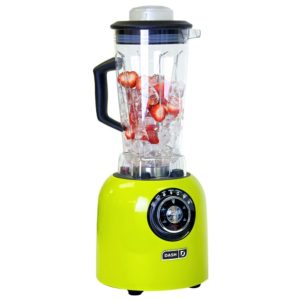 Dash Chef Series Digital has a hefty base unit with a powerful 1,400-watt motor, which rotates blades with speeds of 240MPH and 35,000 RPM. It has a strong motor, and an all-metal drive gear, drive socket, and nut retainer that connects the pitcher with the blade assembly.
Functionality: This gadget is built to perform the following functions:
Make almost perfectly smooth smoothies, including green ones from the fibrous and tough selection like kale and ginger;
Process quite well-frozen ingredients in smoothies, frozen desserts or just simply crush ice up to the snow consistency; Although the quality of ice crushing is very good, it is not equal to Vitamix and the results sometimes may contain little chunks;
Blends excellent quality nut milk;
Able to heat soup via friction the way other commercial type blenders do; The soup program runs 8 minutes and heats it to 170˚F;
Makes perfectly smooth nut butter;
Purees well-cooked and raw ingredients;
Chops and minces vegetables for salad dressing, salsa, and others.
Grinds herbs and coffee beans, and mills decent grain flour, although the user manual does not mention it.
Not able to make a dough.
Using, cleaning: The Dash comes with a very smart control panel that includes 6 pre-set programs (Puree, Soup, Smoothie, Crush, Frozen, and Rinse), pulse mode, 10 variable speeds, and a computer-controlled device. The six pre-set functions and 10 variable speeds are chosen with the turn of a dial. Computer-controlled buttons in the center may be used to set timed operation of various speeds in addition to dialing knob regulation. The timer also shows the time countdown and the speed.
Dash blender has a locking feature to lock the jar to the unit base. The lid also securely sits in place but is quite difficult to remove. It also comes with a tamper to help remove air pockets and process stubborn food.
Cleaning this machine could not be any easier – rinse the blender from any leftovers, add soapy water, and run the Rinse mode; the cycle will clean the container for the user. The manufacturer does not recommend washing this machine in a dishwasher. However, many customers ignore this manufacturer's instruction, and this may cause a lifespan reduction of the gadget.
Containers, blades: The Dash comes with a 64 oz. (2 l) container made from Tritan copolyester material which is a premium quality polycarbonate. The Container design closely copies the Vitamix jar. It is about the same thickness, but the Vitamix jar is a bit firmer and more substantial with a thick band at the pitcher top.
The Dash machine has a non-removable blade system, quality stainless steel blades, all-metal blade assembly, gear parts, and a retainer nut. It is identical to the Cleanblend blender design and even has the design fault that causes the crack at the bottom of the jar.
Warranty: Dash has only a 1-year Limited Warranty on all parts and 7 years on the motor, according to information on the box. But the manufacturer updated the warranty recently, and if you register your purchase online it will upgrade the warranty for all parts to 2 years and the motor to lifetime. Dash customer service is very helpful and responsive.
Summary: The Dash Chef Blender is a good copycat of Vitamix. This machine has a tall design and does not fit under the standard kitchen cabinet. It can perform the majority of tasks the commercial blenders do with around 80-90% of Vitamix quality, but like the other Vitamix alternatives, it has some durability issues.
Weak points – It has a strong motor, but the faulty bearing and nut retainer design often cause the crack at the bottom of the pitcher.
Amazon rating – 4.2
Check here the best today's deal for the Dash Chef Series Digital Blender
#4 Ninja Mega Kitchen System
Although the Ninja Mega Kitchen System comes with a powerful 1500 watt motor, its functionality is far from being comparable to high-end blenders. It is available in 4 different models (BL770, BL771, BL772, and BL773CO) and each includes numerous attachments that allow this machine to perform a variety of functions, while the high-end blenders perform all functions using only the jar and the blade system.
Functionality 
Using multiple attachments, this machine can perform the following functions:
Blend only soft ingredients into drinkable smoothies and not suitable for making decent green smoothies; Only the single-serve attachment can make acceptable quality drinks;
Crush and shave ice well; It is the strong side of this machine;
Able to produce nut butter, although not the silkiest kind;
Chops and minces vegetables quite well using the food processor attachments;
Mills or grinds only soft ingredients like oats;
Kneads any type of dough, but only with the special attachment that is included in two out of the four models.
This machine is not designed to:
Decent nut milk can be made only with the single-serve attachment;
Unable to heat soup with friction or handle hot liquids;
Using, cleaning 
The Ninja is the not easiest blender to use.  It comes with a complicated and sharp blade system that requires some effort to assemble and disassemble. The control panel has only 3 speeds and a pulse function, and this is obviously a limited choice for a professional blender. It comes without a tamper, which is included with all high-end blenders, so it requires the user to stop often and scrape the walls of the pitcher when processing thick ingredients.
The hand cleaning procedure is a very dangerous task. It has a very sharp and dangerous blade system that makes it difficult to clean. Cleaning all of the multiple attachments is also a time-consuming task. But, all blender parts are machine washable, and cleaning in the dishwasher should not be a problem.
Containers, blades
It comes with 3 or 4 different containers depending on the model. This includes a  72 oz. main pitcher, 16 oz. single-serve blender attachment, 64 oz. food processor attachment and 24 oz. extra food processor mini prep bowl. The containers are not made of very good quality polycarbonate which cracks easily when exposed to high loads.
The machine also comes with multiple removable blade assemblies for each attachment. The main pitcher blade has an unusual and not very efficient blade design, and it also comes with a food processor blade attachment and a dough hook. All blade assemblies are constructed with too much plastic, and that makes them not durable.
Warranty
Ninja comes with a very modest 1-year limited warranty that is not comparable with other Vitamix competitors on our list. This machine also does not have very good customer service.
Ninja Blender Duo with Auto-iQ has a very similar construction design to the Ninja Mega Kitchen System. It is equipped with a powerful 1500 watt motor, comes with a few attachments including the single-serve cups, and is available in four packages (BL642, BL642Z, BL682, and BL682Z).
Summary
Ninja Mega Kitchen System is not able to do the selection of tasks that the high-end blenders usually perform. The blending quality is also not the strongest side of this machine. This gadget comes with a lot of plastic parts that included the blade assemblies and motor–blade coupling, which makes Ninja not the sturdiest gadget and it obviously cannot compete with the very well-built, high-end blenders like Vitamix. The gadget comes with multiple attachments that require considerable kitchen space to store.
Weak points – The quality of performance is too low to compare to Vitamix; Crackable containers, poorly designed blades, many attachments need to be set up for performing different tasks, very short life expectancy and warranty, big and bulky to store.
Amazon rating – 4.7
Check here the best today's deal for the Ninja Mega Kitchen System
#5 Ninja Blender Duo with Auto-iQ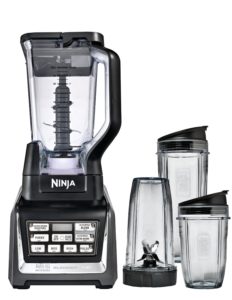 Functionality: This machine has a powerful motor that does not add much to its functionality. It is designed in such a way that its versatility is achieved with multiple attachments. This machine is able to perform the following tasks:
Blends chunky smoothies with soft or hard ingredients; However, the single-serve attachment is able to make decent drinks even from fibrous and tough food;
Shaves ice into snow consistency without any problem crushes the ice with or without liquid, and makes frozen desserts;
Able to make nut butter, but not the smooth consistency;
Chops, slices and purees fruit and vegetables with the special food processor attachment;
Mills and grinds only soft grains and herbs;
Makes dough only with the attachment available with the BL682 and BL682Z models.
This machine is not designed to perform:
Not able to process decent nut milk;
It does not heat liquid via friction and is not able to handle hot liquids. Thus it will not produce hot soup like Vitamix;
Using, cleaning: This machine has an identical design that the Ninja Mega Kitchen system does, so it is also quite complicated to assemble for use and to operate. It requires the user to stop often and to mix the ingredients manually in order to create the proper vortex.
The machine has a slightly different control panel and comes with an extra pre-set program (two for the main pitcher and two for the personal blender attachment). These pre-set do not significantly expand the functionality of the machine. This is achieved more with the attachment than with the construction or speed variety.
The machine is easy to clean using a dishwasher. But it is complicated and even dangerous for those who will clean it by hand, due to the unusual blade design.
Containers, blades: Ninja Duo with Auto-iQ is identical to the Ninja Mega Kitchen blender in containers and blade design. It comes with a selection of a few containers (depending on package) which are made from low-quality plastic which may develop cracks within a few months to one year of use. This machine also has a very unusual blade system which proves to be efficient for blending smoothies and quite good at food processing tasks. The only single-serve attachment has typical to other personal blenders' blade assembly and can produce decent blending. The blade system includes many plastic parts and these are not durable.
Warranty: This machine comes with only a 1-year Limited Warranty and has a bad reputation for Customer Service.
Summary: Ninja Blender Duo with Auto-iQ is not able to perform tasks like Vitamix and other commercial type blenders, even though it has a very powerful motor. However, some faults in design make this power useless when it blends.
Weak points – low-quality blending, motor to blade coupling system is made from plastic parts, crackable containers, badly designed blade assembly, and it does not include a tamper.
Amazon rating – 4.6
Check here the best today's deal for the Ninja Blender Duo with Auto-iQ Blender
#6 Breville BL620 Fresh & Furious Blender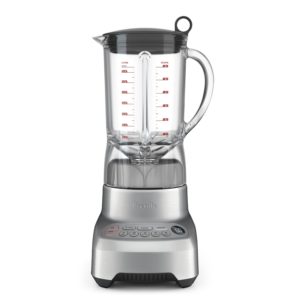 Breville BL620 Fresh & Furious Blender comes with a rather modest 1100 watts motor power motor. So, despite all of the reputable recommendations and claims that it has the same functionality as Vitamix, this machine is not only unable to perform close to the Vitamix, but it is much less powerful than the typical, high-end commercial gadget.
Functionality
Here are the tasks this machine is designed to perform, with various degree of success:
Blends fairly good drinks from soft ingredients, but it is not able to make smooth smoothies from tough ingredients and fibrous greens even after running several pre-set cycles. It also does not pulverize nuts, figs and strawberry seeds in drinks;
Processes ice and frozen fruits, but requires a lot of liquid to do this job;
Shaves ice, but may leave chunks and the quality of the ice and frozen ingredient processing is not comparable to Vitamix, despite the praises from America's Test Kitchen;
Purees hardly cooked vegetables, but with a lot of effort;
Makes excellent sauces, marinades, and dressings;
Makes nut milk, but leaves a lot of fiber unprocessed;
This machine is not designed for performing the following tasks, which are typical for commercial type blender:
Hardly can process nut butter, as the machine quickly get overheated from a thick mixture;
Not able to handle hot ingredients or heat liquid from friction
Milling and grinding herbs and grains are not what this machine was designed for;
Not able to knead the dough.
Breville motor overheats easily if exposed to high loads. According to the user manual instructions, this machine cannot be run longer than 1 minute. Thus, it is simply not designed for a heavy-duty job.
Using, cleaning: Breville has a permanent, non-removable blade that makes this blender very easy to use and simple to set up for running. It comes with 5 speeds and four pre-set programs – AUTO CLEAN, GREEN SMOOTHIE, AUTO PULSE/ICE CRUSH. LCD timer shows the time left for pre-programmed settings. However, this machine does not include a tamper, so this requires the user to stop the machine during processing to push the ingredients down and help remove air pockets.
This machine is very easy to clean in a self-cleaning procedure, and it is all dishwasher safe.
Containers, blades: Breville blender comes with a 50 oz. Tritan copolyester jar that is a premium quality polycarbonate and inbuilt container blade which is strongly made of stainless steel. The jar, stainless steel blade, and all-metal motor blade coupling are well made. However, the drive socket, made of some type of hardened plastic or resin, could break easily.
Warranty: The unit has a very modest 1-year Limited Warranty, and the manufacturer will charge an extra fee for some replacement parts and shipping. If the customer decides to return the unit for a refund within 30 days, the manufacturer will charge a $40.00 return processing fee.
The customer service is hard to reach and not very friendly or helpful.
Summary: Overall, Breville BBL602 Fresh & Furious Blender is not at all what it claims to be. It is a fairly expensive, underperforming gadget for $200. It does not even come close to being able to show the functionality of high-end blenders and comes with a motor power that is not nearly enough to be called the competitor of Vitamix.
Amazon rating – 4.0
Check here the best today's deal for the Breville BL620 Fresh & Furious Blender
Summary
The Cleanblend is the best high-end performance blender under $200. It has a strong motor, wide functionality (the only blender in our selection that is able to knead dough), and better performance than Oster Versa. It had in the past durability issues and showed a higher motor failure rate than Oster Versa. But the manufacture made a lot of effort to resolve the problem. Besides, the manufacturer deals brilliantly with any quality issues and replaces the unit immediately. This blender still has some reliability issues, nevertheless, it is the best what market offers now for this range of the machine. There is a great chance the Cleanblend is serious about taking a leading market position and in the future will resolve all the issues concerning blender durability and will correct the faults in the blender design.
The Oster Versa 1400 watts is the second-best option in our list of the budget alternative to commercial type blenders like Vitamix or Blendtec. It has a strong and powerful motor, performs all the functions high power blenders can (excluding dough kneading), outputs decent quality blending (around 75-85% of the Vitamix performance). The Oster is a reputable manufacturer that produces blendes for many years. Unfortunately, the quality of this machine keeps decreasing in recent years. Unless the producer will look closely at the problem it risks losing the reputation of the reliable blender manufacturer. 
Dash blender takes the third position since it equals the Oster Versa in performance. Still, it has the same Cleanblend durability problems. Overall it is a fairly good choice, especially for people who are attracted to the unusual design and multiple colors of the blender.
The Ninja Mega Kitchen System and Ninja Blender Duo with Auto-iQ are not capable of competing with the high-power blenders like Vitamix. They have a design concept similar to a food processor and achieve functionality only with multiple attachments. Moreover, these machines cannot perform the tasks that are typical of commercial type blenders, like heating liquids and milling baking quality flour from hard grains. Besides, they are poorly built with low-quality components and have quite a short life expectancy (on average 1- 1.5 years).
Breville BBL605XL Hemisphere Control Blender was just symbolically included on our list since many customers wrongly believe Breville can compete with the Vitamix because it has great recommendations from Consumer Reports, Cooks Illustrated, and America's Test Kitchen. In fact, it has very low motor power and is suited only for light-duty tasks, and even medium loads overheat this machine. Breville's performance abilities are more comparable with the under $100 blender and it is absolutely overpriced for a $200 machine.
Bottom line. Is there a truly affordable alternative to Vitamix for under $200? Some blenders can perform the same tasks with comparable quality, but all of them have durability issues. These alternatives on average will have a 3-5 year service life, and if you want to purchase a blender that will last for years you can grab the Blendtec Designer 625 Blender at a very good price.
Instead, consider the Blendtec Fit, Vitamix Explorian E320, or Blendtec Total Classic Original blender which is often available at a discount price.
For alternative options read here our full reviews for the Blendtec Total Classic Original and Vitamix Explorian Blenders: