Ninja Mega Kitchen System is a widely marketed product and is presented in infomercials as a dream appliance that combines the functionality of a blender, a food processor, and a juicer. The gadget includes multiple attachments to perform all of the functions, and is available in 4 different models – BL770, BL771, BL772, and BL773CO – which have the same motor and base unit but differ only in the number and selection of accessories:
Main 72 oz. pitcher and the blade assembly (all models);
16 oz. single-serve cups and one blade assembly (BL770, BL771 come with 2 cups and BL772, BL773CO with 3 cups);
64 oz. food processor bowl with the dough hook and chopping blade assembly (all models);
24 oz. mini prep bowl with chopping blade (only BL771, BL772 models);
Slicing/Shredding, Grating Discs (BL773CO model only).
Anyway, this machine should be a delight for anyone who loves home cooking and making smoothies. And here is our review to investigate how well this infomercial driven product performs in real life.
Are you interested in more options? Check our articles:
Would you consider an alternative option? Check our popular article:
Functionality and Versatility
Smoothie: The main 72 oz. pitcher with tower blade assembly will make reasonably good smoothies from soft fruit and vegetables, but it has a problem processing fibrous and hard ingredients such as mango, broccoli, carrots, and cauliflower, producing quite a thick and grainy textured drink or puree. Even if you try to blend it over 3 minutes, it will not be completely smooth.  It also will not pulverize strawberries, blueberries, or other skin and seeds. The blender also has a tendency to accumulate ingredients on the wall, and the user may have to stop the blender and scrape the ingredients from the sides, in order to help create a better vortex.
The single-serve container and blade assembly make much smoother fruit and green smoothies.
Juice: Although the infomercial mentions that this will turn your ingredients into juice, this gadget has no juicing attachment and does not produce juice. This blender only processes ingredients into a smoothie that is often called a "whole juice".
Frozen ingredients/desserts: The large pitcher and single-serve cup are both able to crush ice ingredients very well, and even effortlessly turn ice cubes into snow cones. However, the low-quality plastic containers are not designed for heavy loads and may develop cracks with regular ice and frozen ingredients processing.
The food processor attachment is also able to make decent frozen desserts such as ice cream or sorbet using the chopping blade.
Pureeing: This blender will not make a decent vegetable puree with or without adding liquid. The small container will make a slightly better puree, but it is still far from perfect. However, the single-serve cup and mini prep bowl will mince an onion, garlic, and herbs perfectly.
Soup/ hot ingredients: This machine cannot make soup without pre-cooking, and that means it will not heat the liquid to a boiling temperature like Vitamix and other blenders. None of the gadget containers are able to handle hot liquids (hotter than 180°F/82°C), and this is what the user's manual clearly states. Do not try to make bulletproof coffee or other recipes that require hot ingredients, otherwise, the containers risk developing early cracks, and this makes your machine useless.
Chopping/food prep: Using the food processor container and set of the blade assembly, this machine is ideal for chopping vegetables like onions or cabbage for coleslaw and making sauces, salad mixes, and dips. The mini-prep bowl (BL771, BL772 models) chopping blade will grate cheese and crumbs the same as the slicing/shredding disc that is included only in the BL773CO package. Besides, the slicing/shredding attachment will also perform quite well on slicing tasks.
Nut milk: This machine is not able to efficiently homogenize nuts and small seeds to make nut milk. You can try it, but the output will have a lot of waste after it sieves through the milk bag.
Nut butter: This Ninja machine has enough power to make decent nut butter, although it is a bit gritty. You will likely have to stop the blender during processing a few times to scrape the sides and push the ingredients down to ease the processing job. The mini prep bowl is also able to make nut butter from small batches of nuts.
Dough/batter: Using the food processor bowl and blade accessories, this machine will effortlessly knead any type of dough in 30 seconds. However, you will have to remove the lid each time when adding extra ingredients, and that is not very handy with Ninja's complicated procedure of lid removal.
Grinding/milling: This machine was not really designed for grinding coffee beans or milling grains into baking flour. The user's manual also does not mention that the machine is able to mill grains or grind coffee beans. However the main 72 oz. pitcher, single-serve cup, and food processor bowl is able to mill softer ingredients such as herbs or oats, but not the perfect quality like Vitamix or Blendtec. And the single-serve cup will do this task better than the food processor bowl or main pitcher. The main pitcher is the worst performer.
The Ninja Mega Kitchen System's claimed versatility is achieved not by any flexible speed option (as for Vitamix) but by multiple attachments, and if you do not mind handling and storing all of them in your kitchen, then you can consider it a go for this gadget.
Speed Settings and Programs
The Ninja Kitchen System Control panel incorporates 6 buttons – Power, Pulse, Single Serve and, 1) Dough, (2) Blend, and (3) Crush speed buttons.
The Blender with a large 72 oz. pitcher operates with 3 speeds and a pulse function. The blender is activated with a Power button and pressing the appropriate speeds starts the blending process until the Power button is pressed again to stop the blending. The Pulse function is running while the user holds the Pulse button, and this is a very useful function for chopping ingredients to the desired texture. This also pushes the ingredients down to create a better vortex during the processing. In fact, the 3 speeds are a limited option for a professional blender, and most of the Ninja Mega Kitchen System competitors operate with a wider choice of speeds.
The Single Serve attachment is designed to operate at 1 speed. The user has to hold down the Single Serve Button while the blender is running and stop blending by releasing it.
Food Processor operates on 3 speeds with the chopping blade and on one speed with the dough blade attachment.
Ease of Using and Cleaning
Operating: Ninja Kitchen System is quite a complicated machine to use. The assembling and dissembling processes include many steps and a lot of clicks to lock it in and out. The first step is to lock the appropriate container (72 oz. jar or food processor bowl) to the base, and it should be aligned the right way and turned clockwise until it clicks. The next step is to fit the blades assembly into the container, fill it with ingredients, and close the lid. The lid also should be aligned and locked with a click the right way.  If the user does not assemble all of the parts correctly, then the power button will flash and the blender will not start. The user will have to repeat all of these complicated steps to disassemble the blender. Therefore, this machine will not suit someone who just wants this process to be simple.
The single-serve blender is quite easy to assemble. It is done in the usual way, like all other personal blenders.
The removable blades are very sharp and must be handled with care. It is also not easy to fill the containers with ingredients because the bulky blade shafts take up considerable space inside the jars, so the food must be pre-cut and accurately pushed down into the container. It is also very difficult to add extra ingredients during blending, food processing, and especially dough making because each time the user will be required to follow the complicated process of opening and closing the appropriate lid.
Cleaning: This unit is also quite difficult and dangerous to clean if you have no dishwasher or prefer hand cleaning. The blades are extremely sharp and there is a chance of hurting yourself. The main pitcher blade shaft has too many grooves that collect debris and you have to use a small brush to clean it properly. It is easier if you clean it in the dishwasher. The single-serve cup and blades are easy to clean by hand, or in the dishwasher.
Base Unit and Motor Power
This machine comes with a powerful 1500 Watt motor. However, the gear shaft and the blade to motor couplings are made of plastic. This is an obvious budget approach to motor construction for this quite pricey product. No wonder the Ninja blenders have a reputation for not being durable, with an average life expectancy of one year.
The base unit exterior housing is lightweight, but it is equipped with a special lever that locks the machine to the counter. This makes it stable and prevents any traveling over the counter during operation.
Would you like to consider alternative options? Check our articles:
Best Blender under $200 – Is There Really Cheaper Alternative to Vitamix? 
Ninja Kitchen System vs Oster VERSA 1400-watt Professional Blender.
Containers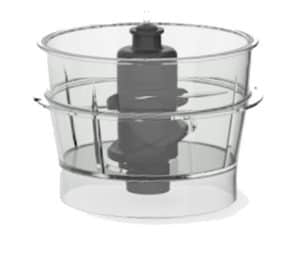 This gadget comes with a 72 oz. main pitcher, 64 oz. food processor bowl, 16 oz. single-serve cups and 24 oz. mini prep bowl (fits into food processor bowl for processing smaller batches of food). The Mini-Prep Bowl is only available for the BL771 and BL772 models.
All Ninja Mega Kitchen System containers are made of BPA free, but poor quality polycarbonate. The containers are quite thin and are not shatterproof. They are easy to crack. The Ninja containers are also not temperature resistant, and will not handle food hotter than 180°F/82°C. According to customers, the main pitcher also often develops cracks around the bottom under the driver nut.
The lids for all containers are also cheaply made and look non-durable. The single-serve travel lids are also presented by the budget model. They are not a sip and go lid type, and come with a non-closable drinking hole that cannot be sealed.
Blades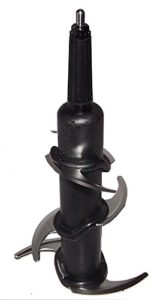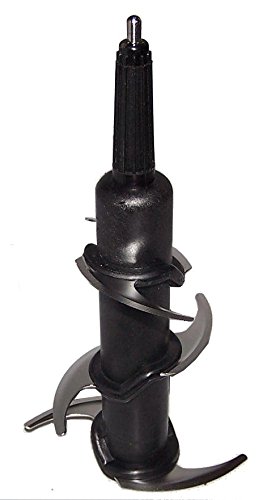 The main pitcher, food processor, and miniprep blades are all removable and constructed as multi-level stainless steel blades staggered around the plastic spindle on 2 or 3 levels. Ninja presents this as an advantage and claims that it creates a proper vortex, but the high-speed rotation and the proper blade design usually do very well for other blenders without such complicated blade construction. In fact, such Ninja multi-level blades have not proven to be able to make proper smoothies, while the Ninja single-serve standard design blade does the smoothie job much better. Plus, this type of blade on the shaft design makes it hard to fill the pitcher with ingredients. In addition, the plastic shaft with the plastic motor coupling makes it fragile and not long-lasting.
Single-serve blade has standard 6-pronged (2 top prongs are rudimental) design stainless steel blades, but all other assembly parts are plastic, and this is what makes them not very durable.
Also, the blades for all attachments are very sharp, so the user must be careful while using and washing them. The sharp blades are a rather weak side of any blender blade design because they become dull over time, while properly constructed dull blades will not lose quality performance over time.  The Ninja blades usually become dull within 6 months.
Check here the best today's deal for the Ninja Mega Kitchen System BL770
Special Features
Colors: This blender comes in one dark gray and silver trimmed color.
Tamper: This blender does not have any tamper equipment.
Certified Refurbished: There is the certified refurbished model's available Amazon for the Ninja Kitchen System BL770 model for around $90 and for the SharkNinja Mega Kitchen System BL687CO.
Use in countries outside of USA/Canada: The units sold in the USA and Canada come with 110-120 voltage, however, this blender is available in many countries with an appropriate for each region voltage system. This machine also could be used with a transformer but this voids the manufacturer's warranty.
Noise
Ninja Mega Kitchen System blender is a very noisy machine that exceeds the noise of other comparable blenders. The usual advice to reduce the noise output from blenders is to place a rubber mat underneath the machine.
Warranty and Customer Service
Ninja Mega Kitchen System comes with a 1-year limited warranty. And there is some confusion over this warranty. The Ninja website indicates a 5-year limited warranty for this unit, but the actual written warranty information under the warranty tab also states that it is 1 year. So, it is pretty certain that the gadget comes with a 1-year Limited warranty. A limited warranty anticipates the range of extra charges for shipping ($20 one way) and repairs.
The Ninja Customer Service has a very bad reputation and is considered to be the worst in the industry. Any problems customers experience with the blender is referred to as "normal wear and tear," and that means that they refuse to stand behind their products. However, if you buy the item from a reputable retailer like Amazon then they are pretty good about validating the warranty.
Optional Accessories and Attachments
Ninja Mega Kitchen System attachments are not interchangeable between different Ninja models. Moreover, if you buy the Ninja BL 770 machine with the minimum accessories then you will not be able to buy independently an extra attachment to upgrade to the BL772 (comes with an extra mini prep bowl and blade) or BL773CO (comes with extra slicing/shredding, grating discs) models. There are only single-serve blades available to buy separately as a spare part.
Ninja Mega Kitchen System Set Includes
Ninja Kitchen System comes in four different models – BL770, BL771, BL772, BL773CO.
Dimensions
The Ninja comes with a 9.5 inches x 8.2 inches unit base footprint, so it will occupy significant counter space in your kitchen. The height of the blender with the main pitcher on the top of the base unit is 17.8 inches and it will fit under most kitchen cabinets.
Be aware, this gadget comes with multiple attachments and a few very sharp blades without any special storage container, so you will have to clear enough space in your kitchen to accommodate these attachments.
Pros and Cons
Pros:
It is a powerful blender that can easily handle ice and can crush ice cubes into snow cones consistently.
This multi-functional machine with multiple attachments will handle small and large portions of blending and food processing tasks, ranging from the grating, slicing, or chopping to kneading the dough.
Cons:
Although this machine is multifunctional, its functionality is achieved by a large number of attachments that make the system bulky and overly complicated to use.
The motor, blades, and motor to the blade coupling system are constructed with a lot of plastic parts that make the blender not very long-lasting.
The main pitcher blade is designed in such a way that, despite the powerful motor, it does not handle green vegetables and fibrous ingredients well. Making smoothies from these ingredients is too lumpy and textured.
This machine is quite complicated to set up for running and to clean.
Containers are made from very low-quality polycarbonate that may develop cracks within 1 year of frequent use. The containers are not designed to handle hot temperatures, which is very desirable for a blender that claims to be professional.
This machine with its multiple attachments requires a decent amount of kitchen space to store. If you have a problem with storage space, then this blender may not suit you.
Ninja Mega Kitchen System Consumer Reviews
Despite the multiple design faults, this gadget has a very high consumer rating, and this confirms the great power of advertising.
Amazon rating – 4.7
Price
The price varies while normally stays under two hundred dollars depending on the model, retailer, and special offers available. Some retailers offer a competitive price, and it is getting cheaper compared to the price of this gadget 3-4 years ago.
Check here the best today's deal for the Ninja Mega Kitchen System BL770
Summary
Not everything works the same way as advertised, and this is the case with the Ninja Mega Kitchen System. This machine is bulky and very complicated to use with multiple containers and attachments that will take up a lot of cabinet space in your kitchen. A few design flaws make this powerful motor blender not a very good performer. It is not even able to produce a decent green smoothie. And if you are looking for a good value for your money blender to make good quality smoothies, then this machine will hardly suit you. But if you are looking for a machine with limited blender and food processing abilities, then Ninja can be a good choice.
Alternatively, check our articles: