Nutribullet was born from a heavy advertisement in which infomercials were worth more than $250m of airtime. In 2003, the NutriBullets' company introduced the bullet style Magic Bullet Blender, the model gained popularity and by 2004 the NutriBullet bullet-style design was patented. Later, a series of other models followed and NutriBullet blenders took by storm blending market.
The NutriBullet advertisement claimed it is a powerful breakfast weapon that although slightly differs in design from both a traditional blender and a common juicer but easily can substitute them both. It is a real nutrition extractor for it is capable of pulverizing all elements from food ingredients of your choice.
Even though Nutribiullet is not superior to many of the blenders and brands on the marker and often inferior especially too such mastodons as Vitamix, Blendtec, KitchenAid, Waring, and a long list of others. And in fact, it is China's outsourced average quality blender with massive and expensive advertisements, nevertheless, it is now one of the most recognizable and popular brands on the market. And you are here reading this review to find out about the best NutriBullet blender you can buy today.
NutriBullet Blenders – What Is The Difference?
The Nutribullet blenders vary in size and construction. Mostly, they are classified into three categories from which you can choose from according to your need. These include Full-size, Personal, and Baby blenders. If you need to blend a large amount of juice from different food ingredients, you can opt for the full-size blender. It is worth noting that there is only two full-size NutriBullet blender model available now. For a smoothie lover who does not need much from their blender, a personal blender will do the task. This blender saves your time especially if you would like to kick start a day with a glass of your favorite juice. The baby bullet is specifically useful to parents who need to prepare baby food. Homemade baby food prep is no longer a hassle with this blender.
Magic Bullet Blender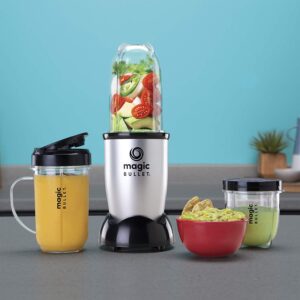 Magic Bullet is the first and basic NutriBullet blender that was introduced in 2003 and from which the brand started its existence.
Motor: The Magic Bullet is equipped with the 250 Watts motor. Besides, the motor base has a compact footprint of only 4.01 x 4.48 and sleek looking design. The small size ensures it takes a minimal kitchen counter space. It is also quite easy to operate, all you need to know is how to load the ingredients, twisting blades, lining up the tab, now it is ready to run. 
Containers, blades, lids: Blender comes with three cups – 12 oz. short cup, 18 oz. tall cup, and 18 oz. smoothie mug with handle -, one (1) cross 4-prongs stainless steel blade that is designed for wet tasks (there is also flat NutriBullet blade exist for the dry tasks), and three different type lids –two (2) resealable lid, shaker/steamer lid for using it to sprinkle ground spices, and a flip-top lid for covering the cup when taking it out.
Controls: The Magic Bullet has no control panel instead it is operated on 1 single speed at 2000 RPMs as a coffee/spice grinder when the cup against the base unit and pulse as long as you keep holding it. 
Functionality: The Magic Bullet can do the smoothie from soft ingredients while it struggles with tougher ones like raw carrots or leafy greens. Although the user manual insists it can process frozen ingredients it will ice or thawed frozen fruits and veggies and only with plenty of water added. The light tasks such as making salsa, salad dressing is what is this gadget is most capable of doing. It is also good at making baby food and pureeing fruits.
Light grinding tasks such as powdering coffee, seeds, herbs, or spices or chopping nuts are also where this gadget shines.
Summary: It is an overpriced model for a basic blender that has only 250 watts motor, however it comes with the set of accessories such as few cups sizes, different styles of lids, user manual. Thus if you need a basic smoothies gadget with many cups and lids then you can go for this option.
Besides, this gadget is very compact 13.2 x 6.9 x 10.6 inches and weighs only 4.7 pounds.
Magic Bullet Blender, via Amazon
NutriBullet Blender 600W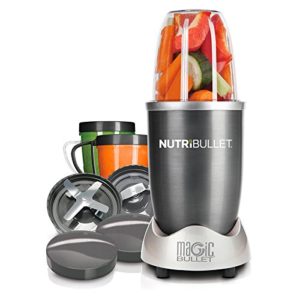 The NutriBullet 600 Watts is one of the most popular NutriBullet blenders which has enough power to prepare decent smoothies and comes at a reasonable price. Currently, it is available in one package of 6 pieces while in the past it had more packages (11, 13, and other pieces).
Motor: It has a stainless steel motor unit, sleek exterior design, and powerful 600-watt at-peak motor which is powerful enough to make your basic decent smoothies.
Containers, blades, lids: Besides, the 6 piece model comes with one (1) 24 oz. BPA-free Tritan copolyester cup and removable blade assembly called extractor blade in NutriBullet terminology. While the 13 –piece blender includes an additional 18 oz. cup, handled cup, extra lids, and dry blade attachment.
The extractor blades are made of stainless steel and designed for processing wet and dry ingredients which means it can make smoothies and grind coffee or spices.
Controls: NutriBullet 600 Watts blender is designed to operate by pressing the cup against the base unit. The blender runs while the user continues pressing down the cup and stops operating ones it was released, it has a design similar to a coffee grinder. 10000rpm one speed.
Functionality: The blender is able to process good quality smoothies while if you add tough ingredients such as leafy green it can output somewhat chunky results. It does not design for blending hot liquids and you cannot make bulletproof coffee with it.
It will process frozen ingredients well only if there is some liquid added in the cup but will not shave as to snow condition. It also will make any light tasks such as salsa, salad dressing, and baby food pureeing very well. You can also grind the spice and coffer with this gadget to decent quality powder.
Summary: This blender is an entry-level powerful personal blender model that performs well delivering good quality smoothies, salsa salad dressing, and other light recipes. Besides, it has an adequate price for the power and functionality it provides and designed to make a quick smoothie and take it in the same cup outside.
NutriBullet Blender 600W, via Amazon
NutriBullet Pro 900 Hi-Speed Blender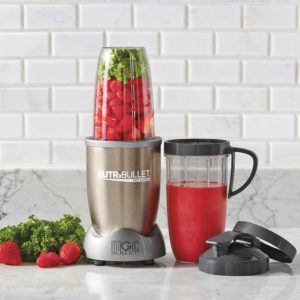 The NutriBullet Pro 900 watts is an old generation blender model that is present on the market for many years, however, it is a very powerful and popular blender. It is available in two packages 9 and 13 pieces.
Also has University and Exclusive editions
Motor: It has a powerful 900 Watts at-peak motor that is stronger enough to turn your favorite whole foods into tasty smoothies or shakes. The blender is also equipped with the automatic overheating system the shut blender off if it is overloaded or overheated, this gadget is designed for up to 1 min of continuous operation, you can resume running the blender after at least 30 seconds of rest.
Containers, blades, lids: The blender comes with the two (2) BPA-free plastic cups – the 13 pieces set with two (2) 32 oz. Colossal while 9-piece set with one (1) 32 oz. Colossal and one (1) 24 oz. Tall cups – and selection of different design lids – Flip-Top Lid, Handled Lip Ring, and Comfort Lip Ring. Both packages include one identical blade assembly.
Controls: The same as most of the bullet style Nutribullet models the Pro 900 has no control panel and operated with one speed that activated then the user pushes the cup against the base unit. Many consumers find this kind of design intuitive and easy to operate.
Functionality: NutriBullet Pro 900 watts is designed for making smoothies and it does it well from soft fruits and veggies, the firm ingredients should be cut into smaller pieces for smoother results. Although it is a powerful blender it will not homogenize seeds and fruits skin in smoothies.
This gadget is not designed for ice and iced ingredients processing and will handle them only with enough liquids added to the container. You better thaw the frozen ingredients before then blending them.
However, this blender is excellent at processing salad dressing, salsa, and others. It also can puree baby food but only with enough liquid. It also will do decent for grinding coffee and spices.
While this blender is not designed to handle hot ingredients and it will not do a bulletproof coffee.
Summary: Although, NutriBullet Pro 900 it a powerful blender and does good quality smoothies it is a bit overpriced. The investigative consumer may find the more powerful blender for the same or lower price. While for consumers who are in love with the NutriBullet blender and cannot resist the temptation to buy the gadget from this popular brand this machine will do a decent job.
Furthermore, the model is suitable for those with either limited or enough kitchen countertops.  It will fit in any of these two spaces because of its compact design. Cleaning of this blender is also hassle-free since it is done by twisting off the blades and using clean soapy water to rinse.
NutriBullet Pro 900 Hi-Speed Blender
Nutribullet Pro 1000 Blender
This a new blender that was released in 2020. While it is very similar to NutriBullet Pro 900 it has some new exterior design features and a more powerful motor.
Motor: The Pro 1000 model is the true NutriBullet bullet style blender, however, comes with more power than previous models (NutriBullet 600 and NutriBullet 900) 1000 watts motor. It also has an innovative exterior design features that allow users to hold a blender more comfortably and which seals the cup and blades better ensuring there is no leakage.
Containers, blade, and lids: The blender is equipped with two (2) 32 oz. Colossal and 24 oz. Tall BPA-free plastic containers, the two (2) to-go lids, and a removable blade system to fit both cups.
Controls: The same as (NutriBullet 600 and NutriBullet 900) the gadget does not have any control panel and is operated by connecting and turning clockwise the cup against the base unit. However, it runs automatically 1 min cycle and stops automatically at the end of it.
Functionality: Like previous models, the Pro 1000 is very good at handling smoothies and slightly better as it has a more powerful motor, it does not process ice without the plenty of liquid added, it is OK for some light food processing recipes and runny baby food. It will not process hot liquids but will grind coffee beans and spices.
Summary: This blender is not much different from the NutriBullet 600 and NutriBullet 900 models while comes with a more powerful motor and thus will do a bit of silkier smoothies, it also claimed to eliminate the leaking problem and cost slightly more.
NutriBullet Pro 1000 Blender, via Amazon
NutriBullet Select 2.0 Blender
This one of the latest Nutribullet blenders that was released in 2020 and comes new to NutriBullet bullet style blender features such proper control panel and pitcher with a vented lid.
Motor: The model has a powerful 1000 watts motor.
Containers: The blender comes with 32 oz. pitcher with vented lid and the 24 oz. the handled cup which is used as singles serve cup, the 24 oz. the cup has a to-go lid for taking smoothies out. Both containers are made from Tritan copolyester BPA-free material. The 32 oz. pitcher has also included the custom made tamper for processing tough ingredients.
The set also includes the removable blades assembly which transferable between the 32 oz. and 24 oz. containers.
Controls: This model comes with a proper control panel that is a step forward and innovative for NutriBullet bullet style blender's features. The full control panel expands the blender functionality.
The control panel is equipped with 5 buttons – Low and High speeds, Extract pre-set cycle, Pulse function, and Power button. The Extract button runs the pre-set cycle and shuts off automatically at the end of the cycle only with single-serve 24 oz. cups while with the 32 oz. jar with the vented lid it runs until the user presses the power button to stop the blender.
Functionality: This 100 watts model has enough power to make good quality smoothies including firm ingredients like carrots, pineapple, kale, and even flax seeds or chia seeds. However, it does not handle frozen ingredients without liquid added and will process only ice in smoothies and slushes.
While it will do light food processing tasks including salsa, hummus, and salad dressing as it comes with low speed and pulse function. The blender also handles well-baby food and thicker recipes like hummus and pesto as it comes with the tamper that does a great job helping process such recipes.
You can also do some dry processing such as pondering coffee beans, seeds, dry herbs, or chopping nuts.
Summary: Notably, this new NutriBullet blender is one of the successful models. It comes with few features which expand considerably the NutriBullet functionality. This model has a control panel and is equipped with two speeds and pulse functions, it also has a small upward jar that comes with a tamper and vented lid. At the same time, it remains the compact blende that will not occupy much of the space.
P.S. This blender container and blade system are not compatible with other NutriBullet models.
NutriBullet Select 2.0 Blender, via Amazon
Nutribullet Pro Plus Blender
This one of the latest Nutribullet blender that was released in 2020 and comes with a few new to this brand's bullet style blender features.
Motor: The model has a powerful 1200 watts motor.  The motor is designed for a maximum 3 consecutive 1-minute cycle to run before it requires 5-6 minutes cooling.
Containers: It comes with two (2) BPA-free Tritan copolyester Tall and Colossal cups with 24oz. and 32oz. capacity respectively. The set also includes 2 flip-top lids.
This model features one removable blade system that goes with both containers.
Controls: The blender operated the same way as most of the NutriBullet blenders by pressing the container with the blade down and clockwise. The blender runs 1 minute and stops automatically at the end of the cycle. While this model comes with one control button for Pulse function.
Functionality:  The NutriBullet Pro Plus makes even better smoothies then other models from soft and tough ingredients because it has a more powerful motor, it even able to obliterate almost completely most of the berries see not mentioning chia and flax seeds.
It is also not able to process frozen ingredients without liquid and suitable only for making smoothies with frozen fruits and thawed ice. It can make also good quality nut milk
Unlike most of the NutriBullet models, this blender can make the chunky dips and salsas with the Pulse Function. And certainly, it can grind all variety of food including coffee beans, oat, and dry herbs.
Summary: Notably, The NutriBullet Pro Plus blender has significant improvements over the previous models, it starts the 1-minute cycle at a lower speed and speeds up toward the end of the cycle. It also stops automatically at the end of the cycle.
NutriBullet Pro Plus Blender, via Amazon
Nutribullet Rx Blender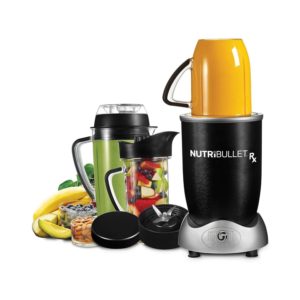 The Nutribullet Rx is the most powerful Nutribullet blender and probably the most powerful bullet style blender.
Motor: It has the most powerful for the bullet style 1700-watts (2.3 HP) motor which rotates the blades with the speed of 25,000-30,000 rpm that are known to be enough for the heating liquids with frictions.
Containers: NutriBullet RX comes with 34 oz. /1L SouperBlast Pitcher with 2-peace lids to allow ventilation and processing hot ingredients, NutriBullet Rx 45 Oz Oversized Cup with Pitcher Lid, NutriBullet Rx 30 Oz Short Mug with Lip Ring. All containers are made from BPA-free plastic.
The blender comes with one (1) removable and transferrable between containers 4-prongs blade made of stainless steel.
Controls: NutriBullet Rx has a standard for such powerful blenders control panel that includes, speed settings and starts/stop controls. The same as other NutriBullet bullet-style blenders it is operated once the container is fixed to the unit base and runs the 1-minute cycle.
While it has a pre-programmed 7 minutes soup setting that is activated when the blender runs a 1-minute cycle if the user presses the green button for 2 seconds. The blender will shut off automatically after 7 minutes of the soup cycle.
Functionality: The NutriBullet RX is a very powerful blender, with no doubts, it has the power to blend silky smooth smoothies from soft, tough, and even fibrous ingredients, it also makes perfect green smoothie and able to break even berries seeds pretty well.
However, it is not able to crush ice without liquid added and make snow cones or frozen desserts.
The NutriBullet RX is specifically designed to heat soup via friction and it does it well. While it has enough power to make nut milk but is not able to process nut butter since it does not come with a tamper to help this process (though the recipe book claims it can do it). The blender also able to grind the coffee beans and dry herbs.
Since the machine is very powerful but does not have a low speed or pulse function it hardly can make salsa, salad dressing, and other chopping tasks recipes.
Summary: It is a most powerful NutriBullet blender, however, is missing the proper control panel and speed setting and thus is not able to perform all range of task the NutriBullet designer try to copy from high-end blender and Vitamix S-series blenders. Thus, it hardly could be identified as a successful model while if you want the most powerful Nutribullet blender that makes perfect smoothies then Nutribullet is a great choice.
NutriBullet Rx Blender, via Amazon
NutriBullet Baby Complete Food Making System
The NutriBullet Baby does not have many differences with the Magic Bullet blender, however, it includes extra accessories and a comprehensive instruction manual about baby weaning.
Motor: The model has a 200 Watts motor which enables you to extract freshly made nutrient-packed baby food.
Containers: The Baby blender set includes 32 oz./900ml Batch bowl with lid, the 12 oz./355ml Short handled cup with a resealable lid, six (6) X 6 oz. storage cups with date dial lids and tray. It also includes two (2) silicon freezer storage trays with six (6) units X 2 oz. servings. The storage cups and Batch Bowl are made of BPA-Free, non-toxic and durable plastic.
The set also comes with wet (cross) removable blade assembly for the blending recipes and a dry (flat) blade for grinding tasks.
Controls: The blender operated like most of the bullet style blender by pushing clockwise the cup against the motor base unit. It does not have any speed and controls.
Functionality: No doubts, it blends most of the ingredients for baby food, however, you have always added some liquid to the cup while processing wet ingredients. The dry blade can bowdlerize any grains and oats for adding to the baby recipes.
Summary: Components of this Baby blender are dishwasher-safe and therefore cleaning of these parts is quick and easy. The set also includes detailed instructions and a recipe for baby weaning covering several topics such as sign the baby want to eat, instructions what gadget you need for baby weaning products, month by month instructions of whining information. While any blender can do a baby food job while the NutriBullet baby blender includes a lot of extras you may find helpful.
NutriBullet Baby Complete Food Making System, via Amazon
NutriBullet Combo Blender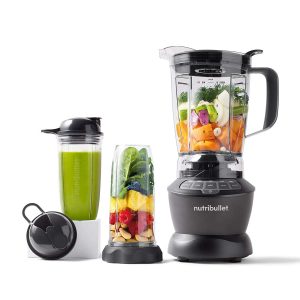 This is the only full-size Nutribullet blender manufactured by Nutribullet. It is available in two models the ZNBF30400Z one comes with the full-size pitcher only and the ZNBF30500Z model has an additional personal size attachment.
Motor: The blender has 1200 Watts motor, an automatic overheating system, and a cooling fan.
Controls: Both Nutribullet full-size blenders have 3 speeds and thus more versatile than its bullet-style blenders. However, the NutriBullet Combo model (ZNBF30500Z) with personal blender attachment and model with an only full-size pitcher (ZNBF30400Z) have a different control panel.
The blender with only full-size jar equipped with the following controls- ON/OFF, LOW, MED, HIGH speeds, and PULSE buttons. While Combo blender with single-serve attachment comes with all set of controls the non-combo model has and one additional button – ON/OFF, EXTRACT, LOW, MID, HIGH speeds, and PULSE buttons, and one EXTRACT extra button. The extract button is responsible for 1 min smoothies pre-set cycle and runs with both containers – the full size and single serve one.
Containers, blade, and lids: The NutriBullet with the only full-size jar (ZNBF30400Z) comes with a BPA–free plastic 64 oz./1800ml pitcher and blade permanently integrated into it. The full-size pitcher also comes with a vented lid to handle hot ingredients.
The NutriBullet Combo model (ZNBF30500Z) has the same 64 oz .pitcher with a permanent blade and an additional 24 oz. and 32 oz. cups single serve with two to-go-lids and removable blade system to fit both single-serve cups.
Both models also include the tamper to help process thick ingredients.
Functionality: This 1200 watts blender has enough power to make quality smoothies and shakes and process soft and tough ingredients including the leafy greens, it also van blende seeds and nuts without chunks leaving in the drink. However it has the same for the Nutribullet blenders problem and can crush ice only with liquid added, thus it cannot make frozen treats but suits for slushes and margaritas.
While this blender advertisement insists this gadget can make soups it cannot handle hot liquids and the user manual recommends limiting blending cycle s by 1 min despite the ability of the blender to run longer.
Besides, this blender can make nut butter but only with extra oil added. It is also suitable for making baby food and light food processing recipes like making salsa or salad dressings.
Although the blender capable of grinding coffee beans and spice but manufacture do not recommend using the machine for such tasks.
Summary: In general, this is quite a successful Nutribullet blender that comes with speed settings and pulse functions that expand that gadget functionality when compared to bullet style machines.
Summary
Lastly, there are nine (9) NutriBullet blenders currently available to buy and the introduction of other news models is ongoing. Do you wonder how to choose the best one among all these models? It is not so difficult.
The Magic Bullet model is the basic one that has only 250 watts motor and comes with a few small cups. It is suited mainly for baby food or light tasks such as making small batches of salad dressing or salsa, it is not a proper smoothie blender.
The NutriBullet 600 watts, Pro 900 watts, and Pro 1000 watts are quite similar in their abilities to make smoothies while differing by the power that means the more powerful motor the silkier smoothies it makes. Additionally, the NutriBullet Pro 1000 watt runs automatically 1 mins cycle and stops while 600 and 900 watts model you gave to pulse manually.
The NutriBullet Pro 1200 watts model has even more powerful motors even better quality blends and comes with a pulse function that expands its functionality slightly.
The new NutriBullet Select Blender no doubts is quite a functional model, it not only makes the good smoothies but also comes with almost proper control panel with two speeds, automatic cycle, and a Power button. It is a kind of fusion of a bullet style and a full-size blender.
The full-size and Compo Nutribiullet models are good and functional blenders, they have a proper control panel and powerful motor, while it is a slightly overpriced model it is still could be considered.
The NutriBullet RX model tried to mimic the currently discontinued Vitamix S-series blender, however, it is far from perfect. Although it has a powerful motor lack of a proper control panel makes the NutriBullet RX blender poorly designed.
Finally, Nutribullet Baby Blender is just not different to any blender on the market with 200 watts motor in functionality while the set of extra accessories may make it attractive to the new mums.
Is there an alternative to NutriBullet Blender? Check here our article: