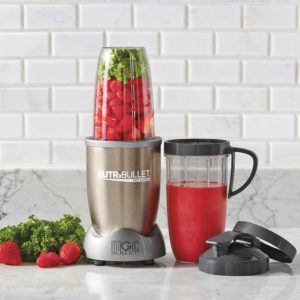 NutriBullet Pro is one of the Magic Bullet series blenders that comes with 900 Watts motor power. As with all of the Magic Bullet products, the gadget is over-marketed and oversold. In numerous infomercials, it is called a juice extractor or a nutrient extractor and the advertiser insists that this blender does something no other blender can do. In fact, the NutriBullet Pro is an ordinary blender that is compact and designed for small kitchen space and can make quick smoothies to be taken out. It certainly does not extract nutrients or juice, but like any other blender, it pulverizes ingredients for better digestion.
This blender is available in two packages – the 9-piece and 13-piece- that are absolutely identical but differ by the selection of containers, lids, and recipe books
It is a very popular blender with many very good reviews. Why it is so popular, how good is this gadget in real life and does it function in ways other blenders cannot?
Read this review to answer the questions above and decide if this machine is really what you need.
Best Affordable but Powerful Personal Blenders
Functionality and Versatility
Smoothie: This gadget will produce decent smoothies from soft ingredients. Tough fruit and vegetables will be processed into textured consistency, but some boosts and fruit also may not be completely processed. Any fibrous ingredients should be cut into coin-sized pieces in order to process it into the proper texture. It also will not pulverizes any small seeds, like strawberry or blueberry. It leaves a seeded residue, and some flaxseed added into a smoothie will survive the blending process. The skin of the fruit from apples or pears will leave flaked texture in the drink. Any nuts added to the smoothie as a boost often come out as crunchy pieces.
Ice crushing, frozen ingredients: This machine will process frozen ingredients only with water or liquid added, and the more water you add the easier it is to blend. According to the user manual, this gadget is not designed to crush ice without liquid, but you can add crushed ice cubes to the blended ingredients in a volume not exceeding 25% of cup capacity. The manufacturer also warns not to use this blender as an ice crusher, and not to blend any other hard items as it can damage the blades. There are also a few consumer reports of blades breaking while crushing ice. The small blade chips can easily go unnoticed and will cause problems if digested.
Pureeing: This gadget is not designed to be used without liquid added to the blended ingredients. So if you are fine with watery puree, then you can use this gadget for pureeing. Making puree without any liquid added may overload your machine and will considerably reduce its lifespan.
Chopping: This gadget cannot really do a good chopping job because chopping requires a slow speed and some control over the blender speed, and NutriBullet Pro is equipped with only one speed. If the user is pretty familiar with this gadget, it is possible to achieve acceptable results by using the pulse method. In most cases, however, this machine will liquefy ingredients instead of chopping them.
Grinding: The NutriBullet 900 does not come with a milling blade and the main blade assembly is supposed to do grinding in the regular blending container. It will grind flax seeds or herbs, but not as well as a coffee grinder.
Hot food, nut butter, dough: Hot food and liquid should not be used in this blender because it may create internal pressure. Neither is it safe to heat liquid. Moreover, the manufacturer warns that the user must be careful not to overheat the machine. The blender is not designed to be exposed to high temperatures. Certainly, this blender is not able to make any nut butter, which has to be quickly heated and should be cooled often, and making nut butter will ruin the machine. Also, this unit is not able to knead the dough.
NutriBullet Pro 900, like all single-serving blenders, has limited functionality and is only useful for smoothies and works well with fresh fruits and vegetables. Never use this blender without any liquid, and you can only use dry ingredients without liquid for grinding/milling purposes. If you overload your gadget it may result in a short lifespan for the machine.
Speed Settings and Programs
There is no control panel or speed option for this blender. It is operated with one speed the same way a coffee grinder is, by twisting the cup against the powerbase. However, the manufacturer offers a few techniques to expand the operational abilities of this machine slightly, such as pulsing methods to use for salsa and other recipes. Also, you can shake the cup to get rid of air pockets and help create a vortex.
Ease of Using and Cleaning
Setting up and operating: The container has to be filled with ingredients and liquid up to the MAX line. Then the blade assembly has to be screwed to the cup and tightened properly to prevent leaking. Finally, the container with blades should be turned upside down, pushed down to the power base, and twisted to engage the cup.
The blender should not be operated longer than one minute in each single go with the few seconds rest before the next go. You can run only three consecutive cycles and if you need longer than 3 cycles, allow it to cool for 2 minutes before you run it again. Otherwise, the machine can be overheated, and that considerably reduces the lifespan of the blender.
Cleaning: The blade assembly is not approved for dishwashing, so it must always be cleaned by hand. It is better to rinse the blade or wash with soap and brush immediately after use to avoid building up debris around the blade. You should always clean it with warm water and mild soap. The User manual does not recommend removing the gasket as it will damage the blade assembly and cause leaking. Cups can be washed in the dishwasher but must be rinsed right after use for easy cleaning.
Base Unit and Motor Power
The NutriBullet Pro blender comes with a powerful 900 watt at peak motor. However, the effective power must be much less as it is not very good at crushing ice or tough ingredients. This blender also has an internal breaker/sensor that shuts off the machine if overheated. The machine heats up quite fast while operating and thus should not be used for longer than one minute without cooling it.
Container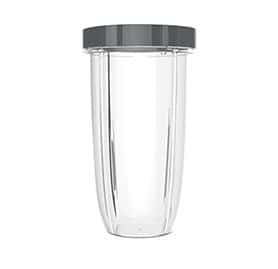 NutriBullet Pro 900 comes with 32 oz. and 24 oz. containers/cups, depending on the package. The 9-piece set includes one 24 oz. and one 32 oz. cup; the 13-piece set comes with two 32 oz. cups and the 15 piece set includes one 32 oz. and two 24 oz. cups. All containers are made of rather cheap plastic that develops cracks easily and is not resistant to stress.
It is very interesting that the cups are supposed to be taken out with ready smoothies, but the user manual insists that the blended smoothies should not be kept in the cup for a long time as it is not designed to store the drinks for very long. The NutriBullet Pro containers are flimsy, thin, and are not durable at first look, and most consumers confirm this. There are signs that containers start to wear out within 6 months of regular usage.
NutriBullet Pro Blades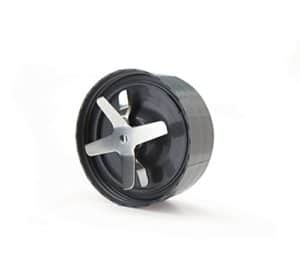 The NutriBullet Pro 900 watts unit comes with one set of 6-pronged blades. The manufacturer claims the blade is made of stainless steel, however that is unlikely. First, the blade begins to dull in the first 6 months, and second, there are many reports from customers of broken blade fragments found in the drinks. Some of these could easily go undetected in the smoothies and digested. Thirdly, the blade can become rusty, and this also no doubt seeps into the drinks. In addition, the sealing gasket is not removable as is indicated in the user manual, and this can cause a lot of build-ups to accumulate that certainly may leak into your smoothies also.
What is certain is that the blade and assembly are not durable, and wear within 6 months to 1 year. However, if the customer requests a replacement for worn parts from the manufacturer, Magic Bullet will normally charge the price of replacement parts plus the shipping cost, and that is obviously not fair while the item is still under warranty.
Best Affordable but Powerful Personal Blenders
Special Features
Colors and packages: It is available in 11 color finishes – Berry, Champagne, Clover, Cobalt, Coral, Onyx, Rose Gold, Silver, Sky, Violet, and White.
Certified Refurbished: This gadget is available in certified refurbished condition but only in the 9-piece set. The price is about $20 cheaper than for the original 9-piece set.
Other countries: The USA/Canada sets come with a 110-120 volt base unit. This gadget also is represented in many countries currently. The 210-220 voltage models are available in the UK Amazon and through other European, Asian, and Australian retailers. This blender will work through a voltage adapter if you take it while traveling, but the manufacturer does not honor the warranty once you use it with an adapter.
Check here today's best price for the NutriBullet Pro 900W Blender
Noise
This gadget is quite noisy, but this blender is not supposed to run longer than 1 minute at a time so it is not that annoying. To reduce the loudness of the blender, the user can always place it on a rubber matt to absorb some of the noise.
Warranty and Customer Service
This machine comes with a 1-year Limited Warranty. The limited warranty provides that if the unit fails within 1 year you have to pay the shipping cost. However, Magic Bullet also often charges customers for the cost of the replacement parts in addition. NutriBullet customer service has quite a bad reputation, also. Usually, they are very reluctant to replace any parts and are always trying to avoid serving the warranty.
Optional accessories
The NutriBullet Pro 900 watts comes with many original accessories and there are some other Magic Bullet accessories compatible with this model, for example, the grinding NutriBullet 600watts blade. The grinding blade, like other replacement parts, is available from Amazon and other retailers.
Replacement parts available: Cross Extractor Blade; Nutri Bullet Gasket; Nutribullet Cup & Blade Replacement Pack; Nutribullet 32 oz. Oversized Mug with Lip Ring.
Set Includes
The NutriBullet Pro 900 watts is available in a 9-piece and 13-piece packages.
Unit Base with 900 Watts motor (1);
Extractor Blade (1);
32-oz. Cups (2);
To-go lids (2);
Regular lip ring (2);
Handled lip ring (1);
Recipe Book (1);
Pocket nutritionist guide (1);
User manual (1).
The user manual, pocket nutritional guide, and recipe book include a lot of health-related information and recipes for this unit.
Dimensions
NutriBullet Pro unit is a personal blender, so it is compact in size, and with the base footprint diameter only 5 ½ inches, it will not take over much of your counter space. It is also only 15 inches tall with a colossal (32 oz.) cup on the top of the unit base and will easily fit under any kitchen cabinet. Although the blender itself is quite compact, it comes with a few accessories that may require some storage space in your kitchen.
Pros and Cons
Pros:
• This blender is truly a single-size machine and it is quite compact, so it will not take much of the space in the kitchen or in the storage drawer.
• This machine package includes a lot of healthy lifestyles inspiring booklets, however, some customers find this annoying.
Cons:
• It is made of too much plastic; cheap plastic containers, plastic blade assembly, and motor coupling. With all of these plastic parts, this raises the question about the durability of this gadget.
• When it comes to practice, this machine shows a rather short lifespan and it lasts on average for around 1 year, which is clearly reflected with a 1-year limited warranty for this machine.
• It comes with only one pulsing speed, and that considerably reduces the control over the blending and the ability to make a wide range of recipes.
• The blade is not durable, and many customers report that they break often if exposed to heavy loads such as ice crushing.
• The problem for all upright blenders is that it is not possible to add ingredients easily during blending.
• This machine is overpriced considering the short life span and the many plastic parts it is made of.
NutriBullet Pro900 watts Blender Consumer Reviews
Despite the very short lifespan and poor build, this blender is very popular with the consumer. This unconditional love for this gadget can only be explained by the very well organized advertising or by the fact that this is the first blender for Nutribullet customers. If they got a chance to compare it to other superior gadgets, this machine definitely would not win so many voices.
Amazon Rating: 4.6
Best Affordable but Powerful Personal Blenders
Price
Most retailers try to maintain a competitive price for the NutriBullet Pro machine and the price has fallen considerably for this gadget in recent times. This gadget comes in 2 packages and the price currently ranges with different retailers and depending on the package. There is also a Certified Refurbished version for the 9-piece set, with the discounted price two the new sets.
Check here today's best price for the NutriBullet Pro 900W Blender
Summary
NutriBullet Pro is a quite powerful compact personal unit that makes acceptable quality smoothies and will suit people with kitchen space issues or those who travel and need a compact and lightweight blender to take with them. However, this gadget is not a heavy-duty machine and has limited functionality. This blender does not handle ice or frozen fruit easily and it is too small to use to blend soups and it cannot make dressings because of limited speed and has a problem adding ingredients.
But most importantly, this machine seems not to be durable and it has many build quality issues. The short warranty on the NutriBullet Pro is an indicator that it is made to be disposable, and it is not a product to consider if you are looking for a gadget that will last. This gadget is certainly overpriced and is not the best value for your money in a personal blender on the market. It seems that people who write a good review have used it only for a short period of time or the NutriBullet is the first blender they have used during their life. For consumers who have had experience with other blenders, and especially with high powered ones, they can certainly name a number of machines a quarter of the price of NutriBullet that can do the job as good as this overpriced gadget.