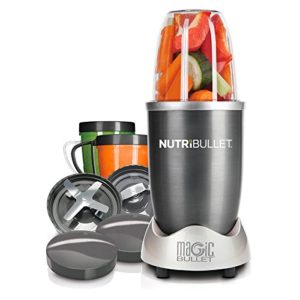 NutriBullet 600 Watts Blender comes in 3 different packages 8 – pieces, 12-pieces, and 14- pieces which differ by the number of containers, lids, and promotional material included in the set. It is one of the most popular portable blenders on the market that makes quick and easy fresh fruit, veggie smoothies and sports shakes and fits into the daily routine of a busy person or a healthy lifestyle beginner. The advertising campaign not only markets this blender as a unique blending tool with a ready to go container, but it also delivers a strong message to the consumer to remember to drink his or her daily portion of a healthy smoothie.
If you have not decided yet if this machine is what you are looking for, read the rest of the Magic Bullet NutriBullet Review.
Would you like to look at alternative options? Check here our articles: 
Functionality and Versatility
Smoothie: It is powerful enough to blend common fruits like bananas, apples, and leafy vegetables into a good quality smoothie (a bit coarse) in a few seconds. The harder fruits and vegetables like carrots and celery will come out rather clumpy. This machine is not able to handle seeded fruits properly, as it will not disintegrate seeds completely and this makes the taste of smoothies unpleasant. However, you can add some nuts or sunflowers seeds to the blended ingredients because they taste nice when partly broken.
Juicing: This machine is not able to make textbook juice that means separating the liquid from the fiber. It makes only smoothies that are not always smooth. However, if you mean "whole juice" aka smooth smoothie with liquid added. Then it should be noticed that this machine hardly will blend silky smooth consistency drinks, especially from tough and leafy vegetables.
Ice crushing, frozen desserts: NutriBullet can handle frozen ingredients but only with enough liquid added (according to the User Manual) and pieces that go into the cup must be no bigger than two to three inches. This machine is not able to make frozen desserts, snow cones, and shave ice as it is not able to process frozen ingredients without liquids.
Grinding and milling:  This blender will powder coffee or seeds like pepper or cumin with separate, dry blades, and It will crush almonds and other nuts, but not to perfect powder.
Pureeing, chopping, and mixing: This blender will not be able to chop vegetables because it does not have a low-speed range. This machine operates with a single speed. This personal blender cannot handle something like pesto. However, it can perform some light cooking tasks, like making salad dressing or salsas.
Hot food: This machine is not designed to be used with hot liquids. So if going to use this blender for making bulletproof coffee or process hot ingredients for soup than it is not a good choice for you.
Nut milk and nut butter: This gadget is not powerful enough to produce nut milk or processing nut butter.
This machine is quite good for people who intend to use it for quick morning smoothies or sports shakes. It serves well as a portable blender with a ready to go container for students, young professionals, sports enthusiasts, and busy people. If you need a small blender to make baby food, NutriBullet can do it but puree will not be of perfect smooth consistency. For those who are looking for a blender with some food processing functions, you have to consider more powerful alternatives.
Ease of Using and Cleaning
Operating: This machine is very easy to set up and to run. An easy-to-read booklet provides detailed instructions on how to use it and tells you which blades to use for different purposes.
It is also very easy to operate and is designed like a coffee grinder. Even children can use it on a daily basis. You put ingredients into a cup, screw blades into it, connect the base and then push down a bit clockwise to lock it into the run mode. The run time is less than one minute.
Cleaning: It is easy to clean, just dismantle parts and rinse with soap and water. The containers are dishwasher safe while the blades must be hand cleaned only.
It should be mentioned, NutriBullet is not the sturdiest machine. Some customers complain that the rubber ring around the blade comes loose and you have to fit it back every time or the juice gets behind the plastic lining of the base and that makes it difficult to clean.
Speed Settings and Programs
This machine has no speed control. You push a button to get it to run. It has two different blades that allow a little flexibility. So the processing functions like pulverizing, rough chopping, and grinding are controlled by the amount of time you let the motor run and by how you change the blades.
Motor and Power
It is equipped with a 600-watt motor and runs at 10,000 revolutions per minute (RPM). It is powerful for a portable blender, but not very sturdy. The motor drive's main cog is made of plastic and the construction is relatively fragile. If it breaks, you will have to buy a new NutriBullet motor.
Containers
It comes with two or three plastic cups depending on the package. The big cup is 32 oz. (946mL) and the small cups are 24 oz. (709mL). The maximum fill lines are 26 oz. and 18 oz., respectively.
All cups are made of polycarbonate, but the exact polycarbonate material is not specified in the manual. It claims that it is BPA-free but does not say anything about BPS (often substitute for BPA) content. So, it is probably advisable to store the containers out of direct sunlight and to clean and dry them soon after using them.
Blades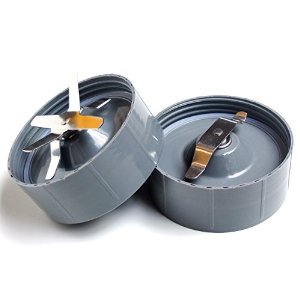 The 12-piece and 14-piece packages come with two removable blades, one for blending liquid and another for chopping nuts, grinding coffee, and herbs. The 8-piece set comes with only one blade assembly for liquid ingredients. Both blades are designed with cyclonic action, which means they swirl around like a tornado and separate the larger bits from the smaller ones. The larger bits fall to the bottom and the blades take them into the cyclone again. While the smaller parts move to the walls of the container. This design adds extra power to processing.
Some customers complain that the blades become dull after a few months of use. The only solution for a dull blade is to buy a new one for around ten dollars. There is another problem reported by some customers about the NutriBullet blade. They may chip sometimes leaving the metal fragments in the drink. So, the NutriBullet blades are not only low quality and have a short lifespan but could be dangerous to human health if the chipped metal is swallowed.
Special Features
Colors: The NutriBullet comes in three colors – Blue, Grey, and Red. Red is more expensive than the other two colors.
 Use outside USA/Canada: It is widely available in the United States, the UK, and in more than fifty countries. The units sold in the USA are equipped with a 110-120 voltage system only. It is possible to use this gadget with a voltage transformer. However, it is advisable to buy it in the countries with appropriate voltage as using the machine via the transformer may void the warranty.
Noise
Noise is commonly not an issue with this portable blender because you are supposed to run it only up to one minute. And normally it only takes about twenty to thirty seconds to make a smoothie. In general, it is quite loud because it has a very powerful motor.
Warranty and Customer Service
This gadget has a 1-yr LIMITED warranty and a 30-day money-back guarantee. LIMITED means you have to pay for shipping costs if your blender or parts need replacement.
NutriBullet Customer Support has the reputation of being slow and inefficient. Many customers complain that they have been treated poorly.
Check the Best Deal for the NutriBullet 600 Watts Blender
Optional Accessories
The Company website sells a selection of replacement parts and extra accessories – cups, blades, re-sealable lids, etc.
Set Includes
| | | | |
| --- | --- | --- | --- |
| Packages | 8-pieces | 12-pieces | 14-pieces |
| Power Base Unit | yes | yes | yes |
| Pulverizing Blade | yes | yes | yes |
| Milling Blade | no | yes | yes |
| Cups | (1) – 32 oz., (1) – 24 oz. | (1) – 32 oz., (2) – 24 oz. | (1) – 32 oz., (2) – 24 oz. |
| Handled Lip Rings | 1 | 1 | 1 |
| Regular Lip Rings | 1 | 1 | 1 |
| Flip-Top To-Go Lids | 0 | 0 | 1 |
| Resealable Lids | 0 | 2 | 2 |
| Pocket Nutritionist Guide | yes | yes | yes |
| User Manual | yes | yes | yes |
| Healing Book | no | yes | yes |
Dimensions
With the assembled height of 13 inches, this machine easily goes under standard kitchen cabinets and with the footprint diameter of 5.4 inches, it could be stored in any even small kitchen. With the 3.6 lbs weight, it is light enough to be taken on travel.
Pros and Cons
Pros:
NutriBullet makes reasonable quality drinks, sport shakes, does a good grinding job, and includes a good recipe book. It could be the solution for people who are looking for an affordable and powerful personal blender for their everyday morning smoothie.
The set comes with a very motivating nutritionist book that will force almost anyone to start taking healthy drinks.
Cons:
The NutriBullet has a reputation for poor Customer Support and high failure rates.
The motor, which is partly made of plastic, is not durable. Some customers complain that the motor breaks within a year to a year and a half.
This machine is not able to handle ice without liquid added, so it will not suit the customer who planning to use it for making snow cones or shaving ice for margaritas, etc.
The containers are made of low-quality polycarbonate and cracked or leaking containers are not uncommon issues that customers encounter.
Some customers insist that they noticed a drop in the quality of this machine, and the smoothies are not as good now as they used to be three to four years ago. Also, the service life of a unit noticeably went down. It could easily be the case as many of the "As seen on TV" products are now outsourced in China and they are cheaply made.
Nutri Bullet Consumer Reviews
The NutriBullet is a very popular personal blender and it has over 1,500 reviews on Amazon. Customers like the idea of an affordable portable blender with a ready to go container in a package.
Rating: 4.4
Nutri Bullet Price
The price of NutriBullet differs depending on different colors, and many retailers make competitive offers. Amazon is trying to keep prices attractive, and now their prices are lower than the NutriBullet website offers. Moreover, if NutriBullet Customer Support fails to respond, it is possible to force Amazon to resolve your issue for you.
Check the Best Deal for the NutriBullet 600 Watts Blender
Summary
In general, this machine is a good personal smoothie maker. But it is quite overpriced for the non-durable machine with limited functionality. But the idea of an easy to use and easy to clean personal blender with a very motivating recipe book outweighs the negative side of this product. And NutriBullet remains one of the most popular personal blenders on the market.
Relevant articles for you to consider: