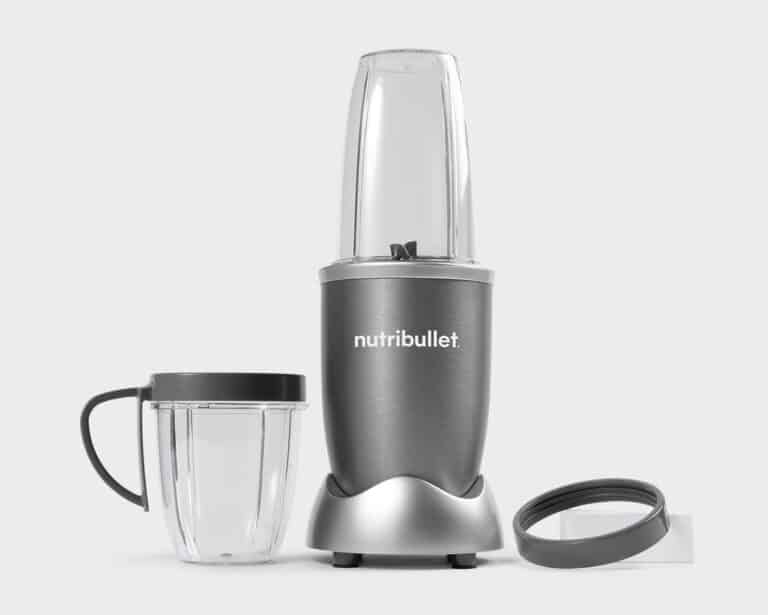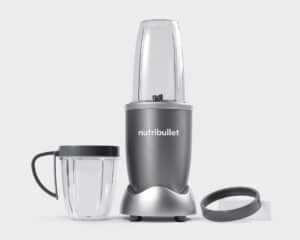 NutriBul­let 600 Watts Blender comes in 3 dif­fer­ent pack­ages 8 — pieces, 12-pieces, and 14- pieces, which dif­fer by the num­ber of con­tain­ers, lids, and pro­mo­tion­al mate­r­i­al includ­ed in the set. It is one of the most pop­u­lar portable blenders on the mar­ket that makes quick and easy fresh fruit, veg­gie smooth­ies, and sports shakes and fits into a busy per­son­'s dai­ly rou­tine or a healthy lifestyle begin­ner. The adver­tis­ing cam­paign not only mar­kets this blender as a unique blend­ing tool with a ready-to-go con­tain­er, but it also deliv­ers a strong mes­sage to the con­sumer to remem­ber to drink his or her dai­ly por­tion of a healthy smoothie.
If this machine is what you are look­ing for, read the rest of the Mag­ic Bul­let NutriBul­let Review if you have not decid­ed yet.
Would you like to look at alter­na­tive options? Check here our articles:
Dis­clo­sure: As an Ama­zon Asso­ciate, we may earn an affil­i­ate com­mis­sion for pur­chas­es you make when using the links on this page.
Functionality and Versatility
Smooth­ie: In a few sec­onds, it is pow­er­ful enough to blend com­mon fruits like bananas, apples, and leafy veg­eta­bles into a good qual­i­ty smooth­ie (a bit coarse). The hard­er fruits and veg­eta­bles like car­rots and cel­ery will come out rather clumpy. This machine can­not han­dle seed­ed fruits prop­er­ly, as it will not dis­in­te­grate seeds com­plete­ly, which makes the taste of smooth­ies unpleas­ant. How­ev­er, you can add some nuts or sun­flow­ers seeds to the blend­ed ingre­di­ents because they taste nice when part­ly broken.
Juic­ing: This machine is not able to make text­book juice which means sep­a­rat­ing the liq­uid from the fiber. As a result, it makes only smooth­ies that are not always smooth. How­ev­er, if you mean "whole juice," aka smooth smooth­ie with liq­uid added. Then it should be not­ed that this machine will hard­ly blend silky smooth con­sis­ten­cy drinks, espe­cial­ly from tough and leafy vegetables.
Ice crush­ing, frozen desserts: NutriBul­let can han­dle frozen ingre­di­ents but only with enough liq­uid added (accord­ing to the User Man­u­al), and pieces that go into the cup must be no big­ger than two to three inch­es. There­fore, this machine can­not make frozen desserts, snow cones, and shave ice as it can­not process frozen ingre­di­ents with­out liquids.
Grind­ing and milling: This blender will pow­der cof­fee or seeds like pep­per or cumin with sep­a­rate, dry blades, and It will crush almonds and oth­er nuts, but not to per­fect powder.
Puree­ing, chop­ping, and mix­ing: This blender will not be able to chop veg­eta­bles because it does not have a low-speed range. This machine oper­ates at a sin­gle speed. This per­son­al blender can­not han­dle some­thing like pesto. How­ev­er, it can per­form some light cook­ing tasks, like mak­ing sal­ad dress­ing or salsas.
Hot food: This machine is not designed to be used with hot liq­uids. So if you are going to use this blender to make bul­let­proof cof­fee or process hot ingre­di­ents for soup, it is not a good choice for you.
Nut milk and nut but­ter: This gad­get is not pow­er­ful enough to pro­duce nut milk or process nut butter.
This machine is quite good for peo­ple who intend to use it for quick morn­ing smooth­ies or sports shakes. It serves well as a portable blender with a ready-to-go con­tain­er for stu­dents, young pro­fes­sion­als, sports enthu­si­asts, and busy peo­ple. If you need a small blender to make baby food, NutriBul­let can do it, but puree will not be of per­fect smooth con­sis­ten­cy. You have to con­sid­er more pow­er­ful alter­na­tives for those look­ing for a blender with some food pro­cess­ing functions.
Ease of Using and Cleaning
Oper­at­ing: This machine is very easy to set up and run. An easy-to-read book­let pro­vides detailed instruc­tions on how to use it and tells you which blades to use for dif­fer­ent purposes.
It is also very easy to oper­ate and is designed like a cof­fee grinder. Even chil­dren can use it dai­ly. You put ingre­di­ents into a cup, screw blades into it, con­nect the base and then push down a bit clock­wise to lock it into the run mode. The run time is less than one minute.
Clean­ing: The Blender is easy to clean; just dis­man­tle the parts and rinse with soap and water. The con­tain­ers are dish­wash­er safe, while the blades must be hand cleaned only.
It should be men­tioned that NutriBul­let is not the stur­di­est machine. For exam­ple, some cus­tomers com­plain that the rub­ber ring around the blade comes loose and you have to fit it back every time, or the juice gets behind the plas­tic lin­ing of the base, which makes it dif­fi­cult to clean.
Speed Settings and Programs
This machine has no speed con­trol. Instead, you push a but­ton to get it to run. It has two dif­fer­ent blades that allow a lit­tle flex­i­bil­i­ty. So the pro­cess­ing func­tions like pul­ver­iz­ing, rough chop­ping, and grind­ing are con­trolled by the amount of time you let the motor run and by how you change the blades.
Motor and Power
It is equipped with a 600-watt motor and runs at 10,000 rev­o­lu­tions per minute (RPM). It is pow­er­ful for a portable blender but not very stur­dy. The motor dri­ve's main cog is made of plas­tic, and the con­struc­tion is rel­a­tive­ly frag­ile. If it breaks, you will have to buy a new NutriBul­let motor.
Containers
It comes with two or three plas­tic cups depend­ing on the pack­age. The big cup is 32 oz. (946mL) and the small cups are 24 oz. (709mL). The max­i­mum fill lines are 26 oz. and 18 oz., respectively.
All cups are made of poly­car­bon­ate, but the exact poly­car­bon­ate mate­r­i­al is not spec­i­fied in the man­u­al. Fur­ther­more, it claims that it is BPA-free but does not men­tion BPS (often sub­sti­tute for BPA) con­tent. So, it is prob­a­bly advis­able to store the con­tain­ers out of direct sun­light and to clean and dry them soon after using them.
Blades
T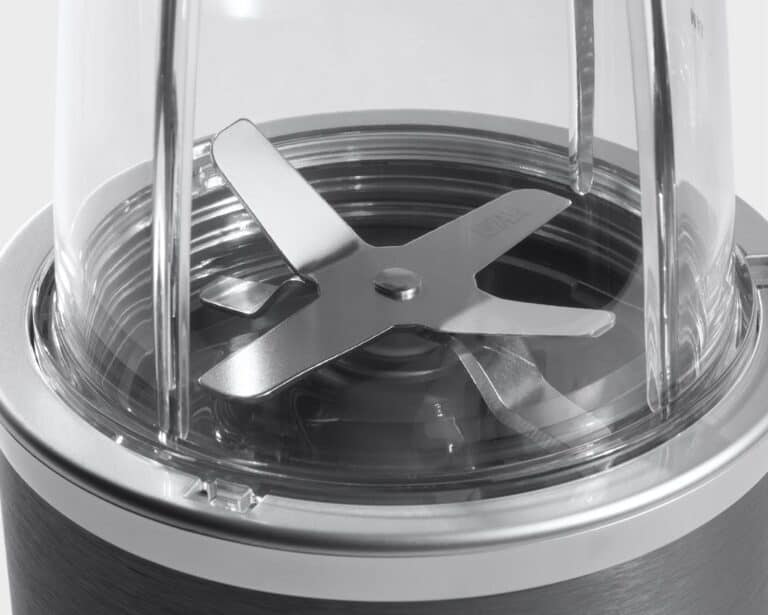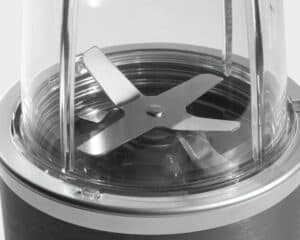 he 12-piece and 14-piece pack­ages come with two remov­able blades, one for blend­ing liq­uid and anoth­er for chop­ping nuts, grind­ing cof­fee, and herbs. The 8‑piece set comes with only one blade assem­bly for liq­uid ingre­di­ents. Both blades are designed with cyclonic action, swirling around like a tor­na­do and sep­a­rat­ing the larg­er bits from the small­er ones. The larg­er bits fall to the bot­tom, and the blades again take them into the cyclone. At the same time, the small­er parts move to the walls of the con­tain­er. This design adds extra pow­er to processing.
Some cus­tomers com­plain that the blades become dull after a few months of use. The only solu­tion for a dull blade is to buy a new one for around ten dol­lars. Some cus­tomers report anoth­er prob­lem with the NutriBul­let blade. They may some­times chip, leav­ing the met­al frag­ments in the drink. So, the NutriBul­let blades are not only low qual­i­ty and have a short lifes­pan but could be dan­ger­ous to human health if the chipped met­al is swallowed.
Special Features
Col­ors: The NutriBul­let comes in three col­ors – Blue, Grey, and Red. Red is more expen­sive than the oth­er two colors.
Use out­side USA/Canada: It is wide­ly avail­able in the Unit­ed States, the UK, and in more than fifty coun­tries. The units sold in the USA are equipped with a 110–120 volt­age sys­tem only. It is pos­si­ble to use this gad­get with a volt­age trans­former. How­ev­er, buy­ing it in coun­tries with the appro­pri­ate volt­age as using the machine via the trans­former may void the warranty.
Noise
Noise is com­mon­ly not an issue with this portable blender because you are sup­posed to run it for only up to one minute. And nor­mal­ly, it only takes about twen­ty to thir­ty sec­onds to make a smooth­ie. But, in gen­er­al, it is quite loud because it has a very pow­er­ful motor.
Warranty and Customer Service
This gad­get has a 1‑yr LIMITED war­ran­ty and a 30-day mon­ey-back guar­an­tee. LIMITED means you have to pay for ship­ping costs if your blender or parts need replacement.
NutriBul­let Cus­tomer Sup­port has a rep­u­ta­tion for being slow and inef­fi­cient. As a result, many cus­tomers com­plain that they have been treat­ed poorly.
Optional Accessories
The Com­pa­ny web­site sells a selec­tion of replace­ment parts and extra acces­sories – cups, blades, re-seal­able lids, etc.
Set Includes
| | | | |
| --- | --- | --- | --- |
| Pack­ages | 8‑pieces | 12-pieces | 14-pieces |
| Pow­er Base Unit | yes | yes | yes |
| Pul­ver­iz­ing Blade | yes | yes | yes |
| Milling Blade | no | yes | yes |
| Cups | (1) — 32 oz., (1) — 24 oz. | (1) — 32 oz., (2) — 24 oz. | (1) — 32 oz., (2) — 24 oz. |
| Han­dled Lip Rings | 1 | 1 | 1 |
| Reg­u­lar Lip Rings | 1 | 1 | 1 |
| Flip-Top To-Go Lids | 0 | 0 | 1 |
| Reseal­able Lids | 0 | 2 | 2 |
| Pock­et Nutri­tion­ist Guide | yes | yes | yes |
| User Man­u­al | yes | yes | yes |
| Heal­ing Book | no | yes | yes |
Dimensions
With the assem­bled height of 13 inch­es, this machine eas­i­ly goes under stan­dard kitchen cab­i­nets, and with a foot­print diam­e­ter of 5.4 inch­es, it could be stored in any even small kitchen. Fur­ther­more, with the 3.6 lbs weight, it is light enough to be tak­en on travel.
Pros and Cons
Pros:
NutriBul­let makes rea­son­able qual­i­ty drinks, and sports shakes do a good grind­ing job and include a good recipe book. It could be the solu­tion for peo­ple who are look­ing for an afford­able and pow­er­ful per­son­al blender for their every­day morn­ing smoothie.
The set comes with a very moti­vat­ing nutri­tion­ist book that will force almost any­one to start tak­ing healthy drinks.
Cons:
NutriBul­let has a rep­u­ta­tion for poor Cus­tomer Sup­port and high fail­ure rates.
The motor, which is part­ly made of plas­tic, is not durable. Some cus­tomers com­plain that the motor breaks with­in a year to a year and a half.
This machine is not able to han­dle ice with­out liq­uid added, so it will not suit the cus­tomer who is plan­ning to use it for mak­ing snow cones or shav­ing ice for mar­gar­i­tas, etc.
The con­tain­ers are made of low-qual­i­ty poly­car­bon­ate and cracked or leak­ing con­tain­ers are not uncom­mon issues that cus­tomers encounter.
Some cus­tomers insist that they noticed a drop in the qual­i­ty of this machine, and the smooth­ies are not as good now as they used to be three to four years ago. Also, the ser­vice life of a unit notice­ably went down. It could eas­i­ly be the case as many of the "As seen on TV" prod­ucts are now out­sourced in Chi­na and are cheap­ly made.
Nutri Bullet Consumer Reviews
The NutriBul­let is a very pop­u­lar per­son­al blender, and it has over 1,500 reviews on Ama­zon. Cus­tomers like the idea of an afford­able portable blender with a ready-to-go con­tain­er in a package.
Nutri Bullet Price
The price of NutriBul­let dif­fers depend­ing on dif­fer­ent col­ors, and many retail­ers make com­pet­i­tive offers. Var­i­ous online retail­ers are try­ing to keep prices attrac­tive, and now their prices are low­er than the NutriBul­let web­site offers. More­over, if NutriBul­let Cus­tomer Sup­port fails to respond, it is pos­si­ble to force Ama­zon to resolve your issue for you.
Summary
In gen­er­al, this machine is a good per­son­al smooth­ie mak­er. But it is quite over­priced for a non-durable machine with lim­it­ed func­tion­al­i­ty. But the idea of an easy-to-use and easy-to-clean per­son­al blender with a very moti­vat­ing recipe book out­weighs the neg­a­tive side of this prod­uct. And NutriBul­let remains one of the most pop­u­lar per­son­al blenders on the market.
Rel­e­vant arti­cles for you to consider: