Best Kitchen Gad­gets for Veg­ans: When it comes to food prepa­ra­tion, being a veg­an can be com­plex, but with the cor­rect kitchen tools, it can be a breeze. There are numer­ous gad­gets avail­able to make veg­an cook­ing eas­i­er and more fun, rang­ing from juicers to spi­ral­iz­ers. This arti­cle will go through the great­est veg­an kitchen gadgets.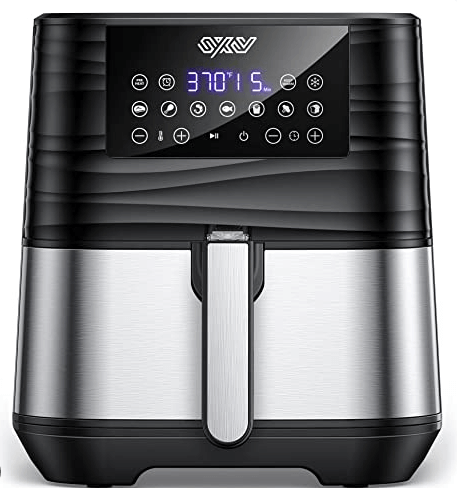 Juicers
Fruit and veg­etable juicers are an excel­lent method to receive your dai­ly dosage of vit­a­mins and min­er­als. They are also use­ful for mak­ing fresh juices for smooth­ies, cock­tails, and oth­er bev­er­ages. Juicers are clas­si­fied into two types: cen­trifu­gal and mas­ti­cat­ing. Cen­trifu­gal juicers are faster than mas­ti­cat­ing juicers, although they may not extract as much juice.
Read More: Tiny Coun­ter­top Dish­wash­er: A Com­pact Solu­tion for Small Spaces
High-Speed Blenders
Smooth­ies, sauces, and soups require the use of high-speed blenders. They are also use­ful for grind­ing nuts, seeds, and grains. Look for a blender with a strong motor and a long-last­ing container.
Spiralizers
Spi­ral­iz­ers are ide­al for mak­ing veg­etable noo­dles, or "zoo­dles." They can be used to man­u­fac­ture pas­ta alter­na­tives from veg­eta­bles such as zuc­chi­ni, sweet pota­to, car­rots, and oth­ers. Spi­ral­iz­ers are avail­able in a vari­ety of sizes and forms, includ­ing hand­held and coun­ter­top variants.
Food Processors
Food Proces­sors are mul­ti­pur­pose kitchen tools that can be used for chop­ping, slic­ing, shred­ding, and puree­ing. They can be used to make dips, spreads, and nut but­ter. Since most veg­an recipes sup­pose a lot of chop­ping, shred­ding, and slic­ing veg­eta­bles, the food proces­sor is one of the essen­tial gad­gets for any veg­an kitchen, espe­cial­ly if you pre­pare food for more than 1 per­son. So when you choose your food proces­sor, make sure to look at the func­tions it can perform.
Instant Pot
The Instant Pot is a mul­ti-cook­er capa­ble of pres­sure cook­ing, slow cook­ing, sautéing, and oth­er func­tions. It can swift­ly and effi­cient­ly cook beans, grains, soups, stews, and oth­er veg­an foods. The Instant Pot also offers a "Keep Warm" option that keeps meals warm until you're ready to eat.
Air Fryer
A health­i­er alter­na­tive to deep fry­ing is an air fry­er. It cooks food with hot air, so you may enjoy crispy fries, onion rings, and oth­er fried dish­es with­out using any oil. Air fry­ers can also be used to roast veg­eta­bles and bake potatoes.
Dehydrator
A dehy­dra­tor is a kitchen tool for dry­ing fruits, veg­eta­bles, and herbs. It's an excel­lent method for pre­serv­ing food and cre­at­ing healthy treats like kale chips, apple chips, and fruit leather.
Nut Milk Bag
A nut milk bag is a fine-mesh bag for strain­ing nut milk, juice, and yogurt. It can also be used to make hand­made cheese, sprout seeds, and strain broth.
Salad Spinner
A sal­ad spin­ner is a kitchen tool for dry­ing greens and herbs. It's an excel­lent way to get rid of extra water and keep your sal­ad crisp and fresh.
Veggie Chopper
A veg­gie chop­per is a kitchen tool that may be used to swift­ly and con­ve­nient­ly chop veg­eta­bles. It's ide­al for stir-fry­ing, sal­ads, and soups. Look for a high-capac­i­ty chop­per with inter­change­able blades.
Mandoline Slicer
A man­do­line slicer is a culi­nary tool that can be used to thin­ly and uni­form­ly slice veg­eta­bles. It's ide­al for cre­at­ing pota­to chips, cucum­ber sal­ad, and oth­er recipes that call for it.
Kitchen Scale
A kitchen scale is a use­ful tool for cor­rect­ly mea­sur­ing ingre­di­ents. It comes in handy, espe­cial­ly when bak­ing or culi­nary recipes call for pre­cise measurements.
Measuring Cups and Spoons
Mea­sur­ing cups and spoons are vital culi­nary tools for mea­sur­ing both liq­uid and dry mate­ri­als. Look for a set that comes in a vari­ety of sizes to ensure that you can pre­cise­ly mea­sure all of your components.
Conclusion
Final­ly, there are numer­ous kitchen gad­gets that can make veg­an food prepa­ra­tion eas­i­er and more plea­sur­able. Juicers, high-speed blenders, spi­ral­iz­ers, food proces­sors, Instant Pots, air fry­ers, dehy­dra­tors, nut milk bags, sal­ad spin­ners, veg­gie chop­pers, man­do­line slicers, kitchen scales, and mea­sur­ing cups and spoons are just a few of the tools avail­able to assist you in prepar­ing excel­lent veg­an meals.
Frequently Asked Questions
Do I need all of these kitchen gadgets to cook vegan meals?
No, you do not need all of these appli­ances to pre­pare veg­an meals. Choose the ones that are most rel­e­vant to your cook­ing style and preferences.
Are these kitchen gadgets expensive?
The price of these devices varies accord­ing to the brand and type. Some are more expen­sive than oth­ers, but there are also more afford­able options.
Can these kitchen gadgets be used for non-vegan meals as well?
Yes, many of these tools can also be used to pre­pare non-veg­an dish­es. They are mul­ti­func­tion­al and can be used for a wide range of cook­ing and food prepa­ra­tion jobs.
Are these kitchen gadgets easy to clean?
The major­i­ty of these gad­gets are sim­ple to clean with soap and water. Some may also be dishwasher-safe.