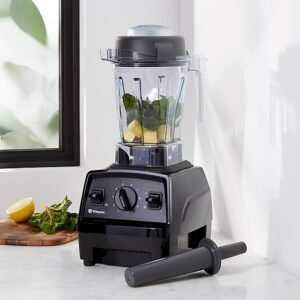 The Explorian E310 and E320 Blenders are the budget Vitamix models that were introduced in 2017. These are the only Classic models that were released after the introduction of most advanced Smart System Product Line models. These Explorian models have the power and functionality of the typical Vitamix blender but have minimalist look and feel and an attractive price. They are a great deal cheaper than not only the premium Smart System but also Classic Product Line Vitamix blenders.
Read here our honest review to find out if this economy Vitamix is the blender you are looking for.
Check here our article Which is the Best Vitamix Blender to Buy? – All Models Comparison Guide 2020 for models clarification guide.
Functionality and Versatility
Smoothie: The blender makes perfectly smooth and free of chunks smoothies from absolutely any raw fruit or veggies including carrots, beets, lemons, pineapple, and others.  It obliterates any berries into a juice-like texture without any seeds residues left in the drink.
Green Smoothies: The Vitamix Explorian E310 and E320 blenders are more than perfect for making the green smoothies from any type of leafy greens including spinach, kale, cabbage, collard greens, or fibrous celery.
Ice Crushing and Frozen Treats: The machine pulverizes the ice into the perfect snow consistency without any efforts. So it can produce snow cones, ice cream, slushy drinks, or restaurants like Daiquiris. A tamper is an essential tool during processing the ice or frozen ingredients.
Whole Juice: The Vitamix blenders are not the juicers and will not make the classic style juice but they are ideal for making smooth smoothies aka "whole juice". For the best result, you can separate fiber from the liquid using the strainer or nut milk bag.
Soup and hot ingredients: This gadget is designed to handle hot ingredients. So it is not only able to process hot liquid for soup, make bulletproof coffee but can heat liquid with frictions. The machine will heat the liquid from the room to the steaming 200 F/94 C temperature within just 6 minutes of continuous blending.
Chopping/food prep: The machine equipped with the 10 variable speeds and pulse function, and thus can prepare chef-quality hummus, salsa, guacamole, salad dressings, and other dips and sauces. The pulse function is also useful for chopping veggies and nuts. So you have no problem to make perfect cauliflower rice of pesto. If you are vegan this machine will be indispensable for processing cashew or almond vegan cheese.
Pureeing and baby food: This fantastic machine can puree almost everything from potato to carrots without any liquid added and produce flawless mashes or baby food. 
Nut milk: The Vitamix Explorian E310 and E320 machines have more than enough power to process nut and water into perfectly homogeneous nut milk. Use a nut milk bag to separate fiber for the better recipes result.
Nut butter: It makes great almond, cashew, peanut butter, or any other nut butter without adding any oil. Just place raw or roasted nuts into the jar and turn the blender on. You will have to use a tamper to push nuts down to create a better vortex and within 1 or 2 minutes you will get the creamiest and delicious nut butter.
Dough and batter: The Explorian E310 and 320 the standard WE T blades container kneads without much effort perfect bread or pizza dough, prepare cookies, or pancakes batter.  You may also opt for the DRY blade container if you intend to use the blender often for preparing dough or grinding the flour.
Grinding and milling: While there is a special Vitamix DRY blade container is available for flour milling and grinding tasks, this blender with a standard WET blade container can also function as a spice grinder if you need that. It can finely grind flax seeds, make powdered sugar, or ground coffee. Most important, it also makes a baking quality flour from any grains and seeds such as wheat, rice, buckwheat, and even from tiniest amaranth.
This gadget can do SO many things that easily replace a few kitchen appliances such as food processors, coffee grinders, and ice cream makers.
Speed Settings and Programs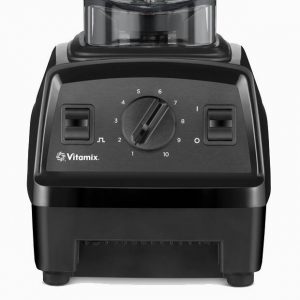 The Explorian E310 and E320 control panels are identical for both models. It is minimalist and simple to use.
It has 10 variable speeds Dial Knob, Off/On, and Pulse Switches. You regulate the speed by turning a dial. The transition between speeds is smooth. The low speed is true low (around 1400 – 1600 rpm) and high speed is so incredibly fast that designed to heat liquids with frictions (23000 rpm – 28500 rpm depending on blades size). The speed control is very soft-start and if you start accidentally at maximum speed, it machine will not ramp-up but instantly increase to the maximum speed. You activate the Pulse function by pressing the pulse lever after choosing the needed speed at the dial knob.
Such a wide range of speeds allows a lot of control over the blending process. The medium speed works for blending soft smoothies' ingredients while high is useful for hard ingredients and seeded berries. The Pulse feature is handy for chopping veggies and nuts and also good when making salsa and sauces.
Base Unit and Motor Power
The E310 and E320 Explorian models come with the identically designed base units and similar powerful Vitamix 2.2HP (1464 watts) and 12 Amps motors. The base exterior design carries out some features from both Classic and Ascent Vitamix models.
The minimalistic Explorian E310 and E320 models do have the Power On/Off switch on the bottom of the base unit but unlike the premium classic Vitamix Pro 750 and 7500 models do not light up the control panel when the power is on. While the curvy Ascent features allow the Explorian model using the convenient tamper holder accessory.
The machine base is heavy and well made, it also very sturdy and does not travel across the counter even at the highest speed. Both E310 and E320 gadgets are equipped with radial cooling fan and thermal protection that means the blenders automatically stop operating if the motor is overheated or overloaded. The thermal procession system is usually present in tall high-end blenders and designed for extending the blender life expectancy.
The Vitamix E310 and E320 motor have a ball bearing technology design that means it delivers efficient power and reduces wear of the motor ensuring its fantastic durability. No wonder the Vitamix machines outperform blenders with much high wattage. As the blender performance depends not only on the motor wattage however on the set of factors such as motor technology, derive connection construction, blades design, and the pitcher combination of factors such as the design of the motor, drive connections, jar shape, and the blade technology.
P.S. The Vitamix website has a bit of misleading information regarding the E310 and E320 motors. It is saying that E310 has a 2.0HP motor while E320 has the 2.2HP motor. However, their blenders base indicates the same VM0197 motor model which corresponds to the 2.2HP. I contacted Vitamix and they confirmed that E310 and E320 machines both have 2.2HP motors.
Containers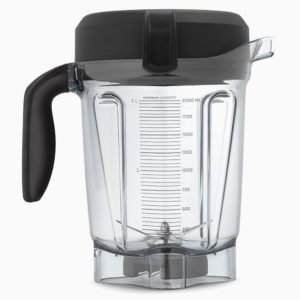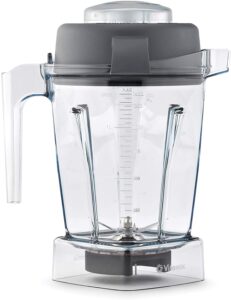 The E310 and E320 gadgets come with Eastman Tritan Copolyester premium quality, durable, temperature (up to 200F/94C), and shatter-resistant and glass-like see-through plastic pitchers. 
There is no Vitamix blender that exists with the glass container because no glass cannot withstand the high stress the Vitamix blender is exposed under the 2.2 HP motor and high blade speed. However, in July 2020 the Vitamix released a new optional stainless steel container for the customer who chooses not to use the plastic int heir kitchen.
The Explorian E310 features have a 48 oz narrow-body and low-profile container with a plastic grip. While the E320 model has a 64 oz widebody low profile container and rubber grip.
Both types of containers have a nice spout for pouring liquid out. The jars have ounces, cups, and milliliters graduations to adapt all recipes. Both jars equipped with an identical black rubber lid, clear plug, and custom made tampers (9¾ inches long for 48 oz. and 11 inches long for 64 oz. low profile jugs).
There is no Vitamix blender that exists with the glass container because no glass cannot withstand the high stress the Vitamix blender is exposed under the 2.2 HP motor and high blade speed. However, in July 2020 the Vitamix released a new optional stainless steel container for the customers who choose not to use the plastic int heir kitchen.
Tamper: Both Vitamix E310 and E320 models come with the custom made tamper. You usually will not need this tool when you make smoothies and other liquid recipes but it comes extremely useful for assisting with creating a better vortex when you process thick mixtures such as nut butter or frozen treats recipes.
Wet Container vs Dry Container
Although, the 48 oz. (E310) and 64 oz. (E320) WET containers that come with any Vitamix blender package can process both wet and dry food equally well but milling and grinding in this container will gradually make it cloudy. So if you do a lot of baking and grain milling there is the optional 32 oz DRY blade container available that will more professionally mill flour (without caking effect) and knead a dough.
Small Batches vs Large Batches
As it was mentioned above, the Vitamix Explorian E310 blender comes with the 48 oz. narrow bottom low profile container while the E320 model features 64 oz. wide bottom low profile container.
The difference between the size of the blade fits into the diameter of 48 oz narrow bottom wet container (E310) and 64 oz wide bottom wet container (E320) is more meaningful than just their capacity and shape. The major factor is how they are processing small and large volumes of food.
The narrow 48 oz. container (E310) suits better for processing small batches of food while the wide 64 oz. jug (E320) better handles large recipes. The minimum volume of food the 48 oz. container handles are 1-1.5 cups while the minimum for the 64 oz container is 2-3 cups (depending on the thickness of ingredients). If you try to process smaller batches in wide bottom 64 oz container will splash the food around and the quality of the homogenizing results will be not as good as the typical Vitamix user is get used to.
So, the 64 oz. widebody container (E320) is not very efficient at blending small volumes like baby food, mayonnaise, nut butter, and others. While the 48 oz. container (E310) is very good at processing those small recipes. But the 64 oz. widebody container perfectly handles a large amount of food in one cycle when in the 48 oz jar you will have to run the same volume in two cycles. The wide bottom 64 oz container is also more functional at dry chopping food than the narrow containers.
So, the E310 model will suit better to smaller households of 1-4 people while the E320 wide bottom 64 oz container will be good for lager households serving 5 and more people.
The owners of the E320 model with wide-body jar may be benefited from ordering the extra 48 oz. or 32 oz. narrow bottom container to improve their Vitamix experience when processing small portions of food.
Blades
The Vitamix E310 and E320 blenders are equipped with absolutely identical in design but different in size blades and permanently inbuilt into the container. The E310 blender has 3 inches four-prong blades inbuilt into 48 oz. narrow-body jar while the E320 machine comes with 4 inches four-prong blades inbuilt into the 64 oz. widebody container.
The blades are made from laser-cut air-craft quality stainless steel with an all-metal drive system that ensures perfect work. All Vitamix machines are equipped with the ball bearing type of blade system that ensures a better lifespan, more efficient, and less effortless performance.
Although, the blades could be removed with a special Vitamix wrench but not recommended if not instructed by the manufacturing service.
Ease of Using and Cleaning
Assembling/disassembling/operation: As it was already mentioned, the Vitamix Explorian E310 and E320 blenders come with the blade assembly inbuilt into the container. Thus they are very easy to assemble and use.
Assembling the blender takes only a few simple steps (1) fill the container with ingredients (liquids first, then dry and soft food, leafy greens, hard fruits and veggies, and finally an ice and frozen ingredients), (2) place the lid with the plug on the top of the jar until the two tabs snap onto the container lip, (3) secure the container onto the base. Now it is ready to use. The blender does not have any locking system for the jar you place the container on the base unit the four shafts keep it stable.
The operating blender is also a very easy process, you have to (1) select the speed 1, (2) press the On/Off switch to start it running, (3) you can also select the required speed by rotating the dial knob any time when blender running, (4) when blending is finished, select the Variable Speed 1 and press On/Off switch for soft blender stop. You can also use the tamper when processing thick mixtures to help with the vortex.
Cleaning: The Both Explorian E310 and E320 jars with the inbuilt blades, lids, and tamper are dishwashers safe. However, it is better to clean it following the self-cleaning procedure which is a no-brainer task and includes a few simple steps (1) rinse the jug out, (2) fill it half with the warm water and few drops of soap and (3) run it for the 30 seconds on the highest speed, (4) then rinse again and dry with the cloth.
After blending a thick mixture before placing the jar into the dishwasher or start a self-cleaning procedure you may need to extra hand clean it to remove all left outs or run the machine couple of cleaning 30-sec cycles to clean the sticky food from the jar walls.
Warranty and Customer Service
The Vitamix Explorian E310 Blender comes with the 5 years (which reflected in the blender is a cheaper price) FULL WARRANTIES, while the E320 machine has the 7 years, and the refurbished models with the 3 years of FULL WARRANTIES.
The full warranty covers parts, labor, shipping, and returns shipping both ways. The Vitamix warranties are transferable and you will be covered with a full warranty even you bought a second-hand gadget.
You can register your warranty for new or pre-owned blender online at vitamix.com/warranty or by calling the Customer Service Department (1.800.848.2649/ 1.440.235.4840).
Vitamix customer service is the best in the business. They are very friendly, helpful, answer all your questions, and available over the phone during business hours.
Vitamix Explorian E310 vs Explorian E320 Blenders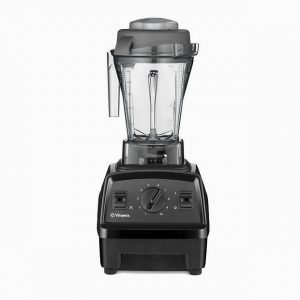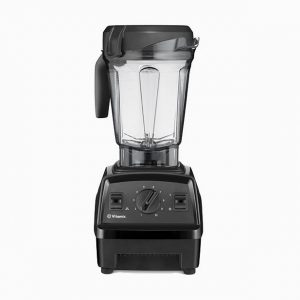 Both blenders are identical in design, motor power, control panel, and functionality.
The Vitamix E320 and E310 models differ ONLY by type of containers and blades. E310 Blender has 48 oz. narrow bottom container with permanently inbuilt 3 inches WET blade system while the E320 machine has a 64 oz. wide bottom containers with inbuilt 4 inches WET blades.
The difference seems negligible at first sight but in fact, it means if you have a small household you better buy an E310 blender while if you serve more than 4 people every day you better off with a bigger jar E320 machine.
But it is more than just that. The Vitamix initially made all its blenders regardless of jar capacity with narrow bottom containers and 3 inches blades. The Vita-mix company first released the blenders with a low profile wide bottom 64 oz. containers with Next Generation Series models. Since then some Vitamix veterans users started to complain about the worsening quality of Vitamix blenders processing.
The problem was in fact that 64 oz. low profile wide bottom jugs do not process small batches of food as good as narrow bottom containers. To achieve the have a comparable quality of food blending you have to process 1.5 cups of ingredients in a narrow bottom jar vs 4 cups of ingredients wide bottom jug.
Since most of the large households, users will certainly wish to make a few small recipes with their blenders like salad dressings, mayonnaise, nut butter, baby food, and frozen desserts, the owners of E320 blenders with 64 oz. wide bottom containers may be advised to buy an additional narrow bottom jar with 32 oz. or 48 oz. capacity to maintain the Vitamix blending quality.
Keep in mind that buying a Vitamix E310 blender with a narrow bottom container you will have better versatility with small recipes than with E320 machines with a wide bottom container.
Explorian E310

Explorian E320

Base unit with Motor power

2.2HP (1464 watts)

2.2HP (1464 watts)

Control Panel

10 variable speeds, pulse and On/Off lever

10 variable speeds, pulse and On/Off lever

Container

48 oz, narrow body

64 oz, wide body

Blades

3-inch diameter

4-inch diameter

Tamper

9¾ inches long

12½ inches long

Warranty

5 years Full

7 years Full

Reconditioned  3 years Full
Set Includes 
Base unit with 2.2HP motor;
64 oz. or 48 oz. Container with lid;
Tamper;
User Manual;
Cook Book;
Warranty card.
For more Vitamix recipes check their website here.
Optional Accessories and Attachments
Both 48 oz. narrow bottom (E310) container and 64 oz. wide bottom container E320 is interchangeable between both machines. Besides, any Explorian blender is compatibles with all Vitamix Classic containers. So, there are a few jugs (replacement or additional) are available to use with these machines:
The Vitamix also sale some other useful accessories:
Perfect Blend Smart Scale and Recipe App;
Tamper Holder;
Blade Scraper.
Special Features
Colors: The Vitamix Explorian E310 machine is available only in black color while the E320 blender comes in black and red colors.
Certified Refurbished: There is the discounted Vitamix Explorian E320 certified refurbished model available with 3-years Full Warranty.
Use in countries outside of USA/Canada: The blenders sold in the USA or Canada equipped with 110-120 voltage, they could be operated in the North and South America region, Taiwan, Japan, Saudi Arabia, and other countries with the same voltage.
The brand makes 220 – 240 volts models for international use and you can find them via local distributors. The gadgets with a 110-120 voltage system could be used in the countries with the 220-240 system only via a voltage transformer.
Noise
The Explorian E310/E320 is a very powerful machine, no wonder it is noisy. Even though it is one of the quietest machines among the high-end blenders. It still outputs around 90 decibels at the lowest speed and 97 decibels at the highest speed.
The silicon pad underneath of the base will dampen the noise coming from the working gadget. Alternatively, most sensitive to noise people can use earplugs.
Dimensions
The both Explorian E310 and E320 blender have only 11in x 8in/ 28cm x 20cm footprint and will not occupy a lot of your kitchen counter space. Both models E310 and E320 with the containers on the base unit have an 18in/46 cm profile and fit under standard upper cabinets. The 4.5ft cord is neatly coil reeled underneath of the base.
Vitamix E310 and E320 Explorian Blender Pros and Cons
Pros:
Has a reasonable price for powerful High-end blender;

Versatile and performs all function as any other Vitamix machine;

Built to last;

Very easy to use and clean;

Long warranty compared to other brands;

The Vitamix Explorian E310/E320 fits under the most of kitchen cabinets;

Has an excellent customer service;
 Cons:
The new E310 and reconditioned E320 blenders have a shorter warranty than other Vitamix models.
Consumer Reviews
The Vitamix deserved its reputation to be the best machine in the industry and Explorian E310 and E320 blenders are not an exception to it. Almost epic jubilation this blender has reaped over the years is true. Add, the best customer service in the industry and you can grab almost ideal gadgets for your kitchen.
Amazon rating – 4.6
Vitamix E310 and E320 Explorian Blender Price
Yes, the Vitamix blenders are pricey and cost 2-3 times more than the ordinary entry-level blenders but they truly work few times better also. The Explorian machines are the ones that must meet the requirement of the entry-level consumer who is looking for Vitamix, they are cheaper than the majority of other models.
The E310 and E320 cost less than not only the Ascent series but also older classic series models (yet, often available at the discounted price) with the majority of retailers and have the 5 years and 7 years Full Warranty respectively. While the certified reconditioned E320 model is available twice as cheap as the legendary Vitamix Pro 750 blender and comes with a 3-year Full Warranty. All Vitamix machines are built to last and likely to serve you for 15 and more years.
Amazon often offers a discounted price for the Explorian models. 
Vitamix Explorian E310 Blender, via Amazon
Vitamix Explorian E310 Blender, via Vitamix 
Vitamix Explorian E320 (Renewed), via Amazon
Vitamix Explorian E320 (Renewed) Blender, via Vitamix
Summary
If you want a no-brainer but GOLD STANDARD blender for the minimal price, the one of the Explorian E310 and E320 must be your choice. It is a bargain high-performance machine that performs all the functions any other Vitamix blender does but has a simple design with no "bells and whistles" features the more expensive Vitamix models built with.
Also, it has a choice between blenders for small and large households. The Vitamix Explorian E310 model will better suit a smaller household with 1-4 people because of its smaller 48 oz. containers can process well small volumes of food. While the E320 model will be the option for the families of 5 and more people because it will handle the larger batches of food in one cycle and process the larger minimum food recipes.
Nevertheless, the bigger households may buy an additional smaller 48 oz. or 32 oz. narrow bottom container for processing small portions tasks for salad dressings, nut butter, and frozen desserts.
Besides, if you would like to compare this recent budget Vitamix model with the classic Vitamix budget machine read our comprehensive Vitamix 5200 Standard Blender
Check here relevant articles:
Which is Best Vitamix Blender to Buy? – All Models Comparison Guide 2020 for models clarification guide,
Vitamix Certified Refurbished Blenders – Are They Worth to Consider? to find out about bargain options,
Vitamix Classic Containers – Guide 2020to learn about all Vitamix containers types,
Vitamix Aer Disc Container Review professional bar-style container,
Vitamix Stainless Steel Containers Review the new container so many customers were waiting for it.