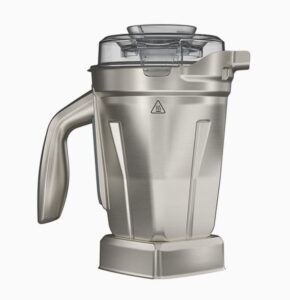 Many years since the vintage VITAMIX-MIX 3600 blender that used to have the stainless steel jar was discontinued, the consumers waiting that the Vitamix will release a new model with the metal container to replace it.
This is not surprising, the Vitamix is a very popular blender among the Americans and people around the world for their exceptional quality, durability, and great customer support. While the health-aware consumer, who intolerant to the fact that food is contacting plastic, was in a long search for the high-end blender with stainless steel or glass jar. Since the glass cannot withstand the high stress the high-end blender is exposed to the stainless steel container is the only option for this category of consumers.
Finally, this happened, the most awaited Vitamix stainless steel container was just released (July 8, 2020) and you can buy it now for your blender.
Compatibility
The good news, this container is compatible with all Vitamix full-size models including the Classic Series – 5000, 5200 Standard, Standard programs, TurboBlend VS, Creation GC, Creation II, Pro 2000, CIA Pro, 6300, 5000, 5300 – the latest Classic models – Explorian E310 and E320, the former Next Generation Series 750, 7500, and 780, Creation Elite, Pro 300 – and the newest Ascent Series blenders – A2300, A2500, A3300, A3500, and Venturist.
The Container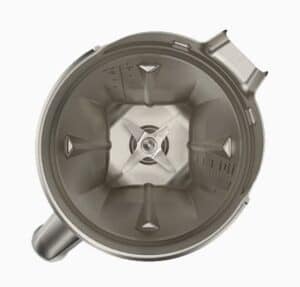 The new Vitamix Stainless steel container is 100% made of molded bent 304-grade stainless steel that is also known as "18/8" stainless steel (includes 18% chromium, 8% nickel, and 0.08% carbon). The inside of this jar is also 100% stainless steel including the bolt that connects the container and blade assembly, so your food will not come into the contact with plastic elements during the blending. It has the 48 ounces capacity and very similar in size and shape to low profile narrow bottom Vitamix Tritan copolyester 48 oz. WET blade optional container. The stainless steel jar has the same large no-drip pour spout as 48 oz. container and rather sharp edges, however, not so sharp that it can cut you.
Handle
It comes with an ergonomically designed and comfortable stainless steel handle. There is a grey plastic guard under the handgrip that is designed to protect your hand from hot or cold liquids. When you blend hot or cold ingredients the container body becomes respectively very hot or cold due to the high thermal conductivity of the stainless steel material while the plastic guard ensures the handle stay of a comfortable temperature.
Volume Markings
The container has volume markings up to 48 ounces/6 cups/1400 ml on the inside walls of the jar that are coated in black material.
Lid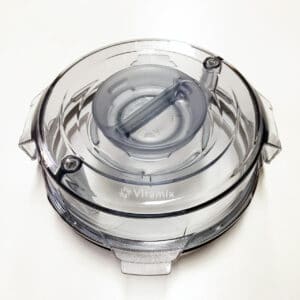 This stainless steel container is equipped with the transparent leak-proof seal BPA-free Eastman Tritan copolyester lid. It comes in two parts the lid itself and the cap for venting while blending hot food or removable for adding extra ingredients during the blending process. And it is identical in shape and material to the standard Vitamix ascent container lids.
The transparent Tritan copolyester lid allows you to observe the blending process which you cannot see through the opaque container walls.
Although the transparent lid makes life easier for many consumers, it could be a ply for the healthy aware ones. While the lid does not directly contact the food, it could be reached by few splash droplets that may fall back into the liquid and make the food to plastic contact (though negligible).
Ideally, Vitamix should come out with two options – the Eastman Tritan copolyester lid and stainless steel one that would satisfy the requirement of most health-aware consumers.
Blade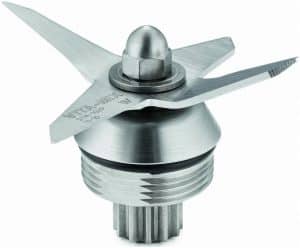 The Stainless Steel Vitamix container comes with the semi-permanently inbuilt 3 inches WET blade that is typical for any other Eastman Tritan copolyster 48 oz. narrow-body container. It also has durable all-metal retainer nut and gears. Semi -permanently blade assembly is not supposed to be removed for cleaning or other purposes, while it is still possible to detach them for replacement or other needs with a special Vitamix wrench.
Functionality
This container is designed to perform all standard Vitamix Wet Blade Container tasks. Nevertheless, it handles a wider range of liquid temperature. Additionally, it preserves hot or cold temperature slightly longer than a plastic container.
Wet vs Dry Blade Container
The Vitamix 48 oz. stainless steel container comes with the WET blade only and as for now, Vitamix does not plan to produce stainless steel containers with the DRY blade.
However, the WET blade container is perfectly capable to perform the dry task such as grinding baking quality powder and mixing dough. The WET blade is constructed slightly differently to the DRY blade. The Dry Blade is designed to push ingredients up, while the wet blade pulls food down. As a result, the copolyester WET blade container will develop scratches on the bottom part of the jar while the stainless steel container will not have this problem.
Small Batches vs Large Batches Recipes
48 oz., narrow bottom 3 inches blade container is better for making smaller food recipes than standard wide bottom containers that come with most of the Vitamix machines (excluding 5200, and Explorian 310 machines). So, the extra 48 oz. the container is a good option to buy if the owner of the machine with wide bottom container plans often to prepare small batches recipes such as pesto, nut butter, and others. This stainless steel container is perfect for an extra container that not only performs small batches tasks but also can be doubled for the making flours without scratching your container.
Tamper
This container comes with the custom made S2 Low profile plastic Tamper. Its size is similar to the mini tamper that is compatible with Vitamix 48 oz. Eastman Tritan copolyester container and only slightly differs in shape. No doubts, the S2 low profile tamper, and mini tamper are interchangeable.
The plastic tamper is another issue that health-aware consumers who are very sensitive to the food contact with plastic will pay attention to. It is probably would be a good solution if Vitamix could supply this stainless tell container with stainless steel tamper to satisfy the most demanding customer for whom basically with the container was designed to.
Cleaning
While the Vitamix Tritan copolyester containers usually do not have the problem with developing stains and odor, over time they still accumulate some scratches, and odor and stains can become a problem for older jugs. Stainless steel containers certainly will not develop any odor, scratches, and stains over time. The stainless steel container is also easier to clean after blending the thick recipes like nut butter or pesto that usually stack at the bottom of the copolyester container.
Generally, all Vitamix containers are easier to self-clean. Good news that this stainless steel container is also top-rack dishwasher safe.
Dimensions
This stainless steel 48 oz container has an identical 6.5 x 8 x 10 inches size to the Tritan copolyester container. While it is heavier, the 48 oz. stainless steel container weighs 3.75 lbs compare to 2.63 lbs weight of the 48 Tritan copolyester container.
Noise
The stainless steel container releases the same noise level as a plastic container. Depending on the Vitamix model and ingredients you blend it can vary from 92 to 104 dB.
Warranty

This container (including tamper and lid) is equipped with 3 years Full warranty, similar to any other optional Vitamix container. While the container that comes with the Vitamix machine is covered with the same full warranty length as the entire machine, for example, 5200 models have 7 years full warranty while Ascent models come with 10 years full warranty.
Country of Production
The Stainless Steel 48 oz. Vitamix container is manufactured in the Vitamix Ohio, USA Factory. All Vitamix blenders are constructed with over 70% USA-made parts. No Chinese parts are used for any Vitamix machine.
Container Pros and Cons
Pros:
100% stainless steel inside and outside of the container;
Has clear volume marking;
Transparent lid to see thru the blending process;
The long-awaited container by many health-aware consumers;
Cons:
Expensive;
Will not 100% satisfy the most demanding health-aware consumer because of the plastic lid and tamper.
Set Includes
Stainless Steel 48 oz. Container;
Eastman Tritan Copolyester Lid with removable cap;
Custom made Tamper;
A Welcome Guide;
A Getting Started Booklet;
Owner's Manual.
Price
Although this stainless steel container seems expensive, it is only 30-40% more expensive than the standard Vitamix optional and replacement copolyester jars. The budget or refurbished model plus buying stainless steel container may cost less than a premium model with plastic jar only. While the customers who intend to own a high-end blender with stainless containers only easily can sell the new copolyester container on eBay to recover some cost.
Vitamix New Stainless Steel Container, via Amazon
Vitamix New Stainless Steel Container, via Vitamix USA
Vitamix New Stainless Steel Container, via Vitamix Canada
Summary
Is this stainless steel expensive Vitamix container worth to buy? Certainly, yes. The consumers who were looking to buy an additional 48 oz. container for processing small recipes can get the stainless steel instead. It not only a more durable jar that will perform all functions of 48 oz. copolyester container but it may double for the dry container as it will not develop scratches and odor over the time after frequent use.
Is it also a great option for health-aware consumers who are seeking for the high–end blender with stainless steel that may eliminate the food to plastic contacts. Although it comes with a plastic lid and tamper, the lid has minimum contact with food while tamper is almost unneeded for most of the Vitamix tasks and used mostly for nut butter and other thick mixtures. Besides, this is the best stainless steel container that is available with a powerful high-end blender.