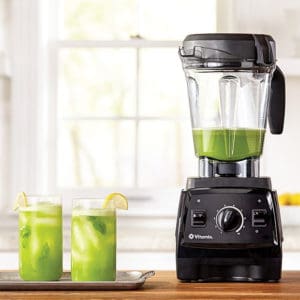 Vitamix 7500 / Series 300 model was released in 2013 with an upgraded 2.2HP motor and some noise and cooling system improvements. The Vitamix 7500 and Series 300 have absolutely the same technical parameters and features but come with different Recipe Books
Currently, there are three (3) major G-series models available on the market -7500/Series 300. Pro 750 and 780.
Are you also interested in alternative Vitamix blender options? Check our article Which Vitamix to Buy? – Vitamix Models Explained.
Or visit the Vitamix Certified Refurbished Blenders – Are They Worth to Consider? page to find out about bargain options.
Functionality and Versatility
Vitamix 7500 is a powerful machine that turns raw food into soup, smoothies or sorbet/ice cream. Here is a detailed guide for those who are unfamiliar with Vitamix functionality.
Smoothie: It blends smoothies or shakes from any kind of raw fruit or vegetables. You can also add nuts, hard cheese, or frozen food blocks and it does an amazing job. This high-speed unit will easily pulverize strawberries, blueberries, blackberries, raspberry, or chia seeds added into smoothies or shakes without any grainy seed texture. The quality of smoothies whether it green or fruit, with added nuts or seeds, will always be of perfect silky smooth quality.
Frozen ingredients: The machine easily shaves ice with and without any liquid added into a snow-like consistency for producing snow cones or frozen alcoholic drinks (margaritas, Pina colada, and others).It makes any frozen dessert or ice cream using the highest speed and the tamper, blending the mixture for under 30 seconds. The cookbook that comes with Vitamix includes some very nice frozen dessert recipes.
Juicing: It is not designed to produce classic juice which requires separating the fiber from a liquid. However, it is more than capable to make smoothest smoothies aka "whole juice".
Pureeing: It will puree any hard vegetables. It is able to puree, for example, chickpeas or dates without water. However, for thick purées, you should do it in small batches to get a more homogeneous blend.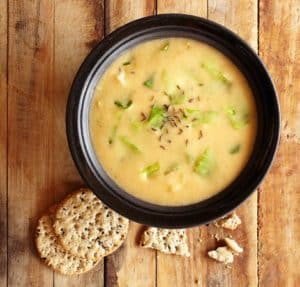 Chopping: Chopping is done on the pulse or low speed. The speed setting is very good and flexible on this machine, so you get perfect consistency every time. It also makes perfect quality sauces and dips on medium or higher speeds.
Soup: It is capable of producing enough friction to create a hot soup, although you have to blend on the highest speed for up to 6 minutes in order to reach a steaming temperature.
Nut milk: This gadget has enough power to pulverize any nut to the consistency that after straining through nut bag you can get excellent quality nut milk. This is an invaluable function to people with lactose intolerance or those on special diets.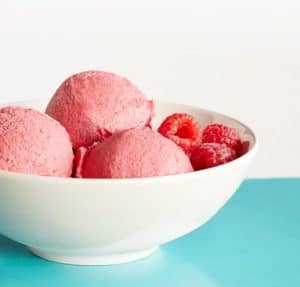 Nut butter: This machine makes nice, smooth raw nut butter with the help of the tamper. However, you have to process at least 4 cups of ingredients, because the final nut butter should still cover the blade. For smaller portions, there is a 32 oz. wet-blade container that is available as an optional accessory.
Dough: This gadget's cookbook includes delicious recipes for cookies, pizza, and bread dough. The wet blade container, included in the basic set, is perfectly capable of kneading dough.
Grinding: The standard wet container also will easily grind flour, coffee beans, or any nuts. It is also able to mill into perfect flour almost any grains or kernels such as buckwheat, rice, quinoa, or even small amaranth or dry chickpeas.
The wet blade container is good enough for occasional grinding/milling and dough making. However, if you will do it often it is better to buy the optional dry blade container so that you do not overload the wet blade. Anyway, any high-end blender has its learning curve, and eventually, you will learn the precise amount of ingredients to use for different recipes or challenging tasks like making nut butter, how to use the wet container for dry tasks, and the speed to use for different jobs or recipes, so you will be able to make a decision if it worth for you to invest in any extra accessories for this gadget.
Speed Settings and Programs
The Vitamix 7500/ Series 300 control panel is equipped with 10 variable speed dial knobs, pulsing, and on/off toggles. These models do not have any pre-set programs and are designed to be controlled manually by the user for all tasks. The variable-speed function is very useful on many occasions. Low speed is important for rough chopping ingredients, and if you make salsa or add texture to the soup after it was made to the desired consistency. The low speeds are also useful in eliminating foam bubbles from smoothies which were blended at higher speeds. Gradually shifting from the low to high speed will allow you to create an original recipe or one modified to your liking from the cookbook.
Ease of Using and Cleaning
Setting up: This blender has built-in blades and it is very easy to set up and to operate. You just fill the pitcher with ingredients, with the softer ingredients going in first, followed by the harder ones. Fix the resin supplied lid on the top of the container and press to start.
Tamper: All Vitamix machines come with a tamper, and it is designed so that they will not hit the blades. The tamper is useful in many ways. It is usually not needed for processing food with enough liquid, but it is very handy when making nut butter, frozen desserts, or ice cream with little or no added liquid. With the tamper, you can push stubborn and bulky ingredients down to the vortex during processing without stopping the machine.
Cleaning: Although this blender is not dishwasher safe, it is extremely easy to clean on a daily basis because it has built-in blades. You can hand wash the lid and container after using watery ingredients or after using thick ingredients blend it just 30 seconds with water and a few drops of soap. You can also pulse and vary the speed to simulate a scrubbing motion. After cleaning, just wipe it with a dry cloth. Otherwise, it may become cloudy over time. If it becomes cloudy, just soak the container in a mixture of cool water and vinegar.
Base Unit and Motor Power
This machine comes with a 2.2 horsepower motor and a blade rotating at 37,000 rpm, the same for all of the G-Series product lines. The 2.2HP motor corresponds to approximately 1640 Watts. One horsepower at one hundred percent efficiency equals 746 Watts. One hundred percent efficiency means it runs without any attachments or loads and none of these gadgets are able to operate this way. Roughly, it works at 12 amps X 120 Volts, which equals 1440 Watts. This is more than enough blending power. All Vitamix motors are also equipped with a thermal protection system and an automatic shut off in the case of motor overloading, and that should definitely increase the lifespan of the blenders. The gadget also comes with a 6 ft. a power cord that is cleverly stored underneath the base unit and hides any unused sections.
All Vitamix machines are very well built with all-metal, durable motor driver connections.
Check here the best holiday deal for Vitamix 7500/Series 300 Blender
Containers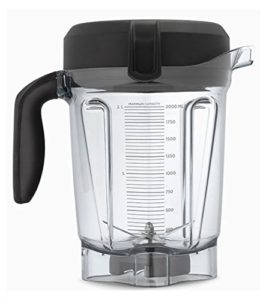 This machine comes with a premium stress and scratch-resistant polycarbonate (Tritan copolyester) container, Vitamix 7500/ Professional Series 300 – 64 oz. low profile, wide bottom, and soft-touch ergonomic handle, while the Creation Elite that is intended for small households comes with a smaller – 48 oz.- container. All pitchers have clear marks for ounce, cups, milliliters, and liter measurements.
You can also buy extra containers at an additional cost – smaller 32 oz. and 48 oz. containers with wet blades for processing small batches of food, or a 32 oz. container with a dry blade for professional milling and baking.
Customers often complain that this very expensive machine should come with glass containers so as to avoid any chemical leaching into food. However, this is not possible for powerful blenders because glass is not safe when processing high loads. In the past, many powerful blenders had metal pitchers, but nowadays most producers prefer to use stress-resistant polycarbonate for this type of gadget. However, in July 2020 Vitamix released a new stainless steel container that you can buy as an additional one to any of your Vitamix models' blender.
Blades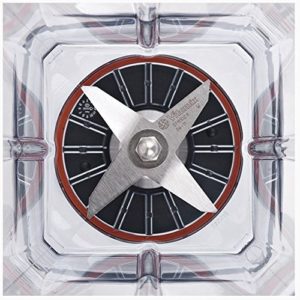 This machine is equipped with 4 inch, 4-prong stainless steel blades. All Vitamix model blades are as dull as a butter knife by design. The blades are built-in to the pitcher and can be removed if needed for a thorough cleaning, or if you are replacing the blade assembly, but only with a special wrench (not included in a package).
The blender comes with a wet blade container that is capable of performing all functions such as making smoothies, chopping food, making soups, ice creams, nut butter, grinding, milling, and kneading the dough. The optional dry blade's smaller 32 ounces container can be purchased and this will mill, grind and knead better with less effort.
Vitamix 7500 Special Features
Colors: This machine comes in various colors, Vitamix 7500 – black, white, red; Professional Series 300 – black, red.
Refurbished: There are certified refurbished blenders available for these models Vitamix 7500/Professional Series 300 models that will be named Next Generation and cost around $100 less. They come with completely new accessories and usually used but come in a perfectly conditioned based unit and have a 5-year warranty instead of 7 years like the new machines. This choice is worth considering for those who want to buy this machine at a smaller price.
Using in other countries: The blenders sold in the United States comes with a 120V/60Hz Input Voltage and American plug. So, 110-120 volts machines are suitable for operation in the USA, Canada, Central America, Japan, Saudi Arabia, and some others. No Vitamix machines come with dual voltage. These gadgets are not recommended to use via voltage adapter for a long period of time but OK for occasional use while traveling. Consumers from regions with 220-240 voltage systems are better to buy these machines from a local distributor which are usually much more expensive than from the USA. However, 
Noise
This machine is not loud for this kind of powerful blender and outputs at around 60 to 70 decibels. It is comparable to the noise of normal piano practice or vacuum cleaner which will also produce 60 and 70 decibels of sound respectively. The noise also depends on the ingredients you blend and on your kitchen counter material. So if you place a rubber placement under the machine you may greatly reduce the noise that comes from your gadget.
Warranty and Customer Service
The Vitamix 7500 and Professional Series 300 machines come with a 7 year, the full warranty which means that the company will pay all shipping costs no matter what happens to your gadget. It will also replace any part and make repairs with no questions asked. However, the Creation Elite machines come with only a 5-year full warranty despite the fact that it is the exact same machine, the only difference being that it has a 48 oz. container instead of a 64 oz. container. The company also offers a 30-day money-back guarantee. If you do not like the machine for any reason, you can return it free of charge within this period of time.
Customer Service is excellent and the people are always very polite, helpful and respond directly.
Optional accessories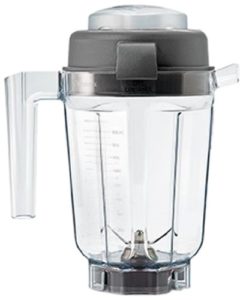 Vitamix offers some extra accessories you can buy online from different retailers.
Wet blade containers: Some customers may find that the new low profile container is too large for processing small batches of food since it has a wider bottom and requires more ingredients to cover the blade level for effortless processing. To solve this problem, the smaller 32 oz. and 48 oz. pitchers with a wet blade assembly are available to buy as optional accessories. The 32 ounces container is perfect for serving single-serve tasks and small batches of baby food. Nut butter is also much easier to make in the small wet container because the initial volume of nuts is reduced substantially as it gets milled and it may not cover the blade level of the container for further homogenizing of the mix and here the 32 ounces container will be a great help. The 48 oz. wet blade pitcher is small enough for a single serving and capable of fixing ingredients for a small household. This small household pitcher is also good for a kitchen with limited space as it easily fits under most kitchen cabinets.
If you intend to do a lot of milling, grinding and kneading, then you may find it beneficial to buy the dry blade 32 ounces container as an extra accessory. Although the wet blade does milling and kneading tasks very well, the dry blades have a slightly different design and push the vortex up instead of down (wet blades), so the milling and kneading are done much easier, quicker and with better quality. The 32 oz. dry blade container is recommended if grain milling and kneading is done regularly in your kitchen, otherwise, it is not worth the extra investment.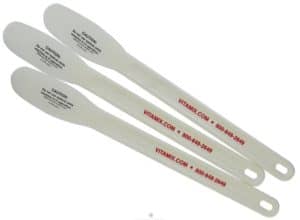 Dry blade container: If you intend to do a lot of milling, grinding, and kneading, then you may find it beneficial to buy the dry blade 32 oz. a container as an extra accessory. Although the wet blade does milling and kneading tasks very well, the dry blades have a slightly different design and push the vortex up instead of down (wet blades), so the milling and kneading are done much easier, quicker and with better quality. The 32 oz. dry blade container is recommended if grain milling and kneading is done regularly in your kitchen, otherwise, it is not worth the extra investment.
Personal Cup Adapter: The Personal Blender Attachment for Vitamix Classic Series blender. 
Stainless steel container: The new Vitamix optional container that was released in July 2020 as an answer to a request from many customers. 
Spatulas: This little long spatula with its narrow head will help you remove thick food such as nut butter, hummus, ice cream, and others from the container.
It is also worth mentioning that all Vitamix containers are interchangeable, regardless of the model, product line, volume, and blade type.
Set Includes
The 7500 and Series 300 blender packages include:
G-series 2.2HP base unit,
64 oz. Wet low profile wide bottom container,
rubber lid with plug, Custom tamper,
Getting Started Guide, Instructional DVD
Recipe Book (Simply Fresh-Whole Food -7500 model and Create Cookbook Series 300 model).
Dimensions
This machine is quite big with a base unit weight of 13 pounds and a 7.7 x 9.4-inch footprint. However, with a height of 17.4 inches when the low profile container is seated on the base unit, it usually fits under standard kitchen cabinets. The shipping weight of the gadget, with all books and accessories included, is 19.7 pounds.
Pros and Cons
Pros:
Vitamix 7500 is one of the latest product line blenders for the producing company. It is a very powerful, multitasking, and versatile machine that performs all of its functions on a professional level. It makes excellent smoothies, chops food, mills grain, kneads a dough, makes hot soup, and makes ice cream all at the highest level of quality.
The machine has interchangeable jars and any jar size or blade type will fit any Vitamix machine.
It is a very durable and well-built machine and has a 7-year full warranty, one of the best on the market. Its customer service has a very good reputation for being responsive and helpful.
This model fits under most kitchen cabinets.
Cons:
All Vitamix machines are expensive. The company releases a huge variety of models and packages, and customers can be confused as to how to choose the right machine.
Vitamix 7500 Blender Consumer Reviews
Despite the high price, this machine is very popular among consumers and people appreciate its good quality, durability, and excellent customer service. There are over 1000 consumer reviews if you combine all different Amazon retailers, so there is plenty of information out there if you need extra confirmation for your choice.
Rating: 4.7
Price
The price fluctuates a lot for this blender, depending on the retailer and any special offers available. Many Amazon retailers offer free shipping for this blender. Since Amazon keeps competitive prices, it often offers less expensive units than the producer website. Check here for the Vitamix 7500 best deal Amazon price for this blender. Customers also should check the Professional Series 300 model that is often available at the special offer or Certified Reconditioned Vitamix 7500/Series 300 models.
Check here the best today's deal The Vitamix 7500/Series 300 Blender
Summary
Vitamix 7500 is certainly one of the best blenders on the market. It has the latest motor despite the fact that Vitamix released the newest Smart System product line blenders but uses for them the same motor as for the Classic G-Series.
The 7500 will suit those looking for the Classic Vitamix model and prefer the manually controlled version because they do not need pre-program settings or feel that they do not want to pay the extra $100 (price difference between the manually controlled model and the model with pre-set programs).
The 7500 and Series 300 machines both come with 64 oz. low profile wide bottom containers which suite best for the larger households because they handle better big batches food (minimum 2 cups). Professional Series 300 has the same technical parameters as the 7500 model but has an extended choice of cookbook recipes which will useful for people with limited cooking ability who are looking for extra guidance for better performance in their kitchens.
Do you want to find out which Vitamix blender suits to you best? Go to our Vitamix Blender Guide article and reviews.