The A3300 and A3500 blenders are the top Vitamix Ascent product line models released on 25 December 2016. The Company making blenders for nearly 100 years and these two models supersede all existing Vitamix models. They are not only overloaded with a variety of exiting "bells and whistles" but come with a few truly hi-tech features.
Do you want to find out which Vitamix blender suits to you best? Go to our Vitamix Blender Guide article and reviews.
Here is our honest review for your consideration which will help you to decide if the blender worth to invest.
Functionality
Smoothie: Blends equally well the soft banana and fibrous kale, carrot and pineapple into the silkiest smoothie you have ever tested; Makes smoothest green drinks; Obliterate any flax seeds and strawberry, blueberry, raspberry and other into homogeneous drinks without residues left; Destroys avocado core;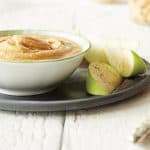 Juices:  Perfect for making "whole" juice;
Ice Crushing and Frozen Treats: Crushes ice, frozen fruit, vegetable and in the drinks; easily makes any frozen desserts like sorbets, snow cones, ice cream, and others; Ideal for daiquiris and other frozen alcoholic drinks;
Nut milk:  Nut, seed or soy milk is a breeze for the Vitamix blender, you often do not need even nut bag to strain the fiber from the liquid;
Pureeing: Ideal for pureeing raw and cooked fruit and veggies for side dishes, baby food; makes perfect hummus, pesto, and variety spreads and dips;
Soup/ hot ingredients: Designed to blend hot ingredients and heat liquids via frictions, makes boiling hot soup from cold food under 7 minutes (depends on container type); makes bulletproof coffee (the smaller container is preferred);
Chopping/food prep: Blends mayonnaise, marinades, salad dressing, and sauces; easily chops soft and hard veggies;
Nut butter: Makes a perfectly smooth homemade nut butter from raw and roasted nuts in less than 1 minute;
Grinding/milling: Mills into baking quality flour any grains and beans even hardest and tiniest; grinds spices and coffee 
beans with ease (but 8 oz. bowls preferred for the task);
Dough/batter: Makes ideal bread and pizza dough and mixes cookies batter;
Speed Settings and Programs
The Vitamix Ascent 3300 and 3500 control panel design combines a capacitive sensing touchscreen and physical dial-up knob.
Touchscreen. The touchscreen resembles the smartphone screen technology, it is made of a scratch-resistant material with functional touch buttons so tactile that you will hear tiny clicks while touching them.
The touchscreen comprises:
The display that shows all relevant blending information such as current speed, up/down counting time, the current pre-set programs icon and icon indicating the variable speed running;
Programmable timer +/ – time selection capacitive touch buttons. The programmable timer is a very useful feature, which sets a countdown timer like a microwave timer, it allows you to avoid under processing and over-processing of your recipes, experiment with new ones and repeat your favorite recipes later;
5 pre-set program icons for Smoothies, Frozen Desserts, Soups, Dips/Spreads, Self-Cleaning, the icons are capacitive touch buttons (for A3500 model only);
The Pulse and Start/Stop capacitive touch buttons.
Dial knob. The physical dial knob regulates the speed from slowest #1 (1400 rpm) to highest #10 (23000 rpm) by physically turning it in half-step increments (19 speeds in total). The knob has a very soft grip, flows very smoothly when you turn it, and gently clicks between speed settings. The slowest speed is really slow and the highest is high enough to heat the liquids via friction up to the boiling temperature. The dial knob does not have an absolute position, every time you turn the machine on or after a blender is stopped, the speed setting automatically resets to speed #1. It ensures that the machine will not ramp up when it starts running if you forget to reset it to slow speed.
Base Unit, Motor Power and New Technology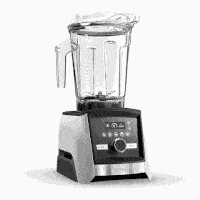 The Ascent 3300 and 3500 blenders have a completely new base unit exterior design compare to older Vitamix models. It looks pretty at all angles. The standard base option is made of durable plastics with shiny metal trimming. The A3500 models also available in few colors of solid metal finishes shells.
The A3300 and A3500 base houses the strong and powerful 2.2HP ball-bearing motor (the same as for most Legacy line machines). The blender also has a very durable all-metal drive to blades couplings
Similar to all commercial type blenders, Vitamix Ascent equipped with the thermal override safety system, which turns the motor off before the motor burns if overloaded. The Ascent blenders will show error code E31 or E3x on the control panel display if the blender overheats and thermal override triggers (at ~185°F).
Wireless Connectivity. The Vitamix Ascent 3300 and 3500 bases are equipped with wireless connectivity, a completely new feature which via the NFC (near-field communication) technology recognizes the type of container connected to the base and adjusts blend settings to accommodate particular container (64 oz., 48 oz., 20 oz. and 8 oz.). Each container is programmed to maximum running time and the blender will stop automatically after 6.30 min for 64 oz. container, 7.30 min for 48-oz/, and 1.15 min for the 20 oz. and 8 oz. containers.
You also will not be able to start blender running if there is no container connected to the base, the control panel simply will not react to your commands.
Another example, if you pop on a 64 oz. container and select Soup pre-set program (A3500 model only), the timer will show 5.45 min blending time. If you pop the 48 oz. the container the timer will show 7.30 min (3 inches blade will do it slower). If you pop on 20 oz. or 8 oz. container, it will show that the blender will not make soup because the container is unvented.
Perfect Blend App. The Ascent models are also equipped with Bluetooth, which connects the perfect blend app in your smartphone. The app has a few hundreds of recipes. Each recipe programmed at a certain blending algorithm and blends at variable speeds at the pre-set time.  The app then allows uploading pre-set blending programs to the blender. This perfect blend app is a real hidden Vitamix Ascent gem.
Container
Container: Vitamix Ascent A3500 and A3300 blenders come with low-profile wide bottom 64-oz./2L capacity container. The container is made of high-quality BPA-free, impact, and heat resistant Eastman Tritan copolyester material. It has a marked ounce, cup, and ml measurements on the side of the jug.
The Vitamix A3500 and A3300 jar are made of high-quality copolyester and not glass, because the glass container will not withstand the load the commercial type blenders like Vitamix are exposed. The only alternative to avoid plastic is using a metal container but most producers choose the impact-proof copolyester because it is lighter and more aesthetic than the metal one. Nevertheless, Vitamix released a new stainless steel container in 2020 that is compatible with Ascent machines, it was an answer to the numerous Vitamix customer request to produce the alternative jar that will avoid the contact of food blended with plastic.
The Ascent A3300 and A3500 models also come with a few new features not present in the older Vitamix machines. (1) It has a little notch just under the spout to provide smoother pour flow. (2) It comes with the new design transparent see-through lid, so you can see what you blending. The new lid is designed with snap fasteners that make a firm click when it is locked on and better leaking proof than older rubber lids. The lid is made of plastic and has a rubber seal around it, so you have to remember that you may need to clean build-ups under it from time to time. The lid is equipped with a removable, vented lid plug that allows you to make process ingredients, add food while blending, and use a tamper while processing. (3) The cap also has measuring marks (15 ml and 30 ml) that is useful for small ingredients such as spices and flavorings.
Tamper: A tamper is a useful tool when you blend the thick mixtures, it helps to remove the air pocket and creates a better vortex. If your blends become sticky and need help you just have to insert the tamper through the lid plug and stir until it 'burps'. If this does not work, press the On/Off switch to stop the motor. Remove the container from the blender base and use a rubber spatula to press the air bubble away from the blades. Add liquid if necessary.
Locking: Vitamix has no locking system. It freely sits on the four posts and little vibrate during the processing. It is made on purpose, because of high torque and if it locks it can damage the container. In reality it safe never has any problems with pitcher secure sitting.
The Ascent models are also equipped with additional smart safety features. The container blade assembly is equipped with NFC chip which only activates when the container is safely sitting on a base, otherwise, the blender will automatically stop
Small vs large batches: The 64 oz. the wide bottom container is perfect for blending medium to large batches of food. The minimum liquid amount it will handle is 2 cups. To blend perfect Vitamix smoothies you need to cover the blades level and the less ingredient you add the more likely it will splash the food around a bit. You can process a single portion smoothie in the 64 oz. wide bottom jar, but it does not do it quite as fine job as with larger batches. Thus, for processing a small portion of food (single-serve smoothest, salad dressing, baby food, and other) you better to purchase additional smaller pitcher or single-serve cups.
Blades
The Ascent A3500 and A3300 have the standard for Vitamix blender irremovable blades built into the container. All Ascent models wide bottom containers are equipped with 4 inches and 4-prongs "wet" blades. Although the "wet" means processing wet ingredients such as fruits, vegetables, nuts, seeds, and liquids into smoothies, milkshakes, nut kinds of milk, nut butter, and frozen desserts. But they able also to perform grinding/milling and kneading tasks.
The patented blades precision-cut from hardened stainless steel and are dull by design and thus they will not need the sharpening and very safe to handle.
Using and Cleaning
All Vitamix gadgets are very easy to use but the Ascent models are loaded with so many features that you may need to dedicate a little time to learn them.
Activating: You activate your blender with the ON/OFF switch on the side of the base unit. If there is no container on the top of the base, the control panel display will show the floating "Vitamix" logo. You still cannot start running the machine until you set the container on the top of the base unit, the control panel simply will not react on your touch (a nice safety feature).
As was mentioned already, the Ascent blenders are equipped with self-detect containers and wireless connectivity (or NFC – near-field communication) feature which recognizes the type of container (64 oz., 48 oz., 20 oz. and 8 oz.) you fit and adjusts blending time to suit the right container.
For example, if you pop on a 64 oz. container and select soup program, the countdown timer will display 5.45 min blending time, if you pop 48 oz. the container will show 7.30 min (since 48 oz. equipped with 3 inches blade and they require more time to blend soup) if you set 20 oz. or 8 oz. cups, the display will show that the blender will not make soup because those cups do not have a vent. Similar works for the perfect blend app.
So, when you place the container on the base, the display will show the container/cup icon and speed 1 indicating that it is ready for use.
Run with variable speed: With the container on the base unit, just touch the Start/Stop button, the blender will run and show the run arrow symbol, count up time and current speed. You can regulate the speed by rotating the speed dial any time during the blending cycle. Touch the Start/Stop button again to stop the blender when you need it. Each container is programmed with certain maximum run time and the machine will shut down automatically when the maximum run time has passed.
Pre-set program (applies to Vitamix A3500 model only): Select with a touch one of the 5 pre-set programs icon (Smoothies, Frozen Desserts, Soups, Dips/Spreads, and Self-Cleaning) and press the Start/Stop button. The default program time speed and selected program icon will display on the control panel and the blender will start running with the timer showing the count downtime. The blender will stop at the end of the program automatically. You can stop the program any time by pressing Start/Stop but you cannon adjust the speed and times during the blending for the specific pre-set program.
Timer: Fortunately, you can readjust blending time and speed during the blending when using the timer. Touch the +/- buttons on the control panel to set your time and press the to initiate blending. The controls display will show the speed, count downtime, and arrow running symbol. You can adjust speed any time during the blending process, stop the blender any time by pressing again the Start/Stop button.
Pulse: Press the pulse button and hold it as long as you need it, you can select any speed to pulsing mode before or during the processing.
Cleaning: All Vitamix containers are designed to be cleaned without removing the blade assembly. The main method is the self-cleaning procedure. You just have to fill the container half full with warm water and add a few drops of dish-washing liquid and run for 30-60 seconds or select Cleaning pre-set program (A3500 only). Then rinse the container thoroughly. To avoid container cloudy build-ups you have to dry clean with the cloth it immediately after rinsing. If you used the machine for recipes like nut butter you may need to remove sticky food with a kitchen brush before the self-cleaning procedure.
Besides, all Ascent container, lid, cap, and cantering pad are now dishwasher safe, you can clean those parts on the top shelf of your dish-washing machine.
Vitamix Ascent A3300 and A3500 Blender Optional Accessories and Attachments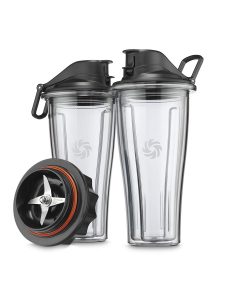 The Vitamix produces a large range of extra accessories for its blenders such as extra containers, best blends scales, and others.
Vitamix is known for the compatibility of the accessories between different blender models. Although, the self-detect containers (Ascent line with clear lid) may be used on the Legacy bases. The A3300 and A3500 machines are compatibles only with self-detect containers that were designed especially for the Ascent blenders (those with a clear lid) since only self-detect containers have wireless connectivity NFC tag.
48-ounce Wet Stainless Steel Container. It is the long-awaited container by many health-aware consumers that was released in July 2020. 
48-ounce Wet SELF-DETECT Container. The container is designed to perform the same job as 64 oz. wet blades container which comes in the package with every A3300/3500 model blender. However, this smaller capacity containers will handle smaller portions of ingredients than the standard 64 oz. It can process a minimum of 1 cup of food while the 64 oz. jar minimum will start from 2.5-3 cups. The smaller household shell considers this jar. The price for 48 wet blade jug ranges $120-$145.
48-ounce Dry Grains SELF-DETECT Container. The container equipped this the blades slightly different to the standard wet bladed. If the wet blades will pull the vortex up, the dry blender will push it down for better performing milling, grinding, and dough kneading tasks. The dry blades containers are available at the $130-$145.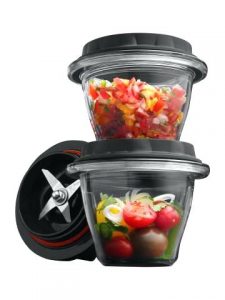 20 oz. SELF-DETECT Blending Cup Starter Kit. It includes 2 singles serve 20 oz. cups with a to-go lid and one self-detect blade assembly to use it as a bullet type single serve attachment which allows you to blend individual portions directly inside these travel cups. These cups are also useful for making baby food and the small batches of recipes. This attachment will not process hot ingredients or heat them to boiling temperature.
8 oz. SELF-DETECT Blending Bowls Starter Kit includes two 8 oz. bowls and blade assembly (the same as for 20 oz. cups). It is designed to grind spices, chop garlic or onion and blend small batches of sauces, dressings, dips, and baby food. The kit includes lids, so you can store the blended food straight in the bowl.
48 oz. Aer Disc Container is designed for performing professional level whipping, muddling, foaming, and emulsifying tasks.
Perfect Blend Smart Scale and Recipe App The smart scale via Bluetooth integrates with the best blend app and unlocks over 500 new recipes on your smartphone and allows users to send them to your A3300 and 3500 blenders.
Vitamix Ascent A3500 Blender, via Amazon
Vitamix Ascent A3300, via Amazon
Vitamix Ascent A3500 Blender, via Vitamix
Special Features
Colors: The A3300 models are available in two colors – Black and Gray.
The A3500 comes in white, red colors (standard plastic base unit) and four premium metal finishes (solid metal shell base unit) – Brushed Stainless, Copper, Graphite, and Black Stainless (limited edition).
Certified Refurbished: Vitamix offers the Reconditioned A3300 and A3500 for $100 off new prices. The reconditioned units come with 5 years full warranty while new machines have a 10 years warranty.
Use in countries outside of USA/Canada: All Vitamix blenders sold in the US equipped with a 110-120 voltage system and designed to be used in US/Canada and other regions with a 110-120 voltage system (Japan, Taiwan, Central, and South America, Saudi Arabia, etc.). The producer does not recommend operating 110-120 voltage units via a voltage transformer and often they simply do not work properly. The best selection and prices for 220-240 voltage version of Vitamix blenders are available from UK online retailers.
Set Includes
2HP Motor Base
64 oz. wide base Tritan copolyester container with a clear lid and measuring cap;
Custom tamper designed for 64 oz. wide base jar;
Simply Blending Cookbook;
User Manual;
Warranty information.
It comes in an environmentally friendly and secure cardboard packaging.
Warranty and Customer Service
The A3300 and A3500 are equipped with 10 years standard full warranty and outstanding Customer Service. The Vitamix full warranty covers all parts from top to bottom and if any of them breaks, the company repair or exchange it free of charge, it also covers shipping both way.
The warranty is valid no matter from which retailer you buy your blender. It is also covered with full warranty if you bought the blender from a private person as a second hand, the only difference the warranty will start from the day it was purchased by the first owner. You are free to register your warranty any day within 10 years of its validity by submitting to the Customer Service the serial number that is located on the bottom of your machine, so you do not need to keep safe forever the receipt or warranty cards.
The Vitamix also allows 30 days risk-free trial period. So, you can return the blender, if you did not like it for some reason, free of charge with a full refund, no questions asked.
Noise
The Vitamix machines are the quietest among the powerful high-end type blender (those that are without the sound enclosures). The A3300 and A3500 are the quietest among the all Vitamix blender. Although the manufacturer did not release any official data about the Ascent noise emitting it confirms that the gadget built using sound dampening design and materials.
The noise blender release also depends on the ingredients you blend, the softer food release less noise the frozen ingredients are the noisiest. According to unofficial measuring the A3300 and 3500 models will emit 84 Db at a maximum when blending iced food. Such a sound level will allow maintaining a conversation while blending with a slightly raised voice. 
Dimensions
The A330 and 3500 has a footprint of 8-inch × 10¾ inches. And with the profile of 17 inches, it must fit under the standard kitchen cabinet. The unit is heavy and weighs about 11.86 lbs. As all Vitamix models, it stows out of sight the 4 ft. cord by wrapping it around the bottom.
Vitamix Ascent A3300/A3500 Blender Pros and Cons
Pros:
Versatile machine and perform all function the typical commercial type blender will do from frozen desserts to hot soups;

Attractive design with touch screen controls;

Self-detect containers;

19 variable speeds;

Pre-set programs and

Ability to create your programs with the programmable timer;

Bluetooth feature together with best blend app allows adding 500+ pre-set recipe programs;

Has a wide selection of extra accessories containers and other accessories;

Comes with extraordinary 10 years FULL warranty;

Designed and assembled in the US.
Cons:
Very expensive;

Processing a single portion of food requires an extra 48 oz. container.
Consumer Reviews
Such innovative and modern blender cannot leave the majority of consumers indifferent. No doubt, it is praised by most of the customer. However some people do not like the low profile containers as it does not handle single-serve food batches, they also do not like the machine overloaded with techy features and prefer the old classic Vitamix 5200. Nevertheless, any avid gadget lover hardly will miss the opportunity to upgrade for the Ascent blender.
Vitamix Ascent A3300/A3500 Blender Price
The Vitamix usually fixes the price for their latest models but a special Holiday may offer them on a sale price. The current price for the A3300 on the manufacture website is $519 and for A3500 $619.95-$649.95 (the metal finish model is more expensive).
Fortunately, Amazon offers often the better price where you can grab the state of the art Vitamix A3500 model for $529 (sometimes even cheaper) and the A3300 machine for $449.
Vitamix A3500 Blender, via Amazon
Vitamix A3300 (a real bargain, via Amazon
Vitamix A3500 and A3300 Blenders, via Vitamix
Summary
You never will go wrong with any Vitamix which certainly accomplishes the best blending quality for any task. Still, the A3300 and A3500 is the best Vitamix creation. It has an array of fantastic features such as touch screen controls, self-detect containers, programmable timer, blender connection to perfect blend app, and a great choice of extra attachments. So, if you can afford this machine then Vitamix Ascent A3300 and A3500 are worth to invest. They expensive to buy but will last. Since Vitamix plans to introduce the more wireless feature for Ascent models, they also promise to remain the most hi-tech blenders on the market.
Vitamix Ascent A3300 vs Ascent A3500
It is not a puzzle to decide between Vitamix Ascent A3300 and A3500 models. They are identical machines, the only difference – the A3500 has 5 pre-set programs (Smoothies, Frozen Desserts, Soups, Spreads/ Dips, and Self-Cleaning) which A3300 does not have. And nothing else but these 5 programs make the A3300 about 15-20% cheaper than the A3500.
Since A3300 programmable timer, Bluetooth, and best app feature allow us to mimics all the A3500 pre-sets and even more, so the difference seems negligible. I personally never use these pre-set programs on my A3500 and never used it when I owned Vitamix 750 because they are not perfect and usually over-process or under-process most of the recipes.
So, if you just want the top of the line blender or keen to buy metal finish Vitamix (available only for A3500), then you should go for the A3500 machine. If you love all the new and futuristic features of the Ascent Vitamix line but wish to save $100-$150, then your obvious choice is the A3300 model.
Vitamix Learning Curve
Using Vitamix blender, particularly the premium one requires a learning curve, that means you have to follow the recipe book instructions closely for at least a few times before you will learn few Vitamix tricks such as ingredients proportion to use, extra ingredients you can replace, or add some completely new ones, ingredients you may drop without noticeable effect for the final result, or even invent your recipes. It is highly unlikely the first time you use the blender without the recipe instruction you will get something even near to the perfect result.
Using the Vitamix first time could be a frustrating experience especially if you are not a professional cook or had extensive experience with any other high-end blender and you may have a temptation to return it, exactly what I had when I had just bought my first Vitamix 5200 15 years ago.
Do you want to find out which Vitamix blender suits to you best? Go to our Vitamix Blender Guide article and reviews.