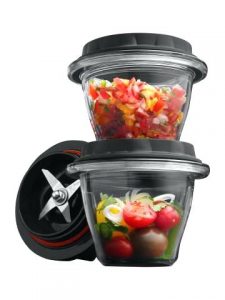 All Ascent Series Vitamix blenders (A2300, A2500, A3300, A3500, and Venturist) come with the 64 oz. Wet (4" blades) Self-Detect Low Profile Wide Bottom containers. Over the last 2-3 years, the Vitamix also released a range of additional containers for use with the Ascent Series blenders – 48 oz. Wet, 48 oz. Dry, 48 oz. Aer Disc, 20 oz. Single Serve Cups, and 8 oz. bowls.
The same to all Classic and Space Saving containers the Ascent jars are made from temperature resistant, shatterproof, and lightweight Titan BPA-free copolyester material produces by USA Eastman Company.
Unlike the Classic and Space Saving models, the Ascent models Self-Detect technology allows the Ascent blender base to recognize the type of container and automatically adjust blending programs and maximum running time depending on container type.
Warning 1. The Ascent Series Containers are not compatible with the Classic and Space Saving blenders (Explorian E310, Explorian 320, 5200, 5300, 6300, 6500, 7500, 780, Aspire Series, Creations Series, Professional Series 750, Total Nutrition Series, TurboBlend Series, S30, S50, S55).
Warning 2. The Vitamix Ascent Series 110-120 V self–detect 64 oz. Wet, 48 oz Wet, 48 oz Dry, 20 oz. Single Serve Cup and 8 oz. Bowl containers manufactured for USA/Canada/Mexico use are not compatible with the 220-240 Ascent Series blenders (since "lid is on" detection hardware applicable to 110-120 and not to 220-240 voltage system).
The range of additional containers is designed to expand the functionality of Vitamix Ascent blenders. Here, I will talk about the operational qualities of the additional jars and who and how they could benefit from purchasing them.
Vitamix Ascent Wet Containers – 64 oz. Wide Bottom and 48 oz. Narrow Bottom
The wet containers are designed to handle the following functions:
Blending smoothies including green and with ice, whole juices;
Ice Cream and frozen desserts making, including the ice crushing/shaving;
Whipping cream;
Mixing and emulsify salad dressing, mayonnaise, pesto, marinades, and other tasks;
Wet and dry chopping tasks;
Processing thick mixtures like nut butter, hummus, and others;
Heating food for soup preparing task, fondue, hot, chocolates and other;
Mixing batters for pancakes and others and kneading the dough for bread and pizza.
There are only two WET types of containers – 64 oz. and 48 oz. – currently manufactured for the Ascent series.
Vitamix Ascent Series Self-Detect 64 oz. Wet Wide Bottom Container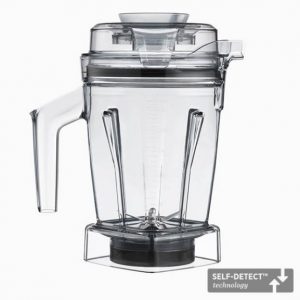 The 64 ounces Wet container has a wide bottom low profile shape and size of 10.2 x 9.6 x 7.4 inches. 
It comes with a clear plastic lid with 2 ounces capacity which performs the venting functions and if for adding extra ingredients when removed. The container is equipped with 4" blades permanently inbuilt into the container, so you do not need to remove them for cleaning.
The 64 ounces container has the following advantages and disadvantages.
Pros:
Process large batches of food in one cycle 4-7.5 cups;
Processing all recipes at a shorter time than 3 " blades containers;
Less use of tamper for thick recipes because wider blades create better vortex;
Good at chopping large up to 8 cups batches of food;
Cons:
Splashes a lot for volumes less than 4-6 cups;
Cannot blend liquids properly of less than 3-4 cups;
Requires a minimum of 4.5-6 cups volumes to process thick recipes for sauces, hummus, ice cream, and nut butter.
The container comes with 3 years full warranty if bought separately. When it comes to the blender it has the 10 years warranty as all blender parts.
It is good for big households that serve 4-7 people.
Vitamix Ascent Series Self-Detect 48 oz. Wet Narrow Bottom Container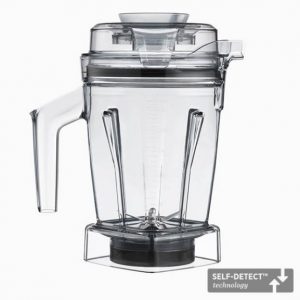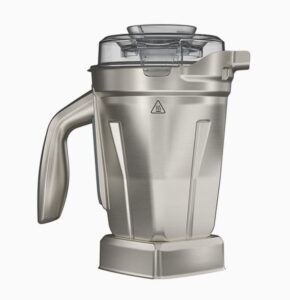 There are two types of 48 oz. Wet Blade Narrow Bottom containers are available now – made from Eastman Tritan Copolyester and the Stainless Steel. Both of them are equipped with the 3" blades inbuilt into the container permanently. It has a size of 6.5 x 8 x 10 inches and weighs only 2 lb. The containers come with a plastic clear vented lid and 2 ounces measuring cap, the cap can be removed during blending for adding extra ingredients.
The shape and purpose of the 48 oz. the narrow bottom container is identical to the 64 oz. wide bottom container but has a smaller capacity of a container and smaller blades.
The containers have the following pros and cons:
Pros:
Can efficiently process 1-6 cups of food;
Can make recipes minimum volumes of ¾ cups and suitable for preparing mayonnaise, pesto, salad dressing, marinades and other;
Scramble minimum 2 eggs;
Make thick recipes like ice cream, hummus, nut butter from minimum 3 cups;
Do not splash from 1-2 cups.
Cons:
Can handle a maximum for 1.5-2 cups to perform dry chopping functions, may require to run few cycles for chopping big batches.
It can handle a minimum of 1 cup of liquid ingredients, so the main purpose of this container is to serve 1-4 people households.  It will perfectly process small to medium batches of your favorite smoothies, soups, frozen desserts, and more. Its petite size allows fitting the blender with the 48 oz. the container under any kitchen cabinets.
Vitamix Ascent 48 oz. Narrow Bottom Container vs 64 oz. Wide Bottom Container
To process ingredients properly, the Vitamix jar blades must be covered completely with the food, otherwise, the blades will rotate freely without creating a vortex and splash the food around the jar walls. The 64 oz. wide bottom 4" blades container needs more ingredients to cover the blades than 48 oz. narrow bottom 3" blades containers.
The table below shows the minimum amount of different food types which Vitamix blender will efficiently process:
| | | |
| --- | --- | --- |
| | 64 oz. | 48 oz. |
| Liquid food | 4-7.5 cups | 1-5.5 cups |
| Thick ices cream, nut butter, hummus | 4.5 – 7.5 cups | 2-5 cups |
| Dough and batter | 4.5 -7 cups | 3-5 cups |
| Wapping cream | 1 cup | ½ cups |
| Dry chopping | Maximum 8 cups | Maximum 1.5-2 cups |
All Ascent Series blenders come originally only with the wide bottom 64 oz. containers that are not good at processing small batches of food. So, if you are disappointed with the Vitamix Ascent blending quality, need to process a small portion of food, or think that the 64 ounces container is too big for you than the 48 ounces container will resolve the problem. Unfortunately, the 64 ounces jar is just too big for most of the everyday blending routine while the 48 ounces container is just perfect for every task you need.
Check here today's best price for the Vitamix Ascent 48 oz. Self-Detect Container
Vitamix Ascent Series 48 oz. with SELF-DETECT Dry Grains Container
The 48 oz. narrow bottom Dry Grains Container blades have the different to wet blades shape and are designed to create an upward vortex during processing instead of the downward vortex created by the wet blades container.
The upward vortex prevents particles to fall, so they are disintegrated quicker and better because unlike the wet container are not packed around the blades and bottom of the jar pushed theirs by the downward vortex. For example, the wet container will process the nuts into the nut butter as a result of pushing disintegrated particles down while the dry container will powder them by pushing up. The upward vortex also does not heat the processed ingredients as much as the wet blades, so you will mill better quality grain flour in it.
As a result, the dry blades jar more efficiently than wet blades container perform the following functions:
Grinds coffee beans;
Mills grains, seeds, and nuts into flour;
Kneads bread and pizza dough and mix batter;
Grates dry cheeses, chocolates, and nuts.
Chops Veggies.
The same as the wet blades container can perform most of the dry container tasks, the dry blades jar is also able to do most of the wet container jobs but less efficiently. For example, the dry container can process smoothies but the result will be much chunkier than processed in the wet container, it will not process berries seeds and will not make smooth green smoothies.
The last point, the downward vortex not only packs dry ingredients down around the blades but it also scratches a lot the wet container bottom part. As a result, it not only will absorb different smells of processed food like garlic and onion but will wear out the container much quicker and make it look cloudy and at the bottom.
Overall, if you intend to make a lot of dry blends the dry container might be a good addition to your kitchen. It will not only make more efficiently the milling, grinding, and dough kneading job but guarantee to your wet container a longer service life.
Check here today's best price for the Vitamix Ascent Dry Grains Container
Vitamix Ascent 20 oz. Blending Cup
Vitamix Ascent 20 oz. Blending Cup is available in 2 packages:
Single-serve blender attachment which includes two (2) 20 oz. cups and blades assembly;
One (1) 20 oz. cup only.
Read here the full review about Vitamix Ascent Series 20 oz. Blending Cup Starter Kit.
Vitamix Ascent 8oz. Blending Bowl
Vitamix Ascent 8oz. Blending Bowls are designed for processing small portions of food and available in two packages:
Two (2) 8 oz. bowls with stackable storage lids and blades assembly;
Two (2) 8 oz. bowls only.
Read here in more detail about the Vitamix Ascent Blending Cup 8 oz. Starter Kit.
Vitamix 48 oz. Aer Disc Container
It is designed to perform the following functions:
Whipping;
Foaming and frothing;
Emulsifying;
Muddling;
Aquafaba
The container compatible with Ascent and Classic Vitamix models, read the full Vitamix 48 oz. Aer Disc Container review here.
Summary
The Vitamix blender is an investment itself, is it worth to pocket out more money to expand the functionality of your blender? It depends on your needs…
The Ascent series blenders are the most advanced Vitamix models, investing in Ascent machine you invest in the future because the manufacturer assures it will continue to expand high tech functionality of the Ascent series machines.
However, many customers complain about the blending quality of the Ascent series. The problem not in the blender itself but in the wide bottom container that is not as good in processing small batches of food as narrow bottom containers. The processing of small recipes dominates the average household's everyday routine. So, buying a narrow bottom of the 48 ounces wet container will considerably improve your Vitamix experience and it is a worthwhile investment almost for any owner of the Vitamix Ascent blender.
The dry container is not as universal as 48 oz. wet one. It is only worthwhile to buy if you are an avid cooker and baker and use your Vitamix often for milling, grinding and dough kneading tasks.
The single-serve 20 oz. cups and small 8 oz. bowls are very popular among the Vitamix customers, especially those who love the single-serve bullet-like blender which allows you to process your morning smoothies in the single-serve cup and take them on a go. If you buy one of the two Starter kits (8 oz. bowls or 20 oz. cups) it is worth adding the second one because the blades attachments are interchangeable and additional bowls and cups will cost you only an extra $30.
The Air Disc is not the most necessary container, but those who enjoy making cocktails and Aquafaba recipes will greatly be benefited from the container.