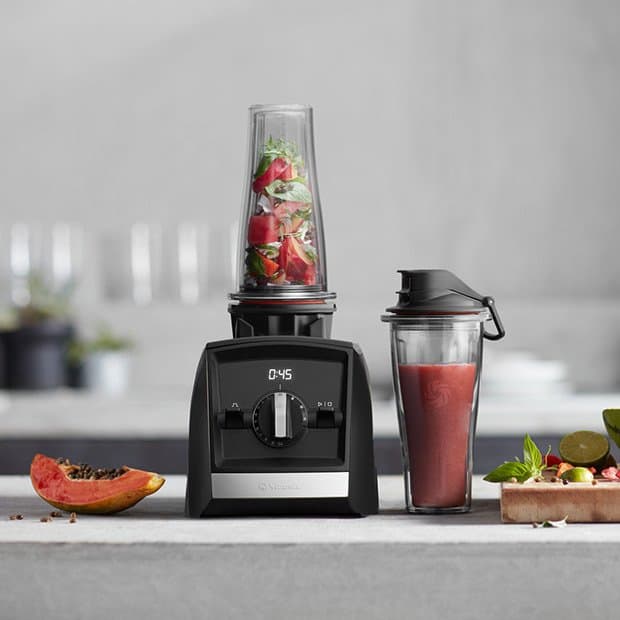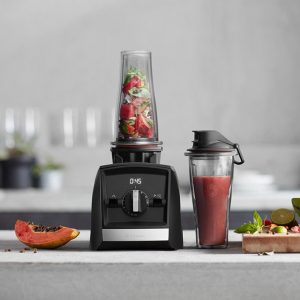 Many Vita­mix Ascent cus­tomers over the years enquired if the com­pa­ny can cre­ate a sin­gle-serve attach­ment for its full-size machines, the man­u­fac­tur­er has done this for the Ascent series blenders. Vita­mix released the 20 ounces Blend­ing Cup and 8 ounces Blend­ing Bowl Starter Kits. These attach­ments prob­a­bly are the most antic­i­pat­ed by the cus­tomers Vof ita­mix accessories.
The Vita­mix Ascent Series blenders - A2300, A2500, A3300, and A3500 — are equipped with the large 64 ounces wide bot­tom con­tain­er that is designed to process large batch­es of food, so these con­tain­ers not only per­form the func­tion of sin­gle-serve attach­ment but expand the Vita­mix func­tion­al­i­ty to pro­cess­ing small­er food volumes.
The sin­gles serve attach­ments are designed to per­form the fol­low­ing functions:
Makes Smooth­ies;
Chops purees;
Minces gar­lic and onion;
Mill spices;
Cre­ates small batch­es of sal­sa hum­mus, dips, and spreads;
Makes baby food;
Grinds cof­fee beans;
Chop cheese, nuts, and veggies;
Although the nut but­ter pro­cess­ing requires the use of a tam­per, it is still pos­si­ble to make even nut but­ter with 20 oz. Blend­ing Cup and 8 oz. Blend­ing Bowl Starter Kits.
Warn­ing 1. The 20 oz. Blend­ing Cup and 8 oz. Blend­ing Bowl Starter Kits are only com­pat­i­ble with Ascent Series blenders A2300, A2500, A3300, A3500 and Venturist.

Warn­ing 2. The 20 oz. Blend­ing Cup and 8 oz. Blend­ing Bowl Starter Kits that are avail­abe in US, CA, or MX (110120 volts) are not com­pat­i­ble with the 220–240 volts Ascent Series blenders man­u­fac­tured for Europe and Australia.
Dis­clo­sure: As an Ama­zon Asso­ciate, we may earn an affil­i­ate com­mis­sion for pur­chas­es you make when using the links on this page.
Vitamix Ascent Self-Detect Technology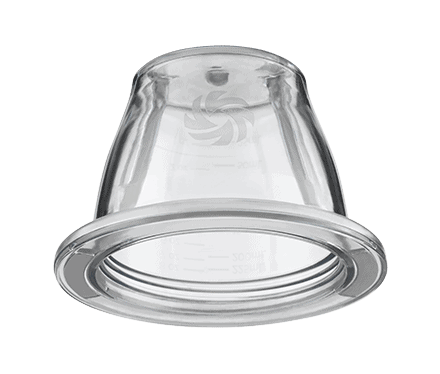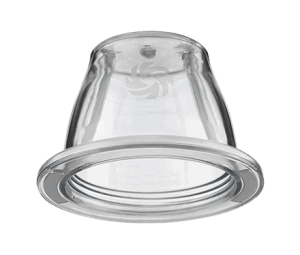 The Ascent Series 20 oz and 8 oz are the self-detect con­tain­ers, so the blender's base must rec­og­nize them before it starts oper­at­ing. The con­trol pan­el will dis­play a con­tain­er icon and Vari­able speed 1 when it is ready for use.
The blender will adjust the pre-sets (rel­e­vant for A2500 and A3500 only) and max­i­mum blend­ing time, which is iden­ti­cal for 20 oz. Cup and 8 oz. bowl despite the fact they are dif­fer­ent in size. The pre-set pro­grams are adjust­ed to be short­er com­pared to the 64 oz con­tain­er (ex. Smooth­ies pre-set will run only 38 sec. vs. 50 sec. for 64 oz. jar), and speed vari­a­tion also will be different.
The base also will know that these con­tain­ers are not vent­ed and will not blend the soup pro­grams. Both con­tain­ers are also set to 75 sec­onds max­i­mum blend­ing time in order not to allow the heat of the liq­uids inside; the gad­get will stop auto­mat­i­cal­ly after the max­i­mum run­ning time.
Warn­ing 3. You may require some effort to assem­ble prop­er­ly the cups and bowls before the blender will detect the con­tain­ers placed on the top of the base unit.

Tip 1: The Ascent blenders' base has the elec­tron­ic sen­sor that rec­og­nizes the self-

detect con­tain­er via the two small gray mag­net stripes on the con­tain­er lips. The out­er side of the cup/bowl lips has an arrow which when assem­bling should be aligned prop­er­ly with the arrow on the blades assem­bly. If the blender does not detect the bowl/cup that means you did not align the arrows prop­er­ly and should tight­en the blade assembly.

Tip 2: The Blender base may not detect your Bowl/Cup if the oth­er self-detect con­tain­er is locat­ed in the near prox­im­i­ty of the blender base, you have to remove your any oth­er self-detect con­tain­er fur­ther before blend­ing with the self-detect cup/bowls.
Vitamix Ascent Series The 20 oz. Blending Cup and 8 oz. Blending Bowl Starter Kits
The 20 oz. Blend­ing Cup Starter Kit includes:
Two (2) 20 oz. (600ml) containers;
Two (2) spill-proof lids with remov­able orange gaskets;
Blade assem­bly with remov­able orange gasket;
Start Here recipes booklet.
The 8 oz. Blend­ing Bowl Starter Kit includes:
Two (2) 8 oz. (236.6 ml) bowls;
Two (2) stor­age stack­able lids;
Blade assem­bly with remov­able orange gasket;
Start Here recipes booklet.
The con­tain­ers, lids, and blade base are all top-rack dish­wash­er-safe and very easy to clean.
All the Kit comes with 3 years full war­ran­ty that includes all parts, labor, and ship­ping both ways for service.
Vitamix Ascent 20 oz. Personal Blender Self-Detect Cup and Blade Assembly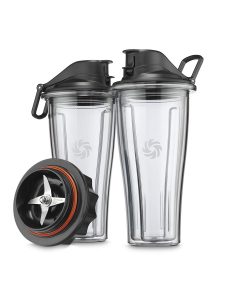 The cups are designed to be used with blade attach­ment as a bul­let-type blender, so you can process the small­er vol­ume of food or make your smooth­ies in a cup, then sim­ply attach the spill-proof lid and take it on the go.
The 20 oz sin­gle-serve cups are made from BPA-free East­man Tri­tan copoly­ester shat­ter­proof and tem­per­a­ture-resis­tant mate­r­i­al. In addi­tion, the cups have dou­ble walls, so they can keep the cold or hot liq­uids for a longer time. On the down­side, the cups do not have any mea­sure­ments on the wall.
The cups are equipped with polypropy­lene spill-proof lids that could be used for drink­ing direct­ly or with a straw. In addi­tion, the lids have a remov­able iso­la­tion gas­ket for easy clean­ing and san­i­ta­tion; just make sure to fix them flat to pro­tect the cup from leakage.
The cups have 4.5" x 4.8" x 9.8" (11.5 x 12 x 25 cm) dimen­sions and will fit eas­i­ly into the stan­dard car cup hold­ers and the fridge door. How­ev­er, they are quite heavy (1.2lb/545g) and hard­ly suit­able for kids to be used by kids.
Vitamix Ascent 8 oz. Self-Detect Blending Bowls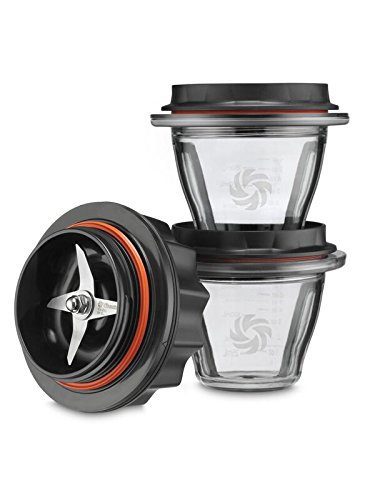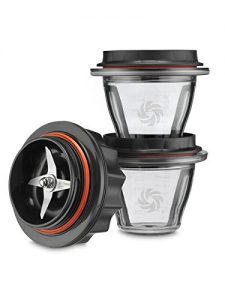 The bowls are designed for pro­cess­ing small batch­es of food and are very con­ve­nient for mak­ing sal­ad dress­ings, milling herbs, or mak­ing baby foods.
The 8 oz. bows, the same as any oth­er Vita­mix con­tain­er, are made from shat­ter­proof Tri­tan copoly­ester and very thick by design (weights 0.858 lbs) which allows us to use them for heavy tasks like grind­ing hard herbs. The bowls have clear mea­sure­ments in ounces and ml.
The bowls come with stack­able polypropy­lene lids with remov­able orange insu­la­tion gas­kets and could be used to store processed food in them. How­ev­er, the bowls are quite small (4.5 x 4.5 x 3.8 inch­es), and the stack­able lid will occu­py a lit­tle space in the fridge.
Vitamix Ascent Personal Blender and Bowls Blade Assembly
The blade assem­bly is made from very rigid and durable crys­talline plas­tic (Del­rin) that has prop­er­ties of both met­als and plas­tics. The Del­rin mate­r­i­al is FDA, NSF, and USDA cer­ti­fied to use for any food-grade appli­ca­tions. The 2.5" in diam­e­ter and 4‑prongs blades have the same design and are made from sim­i­lar to full-size blender jars hard­ened stain­less steel. The blade assem­bly is also equipped with a remov­able orange gas­ket to pro­tect the con­tain­er from leak­age dur­ing the blending.
Vitamix Ascent 20 oz and 8 oz Starter Kits Blade Assembly compatibility
The 20 oz and 8 oz con­tain­ers are avail­able in Starter Kits pack­ages that come with two cups/bowls and the Blade assem­bly and sep­a­rate­ly as the con­tain­ers pack­ages only (two 8 oz. bowls or one 20 oz. cup). The blade attach­ments that come with either Starter Kit pack­age are inter­change­able between cups and bowls.
Thus, you can buy either 20 oz or 8 oz to save mon­ey. Starter Kits cost $129.95 and $99.95, respec­tive­ly, and the set of two 8 oz. bowls ($29.95) or sin­gle-serve cup ($29.95) with­out blade base.
The Starter Kit blade assem­bly is not sold sep­a­rate­ly with­out cups/bowls, but you can buy them direct­ly from the Vita­mix web­site if you con­tact cus­tomer ser­vice and ask them only blade set.
Warn­ing 4. The Ascent Series blend­ing cups and are Vita­mix Space Sav­ing Blenders 20 oz. con­tain­ers look sim­i­lar but they are not com­pat­i­ble. They have dif­fer­ent cup lips and dif­fer­ent con­tain­er detect­ing system.
Summary
The Vita­mix Blend­ing Starter Kits are as pri­cy as any oth­er Vita­mix prod­ucts but very durable, well-designed, and func­tion­al addi­tion to your Vita­mix blender. These cups and bowls pro­vide addi­tion­al flex­i­bil­i­ty to the main con­tain­er, which is too big for many func­tions. The cups and bowls are good for mak­ing sin­gle-serve por­tions of smooth­ies, sal­ad dress­ings, dips, baby food, and a vari­ety of oth­er small-batch recipes. The 8oz Bowl Starter Kit also will replace var­i­ous mini appli­ances like herb and cof­fee grinders, mini food processors/choppers, baby food mak­ers, etc.