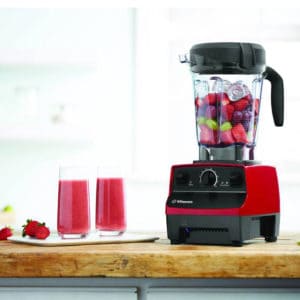 Vitamix 5300 is the fusion model of Classic Vitamix 5200 and 7500 and has a low profile container with a bigger 4-inch blade, a 2.2 HP motor, and a pulse function. Even though it belongs to the Vitamix Classic C-series product line, its technical parameters are close to the 7500 model. But what is important is that this machine is available at a discounted price with some retailers and the Vitamix 5300 Certified Reconditioned model is one of the cheapest refurbished Vitamix blenders. The customers who mind their budget but are thinking about Vitamix may find that the 5300 is a very reasonable option to buy.
Are you interested in alternative Vitamix Blender Option? Check our articles:
Functionality and Versatility
Smoothie: The Vitamix 5300 pulverizes everything you put in the container into the best quality drink. It will make a silky smooth smoothie from any tough or green vegetable, and even tiny seeds from raspberries, strawberries, or blueberries will be processed into a homogeneous mixture.
Ice Crushing and Frozen Desserts: This blender handles ice cubes and any frozen ingredients with or without any liquid added. It is able to crush ice for frozen desserts and make ice cream or snow cones without much effort. You will usually need to use a tamper (comes with blender) for making ice cream or a frozen dessert.
Pureeing: The Vitamix 5300 will make a perfect puree even without any liquid added from the toughest vegetables or meat in 1-2 minutes. Since this model comes with a wide bottom low profile container, you will have to fill the container with a minimum of 2-3 cups of ingredients for processing.
Soup/ hot ingredients: This blender will handle not only frozen but also hot ingredients. It will heat the liquid from a frozen condition to a boiling temperature within 6 minutes. This machine does not have any heating element, but the high-speed blade will heat the food inside the container from friction. So, it can make a number of delicious soup recipes. Since the blender is ready for processing of hot ingredients, it also could be used for making bullet-proof coffee.
Chopping/food prep: It will chop or mince any fruit and vegetables with little or no effort. The machine control panel is equipped with a pulsing function and 10 variable speeds that are more than enough for any chopping job and for making delicious dips, spreads, and dressings.
Nut milk: The blender will pulverize any nut into condition so that you can make nut milk with it after straining it through a milk bag.
Nut butter: The blender will make silky smooth nut butter within 2-3 minutes with the help of the tamper, which pushes the ingredients down into the vortex. The only problem is that the low profile container that the 5300 model comes with will not handle small batches of food. To make nut butter, you have to use at least 4 cups of nuts for processing. If you intend to make small portions of nut butter often, then you may benefit from buying a smaller 32 oz. wet blade container.
Dough/batter: It is able to make cookie batter or knead all types of dough even with the wet blade container, but you may be better off buying the dry blade container if you are going to regularly use this machine for making the dough.
Grinding/milling: This blender will mill an excellent quality flour from the wheat berry, tough ingredients like rice, or tiny seeds like quinoa, amaranth, and poppy seeds. It is also able to make flawless powder from coffee beans or various herbs.
There are some customers, especially those who used the Vitamix 5200, complain that the 5300 model may leave chunky pieces of some ingredients after blending. It is usually enough to add more ingredients or liquid to the jar to solve the problem because the Vitamix 5300 model comes with the wider bottom low profile container and it is designed to process medium to large batches of food. If you intend to use this machine for processing small batches of food, then you may need to buy the 32 oz. wet blade container. In fact, this model does not blend any worse than the 5200 machines but is just designed for the bigger volume of food to be processed. There is also a learning curve necessary to get used to the new design container and experiment on how to use it most efficiently.
Speed Settings and Programs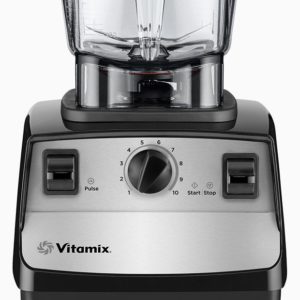 The Vitamix 5300 control panel is equipped with a 10 variable speed dial knob in the center and two switches: the left one is the pulse switch (a new feature for the C-series product line) and the right one is the start/stop switch that starts or stops blending when you press it. The 10 easily adjusted variable speeds and pulse function offers a lot of flexibility to a user and allows you to prepare an array of recipes and achieve a variety of textures. The selection of low speeds allows you to make chopping and pureeing easy. For coarse chopping, you have to use the pulsing function.
Ease of Using and Cleaning
Operating: This blender has the blade inbuilt into the container, and that makes this machine very easy to use. It does not require much effort to set up for running; you just fill it with ingredients, place the jar on top of the unit base and it is ready to use. It does not have any locking mechanism, but it sits very safely and securely. With a clever two-part lid-plug design, you can add extra ingredients any time during the blending process without stopping your blender.
Cleaning: Cleaning is also a very easy process that does not require any disassembling. Sometimes it is enough to rinse with warm or hot water after use. For the self-cleaning procedure – fill the jar with half the volume of water, add a few drops of liquid detergent and run for 30-45 seconds. Remember, do not leave food in the container to dry, otherwise, you may need a dish brush to clean or apply a longer self-cleaning cycle. The Vitamix jar is not dishwasher safe, but that is not a problem because what can be easier than self-cleaning?
Base Unit and Motor Power
Vitamix equips its blenders with premium quality, durable motors that are likely to serve many years to come, and it is not unusual when a Vitamix base unit is still in good working condition after 30 years of use.
The Vitamix 5300 blender comes with an upgraded 2.2 HP (1640 watts) at peak motor with an effective power of approximately 1380 watts (120V X 11.5A). It is constructed with ball bearing technology that is known for high efficiency, durability, and low load on the system, so it outperforms many other blenders with significantly higher wattage. To protect the machine from overloading, it is also equipped with a radial cooling fan that cools the machine during operation at high speed and an automatic shut-off system that stops the gadget when it is overheated. If the shut-off system deploys, then you will be able to use it again within 45 minutes.
The Vitamix 5300 model has the standard Classic models (similar to Vitamix 5200 model) interior housing, despite the fact that it comes with a former G-series 2.2HP motor. This base unit is quite heavy and is equipped with a vibration dampening system that makes this blender stable during operation. It does not move over the counter as many other blenders do. This model is also equipped with an on/off switch at the front bottom of the base unit, and with this switch, you do not need to unplug your machine when it is not in use.
Containers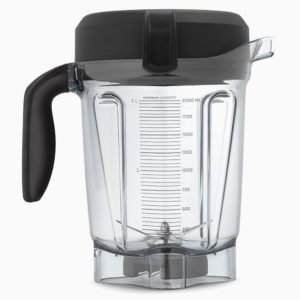 This blender comes with a low profile, the wider bottom 64 oz. container which is an upgraded design for the C-series machines. All 5300 model containers are made of premium, Eastman Tritan copolyester material (the type of polycarbonate) that is stress and temperature resistant, looks like glass, and is almost impossible to break and is very durable. Ounces, milliliters, and cups are clearly marked on the containers for easy measuring when you add ingredients. The Vitamix does not manufacture blenders with glass containers. However, as a result of numerous requests from customers, it was released in July 2020 a new 48 oz. stainless steel container that is compatible with all full-size Vitamix models.
Vitamix 5300 blender comes with a high-quality, flexible rubber lid that is very easy to close and open. The lid has two latches on the sides that hold it securely in place. It is unlikely that it will go off during the blending process and there is no need to hold the lid or monitor while the blender is operating. The lid is also equipped with a removable plug for adding extra ingredients while blending.
The 64-ounce container size is designed to blend medium to large batches of food that are equal to at least 2 cups or more. For easy processing, the ingredients should cover the blade for creating the necessary blending vortex. So if you intend to process a small amount of food often, then you may benefit from buying an extra 48 oz., 32 oz. wet-blade container or a high profile 64 oz. container.
Blades
The 5300 model has a non-removable blade built into the container. The blade is 4-pronged and 4-inches in diameter and is specifically designed for a wide bottom, low profile container (all high profile containers of the Classic models have a 3-inch blade). It is made of high-quality, aircraft-grade hardened stainless steel and is dulled by design so that it will not have a problem of dulling over time and is safe to touch when cleaning.
This blender comes with the wet type blade ( you can buy the dry blade separately) that is intended to process liquid ingredients but also does a very good milling and grinding job, and the same wet blade is also able to knead the dough. However, if you regularly use the wet blade for milling/grinding and dough kneading, it may overload the motor and scratch the container. In this instance, it may be worth it to spend the extra money and buy the 32 oz. dry blade pitcher that is available through many retailers.
Special Features
Colors: This blender comes in two colors only – black and red.
Tamper: Vitamix 5300 comes with the 11-inch long tamper that can be used only with the 64 oz. low profile container. It is not suitable for 32. oz., 48 oz. or 64 oz. high profile containers.
Certified Refurbished: There are reconditioned/refurbished blenders available for this model, and they come with a new pitcher, blade, tamper, lid, and plug, while the motor usually comes from the returned unit (one that did not necessarily have a fault). Anyway, Vitamix certified refurbished machines have a very good reputation and are covered with a 5 year, FULL warranty and is likely to serve as long as an original model. Moreover, they are very reasonably priced and at some retailers, they are priced less than a standard Vitamix 5200 reconditioned machine.
Use in countries outside of USA/Canada: The blenders sold in the USA come with a standard USA/Canada plug, not a dual voltage plug. The units bought through European retailers come with a 220-210 volt system. It is possible to use this machine with the voltage adapter in other countries, but in this case, it is not covered by the warranty.
Noise
The Vitamix is a powerful blender, and it is quite noisy but probably quieter than most of the other powerful blenders. The model 5300 outputs noise of about 80 decibels, and that is slightly less than the standard Vitamix 5200 but louder than the G-series, quieter, models. For a better idea, the output of 87-95 decibels could be compared with noise coming from traffic when you hear it from inside your car. However, you can always use a silicone pad holder underneath of your blender to dissipate the sound coming from it.
Warranty and Customer Service
The Vitamix 5300 blender comes with the standard Vitamix 7-year FULL warranty and certified refurbished model with a 5-year FULL warranty that covers all repairs, replacements and provides free shipment. The Vitamix warranty and customer service, without a doubt, is the best in the industry and the manufacturer will replace any parts and repair any issues with no questions asked. Besides, the Vitamix warranty is transferable (it covers even second-hand machines) and you can register it online or via phone with the serial number provided on the unit base of the machine.
This blender also comes with a 30-day money-back guarantee. If you change your mind, you will be able to return it with the free shipping provided.
Optional Accessories and Attachments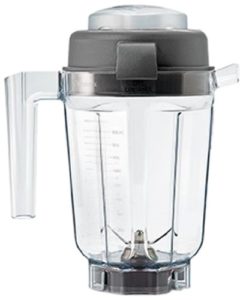 There are few additional accessories available for this blender model.
48 oz. stainless steel container that could not only serve as an additional narrow bottom jug for processing small recipes but also has outstanding durability that will last as long legendary Vitamix motors last.
32 oz., 48 oz. wet blade containers: This blender comes with a low profile pitcher that is designed for processing at least 2 cups of ingredients, so the smaller size container may be an option for households that are likely to process small batches of ingredients. If you are an avid cook and are going to use the blender for making nut butter, salsa, salad dressing or you need to process baby food that is usually made in smaller volumes, than these containers are also the option you may want to consider.
32 oz. dry blade container: The 32 oz. dry blade container is the choice for baking enthusiasts who intend to mill a lot of grain and knead a lot of dough.
Personal Cup Adapter: The single-serve blender attachment that is compatible wit Vitamix Classic models. 
Spatulas: There is also a set of 3 spatulas available to use with Vitamix, and these spatulas are designed with a narrow head and are useful for pulling out stubborn ingredients such as nut butter or spreads.
Set Includes
Vitamix 5300 comes with
a 2.2 HP motor base;
a 64 oz. low profile container;
Rubber lid with a plug;
11 inches custom-made tamper;
a Getting Started Plus book that includes 70 recipes.
This model package does not include the standard Vitamix fancy cookbook and instructional DVD. However, you can always check the manufacturer's website for an excellent recipe resource.
Vitamix 5300 Blender, via Amazon
Dimensions
The 5300 model with the low profile pitcher and lid on the top of the base unit is only 17.25 with a footprint of 8.75 inches x 7.25 inches. The base unit is quite massive and with a weight of about 11 lbs this machine is very stable during operation.
The blender is also equipped with a long 2 ft. a power cord that can be stored neatly underneath the base unit and the flexible plastic cable retainers tightly hold the unused part of the cord and return it to the position after usage.
Pros and Cons
Pros:
As are all Vitamix blenders, this machine is versatile, well made, and durable. It produces an impeccable quality of blending;
The 5300 blender comes with such new for C-series product line features as upgraded 2.2 motor, a pulse function, and a low profile container;
With the new low profile jar, this blender is likely to fit under most kitchen cabinets;
This machine is one of the most affordable Vitamix models, with selected retailers.
Cons:
It is designed for processing medium to large batches of food, and you may need to buy an additional smaller container if you intend to process smaller volumes of ingredients.
Unlike all other Classic models, the blender comes with no separate Cookbook and instructional DVD. But the package includes the Getting Started Guide with 70 recipes and you can also check out the great Vitamix website recipes resource.
Vitamix 5300 Blender Consumer Reviews
Although this is a fairly new model on the market, there are already around 350 consumer reviews on Amazon for this blender combining all color and reconditioned models. It has a high 4.7 rating with Amazon, Walmart, and Costco consumers, and this is not surprising as it is produced by a well-known and trustworthy manufacturer.
Vitamix 5300 Blender Price
Amazon has a fantastic offer for this particular model and underbids many other retailers and the manufacturer's price. And if you decide to go for the Vitamix 5300 reconditioned model that is often available at a discounted price.
Vitamix 5300 Blender, via Amazon
Vitamix 5300 Blender (Certified Reconditioned), via Vitamix
Summary
The Vitamix has manufactured an expensive but excellent industrial-quality blender for many years, and their machines have a genuine reputation of being one of the best on the market. They are of high quality, durable, and are made in the USA. This 5300 combines the best features of the flagship 5200 and the 7500 machines. Although it is not the latest Vitamix model it is still very popular because along with Vitamix Explorian blenders E320 and E310, the 5300 model remains one of the most affordable versions of the Vitamix that will make a great option for customers who are looking for a bargain Vitamix blender.
Will you be interested in alternative Vitamix Blender Option? Check our articles: