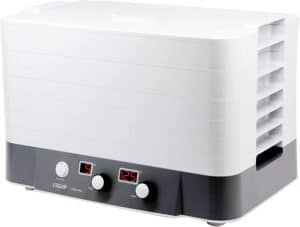 L'Equip Filter Pro Digital Food Dehydrator is a modern dehydrator manufactured by L' Equip Company. This dehydrator company is located in South Korea but exports its dehydrators and other kitchen appliances to Europe, Australia, Asia, Canada, and the USA. The dehydrator model is among many dehydrators found in the market that will help you make your dried food at home. You will enjoy preservative-free dried food and save money that you would have used to purchase preserved food. With this kitchen appliance, you will dry your apples, grapes, apricots, peppers, beef, herbs, and vegetables at the comfort of your kitchen. Some of the features that you will find in this dehydrator model include a thermostat, timer, LED temperature and time display, filtration system, stackable trays and, a digital heat sensor. These and other features are among the major ideas that we shall discuss in detail.
Technology Horizontal and Design
The entire body of the L'Equip Filter Pro Digital Food Dehydrator is made of strong and safe ABC plastic. Generally, it has a modern design and can fit in any of the modern kitchens.
Vertical Design: This model has a vertical airflow design with the fan mounted at the central part of the base. The fan directs the warm air from the bottom towards the upper end through the vented tube that is located in the center of the unit. As the heat travels to the top of the model's unit, it is distributed to the trays via the holes in the tube.
The L'equip FilterPro dries food moderately well but not as efficiently as the dehydrators that have a horizontal heat distribution.
Stackable Trays: Notably, this dehydrator brand has an expandable design. It comes with 6 trays however, the number of the trays can be increased up to fifteen (15), questionable, and will be clarified/discussed later. So, this allows users to dehydrate a small or large volume of food. Such and other features make it essential for people who might have limited time but need to dry a large amount of food.
 Filtration system: This dehydrators base is equipped with an air filtration system. This inbuilt air filter prevents contaminants that might be in the inflowing air from gaining entry into your food. By eliminating foreign particles like dirt, dust, and other impurities, the user is certain that the dehydrated food is hygienic.
Power and Wattage
L'Equip Filter Pro Digital Food Dehydrator has 530-watt, 120V, 4.5 amps 60 Hz motor that is an average power dehydrating system. This is an energy-efficient device that will not cost you a lot even when it is operated for 12 and longer hours.
It is also worth noting that motor and fan performance can be affected by the number of trays added and the amount of food on the trays.
L'Equip Filter Pro Trays
Understanding the number of trays, their size, and the capacity of food that can be dehydrated is essential, as it will enable you to make a wise choice when purchasing this dehydrator.
This dehydrator model comes with rectangular with 17″ x 11″ size trays, which are made from a BPA free material to guarantee the health safety of your food. Each tray provides a drying space of 1.2 square feet. On purchase, the dehydrator comes with six (6) trays, although the model has a stackable tray design. Therefore, you can add other trays up to fifteen trays depending on your food dehydrating needs.
Out of the six trays that this model comes with, four (4) are standardized trays, which are 1"/25 mm deep for drying smaller foods like banana chips, jerky, and fruit leathers. The other two trays are 1.6"/40 mm deep, specifically for larger food items like yogurt making containers, casseroles, plated meals, and Bolognese. Different depth of the dehydrator's trays makes it more versatile. Besides, six meshed tray inserts accompany the dehydrator model, which is vital in preventing some small food materials from falling through trays' holes. There are also two fruit leather sheets and four separate yogurt cups. All these useful accessories are used according to the type of food one is dehydrating.
Despite the fact, that the rectangular L'Equip dehydrator shape seems a great idea because it provides more drying space on both sides of the venting tube, in this particular model it has some serious issues. (1) Most of the food types located in the corners are not evenly dried, thus (2) realistically this dehydrator efficiently dries only assembled with eight (8) trays, since the temperature in each additional tray drops with 2F degree comparing to the lower tray.
However, it should be admitted that the dehydrator does its job well when it assembled with 6 trays and the corners of the trays are not filled with dehydrating food.
Control Panel
Particularly, the E'equip FilterPro dehydrator model has an intuitive digital interface that enables quick access to timer and temperature control. Its base equipped with an ON/Off switch, digital LED time dial and display, digital LED temperature dial and display, the two dials are smooth-turning, and the LED display indicates not only the time and temperature the user set initially but also their current monitoring current readings.
The temperature in the dehydrator ranges from 35-70ᵒC / 95-158ᵒF. This range allows the user to dry a wide variety of food. That means you can dry your nuts, meat, vegetable spices, and fruits with a stable hot environment. In the temperature control system, there is a microprocessor that controls the heat sensor 60 times per second to stabilize the model's dehydrating environment.
The presence of a thermostat and a timer works together to minimize your need for supervision. For instance, the timer ranges from 1 to 24 hours and will automatically switch off the unit after a set amount of time. The 24-hour automatic shutoff function enables you to set the appropriate dehydrating time for a particular type of food. In case you do not set the time that the dehydrator will run, it will continuously run till you shut it off.
The time taken by a certain type of food to dry in this dehydrator is illustrated in the device's users' manual, which accompanies it. For example, the average time taken by apple is (4-8 hours), banana (6-8 hours), coconut (12-16 hours), plums (8-16 hours) garlic (3-5 hours), and ginger (1-3 hour). Dehydration of meats and fish using this device will take 6-12 hours if you would like to test the dryness of the meats and fish, you need to check the color. Dried meats darken and with no moisture content.
Food Preparation for Dehydrating
Different food required different preparation for drying, for example, by chopping, slicing, or peeling, especially fruits. If you decide to slice the food, ensure the food parts have a uniform thickness, and this will encourage even dehydration. For fruit preparation, you are to slice them across the core and make some flat thin cuts. Some smaller fruits, such as berries, should be cut into two halves. When one needs to prepare the vegetables with stalks such as asparagus, one should cut them in half lengthwise. Note that you can dry different types of food using the recipes provided in the users' manual. Moreover, you should also consider the types of food that requires steaming and dipping before drying.
Using and Cleaning
Using the L'Equip FilterPro dehydrator is quite easy, but it requires the user to follow all the guidelines provided in the users' manual. Most importantly, you must first be able to know how to operate a dehydrator before understanding how to dry various types of food. First of all, you are to place your dehydrator on a dry, stable, and flat surface. Do not place it on a carpeted floor. Carefully nest the drying trays which you require and place the top cover on the unit. To ensure there is proper airflow around the dehydrator, ensure there a minimum space of one inch around it.
Afterward, place the food in drying trays taking care not to cover the center hole found in the trays. Put the air filter in place at the back of the base in the bottom slot. Turn the switch on the base front to the "ON" position, select the required temperature, and set auto shut-off timer, if needed. The L'equip FilterPro dehydrator unit requires periodic tray rotation, especially when using many trays.
Food that requires frequent tray rotation should be inspected throughout the drying process. The rotation can be done by interchanging the trays by placing the leading tray at the bottom and the bottommost one at the uppermost parts. The other trays should also follow suit according to their position during the entire process. Although you can check the dehydration process by opening up the tray lids, one cannot visually check the entire process.
Cleaning: Besides, the parts of the dehydrator are easy to clean. However, the tray should not go into the dishwasher as they can warp. Instead, you have to clean trays and filter manually with a brush, soap, and running water.
Dimensions
It's quite and the size/shape fits great in my smallish kitchen. Size: 17.32 * 12.2 * 12.6 in, Cord Length: 35.43 in, Weight: 12.5lb, Built-in cord storage
Noise
This device has a quiet fan, it will not exceed mot than 58 dBs
Warranty
L'Equip Filter Pro Digital Dehydrator comes with a 10-year warranty on base and motor, and 1-year on trays & accessories.
 Pros and Cons
Pros:
Continuous digital control of dehydrating temperature;
Automatic shut-off timer;
The removable filter ensures hygienic dehydrating;
Expandable trays allow for small and large food dehydrating;
Compact size and modern look;
Energy-saving design;
Cons:
The corners of the trays do not dry evenly;
Most of the food require tray rotation;
It dries properly only when used with 8-12 trays at maximum;
Temperature for each additional tray drops by 2F degree.
Price
L'Equip Filter Pro Digital Dehydrator is a mid-range dehydrator and it comes at a very reasonable price considering its capacity and computerized control panel
L'Equip Filter Pro Digital Dehydrator, via Amazon
Set includes
Base unit with the controls
Includes 6 drying trays (two extra deep),
6 mesh screens,
2 fruit leather trays,
4 yogurt cups
User manual with recipes
Summary
In conclusion, this L'Equip Filter Pro Digital Dehydrator can be an essential kitchen appliance due to its features, which can help you during your entire dehydrating process. If you have to dry a large volume of food within a short time, this device will enable you to achieve this since it has stackable trays. There are also other alternative accessories like the fruit leather sheets, which enhance dehydrating. On the other hand, the material making up this kitchen device is BPA free, and this ensures that your health is a priority. A 10-year warranty given by the manufacturer encourages the customers of this product. Since the dehydrator model has a thermostat and a timer, the user can regulate the temperature and the time taken by a specific type of food to dehydrate. Ease of use is also a factor that enables many people to operate the dehydrator without issues. Moreover, this kitchen appliance is energy efficient, and therefore it is fit for most household kitchens. Due to these and other features, one can consider the L'equip FilterPro digital dehydrator during purchase.