Food Dehy­dra­tor vs. Air Fry­er: Pur­chas­ing the appro­pri­ate kitchen appli­ance can be chal­leng­ing. In this post, I will explain the dif­fer­ences between an air fry­er and a food dehy­dra­tor, as the search for the right one can feel overwhelming.
Whether you're prepar­ing a meal for your fam­i­ly or whip­ping up a deli­cious snack, you'll feel con­fi­dent that you've made the best selec­tion possible.
Read More: L'EQUIP Fil­ter­Pro 6 Tray Food Dehy­dra­tor Review
What is an air fryer?
Air fry­ers use hot air for cook­ing food at a high tem­per­a­ture with­out oil. Typ­i­cal­ly, the appli­ance's heat source is a fan that blows heat­ed air through a met­al basket.
Due to the absence of oil, air fry­ers are ide­al for cook­ing veg­eta­bles and meats like chick­en wings. Addi­tion­al­ly, they are ide­al for bak­ing bread and cook­ies because the dry heat makes them crisp with­out burn­ing the exte­ri­or. An air fry­er is a ver­sa­tile appli­ance that can often be used for pur­pos­es oth­er than air frying.
What is a dehydrator?
A dehy­dra­tor is a device used to dry fruits and veg­eta­bles. Uti­liz­ing heat to evap­o­rate the food's mois­ture con­tent, leav­ing behind dried fruits and vegetables.
The process takes less than thir­ty min­utes for the major­i­ty of foods, mak­ing it ide­al if you want to always have healthy snacks on hand. Raw food­ists fre­quent­ly favor food dehydrators.
What Can You Cook in an Air Fryer?
An air fry­er makes short work of fry­ing a vari­ety of foods with­out oil, so you don't have to wor­ry about grease splat­ter­ing through­out your home. You can cook foods such as chick­en wings, fish sticks, french fries, onion rings, and veg­eta­bles with­out hav­ing to stand over the stove.
It also includes a timer func­tion to pre­vent acci­den­tal burn­ing. Even most frozen foods can be cooked in an air fry­er. The list of foods that can be cooked in this small appli­ance is exhaus­tive. You can even pre­pare healthy snacks such as apple slices in the air fryer.
What Can You Cook in a Dehydrator?
The most obvi­ous answer is dried fruit, but you can also make deli­cious beef jerky, bread, crack­ers, chips, gra­nola bars, piz­za crust, dehy­drat­ed snacks, and banana chips, among many oth­er things. Cin­na­mon sug­ar-coat­ed dehy­drat­ed apple slices are one of my per­son­al favorites. A dehy­dra­tor is an excel­lent method for prepar­ing food sur­plus­es for sur­vival packs.
The Similarities Of Food Dehydrator vs. Air Fryer
Before delv­ing into the dif­fer­ences between dehy­dra­tors and air fry­ers, I would like to high­light the sim­i­lar­i­ties between the two cook­ing machines.
Heat And Fan Systems
Both dehy­dra­tors and air fry­ers have heat and fan capa­bil­i­ties. Togeth­er, these ele­ments gen­er­ate a hot air­flow sur­round­ing the food stor­age area.
Oil-Free Food Outcome
Dehy­dra­tors and air fry­ers are capa­ble of cook­ing food with­out the use of cook­ing oil. Con­se­quent­ly, food qual­i­ty is always nutritious.
Timers
Dehy­dra­tors and air fry­ers always include an adjustable timer. It assists in con­fig­ur­ing cook­ing modes and dura­tions suit­able for each indi­vid­ual food.
Safety And Convenience
These air fry­ers and dehy­dra­tors have com­pact designs to pre­vent clean­ing dif­fi­cul­ties and acci­den­tal fires.
Limitations of Air fryers
Regard­ing cook­ing, an air fry­er has a few restric­tions. If you have a very large fam­i­ly, even the largest air fry­ers might be unable to accom­mo­date every­one. Air fry­ers are opti­mal for fam­i­lies of four or few­er. Air fry­ers rely on hot air cir­cu­la­tion to cook the food, so if you over­crowd the bas­ket, the inte­ri­or food will not cook and crisp appro­pri­ate­ly. The size of your air fry­er will depend sig­nif­i­cant­ly on how many peo­ple you intend to cook for.
Limitations of Dehydrators
Size is the most obvi­ous lim­i­ta­tion of a food dehy­dra­tor. If you want to make a large quan­ti­ty of some­thing like jerky, you will need a larg­er machine because it requires a lot of space. If you intend to make only small quan­ti­ties of snacks, how­ev­er, a small­er mod­el will suf­fice. Con­sid­er your stor­age space before pur­chas­ing a dehydrator.
Anoth­er lim­i­ta­tion is that they typ­i­cal­ly do not include recipes. There­fore, you will need to find a recipe online or adopt one from a dif­fer­ent type of appli­ance. Dehy­dra­tors are also sin­gle-method cook­ing appli­ances. Con­se­quent­ly, you will only be able to uti­lize a dehy­dra­tor to dehy­drate food.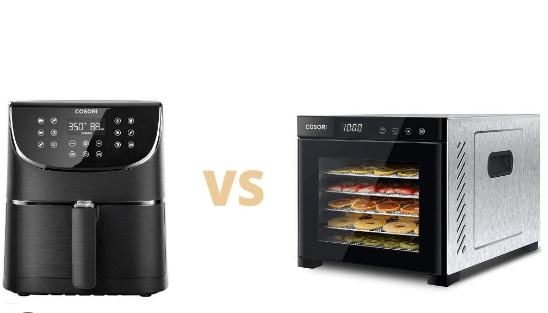 Pros And Cons Of Dehydrator
Pros
The use of a dehy­dra­tor reduces the amount of time spent cook­ing at home.
The machine will solve the prob­lem of food waste when it can­not be con­sumed all at once.
The dehy­dra­tor has the abil­i­ty to increase sug­ar lev­els so that it can sweet­en your fruits.
Cons
Vit­a­mins C and A may be dimin­ished by dehydration.
Some mod­els are incom­pat­i­ble with high-fat foods, such as beef jerky.
The weight and appear­ance of the food will change as a result of the dehy­dra­tion process.
Pros And Cons Of An Air Fryer
Are there advan­tages and dis­ad­van­tages to using an air fry­er? Keep your focus on this post to dis­cov­er the answer.
Pros
It can reduce the amount of fat in your dai­ly meals by more than 70 percent.
The machine will assist in defrost­ing food dur­ing the cook­ing process.
It pre­vents burn acci­dents caused by hot cook­ing oil.
Because food is cooked in an air fry­er's enclosed space, your home will not acquire an odor of cook­ing oil.
The air fry­er's design is com­pact and suit­able for stu­dio apartments.
It is ver­sa­tile and can be used to bake, steam, roast, and grill.
The use of an air fry­er does not require a chef's expertise.
Cons
Despite healthy food pro­duc­tion, some eaters find the fla­vor of the food to be unappealing.
A sin­gle-air dry­er is inef­fi­cient for fam­i­lies with mul­ti­ple members.
Due to the high-speed fan, the fry­er will make a loud noise while cooking.
This dif­fi­cul­ty com­pli­cates the clean­ing process.
High elec­tric con­sump­tion: the greater the capac­i­ty, the greater the amount of elec­tric­i­ty used.