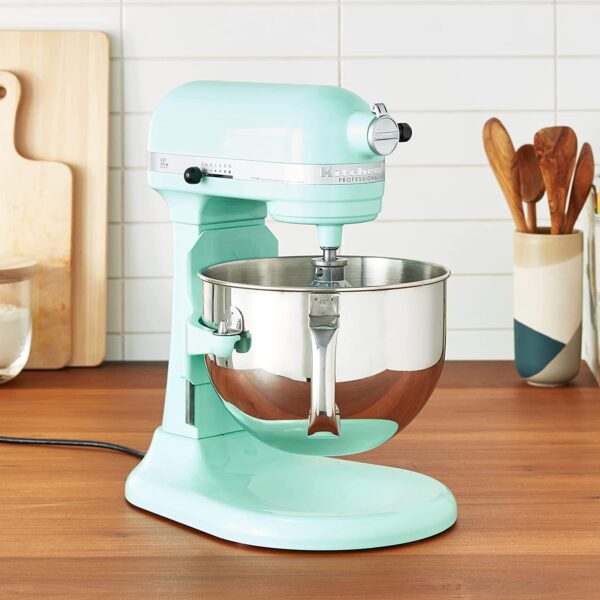 Pro­fes­sion­al 600 Series Bowl: KitchenAid is known as one of the top kitchen appli­ance mak­ers. It has also man­u­fac­tured qual­i­ty Stand Mix­ers for years and is now the pre­mier stand mix­er brand.
Cur­rent­ly, KitchenAid boasts sev­er­al mix­er mod­els that come in var­i­ous col­ors with spec­i­fi­ca­tions unique to the buy­er's needs and pref­er­ences. One of KitchenAid's mod­els is the KitchenAid Pro­fes­sion­al 600 Series 6‑Quart Stand Mix­er, a semi-pro­fes­sion­al qual­i­ty mix­er for home use with main­ly good cus­tomer reviews.
Read our arti­cle to find out if these reviews are reli­able, and KitchenAid Pro­fes­sion­al 600 Series 6‑Quart Stand Mix­er is one of the best machines in its category.
Mixing Bowl Capacity
The KitchenAid Pro­fes­sion­al Series Stand Mix­er comes with a 6 quart/24 cups Mix­ing Bowl. It is made from pol­ished stain­less steel out­side and a coarse inside with a few met­al residues com­ing off when it is new. So you must wash them thor­ough­ly before using them; oth­er­wise, all these residues will go straight into your food. The mix­ing bowl also fea­tures a con­toured han­dle for a com­fort­able and safe grip. The fac­to­ry needs an acid wash to get rid of all residues.
This 6‑quart mix­ing bowl is a semi-pro­fes­sion­al capac­i­ty that may han­dle large (up to 14 cups of dry flour) and small food amounts (from 3 cups of flour). How­ev­er, it will not mix small batch­es of food very well with­out extra help from the user, so it will require man­u­al­ly scrap­ing the sides with a spat­u­la. It also can­not mix the first por­tion of small batch ingre­di­ents well; how­ev­er, when you add more ingre­di­ents, the mix­ing process gets bet­ter. But, the KitchenAid sells an addi­tion­al scrape/flexible "wiper" attach­ment ($49.95) that will scrap the sides.
The mix­ing bowl is attached to the base unit with a well-designed lock­ing mech­a­nism that keeps the bowl sta­ble dur­ing oper­a­tion with­out cre­at­ing any mess.
Some cus­tomers com­plain that mix­ing attach­ments are fixed very high above the bowl bot­tom, so does not allow for pro­cess­ing small­er food batch­es. For­tu­nate­ly, the stand mix­er can adjust the bowl height with a screw on the base unit wall just before the mix­ing bowl. When the mix­ing bowl is adjust­ed cor­rect­ly, it can han­dle at least 3 cups of flour.
The KitchenAid also offers a glass bowl to buy sep­a­rate­ly for an extra price.
Head Type
KitchenAid 6 Qt. Pro­fes­sion­al 600 Series Stand Mix­er comes with the bowl-lift head design, the typ­i­cal con­struc­tion for large-capac­i­ty stand mix­ers. The bowl-lift head design uses a set of side pins to fix the mix­ing bowl in place, and a crank lever lifts the bowl into posi­tion to meet the mix­er attach­ments for oper­a­tion and down when you fin­ish pro­cess­ing and need to remove it.
Motor Head Power and Base Unit
The met­al base unit hous­es 575 watts, 110–120 volts, and a 5 amp direct dri­ve trans­mis­sion motor, which grants the user plen­ty of pow­er and smooth torque trans­mis­sion. More­over, the motor's all-met­al gears and gear hous­ing make it durable and less like­ly to strip (while it makes the stand mix­er a bit noisy). Final­ly, the base unit has good qual­i­ty paint, so it does not leave any kinds of marks on it and is pro­tect­ed from acidic mixtures.
In addi­tion, the motor is equipped with an auto shut-off sys­tem to pre­vent Mix­er over­heat­ing and over­load, thus extend­ing its life expectancy.
Control Panel
KitchenAid's Pro­fes­sion­al 600 series con­trol pan­el has ten speed and OFF/0 posi­tions reg­u­lat­ed with a speed lever. For exam­ple, speed # 1 is indi­cat­ed as STIR speed, and oth­ers are marked from 2, 4, 6, 8, and 10 with unmarked steps; how­ev­er, you can adjust the speed lever to half-speed incre­ments. Such selec­tion of speed expands the stand mix­er func­tion­al­i­ty so that you can use dif­fer­ent speeds for dif­fer­ent tasks:
Speed 1 (STIR) is designed for slow mix­ing, mash­ing, and stir­ring; you can add ingre­di­ents while pro­cess­ing at this speed, for exam­ple adding but­ter to the cook­ies dough or adding flour to your mixtures;
Speed 2 is also designed for slow mix­ing, mash­ing, and faster stir­ring. You will use speed two while knead­ing thick bread or piz­za doughs, thick bat­ters, and can­dies or as a start­ing speed for mix­ing veggies;
Speed 4 is for com­bin­ing sug­ar with egg whites for meringues or mix­ing semi-heavy cake or cook­ies batters;
Speed 6 is a whip­ping speed, also used for mix­ing dough­nuts or the final speed for mix­ing cake batter;
Speed 8 is also intend­ed for whip­ping cream, boiled frost­ings, and egg whites;
Speed 10 is for whip­ping small batch­es of cream and egg whites, and the final speed is for whip­ping mashed potatoes;
Before oper­at­ing the machine, the speed con­trol lever should be set at the low­est speed and grad­u­al­ly moved to the desired high­er speed to pre­vent ingre­di­ents from splash­ing out of the bowl. In addi­tion, the con­trol pan­el is equipped with an elec­tron­ic speed sen­sor that pro­vides a steady speed dur­ing oper­a­tion and a slow start fea­ture, which means each speed for the first 2 sec­onds starts slow­ly to pre­vent splat­ter of ingredients.
Attachments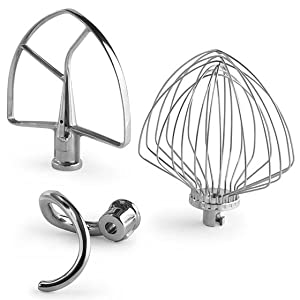 The KitchenAid Pro­fes­sion­al 600 series mix­er comes with the fol­low­ing accessories:
The bur­nished alu­minum Spi­ral Dough Hook is designed for mak­ing thick yeast doughs, such as bread, piz­za, rolls buns, and cof­fee cakes doughs;
A bur­nished alu­minum Flat Beater/Paddle is for using for mix­ing medi­um to heavy mix­tures with­out much air in it, such as cakes or cook­ies bat­ter, brown­ies, can­dies, meat­loaf, pie pas­try, cakes frost­ing, and mashed potatoes;
Bur­nished stain­less steel Wire Whip is designed for light mix­tures that require to incor­po­rate of air in it, such as heavy cream, egg whites, eggs sponge cakes, meringue, angel food cakes, boiled frost­ings, and mayonnaise;
Clear Plas­tic Pour­ing Shield, which you can fix to the bowl when mix­ing whip­ping cream or adding flour to pre­vent ingre­di­ents from splash­ing over the bowl.
Functionality
The KitchenAid 6 Qt. Pro­fes­sion­al 600 Series stand mix­er with stan­dard set includ­ed in orig­i­nal pack­age attach­ments can per­form a wide range of knead­ing and mix­ing tasks. More­over, the KitchenAid Stand Mix­er usu­al­ly per­forms all duties quick­er than oth­er mix­ers avail­able on the mar­ket. Thus the mix­ing time from non-KitchenAid recipes will not always be exact, and you will need to detect the desired con­sis­ten­cy of the mix­ture visu­al­ly. So, this machine is designed to per­form the fol­low­ing tasks: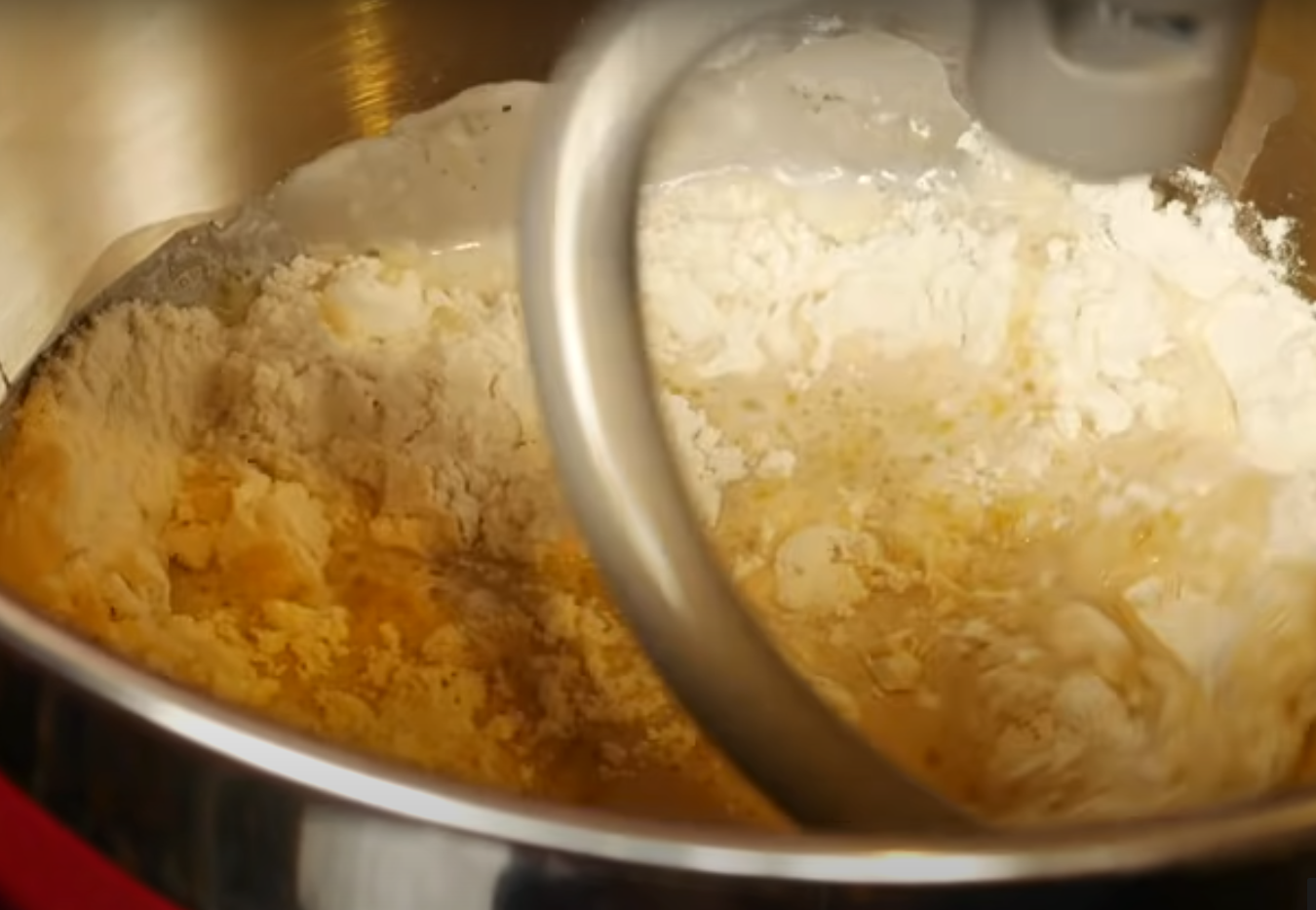 Knead­ing bread, piz­za dough: For knead­ing any thick yeast dough, you should use the dough hook and speed 2. Any thick dough recipe for up to 14 cups of flour (or eight loaves of bread) could be done by this Mix­er with­out much effort and dough-climb­ing issues.
Rolls buns and cof­fee cake doughs: Since they are made from thick yeast dough, they should also be knead­ed with the dough hook and speed 2. How­ev­er, when you notice that your dough has become a sol­id lumpy mass, you would use STIR speed for the last few sec­onds of knead­ing to bring it to a smooth and slight­ly tacky condition.
Cakes or cook­ies bat­ter, brown­ies: For the cake, dough­nuts, or oth­er light bat­ter types bat­ter, you should use Flat Beater/Paddle and speed 6, speed 4 for the semi-heavy bat­ter, and speed 2 for heavy or splashy bat­ter type (you can increase speed to 4 after mix­ture became thicker).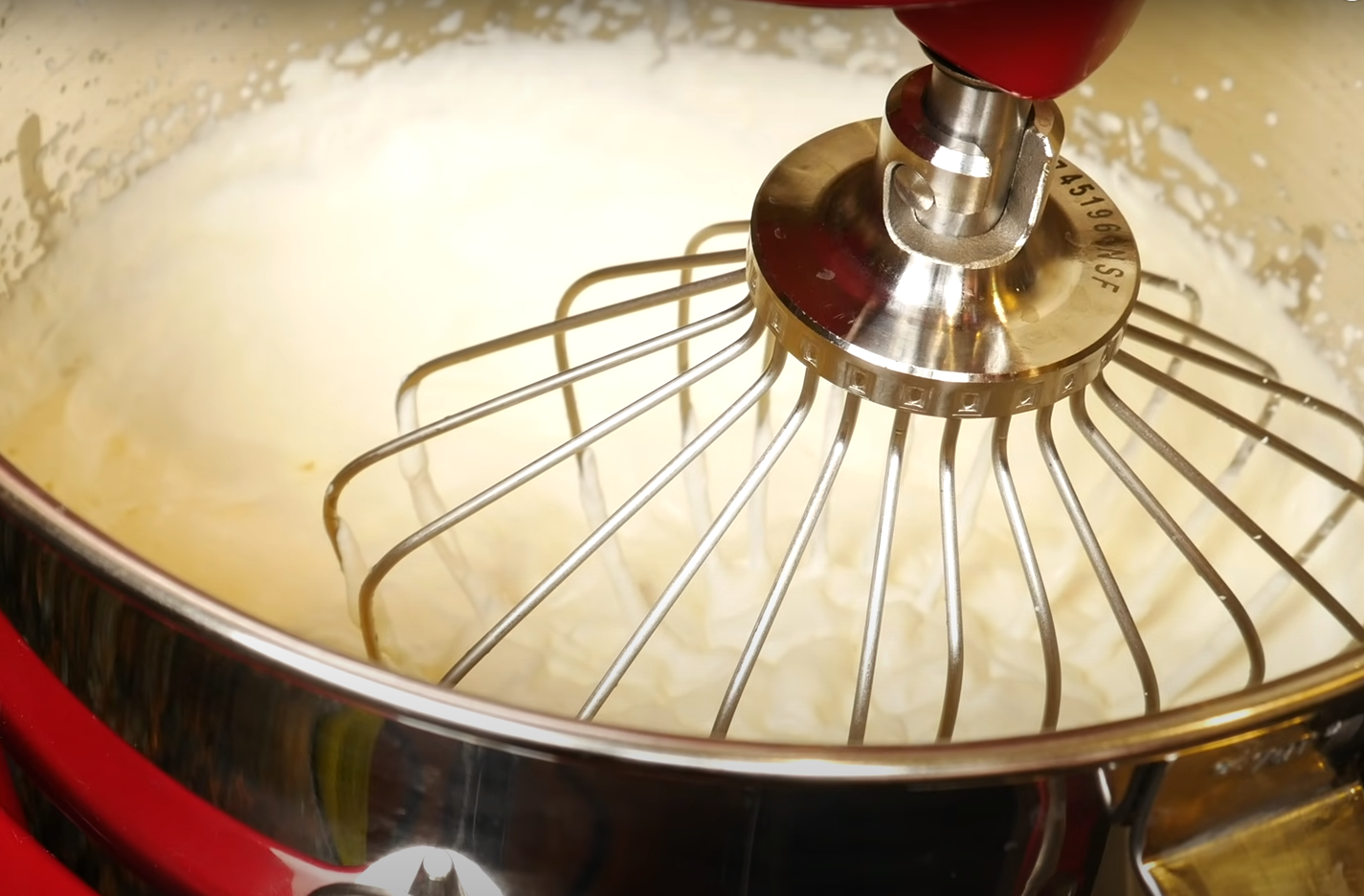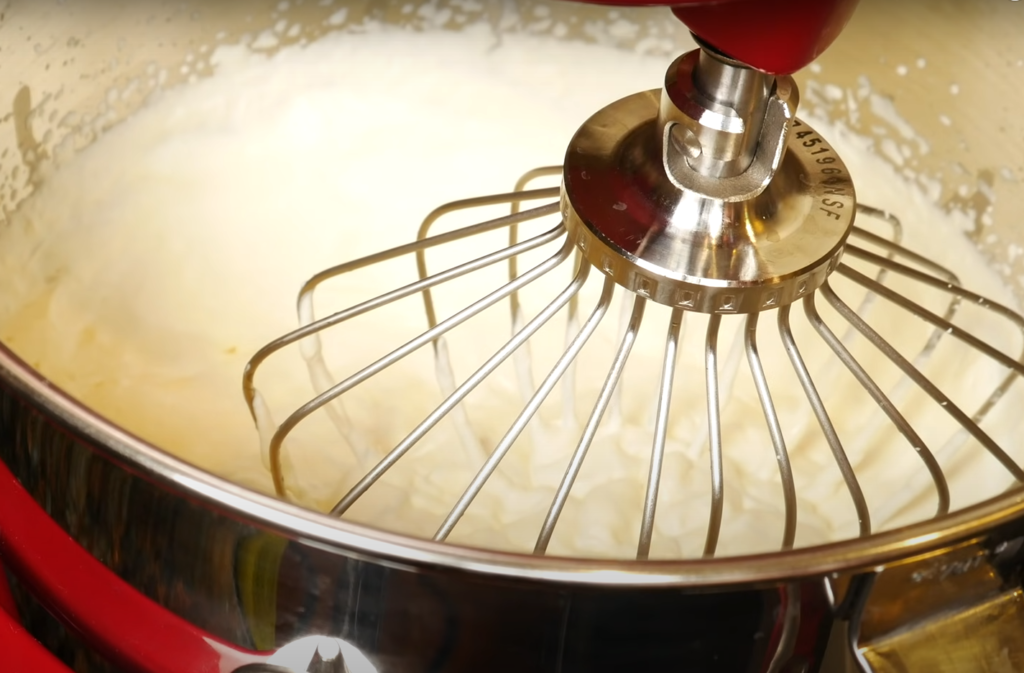 Heavy cream, egg whites, meringue, frost­ings, mousse: For mix­ing creams, egg whites, and meringue, you should use a wire whip and speed 10 for small batch­es (1 egg or ¼ ‑1/2 cup or liq­uid ingre­di­ents) or speed 8 for larg­er batch­es of ingre­di­ents (2 and more eggs and more than ½ cup of liq­uids). You can also use speed 6 for the fast cream beat­ing. Mix­tures con­tain­ing large amounts of liq­uid ingre­di­ents should be mixed at low­er speeds to avoid splash­ing, and you can increase the speed only after the mix­ture has thickened.
The cream frost­ing should be done with a flat beat­er using STIR(1) speeds and increas­ing it grad­u­al­ly to 4; fluffy frost­ing should use a wire whip with 8–10 speeds. For mak­ing mousse, you would use a wire whip with speed 6.
Can­dies, pie pas­try, cakes frost­ing: For pies and pas­try dough, you would use flat beat­er attach­ments and STIR speed, speed 2 or 4 depend­ing on the thick­ness of your mix­ture. You would use speed two and Flat Beater/Paddle attach­ments for can­dies bat­ter. Heavy can­dies can over­load the stand mix­er, so you should make them carefully.
Eggs sponge cakes, and angel food cakes: For this recipe, you will use a wire whip start­ing with speed six and grad­u­al­ly increas­ing to speed 8.
Mashed pota­toes: For mak­ing mashed pota­toes, you may use a flat beat­er and wire whip if you want fluffy pota­toes or just a flat beat­er for less fluffy ones; for the flat beat­er, you would start with speed two and increase it grad­u­al­ly to 6; for wire whip, you will use speeds 8 and 10.
Meat­loaf: You can mix meat­loaf using this stand mix­er; for this pur­pose, you should use flat beat­er attach­ments and stir speed.
Assembling and Cleaning
Assem­bling and dis­as­sem­bling: KitchenAid KP26M1XCE 6 Qt. Pro­fes­sion­al 600 Series is straight­for­ward to assem­ble and dis­as­sem­ble. To attach the bowl, lift the han­dle to the down posi­tion, anchor the mix­ing bowl onto two pins, and push down the bowl until the bowl pins shat­ter into the spring fas­ten­er. Now raise the mix­ing bowl using the han­dle and fix one of the need­ed attach­ments by slid­ing it over a shaft, turn­ing the attach­ment to the right hook­ing it over the shaft pin. Now it is ready to use.
Now you can also fix the pour­ing shield. It pre­vents ingre­di­ents from splash­ing over the bowl and will help mix whip­ping cream or add flour. If you need to reg­u­late the height of attach­ments (when it touch­es the bowl or for oth­er rea­sons), you should adjust a screw on the neck of the KA right by the lip of your bowl.
Clean­ing: KitchenAid KP26M1XCE 6 Qt Pro­fes­sion­al 600 Series machine does not have many parts; it is effort­less to clean. How­ev­er, the bur­nished flat beater/paddle, spi­ral dough hook, and wire whip must be hand cleaned only because if you try to wash them dish­wash­er, they will dis­col­or and ruin. At the same time, the mix­ing bowl and plas­tic pour­ing shield are safe to wash in the dishwasher.
Replacement Parts and Extra Attachment
You can buy any replace­ment part via the KitchenAid web­site or oth­er retail­ers' includ­ing stain­less steel or glass mix­ing bowl and all the attach­ments includ­ed in the orig­i­nal package.
More­over, KitchenAid sells a wide vari­ety of addi­tion­al attach­ments for spe­cial­ty tasks that mas­sive­ly expand the mix­er func­tion­al­i­ty, which include:
Food Grinder for grind­ing meat, firm veg­gies and fruits, and dry bread;
Roto Slicer/Shredder with four cones (thin and thick slicer, fine and coarse shred­der) for mak­ing jams, purees, sauces, and baby foods;
Fruit/Vegetable Strain­er;
Sausage Stuffer Kit with 3⁄8″ and 5⁄8″ stuff­ing tubes for mak­ing Bratwurst, Kiel­basa, Ital­ian or Pol­ish Sausage, and break­fast links;
Grain Mill for grind­ing low-mois­ture grains from very fine to extra coarse textures;
Pas­ta Roller Set for mak­ing lasagne noo­dles, fet­tuc­ci­ni, and lin­guine fin (3‑piece set includes Roller, Fet­tuc­cine Cut­ter, and Lin­guine Fini Cutter);
Cit­rus Juicer;

Special Features
Col­ors: KitchenAid Pro­fes­sion­al 600 series stand mix­er is avail­able in White, Empire Red, Onyx Black, Caviar, Blue Steel, Licorice, Nick­el Pearl, Pearl Metal­lic, Cop­per Pearl, Caviar Gloss, and Meringue. You can often save mon­ey by select­ing the low­est-priced color.
Volt­age Sys­tem: The USA's retail­ers offer only 110V- 120V and 60-hertz machines for the US, Cana­da, and Latin Amer­i­can mar­kets. If you need to pur­chase a 220–240V mod­el, you should look for local or Euro­pean retail­ers. Though you may use a volt­age con­vert­er, it only con­verts the volt­age and not cycles, so the appli­ances will wear out quick­er if you use a trans­former. More­over, the USA retail­ers do not pro­vide a war­ran­ty for machines used over the volt­age transformer.
Refur­bished mod­el: KitchenAid offers a cer­ti­fied refur­bished machine for this mod­el for about half the price com­pared to the orig­i­nal models.
Warranty and Customer Service
The Pro­fes­sion­al KitchenAid comes with a stan­dard one-year has­sle-free replace­ment war­ran­ty. So if your Mix­er fails with­in one year, the com­pa­ny will deliv­er a new one free of charge to you, along with anoth­er one-year warranty.
Besides, KitchenAid's cus­tomer ser­vice depart­ment has an excel­lent rep­u­ta­tion. It is very friend­ly and effi­cient, so it tends to rec­ti­fy most of the sit­u­a­tions when it is con­cerned with cas­es of man­u­fac­tur­er errors, dam­ages, and unsat­is­fac­to­ry performance.
Noise
KitchenAid Pro­fes­sion­al 600 Series Stand Mix­er is a loud machine. It releas­es approx­i­mate­ly 70–80 Dbs depend­ing on the speed lev­el. So, you can have a nor­mal con­ver­sa­tion in the room where this machine is work­ing at a low speed while at a high­er rate; it could be annoying.
Dimensions
This machine is pret­ty large, with a 7.25″ x 9″ foot­print. How­ev­er, when in use, this stand mix­er requires much larg­er space; for exam­ple, you will need 15.5 inch­es by 13 inch­es of space foot­print because the bowl han­dles and pow­er cord and assem­bling the attach­ments also need some space.
With a 17″ pro­file, KitchenAid Pro­fes­sion­al 600 Series Stand Mix­er will fit under a stan­dard kitchen cab­i­net of 18 inch­es and will not go under small­er ones (15 inches).
The machine has a cord about 45 inch­es long.
Set Includes
Base unit with 575-watt motor head;
6‑quart stain­less-steel mix­ing bowl;
Bur­nished flat beater;
Knead­ing spi­ral dough hook;
Wire whip;
Pour­ing shield;
War­ran­ty card;
User man­u­al with recipes.
Pros and Cons
Pros:
KitchenAid Pro­fes­sion­al 600 Series Stand Mix­er is equipped with a large 6 quarts/24 cups stain­less steel bowl that allows pro­cess­ing up to 14 cups of flour;
A great option of extra attach­ments sig­nif­i­cant­ly expands the func­tion­al­i­ty of this machine;
The Mix­er comes with ten speed that allows for pro­cess­ing a vari­ety of recipes;
The Soft Start fea­ture pre­vents flour blows and makes the mix­ing process less messy;
An auto­mat­ic shut-off sys­tem pre­vents any sig­nif­i­cant Stand Mix­er parts dam­age and extends the motor life expectancy;
The motor and out­er shell are made from stain­less steel, which makes the machine sol­id and durable;
This Stand Mix­er is straight­for­ward to clean, assemble/dissemble, and use;
Cons:
It is a Noisy machine;
The Dough Hook, Pad­dles, and Wire Whip attach­ments are not dish­wash­er safe;
The Stand Mix­er comes with only a 1‑year warranty;
Customers Reviews
No doubt, the KitchenAid 6 Qt. Pro­fes­sion­al 600 Series Stand Mix­er has pros and cons but is a mod­ern machine among con­sumers. It has kept sol­id con­sumer rat­ings and great reviews for many years, con­firm­ing its out­stand­ing per­for­mance, sim­i­lar to commercials.
Price
The price for this machine often varies from retail­er to retail­er; how­ev­er, ama­zon offers one of the low­est prices and free ship­ping, espe­cial­ly in the mid­dle of the week.
BUY NOW via Ama­zon
Final Thoughts
The KitchenAid Pro­fes­sion­al Series Bowl-Lift Stand Mix­er is a bor­der­line com­mer­cial mix­er, and it is an excel­lent option for con­sumers who wants a durable and robust stand mix­er. It comes with every­thing you need to start bak­ing. This machine is very well built and has a pow­er­ful motor and mix­ing bowl capac­i­ty enough for dou­ble or triple batch­es. The KitchenAid Pro­fes­sion­al 600 Series Bowl-Lift Stand Mix­er is a high-per­for­mance mix­er that can eas­i­ly han­dle even the heav­i­est ingre­di­ents. With 10-speed set­tings, a pow­er­ful motor, and a 6‑quart capac­i­ty bowl, this Mix­er is designed for severe cooks who demand the best in terms of per­for­mance and results. The attach­ment set allows easy prepa­ra­tion of var­i­ous recipes, from thick yeast bread and piz­za dough to cake bat­ter and whipped cream. In addi­tion, it comes with a pour­ing shield, allow­ing users to keep the kitchen work­space clean­er and save time.