Dash Chef Series and Ninja Blender Duo with Auto-iQ are well-known gadgets with technical parameters close to high-end blenders. They both claim to compete with Vitamix and Blendtec. Although, there are no compelling reasons for this because they are both new to the market, and China outsourced machines without serious investment from manufacturers to the engineering side of production. But these two machines can surely compete with each other and similar units.
Read our article to discover the best blender choice between these two machines.
Dash Chef Series Digital Blender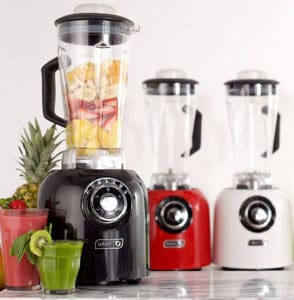 The Dash Chef Series comes with high power 1400 watts motor, all-metal drive to blade coupling, and fancy digital control panel. Hence, the Dash machine package includes:
Motor base with 1400 watts motor and digital control panel;
64 oz. Tritan copolyester jar with irremovable blade assembly;
2-parts rubber lid with closed/measuring cap;
Custom tamper;
User Manual with few recipes.
Equipped with high quality 64 oz. shatter and temperature proofed Tritan copolyester jar and permanently inbuilt into it stainless steel which design is very similar to Vitamix. The blade assembly, drive shaft with meshing cogs and retainer nut are all made of metal.
The gadget also comes with a tamper which a very useful tool to process thick ingredients like nut butter, frozen mixers, and others. The machine also has the vented lid which not only allows to use of tamper during blending without stopping the machine but also is designed to release any excess of heat accumulated during the processing of hot ingredients.
The Dash digital control panel has 10 speeds, pulse function, and 6 pre-set programs – Rinse, Puree, Soup, Smoothie, Crush, and Frozen. The great option of speeds and pulse function allows a user a lot of flexibility when preparing different recipes. So, this machine is capable of performing the following tasks:
Produce good quality smoothies including the green ones made from leafy and tough food;
Blend frozen ingredients in drinks or crush ice into the snow like consistency for making snow cones, ice cream and other frozen treats;
Able to process hot food and heat them to 170 F, so makes hot soups for scratch and suitable for producing bullet prod coffee;
Puree cooked and raw veggies to prepare various mashes, dips, spreads and baby food;
Capable of making nut butter and nut milk;
Chops food to produce salad sauces, mixes, marinades salsa and other, chops veggies for coleslaw and other recipes;
Grinds coffee beans and herbs, produce baking quality flours for the variety of grains;
Dash Chef Series comes with 1 year (2 years could be upgraded ones it is registered online with a manufacturer) and a 7-year motor Limited warranty. The customer service is good and readily solves the problems including replacing the faulty parts and units.
Weak point – design fault in the retainer nut make it wear out soon and develop pitcher cracks at its connection with the retainer nut.
Ninja Blender with 1200-Watt Auto-iQ (BL642)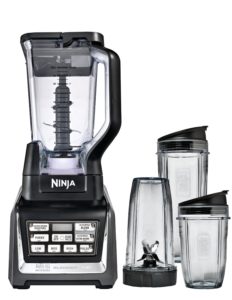 Nutri Ninja with 1200-Watt Auto-iQ is a countertop blender with of personal blender attachment included. The gadget comes with 1500 watts powerful motor, non-durable with many plastic parts drive to blade connection, plastic large pitcher, selection of single-serve cups, and/or food processor attachment. So the packages for this machine include:
Base Unit 1500 Watts/2HP;
XL 72 oz. (2.15 L) container with lid;
Blades assembly for XL 72 oz. jar;
32 oz., 24 oz. and 18 oz. single-serve cups;
Blade assembly for Single Serve cups;
Sip & Seal Lids;
Instruction Book;
Selection of recipe books.
This machine has multiple attachments and parts and all of them not very good quality. The blender's main 72 oz. pitcher and single serve cups are made from a non-durable polycarbonate material that cracks easily and requires to be replaced often. The main pitcher blade assembly, which is promoted to have unique construction for better food homogenizing, in fact quite ineffective in use. It has a very bulky design with 6 very sharp stainless steel blades staggered around a plastic shaft. The plastic shaft is worn quickly and blades become dull within 1 year of use. The single-serve blade system has a standard design, and although blends well but has a few issues with early wear out of gasket.
The gadget does not include tamper thus has trouble processing thick food that requires stopping it during the blending of the mixing ingredients and removing air pockets.
This machine control panel has 3 speeds (Low, Medium, High), pulse function, 2 pre-set programs for the main pitcher (Frozen Drinks/Smoothies, Puree), and 2 pre-set programs for single-serve attachment (Blend, Ultra Blend). Such a restricted selection of speeds does not allow much flexibility to a user over the blending process. However, this machine is designed to accomplish the following duties:
The 72 oz. pitcher makes pretty grainy drinks thus hardly can produce decent green smoothie; while the single-serve attachment does good quality drinks including those made from leafy and hard ingredients;
Process frozen ingredients and ice well with and without any liquid added, perfectly suitable for making frozen desserts, margaritas, and other concoctions;
Does not handle hot food or heat the liquids via frictions, so not suitable for preparing hot soups or for processing bulletproof coffee;
Makes nut butter but not the smooth one;
Able to chop and mince food to prepare salsa, coleslaw, marinades and other, the models with food processing attachment have very good chopping functionality;
Makes fairly chunky purees, dips and spreads from cooked ingredients;
Personal blender attachment grinds coffee beans and herbs, also mills soft grains such as oats only;
Will not knead dough or mix batter;
Nutri Ninja with 1200-Watt Auto-iQ BL642 comes with a modest 1-year limited warranty that must reflect the durability of the machine and very ignorant and unhelpful customer service.
Weak point – crackable pitcher and cups, inefficient blade system for the main pitcher, non-durable blades for single serve cups. Very difficult to assemble, disassemble, and use. The motor is not strong and many plastic parts make them wear quickly.
Dash Chef Series Digital and Nutri Ninja with 1200-Watt Auto-iQ (BL642) BL642Z/BL682/BL682Z) Differences and Features
 
Dash Chef Series Digital Blender 
Ninja with 1200-Watt Auto-IQ (BL642)
Motor
Well-made 1400 watt all-metal socket drive and other parts of the blade to the motor connections;
Non-durable 1500 watt with nearly all plastic motor to the blade coupling;
Blades
Permanently built into container stainless steel 6-prongs blades with all-metal assembly;
Removable blade system for 72 oz. jar and personal blender attachment;
Containers
High quality shatterproof and temperature resistant 64 oz. Tritan containers and 2-parts vented rubber lid;
Low quality and easy breakable polycarbonate 72 oz. and single-serve cups;
Using & Cleaning
Very easy to assemble, use and clean; not proofed for dishwashing and suitable only for hand and self-cleaning;
Difficult to assemble, use and disassemble, has the lid and pitcher-base locking system; although, most parts are dishwasher safe very sharp blades are unsafe to handle thus not easy to clean;
Control panel
Equipped with 10 speeds, pulse function, and 6 pre-programmed settings – Rinse, Puree, Soup, Smoothie, Crush, and Frozen;
Comes with 3 speeds (Low, Medium, High), pulse function, 2 pre-sets for the main pitcher and 2 pre-sets for single-serve attachment;
Warranty
1-year (or 2 years) on all parts and 7 years of motor Limited warranty and helpful Customer Service.
1-year Limited warranty only; Customer service is not helpful;
Performance

Blends decent drinks and green smoothies, process well tough ingredients including leafy greens, nuts, and seeds in drinks;
Crushes frozen food in smoothies and ice for making frozen desserts and frozen drinks;
Designed to handle hot liquids, makes soup from scratch and suitable for other hot liquids processing tasks;
Designed to process nut butter and nut/rice milk;
Purees veggies to make mashes, dips, spreads and baby food;
Chops vegetables for making salsa, marinade, coleslaw, able to grind meat;
Mills coffee beans, herbs, baking quality flours including gluten-free grains.

The main pitcher makes grainy drinks and not suited for green smoothies, the singles serve attachment produce good quality drinks and able to make green smoothies;
Excellent at crushing ice and frozen food in drinks; makes snow cones, frozen treats, and alcoholic drinks concoctions;
Does not able to process hot liquids;
Makes crunchy nut butter;
Purees only cooked vegetables;
Chops and mince well ingredients for salsas, marinades, dressing, and other similar recipes;
Only single serve attachment grinds, herbs, coffee beans and mills soft grains;
Will not knead dough;

Dimensions
The footprint is 8.75 inches in diameter, profile height is 21.5 inches with 64 oz. jar so does not fit under standard kitchen cabinets. The weight is 11 pounds.
The footprint is 7 inches x 10 inches (with for a plastic guard in back), profile height is 17 inches with 72 oz. container on the top of the motor base. Needs a lot of room for storage because of many attachments. Weight is 10.1 pounds.
Price
Ranges from $189 to $229 depending on retailers.
Ranging from $160-$250 depending on model and retailer.
How to Choose Between the Two Blenders
Dash Chef Series Digital and Nutri Ninja Blender with 1200-Watt Auto-iQ both have powerful motors but the Dash blender is more versatile with a better quality of blending. The Dash produces excellent smoothies including the green ones while the Ninja can make only grainy drinks. The Dash handles hot ingredients and able to make hot soup from cold ingredients while Ninja not even able to handle hot liquids. The Dash makes baking quality flour when Ninja can handle only soft grains.
Dash Chef Series Digital similar to all high-end blender designs performs all tasks with one pitcher with an inbuilt set of blades. While the versatility of Ninja is achieved by the multiple attachments which not only the hassle to change for each task but also requires space to store them.
Besides, the Dash machine has a great choice of speed which increases its versatility, and very easy to use and clean.
Summary
No doubt, the Dash blender wins this local the completion. Although, both machines are powerful Dash is more versatile, easier to use, and clean. However, the most important that the Dash Chef Series Digital is much better built than Ninja with all features the premium blender as Vitamix has. Though, Dash has some problem with retainer nut it is still the more durable machine than Ninja with the average life expectancy of 2.5-3 years as opposed to Ninja's 1-1.5 years. Moreover, there is a chance if Dash manufacturer will correct the retainer nut problem then the blender may become a real winner for the market of a cheaper alternative to high-end blenders.