It is well known that South Korean juicer manufacturers produce juicers of the highest quality in the juicing world. South Korea has invested heavily in development and technology research in its production facilities. Through this investment, it has succeeded in coming up with genuine and most reputable juicers. However, China has ventured into the juicers production market but lacks its research and development facilities. Chinese have been copying the best technology from the USA and South Korea in their manufacturing facilities. Juicer made in China seems similar to the South Korean juicers though they are of poor quality. Customers sometimes cannot tell their difference unless they are familiar with those from South Korea. Although Chinese models are of lower quality, they provide reasonable service to the users and are also affordable. Here, we have selected some of the best affordable Chinese knockoffs.
How they were selected
Before rating these Chinese models, we have considered various factors that make them stand out among other knockoffs. The first factor is the quality of the model. We selected the models that can work reasonably. Secondly, we chose models that are made from safe materials to safeguard users and enhance cleaning. Furthermore, we selected brands that have a long warranty in case the model develops some inefficiencies after purchase. Our findings also considered the availability of customer support service; hence we picked out companies that have these after-sale services. It is worth noting that, although Chinese juicers provide reasonable juicing service, they are made from outdated technology. This is because China does not invest in the improvement of technology and functionality of juicers but instead copy from Korean. They simply make the best technology lookalikes. Some of the best cheap Chinese knockoff juicers include the following.
#1 Aicok Slow Masticating Juicer AMR521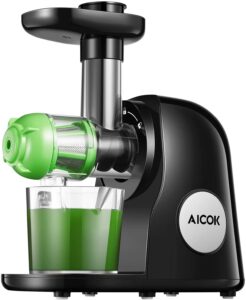 Aicok Slow Masticating Juicer AMR521 is a horizontal single auger masticating juicer that is manufactured in China and distributed under Aicok brand that was registered in 2016.
Motor and power: The juicer comes with a 150 watts power motor that rotates the auger with 80 RPM. This is a slow masticating model hence preserves more vitamins, minerals, enzymes in the juice, and reduces foaming.
This machine is designed for up to 20 min of continuous operation and should allow resting before resume working.
Design, feeding chute, and chamber: The design is a Chinese fusion of the classic Samson and Hurom DU Horizontal single auger machines. It comes with a transparent plastic chamber and round 1.5 inches feeding chute opening. Materials that are contacting with food are claimed to be made from BPA free.
It is controlled with the single switch that has ON/Reverse and off function, the reverse is activated if machine jams ingredients and it move auger in opposite direction to unclog it.
Auger: Aicok Slow masticating juicer has a standard for single auger machines auger design. However, the auger made from PMAA acrylic and claim to be safer than standard for South Korean brands ULTEM material. Whether it is true or not remains unknown since the Aicok does not reveal any material certification documentation.
Screen/strainer: It comes with a plastic screen frame and stainless steel meshed insert. It has one stage screen while the latest generation of single auger machine usually has a two-stage screen that means two segments of meshed inserts are used for higher juicer yield.
Functionality: As any single auger horizontal machine it handles firm and fruits and veggies well, also good and leafy greens and able to juicer wheatgrass, it delivers less yield than vertical juicer from soft ingredients. However, this Chinese model as not a heavy-duty machine and it will not process the ice or frozen ingredients, it is not also designed for tougher ingredients like pomegranates.
The juicer does not come with any extra attachment and thus will not process but butter, baby food, nut milk, or any other food processing task (while the original South Korean juicer is usually designed for the extra tasks).
Containers: The juice is equipped with juicing and pulp plastic containers.
Weak points:
There is no replacement part available for this juicers;
Customer service is hardly responsive;
It also has a very tricky screen that is very difficult to clean properly if possible at all;
It can stack when you disassemble the machine and you will need efforts to finish the tasks;
It can start to release a much higher noise level after a few times use than it did initially.
Summary: It is known as the best Chinese knock off horizontal single auger juicer on the market. It does deliver a decent yield from the firm and leafy ingredients, you also can juicer successfully celery with it, however, it not high duty and tougher ingredients may cause fatal jams. 16.1 x 7.9 x 11.6 inches
Although the juicer comes with 3 years warranty it is not a durable juicer and lasts around 1-2 years and if you are lucky it may serve you longer.
Just remember, that you will not ever find any replacement part for the juicer and customer service unlikely to be helpful if the major problems will happen with the juicer.
 #2 Jocuu Slow Masticating Juicer
Jocuu is another Chinese juicer that distributed under the Jocuu brand registered at the end of 2019. There are another few juicers that have a very similar design but distributed under other brands – AMZCHEF Professional Cold Press Juicer Extractor Machine (registered in 2019)/ Picberm PB2110A Slow Masticating Juicer Extractor (registered in 2019) /CIRAGO Slow Masticating Juicer Extractor Two Speed Adjustment (registered in 2018). These models may differ just slightly by motor unit exterior design but have identical technical parameters.
Motor and power: All models equipped with 150 watts motor and 60 – 80 RPMs rotation speed, the machine comes with two speed for soft and hard produce and the soft speed operates at 60 RPMs while the hard speed operates at 80 RPMs.
Jocuu/ AMZCHEF/ Picberm/ CIRAGO juicer motor is equipped with a motor protection system and automatically stops after every twenty minutes that allow gives your juicer to cool hence, providing longer motor service life. 
Design: The design of this set of juicers seems copies of the Hurom Chef model. These models come with a plastic body and 2 speeds. The chamber and feeding chute is made of transparent plastic.  The juicers user manual does not say anything if the plastic they use is BPA-free while if you ask customer service questions they insist it is BPA-free. Quite a confusing moment. The juicer comes with 1.5 inches feeding chute opening that is typical for Chinese dupe and applies to older 4th and earlier single auger generation models.
Auger: The juicer comes with standard shape plastic auger, as was already mentioned the user manual says nothing about the material the juicer auger made from. However, few customers report that the auger is not durable and may start to chip after a few months of use.
Screen: The screen as made of the plastic frame and stainless steel holed inserts. The plastic frame is not durable and tends to break easily. The screen is one stage that is typical for older generation juicers if compared to a well-built South Korean machine.
Functionality: Jocuu Slow Masticating designed to juice hard and soft fruits and vegetables, leafy greens, wheatgrass, citrus fruits. While the juice is rather pulpy. The juicer also may have a jamming problem when juicing hard ingredients such as carrots or beets. However, it juice well leafy greens and softer produce. The juice is not designed to process frozen ingredients, nuts, or performs any other food processing tasks.
Weak points:
Fragile plastic auger material;
Breakable screen frame;
Unconfirmed if the juicing bowl, auger, and strainer are made from BPA-free materials.
Summary: Notably, the juicer is very easy to assemble and disassemble, it is easy to clean and dishwasher safe. However, the juicer has fragile plastic parts such as a screen frame and auger. Although it in general not bad and deliver decent juice yield it still has very questionable plastic material wish also tends to break.
It is a very cheap machine and you can buy it with the problems listed above in mind. The juicer also has a confusing warranty, the amazon says 3 years on part and 10 on the motor while the user manual says only 1 year.
Although it is one of the best sellers, I would not recommend one of these juicers.
#3 Aobosi Slow Masticating Juicer/TEC Slow Masticating/Sagnart Slow Juicers /Geek Chef Cold Press Juicer/Kenwell Slow Masticating Juicer/Geek Chef Slow Masticating Juicer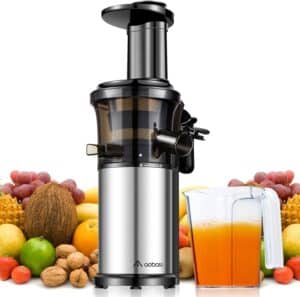 This machine is distributed under the numerous brands – Aobosi Slow Masticating Juicer, TEC Slow Masticating, Sagnart Slow Juicers, Geek Chef Cold Press Juicer, Kenwell Slow Masticating Juicer, Geek Chef Slow Masticating Juicer, and you may come across another couple of other names for this machine. Actually it is not surprising. This model very simple but successful version of vertical single auger masticating juicer has most of its parts is made from reputable Eastman Tritan copolyester material.
Motor and power: The juicer body is made of durable stainless steel and encloses 200 watts motor with rotational speed of 40 RPM, which ensures low oxidation, hence, extending the juice shelf life for up to 48 hours.
The motor is designed only for up to 10min of continuous operation and thus will make a maximum of up to 60 ounces of juices in one cycle.
Design, feeding chute, and chamber: The chamber is made from Eastman Tritan copolyester material, which is approved by the FDA as safe and BPA-free. The chamber has a well-designed U shaped pulp outlet that minimizes jamming as you juice and juicing outlet with a cap that allows releasing juice any time during or after juicing, the juicing cap also simplifies the juicer cleaning process.
Furthermore, the machine equipped with a 1.5 X 2.5 inches crescent feeding opening.
Auger: It is equipped with a well-designed single auger from BPA-free plastic that ensures minimum jamming.
Screen/strainer: The juice has the standard plastic frame with stainless steel holed insert strainer, however, it is not equipped with the part of the wiping blade that is typical for high end South Korean juice extractors.
Functionality: This machine performs all typical for vertical single auger machine functions and handles well firms and soft fruits and veggies, leafy greens including the wheatgrass, and citrus fruits.
However, this machine does not come with any extra attachment and is not designed to make frozen desserts, nut butter, baby food, and other food processing tasks.
Containers: the juice equipped with BPA-free plastic 32 oz. juice and pulp cups.
Weak points:
It can operate only up to 10 min without stopping, otherwise, it is a very successful model.
Summary: This Chinese juicer knockoff model is worth considering. It is made from safe BPA-free plastic parts, has a decent design, and able to deliver a reasonable juice yield. Moreover, it has a compact size and portable design since (16.3″ by 6.4''by 8.5″) and a mass of 7.9 lbs. This size makes it the best option during vacation or if your kitchen counter space is limited. The juicer also equipped with a unique handle and a non-skid base, easy to assemble and disassemble, and clean.
However, the different "brands" come with different warranties: Aobosi – 30 days, Sagnart – 1-year Warranty Service, Tec – 2 years, and Geek Chef – 1 year. Needless to say, if you decide to buy this juicer model go for the one with the longest warranty.
Summary
In a nutshell, the above juicers are among the best cheap Chinese knockoff juicers, which can offer you a reasonable service. Though they are not of high quality as Koreans, they can cater to your needs, especially if you need a cheap model. The Chinese knockoff juicers have grate features like auto shut off in case of overheating, long warranty, and compact size. Additionally, they are less noisy and easy to assemble and disassemble. If you are looking for a cheap Chinese juicer, you can consider the above brands, for they can serve your purpose.