Cuisinart is an internationally recognized manufacturer that produces an array of kitchen gadgets. It has recently released to the market a few powerful blenders. One of them is the Cuisinart CBT-1500 Hurricane 2.25 Peak machine. Here we will investigate thoroughly all the strong and weak sides of this machine to decide if this gadget is worth to be added to the modern countertop.
Looking for alternative options? Check our article  Best Blender under $200 – Cheaper Alternative to Vitamix 2020 Guide.
Functionality and Versatility
Smoothie: The Cuisinart CBT-1500 Hurricane 2.25 Peak machine blends almost perfect smoothies from soft, hard and fibrous ingredients (celery, ginger, and others), so it is absolutely suitable for making green smoothies without bits or chunks. However, this blender is not able to obliterate completely strawberry, blueberry, and raspberry seeds. The nuts and chia seeds in the drinks may also leave visible flecks.
Juicing: Cuisinart CBT-1500 Hurricane machine is a classic blender and thus will not make textbook juice that separates liquid from fiber but it is quite a capable blending smooths smoothie aka "whole juice".
Crushing Ice and Frozen Treats: This machine is designed to process ice easily with and without liquid added. It crushes up to 14 pure ice cubes in seconds into the snow-like consistency. So it more than capable of producing not only smoothies from frozen ingredients but also to make perfect frozen desserts like frozen yogurts, sorbets, and slushy drinks (daiquiri, margarita, and others).
Soup/ hot ingredients: Despite the powerful 1500 watts motor, the Cuisinart CBT-1500 Hurricane 2.25 Peak machine is not able to heat liquids via frictions. However, it is more than capable of processing already cooked ingredients for soup. The user manual clearly states that before placing boiling ingredients into the blender they should be cooled for 5 minutes. Thus, the machine is also not completely safe for preparing bulletproof coffees. 
Pureeing: The Cuisinart CBT-1500 Hurricane 2.25 Peak machine will process quality fruit and veggies puree or baby food from raw and cooked ingredients only with some liquid added. Thus, it is not suitable for making mash potato but quite good at processing hummus and various dips.
Chopping/food prep: The blender equipped with Low Pulse and High Pulse functions, so it is able to prepare a variety of food prep recipes like salad dressings, mayonnaise, whipping cream. The pulse function also perfect for chopping nuts and grating soft and hard cheese or breadcrumbs.
Nut milk: This gadget is powerful enough to make nut milk, the cookbook included in the user manual contains few nuts, rice, and oats milk recipes also.
Nut butter: This gadget with some effort is able to make a bit crunchy but fairly acceptable nut butter. Since this machine does not come with tamper you would require stopping the machine during processing and manually mix the content with a spatula for dislodging ingredients from the blade area and walls.
Grinding/milling: The Cuisinart CBT-1500 Hurricane 2.25 Peak blender is quite good at grinding coffee, herbs, chopping nuts, and milling soft grains. However, it is not able to produce baking quality flour.
Dough/batter:  It will not knead bread dough, but perfectly able to mix pancake batter.
Despite the very powerful motor the same as Vitamix, this machine is not able to perform high-end blender jobs such as hot soups, bulletproof coffees, and baking quality flour from hard grains. However, it is very good at making quality smoothies, crushing ice for producing slushy drinks, and frozen desserts.
Speed Settings and Programs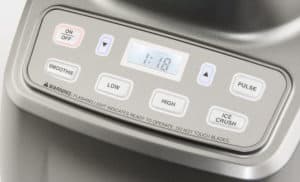 Cuisinart CBT-1500 Hurricane blender equipped with an electronic touchpad controls panel that has six (6) functional buttons, LCD display with 3-minute count Up/Down timer, and two (2) time selection buttons. The six functional buttons include On/Off, Low and High speed, Pulse functions (Low and High speeds), and two Smoothies and Crush Ice pre-set programs.
The Up/Down timer begins counting Up every time the Low or High speed is activated and Down when the Smoothie and Ice Crush pre-set programs are used. To select your own cycle length with Low or High speeds, the user after activating the machine with On/Off button has to select with up or down arrow the desired length of cycle and press Low or High speed to start, the timer will start counting down, then the unit will turn off automatically at the end selected time cycle.
Although, the Cuisinart CBT-1500 Hurricane 2.25 Peak machine has an ability to set your own time counter it still has very limited speed options (Low and High). The Low speed is not truly low and starts fairly fast causing the liquid to splash out. But the Pulse function which operates on both Low and High speeds slightly expands the control panel functionality. So the user will chop veggies on low speed and harder ingredients such as cheese and nuts on high pulse speed. Nevertheless, the Smooth pre-set blends very good quality smoothies while Crush Ice is very efficient and processing ice to the snowy condition.
In addition, the manufacturer claims that the machine has an automatic load sensing technology to automatically adjust blender speeds for even blending, I have not noticed any evidence of this. It operates at the same speed no matter what ingredients you use.
Ease of Using and Cleaning
Operating: The Cuisinart CBT-1500 Hurricane blender comes with permanently inbuilt blade assembly so it is very easy to get ready for running. Position the blender container on the jar pad, it firmly sits in place without any locking mechanism. Fill the jar with ingredients, fit the lid tightly on the top of the container and it is ready to run. Now you can press the On/Off button and choose speed or pre-set program to start blending.
The blender's lid comes with the cap opening that is very convenient as it allows you to add extra ingredients during blending without stopping the machine and removing the lid. However, the machine does not include tamper and may still require to stop it during processing in order to dislodge with spatula food through the opening around the cutting assembly or help to create a proper vortex. The only problem, the lid sometimes could be difficult to remove but if you lift an edge of the lid at jar spout area upward then this task will become much easier.
Cleaning: The permanently inbuilt blade system makes all cleaning quite easy. The Cuisinart CBT-1500 Hurricane 2.25 Peak blender jar and lid are safe to clean on the top rack of the dishwasher. Alternatively, you can clean them with hands or use the self-cleaning procedure – just fill the container with hot water up to the clean max line (indicated on the jar wall) and a little dish soap, run for 30-60 seconds depending on the ingredients you used for blending then rinse with running water and dry with the cloth. You better clean the machine immediately after use in order not to accumulate build-ups.
Check here today's best price for the Cuisinart CBT-1500 Hurricane 2.25 Peak Blender
Base Unit and Motor Power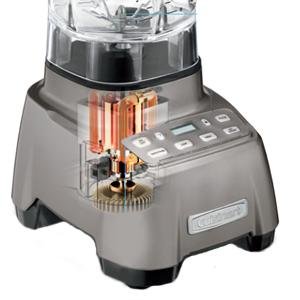 The Cuisinart CBT-1500 Hurricane blender comes with a powerful 2.25 HP peak input motor. The motor is well-built and strong without bogging down during the operation. It also has an all-metal corrosion-resistant blade to drive coupling construction which makes this machine long-lasting.
The base enclosure is made of heavy-duty plastic with a removable rubber pad around the drive socket to securely fit container with the help of four guards.
In addition, the Cuisinart CBT-1500 Hurricane 2.25 Peak machine is equipped with an automatic shutdown system to protect the motor against overheating. So if the motor shuts down, unplug the blender and allow to rest it for about 15 minutes, then the machine will be ready to be used again.
Containers
The Cuisinart CBT-1500 Hurricane 2.25 Peak machine comes with a premium quality of 60 oz. BPA-free Tritan copolyester container. The jar has very clear American and English measuring marks on the wall, the max line for blending ingredients, and for the cleaning procedure.
The jar has a comfy soft-grip handle and a very convenient spout that will not splash any liquid during pouring. It also equipped with two parts lid that has a cap opening for the releasing heat when hot ingredients are blended.
Blades
The Cuisinart CBT-1500 Hurricane 2.25 Peak machine equipped with non-removable 4-prong blades. The blades and assembly are made from the heavy-duty commercial quality corrosion-resistant stainless steel construction. The retainer nut is also all-metal thus very good quality and long-lasting. Permanently inbuilt blades prevent any chance of liquid leaking.
Special Features
Colors: The Cuisinart CBT-1500 Hurricane 2.25 Peak machine available in gunmetal color with black trim only.
Certified Refurbished: This model is not available in certified refurbished condition yet.
Use in countries outside of USA/Canada: Cuisinart CBT-1500 Hurricane currently comes only with the 110-120 voltage system and could be used in the USA, Canada, and other regions with appropriate voltage (South America, Saudi Arabia, Japan, and others). The machine could be operated via outlet adapter in countries 220-240 voltage system.
Noise
The Cuisinart CBT-1500 Hurricane 2.25 Peak blender is very loud even despite the fact that the machine base unit has double housing. It outputs over 95 decibels when blending standard veggies and fruit ingredients.
The typical advice for the consumers to reduce noise volume from the blender is to place the rubber mat underneath of the base unit that will absorb vibrations and.
Warranty and Customer Service
The Cuisinart CBT-1500 Hurricane machine comes with 3-year Limited Warranty. That is quite modest for the well-made machine from reputable manufacturers. Moreover, the limited means that the consumer may be charged an extra fee for the shipping cost or replacement parts on some occasions.
Besides, the Cuisinart Customer is a well-known manufacturer with a good reputation, thus no doubts will serve the consumers appropriately.
Optional Accessories and Attachments
The Cuisinart CBT-1500 Hurricane 2.25 Peak blender does not come extra attachments, neither it is compatible with any extra Cuisinart accessories. However, the replacement parts are available from the manufacturer's website.
Set Includes
25HP at peak base unit;
60 oz. Tritan copolyester jar;
Rubber lid with filler cap;
User manual with 29 recipes.
Dimensions
The Cuisinart CBT-1500 Hurricane 2.25 Peak machine has quite a large 7.75 inches x 11.50 inches footprint. The height of this blender is 17.25 inches with the pitcher on the top of base unit and lid on the place and 16.25 inches without the lid. It must fit under the standard 18 inches kitchen cabinet and thus could be stored on the countertop.
The unit is quite heavy and with 12.5 lbs it does not bounce over the counter during processing.
Pros and Cons
Pros:
The Cuisinart CBT-1500 Hurricane 2.25 Peak machine is a very powerful blender that able to make good quality smoothies including the green ones;
This machine crushes ice well and produces not only quality frozen desserts but also makes quality frozen drinks and slushes;
The machine is well built and with all-metal coupling, good quality blade and container it must have the reasonable lifespan;
Cons:
The Cuisinart CBT-1500 Hurricane 2.25 Peak machine has a very limited control panel functions with only two speeds;
It is quite a loud blender;
Has quite a short warranty 3–years for a reputable brand.
Cuisinart CBT-1500 Hurricane 2.25 Peak Blender Consumer Reviews
The Cuisinart CBT-1500 Hurricane machine is a quite new product on the market but had won a good reputation with a consumer with an average 4.3 ratings on Amazon and also a high rating with other retailers.
Cuisinart CBT-1500 Hurricane 2.25 Peak Blender Price
The Cuisinart CBT-1500 Hurricane 2.25 Peak machine price varies in the range of $120 – $150 with different retailers. However, Amazon often has a special offer when a consumer can grab it for around $150. Although, the blender seems to be a little overpriced the $120 price is quite reasonable for a reputable brand and well-built machine.
Check here today's best price for the Cuisinart CBT-1500 Hurricane 2.25 Peak Blender
Summary
The Cuisinart CBT-1500 Hurricane Blender is a well-made and fairly versatile machine that outputs excellent smoothies and crush ice easily. It has a metal coupling gear, strong motor, and promise to last for many years. Therefore, Cuisinart CBT-1500 Hurricane Blender is a good option for those who would like to have a quality blender from a reputable brand on their countertop.
Alternatively, check our article Best Blender under $200 – Cheaper Alternative to Vitamix 2020 Guide.