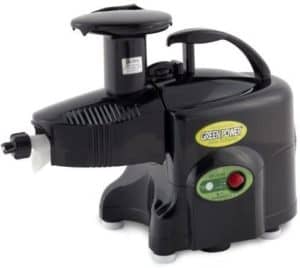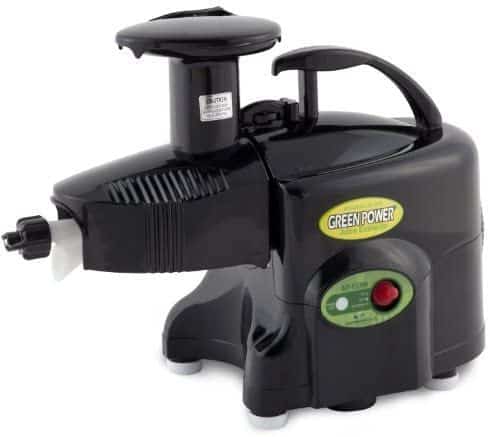 Green Power KPE-1304 Juicer is available in two models the KPE-1304 (black and white colors) and the same model with the optional kit available under the name KPE1304HG or KPE1305. The juicers are manufactured in South Korea by USA based companies and used to be known under Samson's name. The first twin gear juicer was introduced in 1997 by Samson Company and later revolutionized into the current Green Power KPE-1304 Juicer.
Set includes
KPE1304 Body and Motor;
1 Pair of stainless steel twin gears;
Three screens – standard, fruit, and blank;
Two Juicing Knobs – standard and fruit;
Two Tampers – plastic and wooden;
Juice and pulp containers;
Cleaning brush;
User Manual and DVD.
Main Body and Motor Unit
Green Power KPE Juice Extractor comes with the plastic body and 150W, 11Volt; 60 Hz; 1.4 AMP motor that rotates the auger with the slow 160 RPM speed. The well-made motor is also equipped with an automatic thermostat that prevents it from overheating.
The juicer is very quiet during the operation producing only 60 DB that is comparable with normal conversation in the office or restaurant.
Yield
From 2 lbs/0.9 kg of carrots, Green Power KPE Juicer extracts approx. 480-530 ml of juice depending on the freshness and thickness of the carrot.
Gears/Auger
The juicer has compact twin gears that are only 4 1/2″ long and comprise of two parts – the stainless steel and acetyl resin. The twin gears also equipped with a bio-ceramic magnetic system installed inside of gears (producing a magnetic field of 4,200 gausses) that allows you to maximize the nutritional value of juice and store it for longer (up to 72 hours).
The two closely aligned gears are do not touch each other, so they will not produce any craps from metal friction. They also have recessed cutting teeth between them which eliminates the need to produce pre-cut and prevent clogging of stringy ingredients.
Juicing Screen
The juicer comes with tree juicing screens:
Standard screen for processing firm produce and leafy greens;
Fruit screen for pulpy fruit;
Blank screen for nut butter and frozen treats. 
The standard and fruit screens made of plastic part with stainless steel meshes, the blank screen is all plastic.
Chute and Produce Feeding
It comes with a 1.6"/40.6mm chute opening, so will easily eat the whole carrots while beets will need pre-cutting.
Containers
The juicer comes with juicing cup and pulp containers, they both are quite unique.
The juicing cup is made of the BPA-free plastic 35oz. (with measuring up to 21 oz.)/1L container and has inbuilt bio-ceramic magnets that allow the extracted juice to store for longer.
The pulp container made of stainless steel.
Pressure Adjustment Juicing Knob
The juicer comes with two juicing knobs – vegetables and fruits. The vegetable goes with a standard screen and designed for juice extraction from firm fruits and vegetables, leafy greens, and wheatgrass.
The fruit knobs are designed for soft fruits processing and go with large mesh fruit juicing screen. The two screens allow us to extract maximum juice from a large variety of ingredients.
Functionality
The twin gear juicer has usually handled all types of produce and excel on most of them. The KPE is not an exclusion. So it is designed to process the following ingredients:
Firm vegetables like carrots, beets, ginger, and other roots;
Firm fruits like apple and pears;
Celery;
Leafy greens;
Wheatgrass and sprouts;
Soft fruits and veggies like cucumber, tomatoes, and grape;
Citruses;
Nut butter, frozen treats, purees veggies fruits, and even meat;
Mincing meat;
Grind coffee beans and spices.
In addition, there is a Multipurpose Kit available to buy separately that provides additional flexibility and increases yield for some of the produce. The multi-purpose kit comprises of:
Smaller gears that make less foam when juicing wheatgrass;
Attachments to extrude pasta.
Cleaning and assembling/disassembling
The twin gear juicers are usually quite elaborate to assemble/disassemble, use, and clean. However, the Green Power KPE-1304 is not the most difficult among them. It comprises of few parts but they are very intuitive to assemble and disassemble.
The clean-up is not as scary as it may seem and takes around 5 minutes from start to end. The enclosed in the set brush is very useful.
Warranty
Green Power KPE-1304 has 10 -year Warranty on Motor, 5-year Warranty on Operational Parts, and 30 Day Warranty on Non-Operational Parts such as (tampers).
Dimensions
16″ x 8″ x 12″, Weight – 14.2 lbs.
Green Power KPE1304 Twin Gear Juicer, via Amazon
Summary
Although Green Power KPE-1304 will require a little more time than other juicers to assemble and clean it, it delivers the highest yield and the highest quality beets and carrots juice with the longest shelf life (up to 72 hours) thanks to the unique magnetic technology inbuilt into the gears. It will also output on average 10-20% of firm veggies juices than any other slow or centrifugal juicers. In addition, the Green Power KPE-1304 does not cost a fortune and comes out to be very affordable twin gear juicers.
The Green Power KPE-1304 is also an excellent option for juicing, leafy greens, wheatgrass, celery, cucumber, and a wide range of other fruits and vegetables.