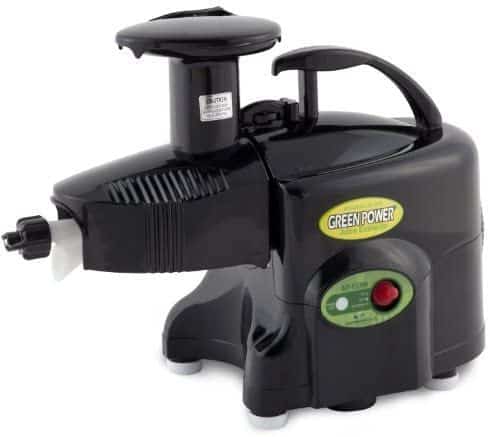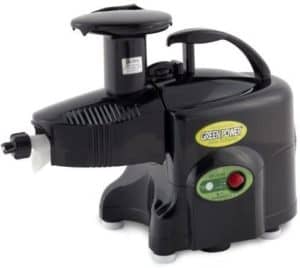 Green Pow­er KPE-1304 Juicer is avail­able in two mod­els, the KPE-1304 (black and white col­ors) and the same mod­el with the option­al kit avail­able under the name KPE1304HG or KPE1305.
The juicers are man­u­fac­tured in South Korea by USA-based com­pa­nies and used to be known under Sam­son's name. The first twin gear juicer was intro­duced in 1997 by Sam­son Com­pa­ny and lat­er rev­o­lu­tion­ized into the cur­rent Green Pow­er KPE-1304 Juicer.
Dis­clo­sure: As an Ama­zon Asso­ciate, we may earn an affil­i­ate com­mis­sion for pur­chas­es you make when using the links on this page.
Read More: Nin­ja BN601 Pro­fes­sion­al Plus 1000 Peak Watt Food Proces­sor Review
Set includes
KPE1304 Body and Motor;
1 Pair of stain­less steel twin gears;
Three screens – stan­dard, fruit, and blank;
Two Juic­ing Knobs – stan­dard and fruit;
Two Tam­pers – plas­tic and wooden;
Juice and pulp containers;
Clean­ing brush;
User Man­u­al and DVD.
Main Body and Motor Unit
Green Pow­er KPE Juice Extrac­tor comes with a plas­tic body and 150W, 11Volt; 60 Hz; 1.4 AMP motor that rotates the auger with a slow 160 RPM speed. The well-made motor is also equipped with an auto­mat­ic ther­mo­stat that pre­vents it from overheating.
The juicer is very qui­et dur­ing the oper­a­tion pro­duc­ing only 60 DB, which is com­pa­ra­ble with nor­mal con­ver­sa­tion in the office or restaurant.
Yield
From 2 lbs/0.9 kg of car­rots, Green Pow­er KPE Juicer extracts approx. 480–530 ml of juice, depend­ing on the fresh­ness and thick­ness of the carrot.
Gears/Auger
The juicer has com­pact twin gears that are only 4 1/2″ long and com­prise of two parts — stain­less steel and acetyl resin. The twin gears are also equipped with a bio-ceram­ic mag­net­ic sys­tem installed inside of the gears (pro­duc­ing a mag­net­ic field of 4,200 gauss­es) that allows you to max­i­mize the nutri­tion­al val­ue of juice and store it for longer (up to 72 hours).
The two close­ly aligned gears do not touch each oth­er, so they will not pro­duce any scrap from met­al fric­tion. They also have recessed cut­ting teeth between them which elim­i­nates the need to pro­duce pre-cut and pre­vents clog­ging of stringy ingredients.
Juicing Screen
The juicer comes with tree juic­ing screens:
Stan­dard screen for pro­cess­ing firm pro­duce and leafy greens;
Fruit screen for pulpy fruit;
Blank screen for nut but­ter and frozen treats.
The stan­dard and fruit screens are made of plas­tic parts with stain­less steel mesh­es; the blank screen is all plastic.
Chute and Produce Feeding
It comes with a 1.6″/40.6mm chute open­ing, so it will quick­ly eat the whole car­rots, while beets will need pre-cutting.
Containers
The juicer comes with a juic­ing cup and pulp con­tain­ers; they both are unique.
The juic­ing cup is made of BPA-free plas­tic 35oz. (with mea­sur­ing up to 21 oz.)/1L con­tain­er and has inbuilt bio-ceram­ic mag­nets that allow the extract­ed juice to store for longer.
The pulp con­tain­er is made of stain­less steel.
Pressure Adjustment Juicing Knob
The juicer comes with two juic­ing knobs – veg­eta­bles and fruits. The veg­etable goes with a stan­dard screen and is designed for juice extrac­tion from firm fruits and veg­eta­bles, leafy greens, and wheatgrass.
The fruit knobs are designed for soft fruit pro­cess­ing and go with large mesh fruit juic­ing screen. The two screens allow us to extract max­i­mum juice from a large vari­ety of ingredients.
Functionality
The twin gear juicer has usu­al­ly han­dled all types of pro­duce and excels on most of them. The KPE is not an exclu­sion. So it is designed to process the fol­low­ing ingredients:
Firm veg­eta­bles like car­rots, beets, gin­ger, and oth­er roots;
Firm fruits like apples and pears;
Cel­ery;
Leafy greens;
Wheat­grass and sprouts;
Soft fruits and veg­gies like cucum­ber, toma­toes, and grape;
Cit­ruses;
Nut but­ter, frozen treats, purees, veg­gies, fruits, and even meat;
Minc­ing meat;
Grind cof­fee beans and spices.
Besides, a Mul­ti­pur­pose Kit is avail­able to buy sep­a­rate­ly, pro­vid­ing addi­tion­al flex­i­bil­i­ty and increas­ing yield for some of the pro­duce. The mul­ti­pur­pose kit com­pris­es of:
Small­er gears that make less foam when juic­ing wheatgrass;
Attach­ments to extrude pasta.
Cleaning and assembling/disassembling
The twin gear juicers are usu­al­ly quite elab­o­rate to assemble/disassemble, use, and clean. How­ev­er, the Green Pow­er KPE-1304 is not the most dif­fi­cult among them. It com­pris­es of few parts, but they are very intu­itive to assem­ble and disassemble.
The clean-up is not as scary as it may seem and takes around 5 min­utes from start to end. The enclosed set brush is very useful.
Warranty
Green Pow­er KPE-1304 has 10 ‑a year War­ran­ty on the Motor, a 5‑year War­ran­ty on Oper­a­tional Parts, and a 30 Day War­ran­ty on Non-Oper­a­tional Parts such as (tam­pers).
Dimensions
16″ x 8″ x 12″, Weight — 14.2 lbs.
Summary
Although Green Pow­er KPE-1304 will require a lit­tle more time than oth­er juicers to assem­ble and clean; it deliv­ers the high­est yield and the high­est qual­i­ty beets and car­rots juice with the longest shelf life (up to 72 hours) thanks to the unique mag­net­ic tech­nol­o­gy inbuilt into the gears. It will also out­put, on aver­age, 10–20% of firm veg­gie juices than any oth­er slow or cen­trifu­gal juicers. In addi­tion, the Green Pow­er KPE-1304 does not cost a for­tune and comes out to be very afford­able twin gear juicers.
The Green Pow­er KPE-1304 is also an excel­lent option for juic­ing leafy greens, wheat­grass, cel­ery, cucum­ber, and a wide range of oth­er fruits and vegetables.