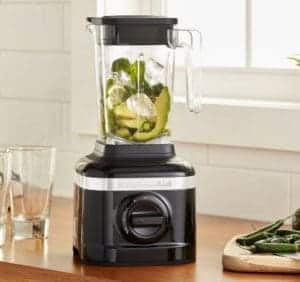 This new KitchenAid KSB4027 K400 Countertop Blender which is released by the iconic 100-year brand just recently in the mid 2019, no doubts, is shining out.
It has not only an attractive vintage exterior design but also a powerful 1.5HP motor and available in wide range of colors. While KitchenAid brand has an exceptional reputation for producing high quality kitchen appliances but it does not have a wide choice of high-end blenders. Anyway, this blender has promising potential.
Here is our honest review which must reveal all the pros and cons of this gadget.
Are you also interested in alternative options? Check here our article the Best Blender Under the $200
Functionality and Versatility
Smoothie: This machine does a great job on smoothies. It blends into smooth drinks even the toughest ingredients like kale, carrot, spinach, broccoli, and others. It handles quite well berries and berries seeds but may leave some unblended ones from time to time. The blender also makes excellent milkshakes.
Juices: No blender is able to extract textbook juice that supposed to separate liquids from the fiber. But this machine is capable to blend very smooth smoothies with added liquids aka "Whole Juice" using variable speeds.
Crushing Ice/Frozen desserts: KitchenAid K400 Blender crushes ice brilliantly with and without liquid added. This gadget pulverizes it totally in smoothies. The machine also can crush ice into the snow consistency, so it makes easily snow cone, ice-cream and other frozen treats using pulse function or pre-set Ice Crush program.
It also designed to blend high-quality slushes, mudslides and frozen cocktails utilising the variable speeds or pre-programmed Icy Drink function.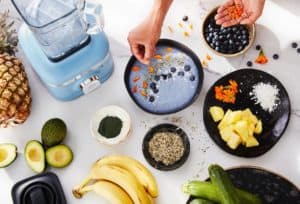 Nut milk: The blender is powerful enough to homogenize nut and rice to produce nut or rice milk. It is also able of making delicious coconut milk. The user will need to strain the homogenized liquid through the nut bag to achieve the best milk consistency.
Pureeing: This machine handles quite well thick mixture and will make decent mash potatoes, hummus and a range of deep recipes. It also suits for making baby foods. The gadget does not comes with tamper, so you may need stop machine for mixing the stubborn ingredients or use improvised tamper.
Soup/ hot ingredients: The KitchenAid K400 Blender is NOT designed to make hot soup from uncooked ingredients by heating the liquid content via blade friction. However, it is perfectly capable to homogenise cooled ingredients to soup. This gadget comes with vented lid and capable to handle hot liquid and will be suitable for producing bulletproof coffee.
Chopping/food prep: The machine comes with enough speeds options and Pulse function, so it is able to blend the widest range ingredients and achieve the appropriate texture of the food prep recipes such as hollandaise, salad dressings, homemade vinaigrette, salsas, and salad dressing. The machine also chops nut and grates cheese quite well.
Nut butter: Although, the KitchenAid K400 Blender gadget does not come with tamper but it is capable to make cashew, almond, peanut and other types of nut butter. Yet, you may need to stop machine during processing to stir thick mixtures with spoonula when required.
Grinding/milling: It is designed to grind coffee beans and herbs. It has enough power to turn the soft oats or hard rice grains into good baking quality powder.
Dough/batter: It will mix the batter and not knead the dough.
This machine is truly versatile and outputs very good quality of blending. On average, it homogenizes the fruit and vegetables with 85-90% efficiency of Vitamix or Blendtec.
Speed Settings and Programs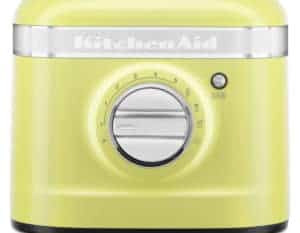 This machine control panel looks delightfully minimalistic and features only a dial knob and
START/STOP button with LED ring. The dial knob regulates:
Pulse function,
Five (5) variable speeds,
Four (4) pre-set programs (Ice Crush, Icy Drinks, Smoothie and Clean).
The speed numbers, pulse mode and all four pre-sets are depicted around the dial knob.
To activate blender manuals speeds, the user has to turn dial to desired speed position and then press START/STOP to start running. The manual speeds will stop automatically after 3 mins or you can stop it earlier by pushing START/STOP button.
The pulse function activated by moving the dial to the Pulse position and holding it until needed. It could be activated only when blender operates on one of the variable speeds and will pulse at the chosen speed only.
To activate pre-set program user has to turn the dial to needed pre-set program position (Ice Crush, Icy Drinks, Smoothie or Clean) and then push the START/STOP button. The cycle will automatically start and stop at the end of the cycle. The user can also stop it before the time by pressing the START/STOP button. All pre-set programs are optimized for each program and operated at different durations and speeds, alternating with pulsing.
For example, the Ice Crush programs cycle lasts 30 sec will chop ice even without adding any liquid ingredients bringing the ingredients to the snow-like consistency; the smoothie pre-set runs for 45 seconds and pre-programmed to pulsing the content before ramping up to the high speed; the Icy Drink setting gradually ramps up to full power to blend hard food and set for 30 seconds duration; the Clean programs alternates pulsing and high speed for duration of 13 seconds.
Ease of Using and Cleaning
Operating: KitchenAid KSB4027 K400 Blender as any other blender with the blade assembly inbuilt into the jar is extremely easy to use and clean. The user just has to place the jar on the top of the base unit, fill it with ingredients, place the lid on the place and it is ready to run.
The machine does not have any locking mechanism to fix the jar to the base. But it has a very safe construction when the jar sit on the gear with guarded perimeter. So there is no chance it will come off during the operation.
Cleaning: The KitchenAid pitcher with the inbuilt blade are designed to be cleaned in self-cleaning procedure, which is very easy. It requires filling the jar halfway with the warm water, add few drops of washing liquid and set the Clean program. Then rinse and dry with a cloth. It is typical for heavy-duty blenders with the inbuilt blade assembly. You can also wash it with hand.
There is only lid and 48 oz. glass containers are dishwasher safe on the top and low rack respectively.
Base Unit and Motor Power
The KitchenAid KSB4027 K400 Blender has stylish and retro design and comes with solid die cast metal base unit and powerful 1.5HP at peak motor. No doubts, it is capable of performing heavy-duty tasks.
The motor seems to be well made. There is no design flaws were reported by the customers by now and no significant number of blender users complain in regards to the motor failure. Moreover, the blade to motor coupling also looks quite reliable with all parts including the socket drive, splined shaft, and blades made of metal. That indicated that the motor must be durable but still it could be confirmed only with time.
The blender also equipped with the motor protection system which stops the machine automatically when the motor overloaded and protects it from an early death. If the shutoff was triggered the machine operation could be resumed after 15 minutes by switching the Reset/Power Switch which is located on the right-hand side of the base. This switch also could be used to switch off the machine when it is not operated without a need to unplug it.
Check Here The Best Price For The KitchenAid K400 Blender
Containers
Jars: The KitchenAid KSB4027 K400 comes with square shape 56 oz. BPA-free polycarbonate container. It is impact and temperature resistant and could handle hot temperature up to 208F and almost impossible to break. The jar has a comfortable rubberized handle and very thick rubber lid. It also has measuring marks in ounces and cups on the side of the wall. The jar is premium quality and has no issues with leaking.
There is also the packages available with 48 oz. strong and temperature resistant Borosilicate Glass container.
Lid: The machine also equipped with a very thick rubber vented lid that creates a strong seal and quite unlikely to fly off during blending but may be a bit difficult to take it off after the use. There is a hole 2.0 inches in the lid that is designed for venting when processing hot food and also could be removed for adding extra ingredients during blending.
Tamper: The package with 56 oz. plastic jar does not include the tamper while the package with 48 oz. Glass do include custom-built tamper that designed to help processing thick mixes and remove air pockets or push stubborn ingredients down. The tamper is a very useful tool when blending nut butter, frozen desserts or various spread recipes.
Blades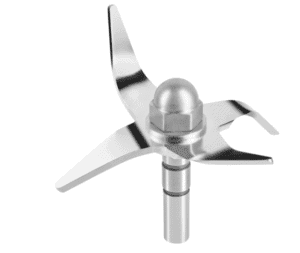 This machine comes with blade assembly permanently inbuilt into the container, which common for the heavy-duty commercial type blenders. The blades are 4-prongs and asymmetric blade that blends at four distinct angles. They sharp made of stainless. Overall, blades and assembly are well made and look durable.
Special Features
Colors: It is available in wide range of color solutions – matte black, contour silver, passion red, pistachio, blue velvet, white, and ink blue.
Certified Refurbished: There are no certified refurbished models available for this blender currently.
Use in countries outside of USA/Canada: This machine comes with a 110-120 voltage system for use in USA and Canada and 220-240 for European, Asian countries, Australia and New Zealand via local distributors of KitchenAid products.
Set Includes
5HP motor base with variable speed and pre-set programs control panel;
56 oz. polycarbonate/or 48 or glass container with inbuilt blade assembly and 2 parts vented lid;
Custom tamper For glass container package only);
User manual;
Get started quick start guide.
The package does not include any recipe book.
Warranty and Customer Service
KitchenAid KSB4027 K400 Countertop Blender is assembled in USA and comes with a 5-year full warranty which confirms KitchenAid brand quality and durability. The full warranty means that it covers machine' basic wear and tear can expect.
The KitchenAid customer service is well known for its excellent support.
Noise
This machine is loud considering the powerful motor as most of the powerful blender. It outputs approximately 94-100 decibels. The noise level hugely depends on the ingredients you process.
The standard advice for the people sensitive to noise – place the rubber pad underneath of the base unit which will also reduce the loudness of the blender.
Optional Accessories and Attachments
There are following additional accessories and attachment available for the machine:
16-oz Personal Blender Jar Expansion Pack for KitchenAid K400 Blenders. It includes single serve cup, the blade assembly and a resalable, screw-on lid for easy drinking.
6-oz. Small Batch Jar Expansion Pack for KitchenAidd K400 Blenders. It includes this 6-oz. Small Batch Jar, the blade assembly and a sealed lid to store the blended food in the same container.
32 oz. capacity Citrus juice reamer attachment. It converts your blender into electric citrus juicer machine.
48 oz. glass container.
You can also buy replacement parts from blender retailers or the manufacturer customer service.
The KitchenAid K400 Blender Dimensions
This blender is not huge and will not take much of the counter space in the user kitchen. Its footprint measures 9.02 x 7.59 inches only. With the height of x 15.80 inches, this machine must fit under the standard kitchen cabinet. Though it is a bit heavy – 14.7 pounds. The machine comes with under the unit base cord storing feature.
This machine base unit is very heavy and it certainly will not move over the counter during processing.
KitchenAid KSB4027 K400 Blender Pros and Cons
Pros:
The Jamba Appliances 2.4 HP outputs very good quality of blended drinks including the green smoothies which are comparable to Vitamix;
This machine is truly versatile and able to perform the range of task usual for the majority of heavy duty commercial type blenders;
It has sleek look with heavy duty die cast metal base unit;
The machine is well made and comes with the quality jar, blades and all-metal motor to blade coupling what indicates that it must be durable;
The gadget has a range of optional accessories which expand the blender versatility.
Comes with 5 years full warranty that confirms its durability.
Cons:
The polycarbonate container model does not come with tamper.
The KitchenAid K400 Blender Blender Consumer Reviews
This machine is well rated with a majority of the retailers. It is a new blender and being on the market just over the one years, it does not have many reviews. However, the majority of user find this machine very versatile and well made.
Amazon rating – 4.8
KitchenAid KSB4027 K400 Blender Price
The price for this machine fluctuates with different retailers and reach with some of them $249. However, the KitchenAid website set it at $249 what could be a reliable benchmark. Recently, the unit became available for the discounted price with some retailers. Probably the manufacturer wants to get more reviews and win some popularity among the consumers before setting the final price. The Amazon offered the best discount for this machine in recent weeks.
Check Here The Best Price For The KitchenAid K400 Blender
Summary
KitchenAid KSB4027 K400 Countertop Blender is a solidly built blender with luxurious retro look and die cast metal base unit. It delivers high quality blending with excellent texture. This machine is well-constructed and has no obvious flaws. Apart from that it desirable to have a custom-made tamper for heavy duty processing. The blender could be a decent alternative to Vitamix and join the club of other Vitamix copycats newcomers that have the ambition to compete with old and reputable brands.
Overall, KitchenAid KSB4027 K400 Blender is an excellent option for those who are looking for affordable heavy duty durable machine from reputable brand that comes with solid 5 years Full warranty.