Citruses – oranges, lemons, limes, grapefruits, tangerines, clementine, mandarin, satsuma, tangelo, citron, kabosu, kiyomi, sudachi – are the most suitable and hence very popular fruits for juicing. They can be juiced in a few ways such as with
Dedicated citrus juicers, which are available in a form of

Electric Reamer;
Mechanical Citrus Press;

Vertical single auger masticating juicers with citrus attachment;
Any juicing extractor.
Whereas, the citrus juice extracted by each type of juicer will vary not only by yield but also by quality. The purpose of this article is to make clear the way each juicer type extracts the citrus fruit juice, the quality of the final product and easiness to use and clean each type of juicer after use. So you will be able to make your own decision which type juicer is the best to meet your needs.
Dedicated Orange and Citrus Juicers – Electric Reamer and Manual Press
The dedicated citrus juicers – electric reamer and manual citrus press – do not require peeling oranges or other citrus fruits for juicing. The preparation procedure involves only cutting the fruit in half and extract the juice simply from the fruit segment.
Pros:
Very fast to extract juice;
Produce high quality slow cold pressing juice;
Require little preparation time because do not need to peal produce;
Extract the best juice yield from Oranges, Lemons, Limes, and Grapefruits;
Usually cheaper than slow juicers;
Easy to use and clean;
 Cons:
Not versatile and juice only citrus produce.
Electric Ci

trus Reamer
Electric citrus reamer is a simple machine that employs a rotating reamer/auger to press juice. The user either manually with hand (cheaper machine) or with a fruit dome (expensive machine) holds the fruits half against the rotating auger to squeeze the juice. The juice is passes through a strainer.
Electric citrus reamer has a small number of parts such as motor body, reamer cone, strainer, juicer bowl with juice outlet, the more expensive machine may also have juicing dome and handle to hold the half fruits against the cone during juicing. So, they are very easy to use and clean.  Some machine may have few coned auger sizes for small and large fruits.
The reamers process juice via slow speed pressing technology and thus deliver high quality juice with long shelf-life.
There is a huge variety of electric motor powered citrus juicers to choose from – stylish Breviile or Smeg, budget Cuisinart, BLACK+DECKER, or well-known juicing brand CitriStar. In this article we will look at two most efficient and popular machines.
Tribest CS-1000 CitriStar Electric Citrus Juicer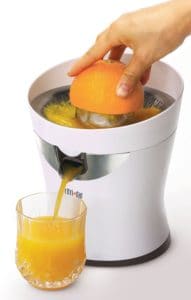 The Tribest CS-1000 CitriStar is a budget citrus reamer juicer. Nevertheless, it is very efficient and delivers high orange and other citrus fruits juice yield and very popular among the consumers.
Base Unit and Motor: The Tribest Citristar comes with plastic juicer body and a 120 V, 50 Watts motor. It has wide base and rubber feet with the convenient wrap cord storage under the base. To keep your juicer clean when it sits on the counter or stored in the cabinet, it is provided with a plastic dust cover which appears to be very handy.
Juicing
 Cone/Ream: The juicer handles well all larger range of fruit sizes from small lime to the largest grapefruits for juicing. It equipped with the two sizes nested one in another lemon/lime clear plastic reams. If you need to juice smaller fruit just remove the large ream to get the smaller lime one. To juice a large fruit such as orange or grapefruit just return the large ream into place above the small ream.
Strainer/Screen: Although the juicer is made mostly from plastic, it has a sturdy, rust-free stainless steel strainer, and it does a good job catching seeds and most of the pulp out of the juice.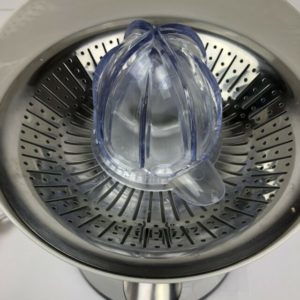 Juicer Collector Bowl with Spout: It has plastic juicer bowl and inbuilt and irremovable stainless steel spout. However, the spout is moved up and down and could be locked during processing by pushing it up and released any time you would like to pour the juice into the glass.
There is such a things as complaints from customers about the small spout hole because it tends to clog. Yet, you can unclog the drain simply by flicking the spout open and closed a few times and it works, you do not need to disassemble juicer for this purpose.
Cleaning: The juicer has only 3 parts – body unit, juicing rem, bowl and screen – thus it is very easy to assemble/dissemble and clean.
Operation: The operation is also simple, the machine is switched by firmly pressing the halved fruit against the ream.
The juicer is designed to operate no more than 15 consecutive and must rest 15 seconds after operation, it also recommended to operate no more than 5 minutes before few minutes rest.
Juice yield: 4 Navel oranges deliver just under 2 cups/16 ounces of juice.
Dimensions: 8 W x 8 D x 9.5 H inches, weights 7.7 Lbs (3.5 KG).
Warranty: The juicer has only 1 Year Warranty, however it is well made machine and could easily serve for 3-5 years. Besides, the Tribest Manufactweing Company is well-known manufacture with the decent customer service located in USA.
Summary: Although, the Tribest CS-1000 CitriStar juicer is rather basic machine that made mostly of plastic but it is very well made and has a decent life expectancy.
Though, it delivers very good juice yield and could be a perfect machine for those likes to hold the citrus fruit in hand while operating the machine since it allows to control the juicing process and get a maximum juice out of fruit.
Check here today's best price for the Tribest CS-1000 CitriStar Juicer
Breville 800CPXL Die-Cast Stainless-Steel Motorized Citrus Press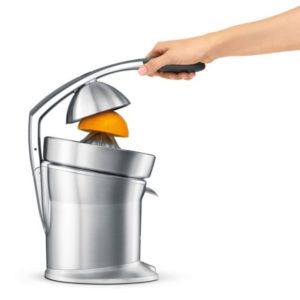 The 800CPXL Citrus Juicer is the premium Breville juicer which is made in China while engineered and patented in USA. This brushed stainless steel machine is designed with very unique pull down juicing arm/lever that allows to juice oranges and other citrus fruits with minimal efforts but industrial power.
Base Unit and Motor: This electric reamer has an ergonomic exterior design with its body made 100% from durable die-cast resistant to corrosive citric acid stainless steel.
The stylish body houses 120 volts, 110 watts very quiet motor. The machine has a plastic motor shaft that is subject of complain from some customers. The good thing, the replacement shaft is available to buy from the manufacture and the price is reasonable.
Juicing Cone: The Breville 800CPXL reamer equipped with the acid resistant die-cast stainless steel juicing cone. It is designed with 4-fins around it that allows to keeps secure fruits in place while processing and extract a maximum juice yield from all sizes of citrus fruits from smallest lime to orange to largest grapefruits.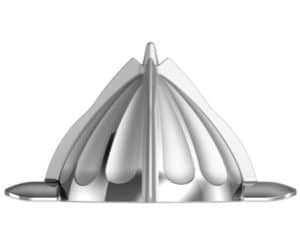 Strainer/Pulp Filters: It comes with two (2) different stainless steel pulp filters – the coarse with larger holes for pulpier juice and the fine with smaller holes for less pulpy juice
Juicer Bowl: The machine has die cast stainless steel juice bowl with non-drip juice spout. The juice bowl collects the sieved juice from the strainer which goes then into the glass through the juice spout. You can also push spout up to keep juice inside the bowl and release when finish juicing.
Juicing Dome and Handle: It has a similar to commercial models a dome and lever design. When you place the half fruits on the cone, the dome will keep the orange in place while processing. So, you do not require applying a lot of pressure while juicing, basically you can do it with one finger.
Using and cleaning: The juicer has only 4 parts – body, bowl collector, strainer and dome – which are easy put together for assembling.
The juicing cone, strainers, bowl collector and dome are all the removable parts that could be cleaned under the running water or on the top shelf of dishwasher.
Operation: There is only one button on the back of the body that powers machine. It is activated automatically when you place the halved fruit onto a cone, pull down the juicing dome and it rests on the citrus fruit. You stop operation when push the lever up to release the citrus peel.
The juicer is equipped with the safety feature, so it will not operate until the dome and lever place enough pressure on the top of the cone.
Juice yield: The machine is very efficient and easily squeeze 1 glass from 3-3.5 large Navel orange.
Dimensions: The juicer is huge and measures 11″ x 9″ x 18″.
Warranty: The Breville come with ONLY 1-year warranty, the helpful and supporting customer service. Despite the very short warranty, the machine is very well made and durable.
Summary: Although, the Breville 800CPXL Citrus machine comes with a high price tag, it worth every penny. It is well-made, stylish, fast, and quiet and unlike most of other juicers. It is so easy to use even a child (under supervision) or person with severe arthritis could operate this gadget easily.
The juicer works smoothly with any fruits and never torqueing and handles all type of fruits from small lime to huge grapefruits. It squeeze every drop of juice leaving the peel absolutely dry. It actually delivers the highest yield among all types and makes of electric reamer citrus machines.
Check here today's best price for the Breville 800CPXL Citrus Press
Mechanical Citrus Press
The Mechanical Citrus Juicer is a hand operated press which uses the cantilever action to multiply force in order to press the citrus fruit juice. They indeed do not need an electricity for operation. These juicers are normally very large and heavy, but are very easy to use and clean.
Basically, you place the halved citrus face down on the reamer and lower down the leveraged metal handle to press out the juice. It does employ a slow juice extraction process, hence, juice extracted with mechanical press is very tasty, has high nutritional value and long shelf life (up to 48 hours).
There are a large number of mechanical citrus presses available on the market. The bad news, they are all made in China, no matter they are distributed by reputable or short-lived company (majority of them are). The good news, a few USA and European distributing company's service this type of juicers and sell the replacement parts.
Here we will review only brands that are serviced by reputable companies that will stand behind the product and serve the warranty for them.
Gourmia GMJ9970 Large Citrus Juicer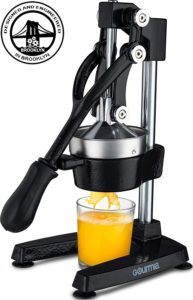 Gourmia GMJ9970 Large Citrus Press is a budget version of citrus press juicers. It is manufactured in China and distributed by USA Brooklyn based company that was established in 2015 and specialising on kitchen appliances distribution.
The juicer is constructed with the following parts:
Metal frame with feet, body neck,
Rubber handle,
Pressure dome,
Strainer cone,
Funnel cup/bowl.
Functionality: It handles following ingredients:
Lime,
Lemon,
Oranges,
Grapefruit.
Tangerine (satsuma),
Base: The base is sturdy and made from cast iron with rubber feet and rubber grips.
Pressure Cup/Dome: The Pressure dome is made from aluminium.
Strainer Bowl and Cone: It has stainless steel drain bowl and aluminium strainer cone. The 4.5" in dimeter strainer bowl fits easily from small lime or average size grapefruit.
Juicing container: The press does not include the juice collection container but will fit under the funnel the 4.5" tall cup for juice collection.
Operation: In order to squeeze the juice you have to place the citrus on the cone and press down the handle.
The Gourmia GMJ9970 Large Citrus Press is not very easy to operate and you have to have some force to apply to do it, otherwise, you might not get all the juice out. You also have to hold the press down when you pull the handle because the gadget may move when you apply pressure.
Dimensions: It is 27.5" tall with the handle up and 15.5" with the handle down. Weight – 12 lbs.
Warranty: The Citrus press comes with a limited one year warranty.
Summary: The Gourmia GMJ9970 Large Citrus Press is sturdy, very simple to assemble and clean. It does require some efforts to apply when pushing the handle down but this is budget version sold at a low price for the quality citrus press and serviced by new but established company with excellent customer support.
Check here today's best price for the Gourmia GMJ9970 Large Citrus Press
Focus Foodservice 97336 Jupiter Large Commercial Juice Press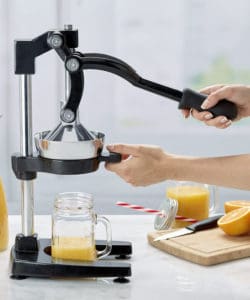 Focus Foodservice 97336 Jupiter Juice Press is well known on the market for its quality. It is manufactured in China but distributed by the USA based Focus Products, LLC. The Jupiter juicers were formerly known under the OrangeX which later was acquired by Focus Products Company. It one of the few citrus press juicers that is NSF approved (as indicated on the box).
The juicer is comprise of following parts:
Base with stable feet,
Neck of the body with funnel holder,
Handle,
Pressure cup/dome,
Strainer cone,
Funnel cup/bowl.
Functionality: It will easily press out every drop of juice from
Oranges,
Grapefruits,
Lemons,
Limes,
Key limes,
Pomegranates  
Base: The Jupiter Press juicer base, feet and neck of the juicer are all made from cast iron and stainless steel with enamel coating to resist citrus acids and corrosion. It has a wide base and rubber suction cup feet for stability during operation.
This juicer is very well constructed, its 3 pinion design mechanism allow application of minimum efforts from user to exert 2300 PSI (pounds per square inch) force.  The juice squeezing process is so effortless that even child can operate it.
Pressure Cup/Dome: The pressure cup/dome of the press is made of chromed aluminium but it does not contact with the fruit flesh or juice.
Strainer Cone: The perforated strainer cone if made of 18-8 stainless steel. It is 4.75" in diameter and can efficiently accommodate a different sizes citrus fruits from key lime to the average size grapefruit.
Juicing container: The Press package does not include any juice collection cup. But you can fit 5" tall juice container under it its funnel for juice collection.
Operation: The press operation is no-brainier. To squeezing out the juice you just lever down the handle and the pressure cup presses the halved citrus fruit that sits on strainer cone.  
Dimensions: The press is huge and heavy. It measures with the handle down 15″ (H) x 10.5 (D) x 7″ (W) and 28″ x 10.5" X 7" with handle up position. It weighs 14.6 lbs.
Warranty: The machine comes with only 1-year limited warranty. However, it is very durable and will serve you for many years. You can also buy replacement part from special supplies.
Summary: The Focus Foodservice 97336 Jupiter Juice Press is, no doubt, the best manual citrus press available on the market, no other competing citrus press comes close at the comparable price and equivalent performance. It is truly a commercial grade juicer. It is sturdy, very easy to operate and will last for many years. Its handle and bearing mechanism are very effective, they apply a huge amount of force to squeeze any citrus fruit to the last drop.
Check here today's best price for the Focus Foodservice 97336 Jupiter Citrus Press
Extract Citrus Juice with Masticating or Centrifugal Juicer
You can extract orange and citrus fruits juice using masticating or centrifugal type of juicers. The only problem, you will have to peel the fruits for this purpose. Theoretically you can juice unpeeled limes and lemon since their rind is edible but the oranges, tangerine and grapefruit must be peeled. Because their skin contains the bitter oil that is not only unpleasantly tested but also contains chemicals.
So, to juice oranges and other orange color citrus fruits you will require to peel them, cut if needed and extract the juice using masticating or centrifugal juicer. The white pith contains high level of bioflavonoids, and this method, actually, brings not only the creamier texture but also the most nutritional value and the best yield juice.
So peeled citrus fruits could be juiced with any masticating or centrifuge juicer. However, the centrifugal juicer will deliver almost 20-30% less of juice than masticating type and the quality is also worse with them than with masticating machines because it will separate into watery and pulpy parts. So the centrifugal juicer are not very good option for juicing the citruses.
The twin gear juicer will perfectly handle any citrus fruits but they are the most expensive type of juicers and are known as ultimate leafy greens machines rather than soft fruits one. So the twin gear juicers are also not the best option for extracting citrus juice.
So the best masticating machine for extracting the citrus juice are the single auger juicers.
Vertical Single Auger Masticating Juicer with Citrus Attachment
The Vertical Single auger juicers with a wide chute are most efficient machine across the masticating juicers for extracting juice from the citrus fruits. They are not only the best to deal with the soft fruits but they can be fed the whole orange without pre-cutting. In addition, the vertical single auger machines are the most versatile masticating juicer that can effectively juice almost any ingredients.
However, there are more good things about vertical slow machines. Some Kuvings and Hurom vertical juicers come with the citrus reamer attachment. So, with such machine you can extract both types of orange juice – from the peeled orange without the rith and from the whole fruits with the rith that have more bioflavonoids and other nutritionally valuable ingredients.
Kuvings Whole Slow Juicer EVO820CG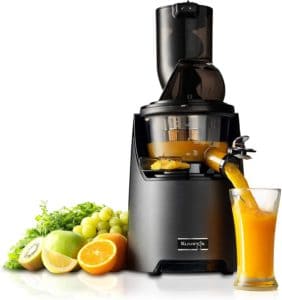 Kuvings Whole Slow Juicer EVO820CG is the latest 5th generation vertical masticating machine that was released at the mid-2018 and manufactured by reputable South Korean company which specialising in juicers production for over 40 years. This machine is different from other home use slow juicers on the market not only by largest diameter feed chute but also that it is designed with an optional citrus juicer attachment.  
Set includes:
Base Unit,

Juicing Bowl,
Auger,
Juicing Screen, Blank Screen and Smoothie Screen,
Rotation Wiper,
Tritan Juicing Drum with Feed Chute,
Tritan juice cup and pulp container,
Food Pusher,
Lid opener (you suppose to use it when the juicing drum is difficult to remove),
Over-sized cleaning brush, Spout Cleaning Brush and Special Screen Cleaning Tool,
Instruction manual,
Recipe Book (Full Color) 75+ Pages.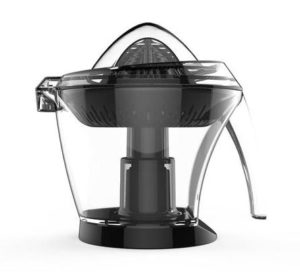 Citrus Remer Attachment: The citrus reamer attachment is not included in the set, but you can buy it from the manufacture.
The Citrus reamer attachment will easily turn your Kuvings EVO820 machine into the dedicated electric citrus squeezer. So will be able to extract oranges and other citrus fruits juice just by cutting them in half and pressing them down onto a spinning reamer cone.
Motor and Body Unit: The EVO820 has a luxurious leather pattern body unit design and is available in Silver and Gold colors.
The machine features powerful 120V, 240 Watts motor which rotates auger with a slow 60 rpms speed allowing highly nutritional cold press juice extraction. The machine comes with ventilation system to ensure efficient motor cooling. The motor is designed for 30 mins of continuous operation before it must rest for cooling.
Juicing Bowl, Drum, and Feeding Chute: The juicer features newly designed for the Evo 820 model juicing drum with less bottom grooves for easy cleaning. It has 400ml/13.5 ounces capacity and made form BPA FREE Tritan copolyester material.
The machine also equipped with the newly designed and largest on the market O-shape 3.2"/82 mm feeding chute diameter which allows fitting larger ingredients without pre-cutting, it can lodge a small whole apple. The feeding chute has safe and convenient new flip feeder gate which works as a safety feature, so the user hands will not fit through the mouth.
The juice outlet has the smart cap closed, that allows mixing juice inside the drum and get more nutrition before realising it.
Gears/Auger: The Kuvings Whole Slow Juicer EVO820CG feature the single wing auger that is designed to brute force push, squeeze and then grind the produce. It is made with the chemical resistant and very strong GE ULTEM plastic material.
The auger is designed with the deep hole at the bottom that ensures that pulp is not building up under the inside but processed properly, then smoothly extracted via the pulp outlet and ensure the higher juice yield.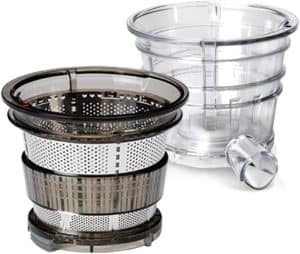 Juicing Screen/Strainer: The juicer comes with 3 screens/strainers in the package – the juicing screen with fine holes for juicing tasks, the smoothie screen with larger holes for making low oxidation smoothies and the blank screen for homogenizing tasks such as frozen treats, nut butter and pureeing food.
The juicing screen is well designed, it sits firmly inside of the juicing bowl and allow to work properly extracting maximum juice.
It also comes with well-designed wiping blades that moves when the auger moves, cleans the screen for achieving higher yield.
Containers: The juicer comes with BPA-free Tritan copolyester pulp and juice containers.
Functionality:
The Kuvings EVO820 is truly multifunctional juicer, it is not only process all soft and firm fruits and veggies but also designed to perform a range of food processing tasks:
Citrus juice including limes and grapefruits;
Firm fruits juice such as apples and pears;
Vegetable juice such as carrots and beets;
Celery juice;
Leafy greens juice;
Wheatgrass juice;
Nut butter;
Smoothies;
Nut milks;
Baby food;
Sauces and dips.
This machine allows to extract orange and other citrus juice in two ways – from peeled fruits when you feed the whole fruits into feeding chute for juices c extraction and from unpeeled citruses using the mounted on the motor base citrus reamer attachment.
Yield: 4 average size peeled oranges will deliver around 18-19/0.5l of orange juice with pith.
Cleaning and assembling/disassembling: The Vertical juicers conctructed of few parts and are not the easiest to assemble/disassemble and clean. They are certainly more complicated to clean than dedicated citrus juicers.
Nevertheless, the Kuvings Whole Slow Juicer EVO820CG user manual has very detailed instructions on assembling the machine. The Kuvings designers made their best to minimise your cleaning efforts, it comes with the 3 brushes included in the set and special screen/strainer cleaning tool (strainer is the most difficult part to clean in any juicer), it has very well designed pulp outlet that is very easy to clean and it has new improved juicing bowl that is much easier to clean than other Kuvings model (but not the easiest compere to other vertical juicers). The entire cleaning process will take about the 5 minutes on average.
The machine comes with the juice outlet cap so it could be pre-cleaned with self-cleaning procedure.
Controls: The juicer is controlled with only one switch with the REVERSE/ OFF/ FORWARD functions, where REVERSE function will dislodged the ingredients, FORWARD will start running machine and OFF stops the operation.
Warranty: Kuvings Whole Slow Juicer EVO820CG comes with 10 year-limited manufacturers and their customer support is in Chicago, Illinois.
Dimensions: 7.9″ W x 9.44 D" x 19.29″ H, weights15.7lbs/7.1 kg.
Summary: Kuvings Whole Slow Juicer EVO820CG is a premium vertical juicers. Although it an expansive machine but it cost every penny. It does a great job juicing a wide variety of produce from citrus to hard fruits and veggies, leafy greens and a variety of food processing tasks.
It has an optional citrus reamer attachment, so you can juice you oranges without peeling them. There is only few machine on the masticating juicers market are available with such feature.
Most important, machine delivers very high juice yield from most ingredients, eject a very dry pulp and it has the widest O-shape feeding chute that reduce greatly the ingredients preparation efforts.
Check here today's best price for the Kuvings Whole Slow Juicer EVO820CG