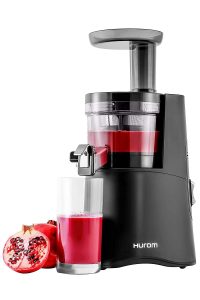 Although a few countries have ventured into the juicing world, South Korea is outstanding and has surpassed them all. The South Korean kitchen appliances manufactures have invested heavily in juicing research and development and hugely contributed to the development of the latest Slow Masticating Juicers technologies. As a result, the South Korean kitchen appliances companies not only have excelled in manufacturing high quality slow masticating juicers but also are responsible for rising to the peak the Single Auger masticating juicer technology and introducing to the world the Vertical Single Auger and Twin Gear juicers.
You may also come across such Slow Masticating Juicers Brands as Aicok, Aicook Aobosi, ENZOO, Jocuu, IKICH, AMZCHEF, KOIOS, SKG, Picberm and numerous other unknown brands, they are all manufactured in China by generic manufactures and distributed by short live brands that were registered just a few months ago in order to make these generic Chinese juicers look branded. In fact, they are not. The Chinese generic manufacturers only try to imitate the South Korean reputable juicers brand and since they lack their facilities to carry out research and development they miss the mark and have remained behind in terms the technology but also quality. Chinese imitation is not the invention, it is about stealing someone else engineering ideas.
There are also a few worldwide recognize reputable brands that lack their own production facilities but outsource their juicers from South Korean reputable bands with production facilities or from Chinese manufactures.
So, to make it clear for you which juicer brand is produced by a reputable company that stands by their product and from whom you will receive the full support in case you may want to call the juice warranty, we made a list of reliable juicers manufacturing companies with some information about the brand, if the brand owns the manufacturing facilities or outsource its products and which juicer they produce.
Champion Juicers
Among the most reputable juicers brand, Champion Juicer is highly respected in the juicing community. The company has the Corporate Headquarters in Lodi CA, USA and its own manufacturing facilities in the USA, where versatile and high-quality products are made. The brand is a family-owned business that is run by the third generation of its founder. The Champion Juicer has invented its first masticating juicers in 1953 which became popular all over North America as the legendary performer for more than fifty years.
The Champion Juicer is a well-made and long-lasting machine but it did not update technology for many years. Nevertheless, it 2011 the Champing juicer released the wheatgrass auger for its legendary Champion Juicer model 2000 and after it introduced few innovative models. Currently, it manufactures five (5) models – Champion Classic 2000 (G5-NG-853S), Champion Classic Commercial 2000 (G5- PG710), Legacy 3000, Elite 4000, and Champion Professional 5000 Dual Auger.
Kuvings
Kuvings (was established in 1978) is a Korean company headquartered in South Korea and offices throughout the world, including the United States (Elk Grove Village, IL). All of Kuvings juicers are manufactured in Korea while their US customer service is conducted via their offices in the United States.
Kuvings is a very reputable brand that is very well respected in the juicer community. Their flagship product, the Kuvings B6000 whole slow juicer, is one that introduced the first wide-mouth Vertical Slow juicer to the juicing market and since it became one of the most plagiarized technology on the juicing world.
Although the most famous Kuvinga model is a wide mouth vertical single auger Kuvings EVO820 model it produces a wide range of domestic and commercial centrifugal, vertical and horizontal single auger juicers. It also manufactures juicer for such reputable brands without manufacturing facilities such as Omega and Sana.
Hurom
The Hurom is another is a respected juicer brand in the juicing world. One can trace its history back from 1974 when it started as a small scale kitchen appliances manufacturer. This unique brand was aimed at boosting the healthy lifestyle of the people. Thirty years after the Hurom creatively designed the first-ever known slow vertical juicer. Indeed, it is perceived that all slow vertical juicers' manufacturers borrow their concept from Hurom's idea. Such invention shows how much this model has influenced the juicing revolution.
The Hurom Company is specializing in the production of a wide range of vertical single auger masticating juicer. However, it also produces the two (2) very successful horizontal masticating juicer models, unfortunately, they are not available in the USA.
The same as Kuvings the Hurom also produce a range of juicer for the brands that do not own their manufacturing facilities.
Angel Juicers
Super Angel is a South Korean brand is known for manufacturing twin gear juicers, which have remained among the top best models. This brand was established in 1982 and has been in the market for more than thirty years now. Since then, it has maintained the production of only Twin gear Super Angel models which are exceptional quality products as well as reliable customer service.
What makes its juicer superior is the application of innovative technology.  Additionally, the Super Angel Juicer is the only machine on the market that is made 100% of stainless steel and will not leach any plastic chemicals into the final product. Such good qualities have made it remain at the pinnacle of the juicing community.
Samson
Samson Company is another South Korean brand among the leading reputable juicer manufacturers. Since 1992, the Samson brand has been making tremendous steps in the juicing world by incorporating new technologies in its production. Samson is the company that revolutionized the juicing world with an introduction in 1982 the first slow Single Auger Masticating Juicer. Before only the fast Champion Juicer was known to the juicing community.
Samson is also responsible for the introduction of twin gear technology to the world when it produced its first Ultra Twin Gear Juicer (KPE1301) in 1997.
By embracing the commercial juicing market, the Samson brand runs the Wheateena brand in the USA. The Wheateena designs and produces other high-quality household juicers like the wheatgrass juicers.
Samson is also involved in the production of the famous People Press Juicer. It also extends its customer services in the USA, where the distribution of juicers' spare parts takes place from its offices. Moreover, its facilities in South Korea manufactures other juicing products.
Currently, the Samson Juicer manufactures the Green Power Twin Gear Juicer KPE-1304, Samson Juicer GB-9001, and the Welles Press Hydraulic Manual Juicer.
Samson also produce the twin gear juicer for other companies most likely for Tribest, Omega, and BioChef companies.
Omega
Over time, the popularity of the Omega juicer brand has increased, not only in the USA but also in other countries. Omega has its headquarters located in the USA, although it lacks its development and manufacturing facilities (for example Omega MMV700 Juicer). Some of the leading South Korean factories like Kuvings manufacture products for this brand. Another company that is involved in the production of Omega juicers is Hurom. Besides, there is a great similarity between Omega VSJ843Q and VSJ843R Series and Hurom HH/HG Elite Slow Juicers and some juicers components of the two brands are even interchangeable.
Specifically, Omega specializing in single auger horizontal and vertical juicers, however, it also distributes the centrifugal, twin gears, and citrus juicers. It has extended its branches to Europe and has its headquarters at Sana in the Czech Republic.
Tribest
Tribest is another company that is coming up with high-quality, reputable juicers.  Its headquarters are located in the USA. This model seems not to have its development and manufacturing facilities. Instead, South Korean facilities like Samson Company, manufactures some of the Tribest's products. Chinese manufacturers, on the other hand, contribute to the making of this company's models.
Notably, Tribest not only deals with juicers but also with other home appliances such as sprouters, blenders, dehydrators, and juice extractors. Apart from operating from the USA, this brand is in the world market, and its products are globally demanded.
BioChef
BioChef is the new company for the juicing community that was established in 2011. It develops and designs its products in Australia and manufactures them in China under complete adherence to North American electrical standards. Nevertheless, it is known to supply its customers with decent quality products.
This company manufactures now single auger horizontal and vertical juicers and twin gear juicers. It also offers its customers a range of blenders, dehydrators, and other healthy living kitchen appliances.
Nowadays, the model is globally recognized and has offices in many countries worldwide.
Pure Juicer
Basically, the Pure juicer brand is a world-class facility that is located in China and the juicing community highly commends it. Its operations take place in China, although the final inspection of its products is carried out by an experienced PURE team facility located in Seatle. Manufacturers of this model meet the set gold standard quality assurance regulations.
Additionally, multiple inspections of mechanical parts are done in its facilities, to maintain a high-quality, reputable brand. The model also has highly experienced customer service members who provide after-sale services. Pure juicer brand offers more than ten years of transferable warranty, and it is also in total price control of its products.
Norwalk
This is a reputable brand that manufactures that produce the Hydraulic Press juicer in the USA, with more than eighty years of experience. The brand commits itself in innovation, passion, and application of scientific knowledge to improve healthy human living. Products from this brand are of high quality, and the staffs inspect them thoroughly before they are exported from the USA.
Furthermore, they have highly experienced customer service staff who serves customers even after purchase. Since the company is confident with its products, it offers a limited warranty for more than ten years. Norwalk discourages counterfeit juicers' accessories and attachments. Therefore it is the only distributor of its accessories to customers.
Breville
Generally, Breville is a highly respected Australian brand that manufactures very reputable products in more than seventy countries globally.  This brand does manufacture not only juicers but also other peculiar home appliances.  Some of its other products include toasters, blenders, microwaves, toaster ovens, and coffee machines. Indeed, this brand started more than eighty years ago as a small scale home appliance manufacturer.
It has affirmed itself in the juicing market and manufactures high-quality centrifugal juicers in China. On the other hand, it produces Big Squeeze Vertical Masticating juicers in South Korea. In many cities worldwide, the popularity of this brand has grown tremendously.
L'Equip
L'Equip is a South Korean company that has ventured into the kitchen appliance manufacturing. In particular, this brand does manufacture not only juicers but also other vital kitchen appliances like dehydrators, crepe makers, candy floss machines, food processors, and fryers. Its production has extended worldwide and has its operations even in the USA.  As a matter of fact, customers have built trust in it because it has served them for more than twenty years. The brand has invested heavily in research and innovative technology. The integration of both technology and research has eventually led to its outstanding performance.
Final Thoughts
Although there are innumerable juicer brands today, not all models perform well in the juicing world. Some are not even independent in the juicers market, and hence they are less preferred by customers. On the other hand, the above brands are outstanding, and customers highly rate their products. These brands have invested heavily in the juicing field; hence they have gained popularity and trust from the public.