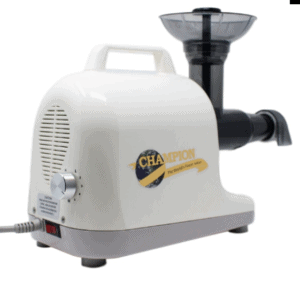 The Champion Juicer is 100% manufactured by US-based Plastaket Manufacturing, Inc since the 50s. The first Champion juicer was produced in 1955 and for its time was the first and only household masticating juicer in the entire country.
The Champion juicer technology is a fusion between modern masticating and centrifugal juicers. First, its horizontally rotating auger has additional metal teeth that the similar to centrifugal juicers. The second, its augers rotate at the fast for masticating juicers 1750 RPMs speed that is closer to the centrifugal juicer. Because it uses very fast speed it tends to oxidize the juice and thus it must be consumed immediately.
The Campion juicer masticating process involves grating and masticates or chewing the produce first and then squeezing it against the meshed screen to extract the juice.
Currently, the Champion juicer is manufacturing 5 models – 2000 classic, 2000 Commercial, 3000, 4000, and 5000.
The classic Champion machines are perfect for juicing root vegetables and celery but could not handle the leafy greens, soft fruits, and vegetables. In 2011 the manufacture released the attachment for the Champion 2000 model to process wheatgrass and leafy greens. The later model's sets – 3000, 4000, and 5000 – also included the additional wheatgrass and leafy greens green auger.
Pros for juicing roots:
Produce the high juice yield from carrots, beets, ginger, and other firm veggies and fruits;
Process easily beets, carrots, and firm roots juice;
Easily feeds the whole carrot and pre-cut beets (due to the feeding chute sizes) and does not jam;
Very fast to make a large amount of juice;
Quite easy to clean;
Durable;
Makes outstanding frozen dessert;
Cons for juicing roots:
Does not handle leafy greens, wheatgrass, and soft produce without extra auger;
Oxidises juice.
Champion Classic 2000 vs Classic Commercial 2000 vs Legacy 3000 vs Elite 4000 vs Professional 5000 
The Champion juicer is available in 5 models:
Champion Classic 2000 (G5-NG-853S),
Champion Classic Commercial 2000 (G5- PG710),
Legacy 3000, Elite 4000
Champion Professional 5000.
All five models have identical motors but the different exterior, interior parts design, and attachment available.
The Champion Classic 2000 and Commercial 2000 are almost identical juicers. Both models have exterior bodies made from painted stainless steel that makes this machine incredibly durable. The only difference between them – the Commercial 2000 model comes with the same power but a bit stronger motor that is designed to run longer without stopping and provides a higher starting torque.
The Legacy 3000 model has a very similar to the Classic 2000 constructional parts design but only slightly redesigned screen holder. The 3000 machine comes with a completely redesigned exteriors and a smaller footprint. It has a plastic body and handles, a clear drum, and a chute opening. 
The Elite 4000 model has a very similar to the 3000 model exterior but upgraded clear drum. It also has a completely new auger and screen design. It also has a new pulp outlet reflector. It comes with two auger – the grinding auger for firm fruits and veggies and the green one for the leafy greens, wheatgrass, and soft produce.
The Professional 5000 has a very similar to 4000 an exterior and interior design. However, the Professional 5000 model comes with an absolutely unique feature – 11 variable speeds which start from low 350 to high 1750 RPMs.
Champion Juicer Set Includes
Motor and O-rings(all models);
Juicing Drum/motor body with funnel(all models);
Juicing Screens and blank screen(4000 and 5000 models) or screen with screen holder (2000 and 3000 models);
Grinding and green auger(4000 and 5000 model) or cutter (2000 and 3000 models) ;
2 X Pulp Adjustment knobs/restrictors (4000 and 5000 models);
Deflector (4000 and 5000 models);
Tamper (all models);
Body seal;
Juice bowl with a sieve (all models);
Cleaning brush (4000 and 5000 models);
User manual.
Motor and Body Unit
All 5 Champion juicer models come with a similar powerful 540 Watts motor. While the Classic Commercial 2000 machine has the same 540 Watts but a bit stronger motor that means it has better torque and designed to run without stopping for cooling for longer than domestic models.
The Champion Classic 2000 (G5-NG-853S), Champion Classic Commercial 2000 (G5- PG710), Legacy 3000, and Elite 4000 models come with similar 1750 rpm speed.
While the latest Professional 5000 model equipped with the 11 speed ranging 350 – 1750 RPMs. So, Professional 5000 models are the only machine that can produce low oxidation cold press juice.
The Champion Classic 2000 and Classic Commercial 2000 model body is made from painted stainless steel while all other models are made from very strong and durable plastic.
Drum, Chute, and Produce Feeding
The Champion juicers come with a fairly large for horizontal juicer feeding chute opening – 1.75" in 2000 and 3000 models and  2.25" in 4000 and 500 models. The large chute could be fed with a whole carrot and quartered beets.
Cutter/Auger
Champion 2000 and 3000 models come with an auger that is called cutter in Champion terminology. Not surprising, as it has a very different design comparing to common single auger masticating juicers. The cutter has a sharper edge with 8 rows of sharp tiny metal teeth.
Although, the 4000 and 5000 Champion machines auger more resembles the modern design augers but still comes with the few rows of sharp teeth that grating the produce before it goes for the mastication process.
Juicing Screen
The Champion 2000 and 3000 models juicing screens have a completely different design comparing to modern traditional single auger juicers. It consists of two-part – the meshed stainless steel screen and the slider that connects the screen to the drum.
The Champion 4000 and 5000 models have an upgraded juicing screen design that is very similar to modern singer auger juicers conical design.
Nozzles, End Cap, and Adjustment Knobs
The 2000 and 3000 models were designed without pulp regulation adjusting knobs.
The Champion 4000 and 5000 machines come with the 2 (open and juicing) pulp adjusting knobs named restrictors in Champion terminology.
Containers
The Champion juicers models do not come with a pulp container, the sets include only plastic 34 oz. juice container with the strainer.
Functionality
The Champion Juicers are designed to juice the following ingredients:
Very efficient at juicing carrots, beets, ginger, and other root veggies;
Celery juice;
Frim fruits such as apples and pears juice;
Nut milk;
Makes the silkiest nut butter better quality than all other juicers;
Baby food;
Makes the best quality frozen treats;
Grating tasks and even mincing meat;
Shaves ice;
Other food homogenizing tasks.
The Champion juicers are not very good at juicing leafy greens and soft fruits and veggies, however, the 4000 and 500 models come with the second green auger that is specifically designed for the leafy greens.
The 2000 and 3000 models do not include a leafy green auger in the set but it is available to buy from different Champion juicer part suppliers.
Cleaning and assembling/disassembling, operating
Although, the Champion juicer models have a slightly different design they are similar to other single auger juicers and are easiest among the masticating machines to assemble and clean. However, the Champion auger must be handled with care while cleaning as it has sharp teeth that may cut your skin.
Operating: 2000, 3000, and 4000 models control panel comprises only a single swither with On/Off function and thus very easy to operate.
The 5000 juicer comes with the 11-speed dial knob that ranges from allowing 350 rpm to high 1750 rpm speeds. The low speed is designed for processing leafy greens while the high speed works efficiently for juicing root produce like beets and carrots.
The 4000 and 5000 model also have a pulp ejection restrictors that regulate the pressure the pulp is expelled, so the firmer produce needs more pressure to apply for better yield while the softer ones require to release the pressure.
Warranty
All the Champion juicer models come with a non-transferable 10-years warranty and 1 year on the auger, blade, and screen warranty.
The juicer also could be returned only within 30 days with a 15% restocking fee applied.
Dimensions
The Champion Juicer is a massive well-built unit. The 2000 models have rather a large footprint 9 x 12 x 12 inches and weigh 27 pounds. While the 3000, 4000, and 5000 model have a more moderate footprint 20.7 x 10.9 x 8.2 inches and slightly lower weight of 23 pounds.
Yield
From 2 lbs of carrots and beets, it extracts on average 450 ml of juice.
Champion Masticating Juicers, via Amazon
Summary
The Champion juicers are the ultimate carrot, beets, and other firm veggies and fruit juicers. They will produce decent yield comparable with twin auger machines and very rich in test and color juice. Since the juicers operate at a high speed of 1750 rpm its juice will have a short shelf life due to high oxidation and must be consumed immediately.
Although the 2000 model does not handle leafy greens without extra attachment it is very good at food processing task and make most delicious nut butter and a frozen treat. The 4000 model lacks the problem with leafy greens and comes with a second green auger.
Besides, it is a non-expensive very durable, and well-made masticating juicer that will serve you for many years. And if you decide to go for the Champion 5000 model it could avoid the oxidizing problem when operated on the low speed.