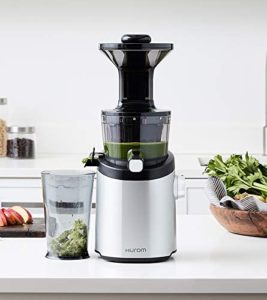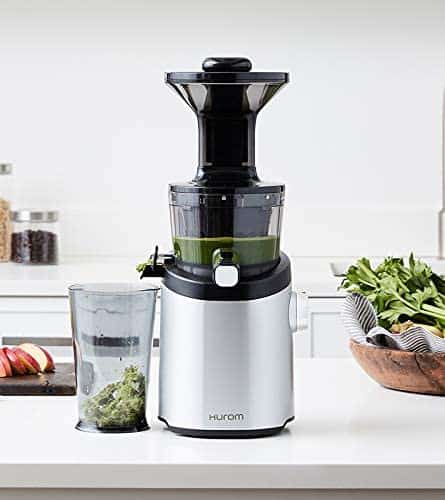 Hurom is known for its innovative contribution to the juicing market. It often comes with new designs. Hurom H101/H100 Easy Clean Masticating Slow Juicer is one of the latest editions released in late 2018 of well-known South Korean manufacture of high-quality juicers. This model comes not only with a new screen design screen that allows to substantially reduce the juicer cleaning time but also with the range of other innovative features.
Set includes
Juicer Body with Chamber & Hopper;
Easy Clean Juicing strainer, Smoothie Strainer, and Ice Cream Strainer;
Twin Wing Auger;
Juice and Pulp Container Set,
Pusher;
Cleaning Brush;
Manual & Recipe Book.
Motor and Body Unit
The Hurom H101/H100 Easy Clean Masticating Slow Juicer comes with very elegant plastic and chrome covering housing design. The design features a fairly small footprint that will not occupy much of the counter space.
The machine has a 120 V, 60 Hz, 150 W powerful motor that rotates the auger with slow 43 rpm speed to ensure to deliver the highest quality cold press and long shelf-life juice.
It is designed to run for up to 30 min of continuous operation before stopping for rest.
Drum, Hopper and Feeding Chute
The juicer features the Tritan copolyester BPA–free juicing chamber with the 16.9 oz./500 ml/ 1.3L capacity, the absolutely innovative design hopper, and feeding chute made from ABS BPA-free polymer.
It has the standard long chute inlet and hopper with two different ingredients inlets. It has an upper hopper chute (to insert long and narrow veggies like celery and carrots) and a side hopper chute (to insert tomatoes, grapes, or diced produce).
The smaller 2 x 1.5 inch (crescent) opening is designed to accommodate such ingredients as carrots and celery which allow them to drop to auger easily. And the second inlet (bigger size than the top inlet) on the side of the hopper which is modeled in the shape of a funnel, so the lager pre-cut produce such as chunks of veggies, fruits, and leafy greens slide easily into the chute, making it self-feeding.
Nevertheless, when processing beets and carrots it is advised to cut them into smaller pieces like half or quarters for roots, it also requires to cut strongly veggies like celery into 1-2 inches bits otherwise it may jam.
Another model innovation is the unique pulp outlet lever which fully opens the pulp area which allows easy adjustment and regulation of juice thickness. No other juicer on the market has a similar pulp outlet design.
The juicing outlet has a convenient cap that allows you to release juice when you want and also helps in the washing process.
Gears/Auger
The Juicer comes with dual wings design auger which allows cutting produce before it goes into the chewing process between the augers.
The auger made from the ULTEM plastic which is an extra strong and chemical resistant polymer.
Juicing Screen
 It provides a very new take on juicing design by replacing the traditional style screen for the new and revolutionary strainer system. It is a screenless design. The two strainers fit together and form a tight combination of thin slits that are designed to allow the juice to flow through them while separating the pulp pieces. They can be pulled apart after juicing for easier access to all parts of the screen for cleaning.
It also does not requires the spinning brush with this design, so it can juice effectively without it. The strainer parts are very easy to clean and maintain.
Containers
It comes with BPA-free Tritan copolyester glass shaped juice and pulp collection containers. The containers could be easily nested for more convenient storage in the cupboard.
Functionality
Carrots, Beets, ginger other roots
Celery,
Leafy greens, wheatgrass
Apples, pears,
Oranges and citrus,
Pineapples,
Berries, grapes.
Variety for mix juicers with all type of ingredients;
The juicer comes with the blank screen that is designed for homogenizing tasks such as making nut butter, frozen treats, and other concoctions. While the smoothie strainer which is also included in the package allows making low oxidized smoothies. 
Yield
2.2lbs/1 kg of carrots produces 430-470 ml of juice/2 lbs of carrots produce 420-450 ml depending on the freshness and texture of the ingredients.
Assembling, Disassembling, and Cleaning
Hurom H101/H100 juicer has the fewer part and an innovative design which makes this machine the easiest vertical slow masticating juicer to assemble/disassemble and clean.
You just have to slot two strainers parts together, fit them within the juicing chamber, nestle the auger and place the hopper on the top of the chamber sealing everything together. You do not even require to assemble it on the base unit, instead, you can connect all parts then fit them on the base unit. This non-typical for the all other vertical juicers assembling procedure.
Cleaning: This machine was constructed with eh idea in mind to make this vertical slow juice extractor is easy to clean. The most difficult part to clean in the vertical juicer is the juicing screen wiping brush. And this machine does not have them. Instead, it is designed with two nested strainers which cleaning includes only rinsing them with the running water. All cleaning procedure is easy and fast and takes less than 1 minute.
Controls: These machine controls are also designed differently than most vertical juicing machines do. It comes with the sleek-looking silver dial knob with ON, Off, and reverse function. Although the functions are standards for any other juicers the design is nice and sophisticated. 
Warranty
The Juicer comes with the 10 Years Motor and 5 Years Parts Warranty. If you need to contact the customer support you better reach it directly by Email:  support@hurom.com or by phone: 1-800-253-2140 from 9 AM to 6:30 PM EST; MON – FRI except for Holidays.
Dimensions
 6 x 6 x 18 in/152 x 152 x 457.2 mm, weights 18.2 lb/8.3 kg, cord length is 4.6 ft./ 1.4 m.
Hurom H101 Easy Clean Slow Juicer, via Amazon
Summary
The H100 is a fantastic juicer with a number of great features making it worth buying. It looks elegant and stylish, has a modest footprint, and occupies little space on the kitchen counter. It has a little number of parts and thus very easy to assemble. The innovative strainer makes it truly the easiest vertical slow juicer to clean compare to other juicers. Even so, it is an expensive machine it is worth considering buying.
It handles perfectly beets, carrot, orange, ginger, spinach, and apple juice. Please note you do have to cut fruit and veggies into smaller pieces to fit the chute. Deliver a good yield. Most important, since it is very easy to clean it makes you use it often, basically nothing will prevent you from using it every day and make your diet much healthier.