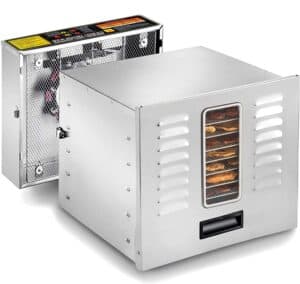 Anyone who minds about healthy living will always plan to preserve nutritious food items to consume them during their low supply season. However, domestic food preservation can be cumbersome without an efficient food dryer. STX International 1200W-XLS dehydrator is a dehydrator model that has been in the dryer market for quite a long time. This dryer brand is manufactured by STX Corporation, which is a holding company in South Korea. It also invests in commodity, machinery, and energy trading. The STX International 1200W-XLS dehydrator has a number of features that make it stand out on its own among other dryer models. First, the model has ten stainless steel trays, which can accommodate a substantial amount of food items, even for a large family. Additionally, its horizontal airflow design ensures an efficient flow of air throughout the unit. Also, it has 1200 watts of power and a wide temperature range (95ᵒF-165ᵒF) to enable it to dehydrate a wide variety of food ingredients. The information below shows various features of this dehydrator model in a detailed form.
Horizontal Technology
Efficient dehydration of various food items largely depends on the airflow design used to construct a specific dehydrator brand. Specifically, the STX-1200W-XLS dehydrator has a fan motor at the back of the unit, which allows a horizontal airflow. The horizontal airflow design ensures a consistent flow of air throughout the interior of this unit. It ensures the complete circulation of hot air on all the trays where the dehydrating food is placed. When using this design, there are higher chances of the complete elimination of moisture in food, unlike when using devices with vertical airflow design.
It is worth noting that dehydrators with horizontal airflow design mostly suit people with very tight timetables or those who are busy with other chores. This is because less supervision is needed during the entire drying process. In case you need to check the progress of the drying food in most of such dehydrators, you need to pull out any individual tray as in a convection oven. Since this dryer model has a fan at the back of the unit, there are no drippings on the fan motor. Therefore, the cleaning of this unit is further made easier. Every user should know that most food dryers with horizontal airflow design are slightly expensive than those with a vertical airflow system.
Power and Wattage
Every food dehydrator requires power in order to run the fan motor and provide sufficient energy to the heating elements. It is imperative to check on the dehydrator's wattage before purchasing since this will give you an approximate cost of running it. Particularly, this dryer model consumes 1200-watts of power, which enable it to dry food items that require high temperature. The heat energy from this device is regulated by a thermostat to enable each food ingredient to dry at its suitable temperature. Besides, the wattage of this device is high, and hence its unit heats up quickly.
Trays and Capacity
Basically, the number of trays in a specific dryer model will always determine the amount of food ingredients to be dried per drying trip. This dehydrator brand comes with ten trays where each tray measures 14.5 inches deep by 16 inches wide. Each tray has a total drying area of 1.61 Square Feet while the total drying space is 16.11 Square Feet. Such a drying space is large enough to dry food items for both domestic consumptions or for those interested in starting small organic food shops. The dryer will dry a lot of your favorite food per trip.
Additionally, the ten trays have some holes where each hole has a dimension of ¼ inch by ¼ inch that ensure easier accommodation of most food ingredients. If you wish to dry fruits, vegetables, and meat of various sizes, you will have no worries of them falling through to the bottom of the unit. The trays are made from a 304-Grade stainless steel. This metal is a food-safe material that won't put your health at risk of consuming harmful chemical elements. Such material making up the trays also eases the cleaning process, hence; saving time for the user.
Notably, there is a drip tray that slides below the front dehydrating section, which holds dripping from the food ingredients. The drip tray measures 14.5 inches by 16 inches, and it is made from stainless steel. That means the drip tray is durable hence giving you a long time service. By holding drippings from the trays, the drip tray makes cleaning of the unit easier. Furthermore, the dehydrator is a large size model and has a breadth (Front to Back) of 20 inches, Width of 16.5 inches, and a height of 14.5 inches. It is worth knowing the size of this model before purchasing it.
Control Panel
Like most of the modern digital dehydrator, the STX-1200-XLS dehydrator model has a digital control panel. The control panel is easy to use, and all the settings of this unit are done from this point. On the control panel, there is an inbuilt shut-off timer and a thermostat. Its thermostat provides a wide temperature range from 95ᵒF to 165ᵒF to allow you to dehydrate food items requiring different drying temperatures. Whether you are aiming to dry herbs, kiwi chips, oranges, snacks, or beef jerky, the thermostat will allow you to set the suitable temperature for each.
There is also a shut-off timer on the control panel, where you can set the suitable duration which a particular food item can take to completely dry. Specifically, this dehydrator model has an inbuilt 12 hours shut-off timer. With this timer, you can set the appropriate time when the unit can switch off automatically. This feature prevents your food from over-drying or not drying completely. After setting the timer, you can continue with other commitments with no worries. Remember, the thermostat and the timer might not provide the accurate time or temperature taken by individual food to dehydrate. This is because there are other factors that affect dehydration.
Any dryer user should understand that the temperature on the thermostat is an approximate temperature at which a particular food item can dehydrate. Similarly, the duration at which individual food type takes to dry is not exact. Therefore, users are advised to check the moisture content of the food after dehydration. The dryer model also has an ON/OFF function, which switches on the unit when the power cord is connected to the kitchen electric socket. More information about the device's setting and usage is provided in the manual that accompanies the dehydrator.
Using and Cleaning
In all honesty, the thermostat, ON/OFF button, and the shut-off timer of this machine are easy to use for most users. Loading, supervision, and management of the entire process is simple as long any user follows the instructions given in the device's manual. Whenever you think of dehydrating any food ingredients with this dryer, you need to plan ahead. For instance, you should ensure that the dehydrator is at a minimum distance of 12 inches from any wall or obstacle. This ensures that there is proper air circulation. You are also not to block the air vents or the back air intake screen.
Almost every food ingredient can be dried after preparation. Examples of food preparation done before dehydration include peeling of apples, slicing banana, removing stems and pits in cranberries. Other forms of food preparation can also include partial steaming of peas, steaming and peeling of yams, and blanching of grapes. After preparation, load the food ingredients on the machine, taking care not to overload it. In case you overload the machine, the process will result in uneven drying. Since the dryer model has a 7'' inches fan that blows hot air horizontally to the food on the drying trays, tray rotation is unnecessary.
Immediately after food dehydration, cleaning of the dryer unit is critical in the preparation of the subsequent drying activity. Cleaning of the STX-1200-XLS dehydrator is simple, especially because of the stainless steel used to make it. Manual cleaning or use a dishwasher are the two ways of washing the trays. Use a clean damp cloth to wipe the exterior and the interior of this unit.
STX International STX-DEH-1200W-XLS Commercial Grade Food Dehydrator, via Amazon
Summary
In conclusion, the STX-1200W-XLS dryer model is one of the most common dryer brands that any customer can opt to buy after considering its features. Anyone who thinks of starting a small natural dry-food shop can consider this model because of its 10 trays, which can provide an adequate drying space. The stainless steel making up this model is food-safe hence; guarantees you good health. Its thermostat gives a wide temperature range to enable the user to dehydrate various food ingredients. High temperature enhance the killing of harmful micro-organisms in the meat, while low temperature retains nutritional food value. There is a fan with 7 inches blade, which blows hot air from the backside to the front side overall trays causing efficient air circulation throughout the unit.
Moreover, the dryer comes with a cookbook that contains over 270 drying recipes to guide your food dehydration activities. It will be wise to consider what you need from a dehydrator and compare it with the features of this dehydrator. This will guide you to make the correct choice.