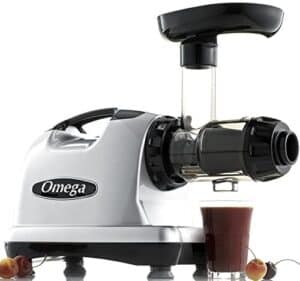 The Omega J8006HDS Juicer is a 5th gen­er­a­tion sin­gle auger hor­i­zon­tal juicer and a direct update to very pop­u­lar Omega 8004/8006 machines. As expect­ed, the upgrad­ed mod­els pre­serve all the pros of old mod­els and intro­duce a few new features.
Dis­clo­sure: As an Ama­zon Asso­ciate, we may earn an affil­i­ate com­mis­sion for pur­chas­es you make when using the links on this page.
Read More: Best Juicers for Beets, Car­rots and Oth­er Roots
Set includes
Base Unit;
Drum, chute, and hopper;
Auger;
Juic­ing screen and blank cone;
Adjustable juic­ing End Cap and blank End Cap;
5 noz­zles;
Plas­tic juice bowl with strain­er and pulp container;
User man­u­al.
Motor and Body Unit
The Omega J8006HDS Slow Mas­ti­cat­ing Juicers fea­ture East­man Tri­tan Copoly­ester BPA-Free Hous­ing with an inbuilt scoop handle.
It has a 200 Watts motor with 2 HP equiv­a­lent of the torque or cir­cu­lar force. The motor rotates the auger with a slow 80 RPM speed to ensure low oxi­da­tion of the juice.
The motor is also equipped with a reset switch and ther­mal cut-off sys­tem to pro­tect the motor from over­load­ing. The juicer is designed for up to 30 min­utes of con­tin­u­ous oper­a­tion before it must be stopped for a few min­utes of rest.
Drum, Chute, and Produce Feeding
The Juicer comes with a clear drum and chute and a remov­able black hop­per, so you can observe what is going on inside the juicer while pro­cess­ing ingre­di­ents. All drum, chute, and hop­per parts are made from BPA-free, clear, stress-resis­tant, and durable East­man Tri­tan copoly­ester material.
Although this juicer fea­tures a few improve­ments over the old mod­el, they come sim­i­lar to the J8004 and J8006 mod­els with only 1.5 inches/4 cm chute open­ing. You have to cut the beets and oth­er thick veg­gies into small­er pieces. While you can eas­i­ly feed whole car­rots into it with­out pre-cut­ting, the juicer has enough torque to chew it with­out jam­ming. You also will not require any effort to push hard pro­duce into the chute as the auger pulls it smoothly.
Gears/Auger
The Omega J8006HDS Juicer is equipped with an auger that is made from upgrad­ed very strong GE Ultem resin mate­r­i­al, which makes them more durable under juic­ing pressure.
Juicing Screen
The juic­ing screen is made from BPA-free East­man Tri­tan copoly­ester mate­r­i­al with two (2) stain­less steel mesh surfaces.
The Blank cone does not have the mesh screen part and is made entire­ly from Estamn Tri­tan copoly­ester material.
End Cap and Nozzles
The Omega J8006HDS Juicer comes with three (3) lev­els of pres­sure adjust­ing noz­zle, which allows the reg­u­la­tion of the strain applied to the pulp before it is eject­ed. Low pres­sure will work for the soft ingre­di­ents, and high pres­sure is applied for firm pro­duce to squeeze the max­i­mum juice. You usu­al­ly set the max­i­mum pres­sure for such pro­duces as beets, car­rots, cel­ery, and leafy greens and release it to a min­i­mum for oranges, pineap­ples, and cucumbers.
The juicer is also equipped with an addi­tion­al blank End Cap and five (noz­zles) for per­form­ing food pro­cess­ing tasks such as minc­ing, grind­ing, ice shav­ing, and dough extruding.
Functionality
Car­rots and beets juice;
Gin­ger juice;
Cel­ery juice;
Leafy greens juice;
Wheat­grass juice;
Apple and pear juice;
Pineap­ple and oth­er soft fruits;https://kitchengearpro.com/celery-juice-benefits/
Cucum­ber and tomatoes;
Cit­rus juice;
Sor­bets;
Baby food;
Nut but­ter;
Nut milk;
Grind­ing cof­fee and nuts;
Pas­ta.
Like most sin­gle auger hor­i­zon­tal mas­ti­cat­ing juicers, the J8006/J8008 is a tru­ly mul­ti-func­tion­al machine and can per­form a wide range of food pro­cess­ing tasks in addi­tion to juic­ing. Instead of a juic­ing screen, the blank cone is used to per­form tasks like shav­ing ice, mak­ing frozen treats, grind­ing cof­fee, mak­ing nut but­ter, and even minc­ing meat. If you com­bine the blank screen with one of five (5) pas­ta noz­zles, you can make a vari­ety of dif­fer­ent styles of pasta.
Cleaning and Assembling/Disassembling, Operating
The sin­gle auger mas­ti­cat­ing juicers are the eas­i­est to assemble/disassemble and clean across all types of juicers. And Omega J8006HDS Juicer is not an exclu­sion. For assem­bling, you have to con­nect the drum with the main body, secure the auger, fit the juic­ing screen over it, and final­ly secure the noz­zle and end cap. Now the juicer is ready to operate.
The juicer con­trols are com­prised of only one but­ton with ON, STOP, and REVERSE func­tions. The reverse func­tion is designed to pre­vent jamming.
The clean­ing is also very easy and takes under 2 min­utes; it is enough to rinse most parts just under­wa­ter. At the same time, the juic­ing screen is the hard­est one to clean. How­ev­er, the clean­ing brush includ­ed in the set is very handy for scrub­bing the clogged fiber from it.
Warranty
The Omega J8006HDS Juicer comes with the longest and best in the indus­try 15-years War­ran­ty on parts and per­for­mance for domes­tic use in the USA / Cana­da and with 1 year for com­mer­cial and inter­na­tion­al cus­tomers.
Dimension
6.5" W × 14.5" D x 15.5" H /165mm W × 368mm D × 394mm H, weights 19.4 lb/ 8kg
Yield
On aver­age, 2.2 lbs/1 kg of car­rots and beets out­puts 420 ml of juice.
Summary
Although Omega J8006HDS Juicer is not the lat­est 6th gen­er­a­tion mod­el, it per­forms very well when juic­ing beets, car­rots, and oth­er hard veg­gies and deliv­ers one of the high­est yields across sin­gle auger juicers.
This machine also has very good torque, so you will not require any effort when feed­ing the pro­duce into the chute, which is com­mon for hor­i­zon­tal mas­ti­cat­ing machines. So, if you plan to juice not only the hard veg­gie and look for a mul­ti­func­tion­al juicer that han­dles not only a large vari­ety of pro­duce, includ­ing leafy greens and wheat­grass, but also a range of food pro­cess­ing tasks such as mak­ing nut but­ter and frozen treat then Omega J8006HDS Juicer is an option worth to consider.