The Kuvings Masticating Slow Juicer is available in six (6) different models orange NJE-3520U, green NJE-3530U, white NJE-3540U, chrome NJE-3570U, silver NJE-3580U, NJE-3590U which are absolutely identical but differ ONLY by color. This is the good quality juicer which manufactured by a reputable South Korean producer.
Set Includes
Base Unit;
Drum, feed chute and hopper;
Auger;
Two (2) screens – juicing and blank;
Drum cap;
Two (2) juicing and four (4) pasts nozzles;
Juice and containers;
Food pusher;
User Manual.
Motor and Body Unit
The juicer comes with a plastic body unit with a handle. It houses 170 watts motor (available 120V/60Hz or 230V/50Hz) with special decelerating gear that reduces vibration and noise. The motor rotates the auger with slow speed at 80 RPM.
The juicer is designed for the 30 minutes continuous operation before it recommended to switch off for rest.
Drum, Chute, and Produce Feeding
The juicer features a clear darken polycarbonate drum and feeding chute, so you can see the juicing process inside and removable hopper.
It has a circle 1.5" in diameter feeding chute which is typical for the horizontal single-auger extractor, only some horizontal juicers come with the 1.5" X 2" feeding chute. So it requires the pre-cut for the majority of ingredients.
Gears/Auger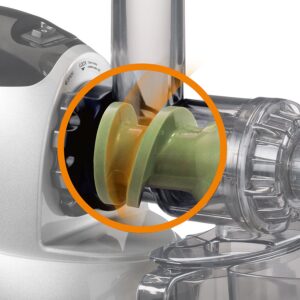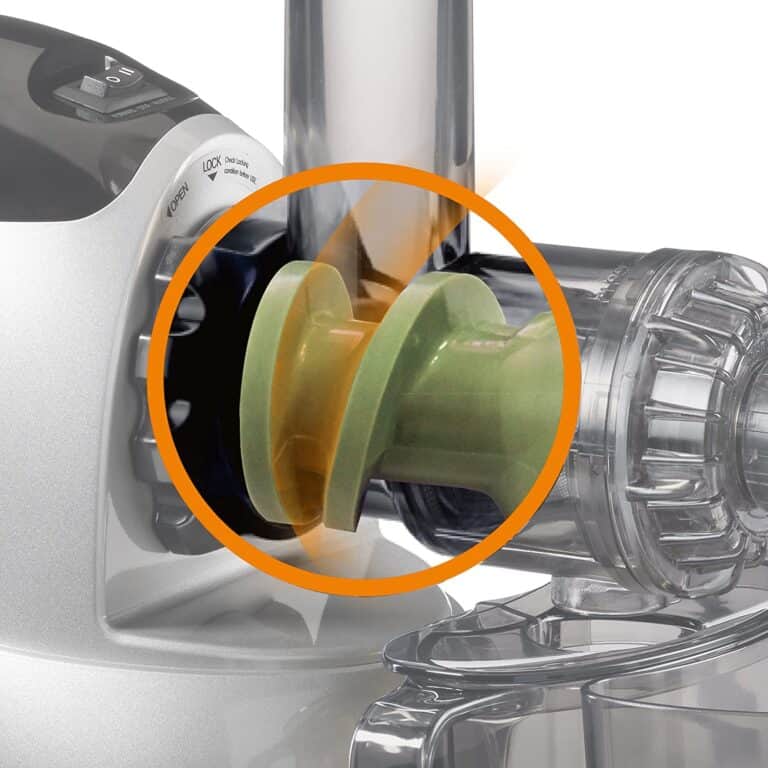 The single auger is made of ABS thermoplastic and has typical for single auger horizontal juicers shape and design.
Juicing Screen
The Juicer comes with a juicing screen and a blank screen. The juicing screen is made of ABS thermoplastic with stainless steel meshes strainer and is designed for juicing all types of ingredients. The blank screen is made of ABS thermoplastic and is used for making frozen treats, grinding tasks, making nut butter, and pasta.
Nozzles, End Cap, and Adjustment Knobs
The juicer includes an end/drum cap and the 8 nozzles in the package – two (2) for juicing (one of the replacement) and six for different food processing tasks including grinding and pasta making.
The end cap is not adjustable for various pulp ejection pressure for softer and firmer ingredients and operates with the fixed pressure only. However, it does not affect the juice yield the extractor handles fairly well the hard and soft ingredients. 
Containers
The package includes the 20 oz./600 ml juicing container and 40 oz./1150 ml pulp container, both of them made of polycarbonate.  
Functionality
Firm fruits such as apple and pear juice;
Hard veggies like carrots and beets juice;
Celery juice;
Leafy greens Juice;
Wheatgrass juice;
Citrus including peeled orange, grapefruits, and lemons;
Soft fruits and berries including pineapple and grapes;
Food processing tasks such as making frozen treats, nut butter, mincing mince; crushing ice, sauces, grinds coffee beans and other;
Make many types of pasta.
This is an extremely versatile machine and designed to extract almost pulp-free juice and a high yield for most of the ingredients including grapes, wheatgrass, and apples.
Assembling, Disassembling, Operating, and Cleaning 
Most single auger masticating juicers are very easy (actually easiest) assemble, disassemble, and clean and Kuvings Masticating Slow Juicer is not an exclusion.
To assemble the juicer you have to secure the hopper to the feeding chute, attach it to the main body by turning the locking clip from "open" to "lock" status, fit the auger into the main body, attach the juicing screen over the auger, screw in the drum cap to end of the drum assembly and attach the juicing nozzle to the drum cap. The juicer is ready to juice.
The juicer is easy to clean, the only juicing screen will require a little effort, but you can soak it before cleaning for 10 min in warm water for easy scrubbing. The special juicing screen cleaning brush is included in the set which help is a great help also.
Controls
It is operated with a switch that has "Forward", "Stop" and "Reverse" functions. The reverse function is designed to control clogging, you turn it on to remove what is jammed inside with reverse motion.
Warranty
The Kuvings Masticating Slow Juicer comes with only a 5-year warranty. However, the machine is very durable and easily will serve you for over 10 years.
The Kuvings Customer Service is very helpful and has no problem with serving their warranty. In addition, the company also pays for shipping and handling fee if you claim a warranty within the first year of your purchase.
Dimensions
4.1 x 12.5 x 11.4 inches / 360 x 320 x 290(mm), weight 15.4 lbs/7kg, power cord is 5.5 ft.
Summary
The Kuvings Masticating Slow Juicer is one of the cheapest single auger machines which comes from a reputable brand (excluding the Chinese knockoffs). Regardless of the price, it is a very good and efficient juice extractor. It is a very versatile machine that handles a huge variety of tasks from apple, carrots juice to leafy green, and wheatgrass juice. Not saying that this machine is designed to perform a range of food processing tasks. It produces a little pulp, it has a low level of foam, and delivers very good yield for a wide range of products when compared to other good quality single auger horizontal slow juicers.