Nutri Ninja with 1200-Watt Auto-iQ is a very popular blender model which is often compared to Vitamix. The Cleanblend is the new machine on the market released only in 2015, which is not well-known to consumers but is the really good copycat of Vitamix with many very similar designed details to it.
These two machines are priced in the same range, multifunctional and powerful enough, so could be both good candidates to consider as a cheaper alternative to commercial type blender that has a high interest among the consumers.
CleanBlend Blender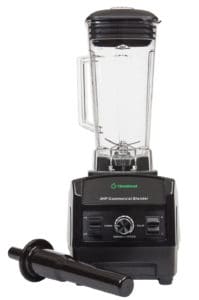 The Cleanblend Blender comes with very powerful 3HP at peak and 1800 watts effective motor power. The machine has an all-metal blade assembly and blade to drive coupling.
This gadget control panel is equipped with 10 variable speeds and pulse function which gives this machine excellent flexibility over the blending process and allows the user to prepare the large variety of recipes. The pulse function is a useful feature that helps to process hard mixture, removes air pocket, or could be used for chopping food. The machine comes with the tamper, the typical tool for high-end blenders, which also could be used for creating a good vortex when processing tough ingredients.
The Cleanblend is equipped with 64 oz. Tritan copolyester pitcher is made from shatter and temperature resistant polycarbonate. The pitcher comes with a permanently inbuilt good quality stainless steel blade. However, this machine has some fault in the construction of the metal retainer nut, so the pitcher sometimes develops the crack near the nut connection. Nevertheless, this powerful and solid machine is designed to perform the following tasks:
Make a very smooth smoothie with soft or tough ingredients, well handle any strawberry and other seeds in drinks pulverizing them into smooth consistency;
Crush and shave ice to make snow cones, ice cream, frozen desserts and iced drinks like margaritas and others;
Purees raw and cook ingredients into very smooth condition;
Handle hot liquid preparing hot soup via friction and processing already heated liquids to make bulletproof coffee;
Chop food for salads, marinades, salsa to prepare the variety of food prep recipes;
Make nut milk;
Process silky smooth nut butter;
Grind herbs, chop nuts or mill any type of grain to produce baking quality flour even from hard types of grain;
Knead dough;
The Cleanblend comes with 5-years limited warranty and very helpful customer service.
Nutri Ninja with 1200-Watt Auto-iQ BL642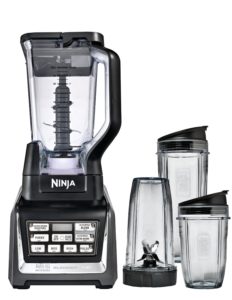 Ninja Duo Blender with Auto-iQ comes in four different packages that have similar technical parameters and differ only by selection and number of containers and food processor attachments. It is equipped with a powerful 1500 watt motor. The motor drive-to-blade coupling is constructed with a few plastic parts and make this machine not very sturdy and durable.
The gadget control panel is operated with 3 speeds, pulse function, and two pre-set programs for main pitcher operation and another two pre-sets for singles serve attachment. The food processing attachment is regulated using 3 speeds.
This machine has typical for Ninja blenders' unusual blade system and complicated locking mechanism design, which makes this machine not easy and sometimes dangerous to use. The containers for this machine are made from the low-quality polycarbonate material which may develop crack when exposed to high loads and thus not durable.
The versatility of this machine is achieved with multiple attachments that are intended for different tasks. So it is designed to perform the following functions:
Make smoothies but quite grainy consistency, not able to produce decent green drinks;
Crush ice well in drinks, shave ice for making snow cones and frozen desserts;
Not able to handle hot liquids and not heating the liquids from friction, so not suitable for making soup from cold and preparing bulletproof coffee;
Chops vegetables for salads, sauces and other recipes, the units with food processor attachment will shred veggies also;
Puree well only cooked food and may require adding some liquids for better processing;
Grind herbs and soft grains and will not produce baking quality flour;
Makes nut butter but not very smooth consistency;
Knead dough but only units with food processing attachments;
It comes with an only 1-year limited warranty and a bad reputation customer service.
Ninja Duo with Auto-iQ and CleanBlend Blender Differences and Features
 
Cleanblend
Nutri Ninja with 1200-Watt Auto-iQ
Motor
1800 watts with an all-metal motor to the blade connections;
1500 watts with the plastic motor to the blade couplings;
Blades
Inbuilt into a jar all-metal blade system, which makes it easy to assemble for use and clean.
Includes 2-4 changeable blade systems depending on the model, main jar blade system is a plastic spindle with stainless steel blades, single-serve blade assembly has usual for such blenders design, food processing blade is made mostly of plastic;
Containers
64 oz. Tritan copolyester premium quality polycarbonate container;
All containers made of plastic, which not the best quality and tend to crack if exposed to heavy loads;
Using & Cleaning
Very easy to use and clean; cleaning only with the self-cleaning procedure, the container is not dishwasher safe;
Very complicated to assemble/disassemble for use, not easy to operate; easy to clean in a dishwasher but when manual cleaning requires some efforts;
Control panel
Equipped with 10 variable speeds dial knob and pulse switcher;
Equipped only with 3 speeds (low, medium, high), pulse function and two pre-set programs for operating main jar and two pre-sets for operating the single-serve attachment;
Warranty
5 -year Limited Warranty and very co-operative Customer Service.
1-year Limited Warranty and not very good reputation Customer Service.
Performance

Produces silky smooth drinks including green smoothies;
Crushes and shaves ice in drinks with and without liquid added to produce snow cones, frozen dessert, and ice drinks;
Able to make good quality nut milk;
Heats liquids via friction to produce soup and other recipes; handles hot liquid for making bulletproof coffee;
Makes very smooth puree from soft and hard food;
Perfectly able to make nut butter;
Very good at chopping veggies, nuts and preparing the variety of marinades, salsas and salad mixes;
Grinds herbs, coffee beans and mills any grain to make the baking quality flour;
Able to knead the dough.

Outputs grainy smoothies, especially from leafy and hard ingredients;
Great for at crushing and shaving ice even without liquid added, able to make a good quality frozen desserts and shaved ice drinks;
Not designed to heat liquids via friction or handle hot liquids for processing;
Outputs rather grainy consistency food pureeing recipes;
Makes nut butter but not very smooth consistency;
Good at chopping and mincing cooked vegetables;
Grinds and mills only soft grains and herbs.

Dimensions

The footprint is 8 inches X 9 inches, profile height is 21 inches tall with the pitcher and lid on the top. Does not fit under the kitchen cabinet. The weight is 11 pounds.

The footprint is 7 inches x 10 inches, profile height is 17 inches with 72 oz. pitcher on top of the base unit. It will fit under a standard kitchen cabinet but requires significant space for storage attachments. Weight is 10.2 pounds.
How to Choose Between the Nutri Ninja with 1200-Watt Auto-iQ and CleanBlend Blenders
Our comparison of these two gadgets shows that the Cleanblend is much superior to the Ninja Blender with Auto-iQ. It has much wider functionality, handles hot liquids, and makes soup from scratch via blades friction while Ninja is not even designed to process hot liquids. It is the only blender among all Vitamix copycats that can knead the dough. Although, the Ninja is also able to knead the dough but only with attachments that come in BL482 and BL482Z units while Cleanblend does it with the single all-purpose container and inbuilt blades. The Clenablend also outputs incomparably better quality of blending than Ninja Duo. It makes the smoothest smoothie even with tough and leafy ingredients, silky puree, and nut butter while Ninja hardly will handle even leafy ingredients in the smoothie or raw veggies in a puree.
Besides, Cleanblend is the better-built machine with an all-metal blade to motor coupling and good 5-year limited warranty while Ninja is constructed with a few plastic parts that considerably reduce its durability, no wonder it comes with the only a 1-year limited warranty.
Summary
Although, Clenablend is not as popular and well-known as Ninja Duo with Auto-iQ it is a very good machine that could be a decent alternative to Vitamix. Although it is not as durable as Vitamix the strong machine that excellent in performing all functions the Vitamix does.