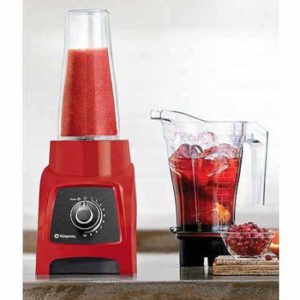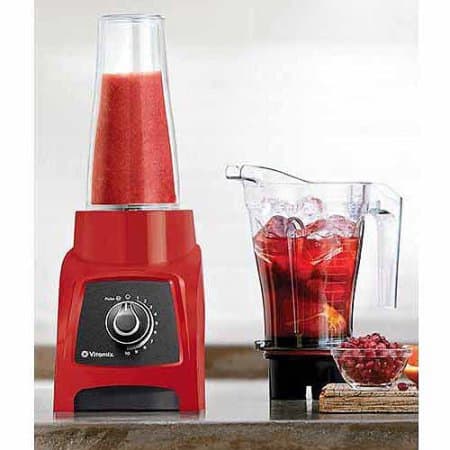 Space Saving Vitamix S30, S50, and S55 blenders are the brand's answer to the personal blender popularity. All three models have absolutely identical technical parameters and only differ by the pre-set programs and color options. The S30 comes with only 10 variable speeds, S50 has additional 2 pre-set programs and S55 has additional 4 pre-set programs.
Yet, some consumers wonder why Vitamix came out with the less powerful personal blenders product line which is kind of a downgrade to the reputable brand? These models are very functional and able to perform the entire range of tasks the full-size machine usually does. They are an option for people with limited kitchen space, consumers who want a portable gadget for traveling, or prefer bullet type containers for taking drinks or hot soup out in a ready-to-go cup.
Functionality and Versatility
Smoothie: S30, S50, and S55 machines output always smooth with no chunks drink no matter you use fresh or frozen ingredients, soft fruits, or tough and leafy veggies like carrot and kale. So, it is more than suitable for making smooth and creamy green smoothies. This machine also pulverizes well any blackberry and raspberry seeds in drinks.
Ice Crushing: These machines are perfectly capable of processing frozen ingredients in the drinks, make frozen yogurt or ice cream, or produce iced alcoholic drinks like margaritas and daiquiris.
Juicing: No blender will make textbook juice that requires separation of fiber and liquids. The classic juice could be extracted only with a juicer. However, if someone means "whole juice" aka very smooth smoothies then Vitamix S-series machines are more than capable of making it.

Hot liquids/Soup: These machines can easily process hot liquids for bulletproof coffee and others but preferably using the larger 40 oz. container because it is designed to release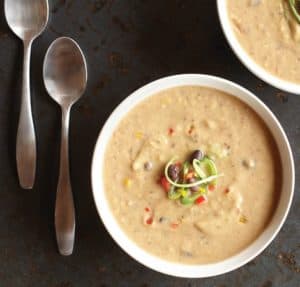 any energy and pressure build-up (the usual case with hot liquids) through the vented lid. This machine can also make soup like the full-size Vitamix machine from start to finish from cold water and veggie to cooked veggies and hot soup in one container. However, it will take 8- 9 minutes what is a bit longer than required 5.5-6 minutes for the full-size machine.
Nut milk: The S30, s50, and s55 machines are perfect for making almond, rice, cashew, hemp, or any other nut or seed milk. For better consistency, it is recommended to strain it through a strainer. However, if the nuts or seeds are soaked prior to processing and the user does not mind some fiber in the drink then strainer may not need it.
Nut butter: These blenders designed to produce smoothest without additives homemade nut butter. Supplied with set tamper have to be used for processing it. Start with the low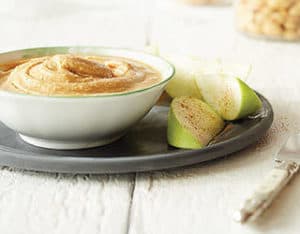 speed and gradually bring it to 10. When all nuts are chopped then the speed should be reduced to 7-8 to bring the consistency to the silky smooth. The Vitamix personal blender usually requires the same time to make the nut butter as the full-size machines but as an advantage, it needs the much smaller minimum amount of nuts to make it possible to process.
Pureeing: This machine makes puree from raw or cooked vegetables including raw carrots and other tough veggies. It is able to puree completely smooth hummus out of chickpeas or make a large variety of other deeps.
Chopping: This single-serve gadget has 10 variable speed what more than enough for producing a wide range of salads, dressings, marinades, coleslaw, or other food prep recipes. It perfectly capable grating even hard cheese if you cut the ingredients into small pieces before processing.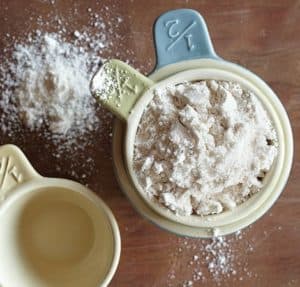 Grinding: It is suitable to grind any herbs or coffee beans. This machine as any other Vitamix is also able to mill all types of grain to produce baking quality flour even from very hard one like rice or tiny like quinoa.
Dough: These machines standard blade is able to knead the dough and no doubt it can mix any type of batter.
Surprisingly, the Vitamix S30, S50, and S55 models can perform the same functions as the full-size Vitamix machine C and G series despite the fact they have the twice less powerful motor. However, the tough and fibrous food must be blended twice longer than in full-size Vitamix to achieve a perfectly smooth consistency. The heating liquids when preparing soups will also require a longer time for processing.
The small 20 oz. the container also requires cutting the ingredients into 1-inch pieces because it has a narrow shape and cannot use the tamper. It may deal with bigger pieces up to 2 inches but they will not always be blended into the perfect consistency. However, ones the user learns how to use this machine properly it will be a dream gadget.
In addition, these machines are able to process the smaller minimum volumes that could be useful when processing nut butter or other thick mixture which usually require the significant minimum amount to start from. With these models, it is enough 1.25 cups to process decent nut butter.
Would you consider alternative options? Check our articles NutriBullet RX vs Vitamix S30/S50/S55  and Which Vitamix to Buy? – Vitamix Models Explained.
Speed Settings and Programs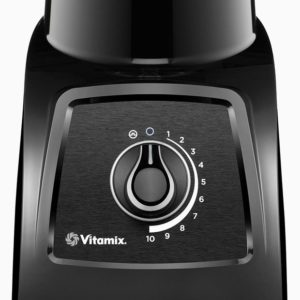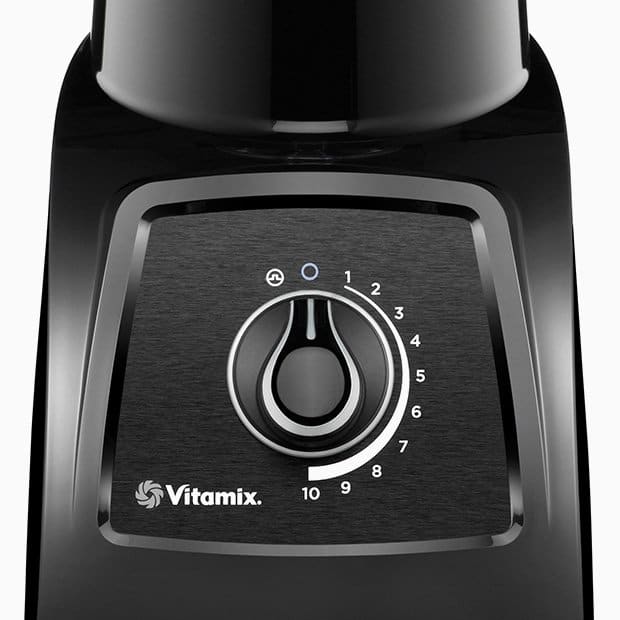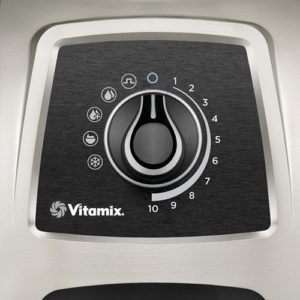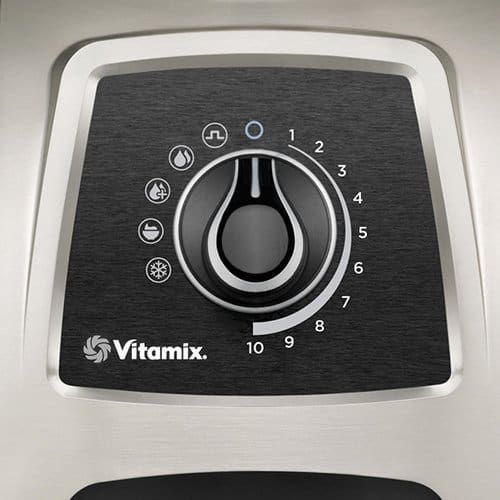 The control panel design is the only difference between the S30, S50, and S55 machines. All machines are equipped with dial knob which regulates start/stop mode, 10 variable speeds, pulse function, and pre-set programs.
The S30 blender does not have any preset programs. The S50 comes with two presets – Smoothies and Power Blends – and the S55 has 4 pre-set programs – Smoothies, Power Blends, Dips and Spreads, and Frozen Desserts. Pre-set programs, the same as variable speeds, start/stop, and pulse modes, are located around the dial knob and activated by turning it to the required program position. Programs blending speed and duration are varied and automatically will stop at the end of a cycle. Availability of pre-set function does not really expand the functionality of blender but give some customer extra flexibility thus they ready to pay extra for the feature.
The pulse function is operated at 50% high speed as long as it held the position and very useful for chopping functions or for removing air pokers especially when thick mixtures are blended.
This machine has a very good selection of speeds which gives the user excellent power over the blending process. The really low minimum speed (1,800 RPM or 13 MPH) and really fast high speed (21,000 RPM or160) allows preparing a wide range of recipes.
Ease of Using and Cleaning
Assembling and Operating: The Vitamix S30, S50, and S55 models are assembled the same as any other personal type blender. The 20 oz. bullet type attachment cup should be filled with ingredients first. Then the blade assembly with the sealing gasket must be attached to the cup by threading tight enough to avoid leaking and placed on the base unit in the locking position (magnets attached to the cup will direct the right cup-base unit position) and it is ready to run. The ingredients for the 20 oz. cup must be cut into 1-inch size pies because of the narrow container and no option to use the tamper with it.
The larger 40 oz. container must be assembled first by connecting the jar with blade assembly, placed on the base unit to the locking position the same way as the 20 oz. containers and only then filled with ingredients because this container is operated in the standard upward countertop blender position. The size of the ingredients is not crucial for 40 oz. jar as it is wider than the 20 oz. cup and may use tamper for pushing food down and helping to create a vortex. Ones the blender is placed right way on to the base unit and filled with ingredients it is ready to run.
The start/stop position light will indicate that the machine is assembled the right way. Then blender can start running by turning the dial knob to the 1st or 2nd speed position until the vortex grabs all ingredients and then increase the speed to the required.
This machine is equipped with a liquid-derange system located at the back top of the motor base. This feature must prevent dripping liquid into the motor area due to some misuse of the machine (for example if the user forgot to place the sealing gasket when screwing in the blade assembly or screw it not tight enough).
Tamper: This machine comes with a custom-made tamper that could be used only with 40 oz. container.
Cleaning: All blender parts – containers, lids, lid plug, tamper, blade assembly, and seals – are top-rack dishwasher safe. It also could be cleaned following the self-cleaning procedure by running soapy water in the blender. Before cleaning in a dishwasher and after a self-cleaning procedure the blade assembly threads must be properly washed with a brush from the deep down ingredients. It may seem inconvenient to some customers but it is the usual procedure for all personal blender types with the removable blade assembly.
Base Unit and Motor Power
S30, S50, and S55 models are equipped with only 840 at peak and 790 effective watt motor what is twice less wattage than full-size Vitamix machines. But surprisingly it is very powerful and able to perform all typical Vitamix functions from ice-cream to hot soups, although, some tasks will require a longer time for achieving similar results.
The motor is very sturdy and constructed with base-bearing technology which is known for its high efficiency and makes Vitamix stand out from the rest of the blender crowd. The blade to motor drive connection is also made of metal what ensures the durability of the system.
In addition, it is equipped with an automatic shut-off system to prevent overheating of the motor and prolong its life. The base unit is also quite stable during the blending of the thick and tough mixture and will not move over the counter.
Containers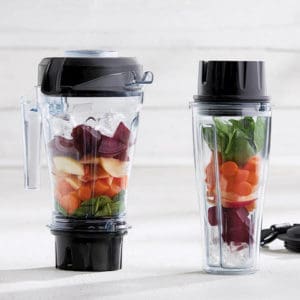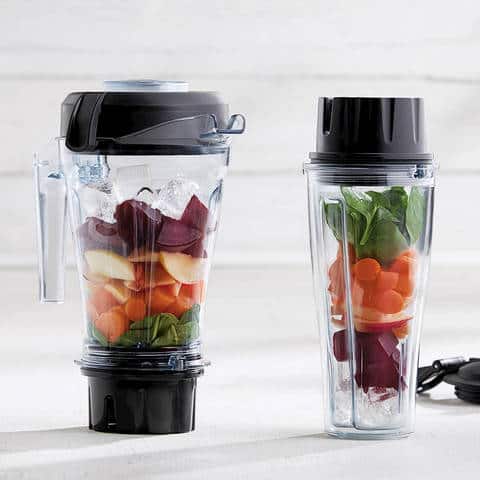 These machines come with 20 oz. (0.6 L) and 40 oz. (1.2 L) containers, which shatter and temperature proofed and made from Tritan copolyester premium polycarbonate material.
The 40 oz. container is operated in an upward position similar to any other countertop blender. It is equipped with a high-quality rubber lid and a vented cap in the center. This jar could be used with a tamper which included in the package and helps a lot in processing tough ingredients for creating proper food circulation.
The 20 oz. container is the typical bullet type cup and the signature feature of these S-series blender models. It is operated upside down and after blending the blade assembly could be replaced by the to-go lid and taken away in a car or outside. The to-go lid is well designed for easy drinking and comes with sealing gasket and clip to prevent any leaking when on the go The 20 oz. cup has double insulation and will keep cold or hot temperature 30% longer than ordinary cups.
Blades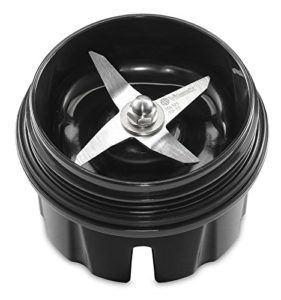 These machines come with interchangeable between two containers blade assembly which is screwed to the needed cup and unscrewed after use for clean. The 4-prongs blades are made from the usual for Vitamix aircraft quality stainless steel and are 2.5 inches in diameter (as opposed to 3 inches for C-Series and 4 inches for G-Series machines). The base of blade assembly made of hard and quality plastic while all blade to motor coupling is made of metal. Overall, the blade assembly is very solid and well-made and if handled with care and cleaned well it will last for many years without wearing out and need to be replaced.
Check here today's best price for the Vitamix S30 (the best deal)
Special Features
Color: The S-30 and S50 models are available in black and red colors, while the S55 comes only in luxury brush stainless.
Certified Refurbished: The only S-30 model is available in Certified Refurbished condition and currently only from the manufacturer site. However, the refurbished models are not easily available and may require joining the waiting list before the unit become available.
Operation outside of USA/Canada: These machines come with a 110-120 wattage system and could be operated only in the USA and Canada. Customers from other parts of the world with 220-240 voltage systems should consider local distributors or those dealing with 220-240 volts gadgets because an extended operation of these machines via the voltage transformer can compromise the performance of these machines and thus void the warranty. The cheapest Vitamix blenders with the 220-240 voltage systems are available through the UK official distributors.
Noise
These personal type models are not loud as they have fairly low wattage motor. They are slightly quieter than the flagship 5200 machine and output around 75-80 decibels (depending on speed and blended ingredients) what is comparable to vacuum cleaner noise output. However, the rubber mat placed under the motor base may considerably reduce noise coming from the machine.
Warranty and Customer Service

All Space-saving machine comes with 5–year full warranty that covers shipments and all normal wear and tear. Which the best on the market as no other blender manufacturers offer such a comprehensive warranty service. The Vitamix Customer service has an excellent reputation and ready to repair and replace units or parts without any questions asked.
In addition, the unit has the 30-day trial period, so if the customer decides that the machine does not suit the needs then the unit could be returned for the full refund and free shipping.
Optional Accessories and Attachments
There is no additional accessories and attachment available for these models. Moreover, the C-series and Next Generation models containers and accessories are not compatibles with S-Series. The same the S-Series container is also cannot be used with any full-size Vitamix models.
Set Includes
790-watt motor base;
S-Series Blade Assembly;
20-ounce portable container with flip-top lid;
40-ounce compact container with to part rubber lid;
Two sealing gasket for use with blade assembly and 20 oz. flip-top lid;
Custom tamper for use with 40 oz. container only;
Cook Book (S30 comes with Simply Fresh-Whole Food book, S50 with Create and S55 Creation books).
Dimensions
These machines take not much space on the counter as they designed smaller personal style Vitamix models. They have a footprint of 5.9 x 8.34 inches and a height of 14.55 inches with the 20-oz cup and 15.66 inches with the 40 oz. jar on the top of the base unit and lid on the place.
The motor base weights approximately 6.2 lb and the base unit with a 40-oz container weight around 8.1 lb.
Vitamix S30/S50/S55 Pros and Cons
Pros:
S30, S50, and S55 are easy to use and clean the machine, designed for processing the small amount of food that is available to be taken out in the same container;
These machines have all benefits of portable blender but able to perform all the usual high-end blender tasks from making ice cream to heating liquids via friction;
The low wattage motor together with full Vitamix functionality makes these machines very unique on the market that can be a dream gadget for environmentally-minded people;
These machines equipped with the Vitamix quality motor that is famous for its long life and has all chance to last over 10 years on average;
These machines come with outstanding for personal type blender 5 years full warranty what confirms its durability.
Cons:
These machines are still very expensive what turns down many customers;
The blade assembly threads cleaning will require some efforts but it is typical for personal type blenders.
Vitamix S30/S50/S55 Consumer Reviews
Surprisingly, all three models have different ratings with Amazon, even they absolutely identical machine with the only difference in choice of pre-set programs.
S30 – 4.6 amazon rating
S50 – 3.5 amazon rating
S55 – 4.2 amazon rating
The major fault of these blenders seems to be their high price. However, many customers find these machines very sturdy and solid and hardly downgrade to other brands ones they try the Vitamix ones.
Vitamix S30/S50/S55 Price
This is the very expensive machine, the Vitamix S30 model priced at $399, the S50 at $420, and S55 at $470 on the manufacturer website. However, some retailers like Amazon often may offer this gadget at a very competitive price.
Check here today's best price for the Vitamix S30 (the best deal)
Check here today's best price for the Vitamix S50
Summary
Vitamix S30, S50, and S55 Space Saving machines are an excellent choice for small households (1-2 persons) who are looking for the quality blender that occupies little countertop space but versatile and will last for many years. These machines are really functional and their functionality superior to any other personal type blender on the market.
However, the high price of these machines turned out many customers. Still, Vitamix is a durable gadget and will not need to be replaced every 1-2 years like NutriBullet or Ninja. This personal blender is likely to last over 10 years without extra expenses for the blade, cups, and other part replacement because it is durable and comes with the full 5-year warranty which covers all normal wear and tears. Thus, it is a very worthwhile investment for those who are not very tight with cash.
It is certain that once someone owns a Vitamix, this person will never look for another blender. Vitamix machines are built to last.
Would you consider alternative options? Check our articles NutriBullet RX vs Vitamix S30/S50/S55  and Which Vitamix to Buy? – Vitamix Models Explained.