NutriBullet and other China outsource blenders are often presented in their flashy infomercial as true competitors of Vitamix machines. To experienced blender users it is very suspicious even at a first look while many inexperienced consumers can easily be caught by professional advertising. Nevertheless, people look for the best option and most important for the best cheaper option thus NutriBullet Rx seems to them the real discovery them. According to the advertising, it is powerful, versatile, and twice cheaper than Vitamix.
Here is our comparison between NutriBullet Rx machine and Vitamix personal gadgets S30, S50, S55 models that will reveal the truth about all pros and cons of these well-known blenders.
Consider alternative options? Check our articles Best Blender under $200 – Is There a Cheaper Alternative to Vitamix? and Best Affordable but Powerful Personal Blenders.
NutriBullet RX Blender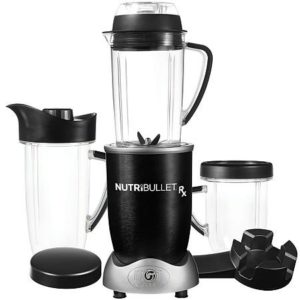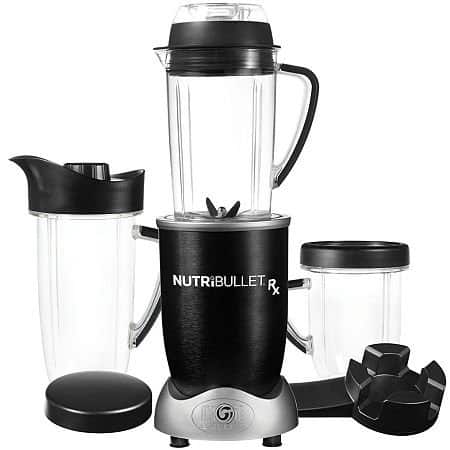 The NutriBullet Rx comes with a very powerful 1700 watts motor but a number of design flaws. The blade assembly shaft which goes into the drive is made of plastic and thus have a risk to break or melt easily. The blade assembly is also badly designed and has two problems – the sealing gasket often chewed up by the blades and blade assembly screwing thread is not able to connect containers properly and thus often leaks during the blending.
The machine's 3 containers are also made from a very poor quality polycarbonate material that has a high risk to crack when exposed to the high loads. Thus containers are not durable and need to be replaced at least ones a year or more often.
The operation of the machine is supposed to be simple and suitable for novice users but in fact, it is primitive. The machine starts operation by simply dropping the cup on the top of the base unit and does not have any speeds regulator, pulse function but 1 minute pre-set program for all types of blending and 7 minutes pre-set for making soup. Such limited speed control significantly reduces the range of functions this machine is able to perform:
Makes good quality smoothies including the green from leafy and tough ingredients;
Crushes ice only with enough liquid added, this machine is not able to make snow cones, ice cream, and other frozen treats;
Designed to make hot soup from scratch and even equipped with dedicated soup pre-set program and pitcher, but heats liquids to moderate 150F and the process takes so long that it is better to do using cooker;
Not able to chop food, make dressings, salsas and other food prep due to the speed limitations;
Makes nut butter but the quality is very poor;
Purees food with only liquid added and not able to handle thick mixtures well;
Grinds coffee beans and herbs but not suitable for flour making;
It does not make any dough and batter.
In addition, it comes with a very short 1-year limited warranty and very unhelpful customer service.
Check here the best today's deal for the NutriBullet RX
Vitamix S30, S50, S55 Blenders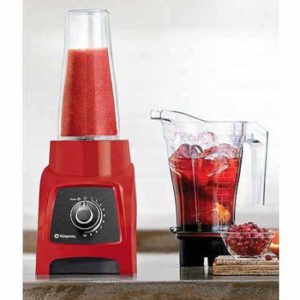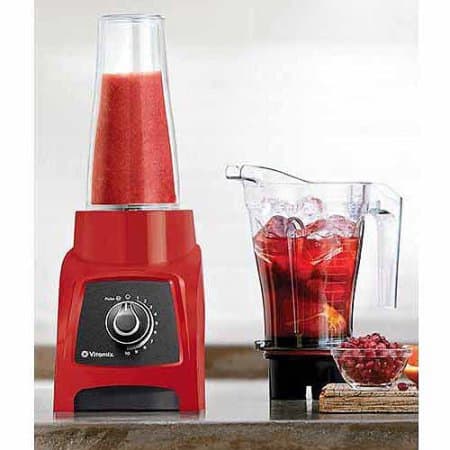 The Vitamix has three personal blender models – S30, S50, and S55. All models come with identical technical parameters but differ by the only availability of pre-set program options. The machines have moderate compared to NutriBullet Rx only 790 watts motor. However, as all Vitamix motors, this one is also based on ball-bearing technology thus so efficient and functional that it is able to perform a large range of functions.
The S30, S50 and S55 machines come with premium quality Tritan polyester containers that are stress and temperature resistant. The blade assembly is also well-made, although, it has the plastic collar and base all-metal blade to drive coupling thus is very strong and durable.
The machine also comes with a well-equipped control panel that has 10 variable speeds and pulse function while S50 model and S55 models provided with an additional 2 and 4 pre-set programs respectively. So this machine is designed to perform the variety of following functions:
Produce excellent quality drinks even from toughest and fibrous ingredients, it is more than suitable to make green smoothies;
Nut milk is no problem for this machine;
Crushes ice with and without liquid added, able to make excellent snow cones, frozen desserts, and ice creams;
Makes excellent hot soup heating the liquid friction within 6-7 minutes, the containers handle well hot liquids thus suitable for making bulletproof coffee;
Silky nut butter is not a problem for the machine, it comes with a tamper which is a great help for this task;
Pure easily cooked and uncooked ingredients, make excellent deeps and spreads;
Chop vegetable to prepare various food prep recipes such as salsa, mixes, marinade coleslaws and others;
Grinding and milling any ingredient, coffee, herbs, and grains even produce baking quality flours from hard grains;
Knead the dough and mixes batters.
In addition, this machine comes with great for personal type blenders 5 years full warranty that covers all wear and tears and has the best in the industry customer service.
Check here the best today's deal for the Vitamix S30/S5/S55 Blenders
NutriBullet RX and Vitamix S30/S50/S55 Differences and Features
 
NutriBullet RX
Vitamix S30, S50, S55
Motor
1700 watt with the plastic motor to the blade connections;
790 watts with the all-metal motor to the blade couplings;

 

Blades

One removable blade assembly suitable for all 3 containers;
One removable blade assembly that interchangeable between two containers;
Containers
34 oz. upright pitcher, 32 oz. and 45 oz. bullet cups, all made from cheap and crackable plastic;
40 oz. upright vented pitcher and 20 oz. bullet cup made from high-quality shatter-resistant Tritan copolyester, the 20 oz. cup has double insulation;
Using & Cleaning
Easy to set up for running but requires efforts to screw tightly container to blades assembly, could be hard to disassemble after using; very easy to use; quite complicated to clean.
Simple to assemble for running and very easy to use; very easy to clean with the self-cleaning process.
Control panel
Only 2 pre-set programs, has no speed option of pulse mode;
S30 comes with 10 variable speeds and pulses mode, S50 with additional 2 pre-set programs and S55 with 4 additional pre-set programs;
Warranty
1-year limited warranty. Bad reputation Customer Service.
5-year Full warranty with best Customer Service in the industry.
Performance

Makes good smoothies from soft and hard ingredients including green ones; Crushes ice only with liquid added;
Crushes ice only with liquid added;
Heats soup via frictions but not very practical;
Grinds coffee beans, herbs but it is a tricky process;
Makes nut butter but not good quality.

Blends high-quality drinks including green smoothies;
Crushes ice makes ice cream and frozen desserts;
Chops and minces vegetables and meat;
Makes hot soup without pre-cooking;
Makes nut butter and nut milk;
Purees raw and cooked vegetables;
Mills grain flours including rice well;
Grinds herbs and coffee beans;
Make a dough.

Dimensions
The footprint is 5 1/2 inches in diameter, profile height is 17 3/8 inches with the 45 oz. cups and 18 ¾ inches with the soup pitcher on the top of the base unit. Weight is 14.7 pounds. It requires a lot of space for accessories storage.

The footprint is 5.9 x 8.34 inches, profile height is 14.55 inches with the 20-oz cup and 15.66 inches with the 40 oz. jar on the top of the base unit and lid on place Weight is 6.2 pounds.
How to Choose Between the Two Blenders
Vitamix single-server models are superior machines in comparison to the NutriBullet Rx. Despite the fact, the S30, S50, and S55 gadgets have only 790 watts motor what is almost 2.5 times less powerful than NutriBullet Rx motor but Vitamix machines completely outpace its functionality. The NutriBullet Rx blender, which is equipped with such enormous power, can only produce good quality smoothies and cannot even crush ice without liquid added. It is also not designed to do chopping tasks, produce puree or handle any thick mixtures. The NutriBullet Rx soup-making signature feature are also so impractical that it hardly will be used by the majority of the customers.
While Vitamix single-serve models are able to perform all legendary variety of full-size Vitamix machine tasks from excellent smoothies, hot soup to ice cream, and making baking flour. So, the low wattage S30, S50, and S55 motor must be treated as the advantage feature that could save some money on the customer electricity bill.
In addition, Nutribullet has quite a few construction faults that makes this machine highly unreliable. While Vitamix design is so elaborate that it almost does not have any weak points apart of its high price.
Summary
The Vitamix S30, S50, and S55 are very expensive personal blenders but they are also the most versatile and durable machines in this market segment. Which hardly will require any maintenance outlays over the 5-years period that served by full warranty with all wear and tears covered.  Moreover, these machines are most likely to serve 10 + years without any issues.
NutriBullet is 1.5 times cheaper than S30, S50, and S55 but comes with a 1-year limited warranty and has on average 1-2 year life expectancy. That during the 5-10 year exploitation period will cost consumers 5-6 times more than expensive $300-400 Vitamix machines.
Therefore, Vitamix S30, S50, and S55 are an obvious choice for any consumer who is looking for reliable and multifunctional personal blender gadgets.
Alternatively, check our articles Best Blender under $200 – Is There a Cheaper Alternative to Vitamix? and Best Affordable but Powerful Personal Blenders.