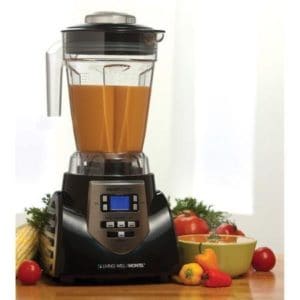 Although HealthMaster Elite claims to be a juicer, blender, and food processor it is just blender that does not include any juicing or food processing attachments and accessories. Yet, it is a very versatile blender.
Here, we will closely look at this blender and analyze how efficiently it performs all the claimed tasks and if it worth the attention of fussy type customers.
Thinking about the alternative option? Check here our article Best Countertop Blenders under $100.
Functionality and Versatility
Smoothie: HealthMaster Elite will make excellent drinks from soft and tough ingredients. It is also able to produce decent quality green smoothies even from tough food. The gadget will pulverize well nut, chia seeds, and seeds in drinks including such usual suspects as strawberry and raspberry seeds. But to achieve the smooth consistency of drinks it may take up to 2-3 minutes to process.
Juices: The Montel is not able to produce classic juice that separates the fiber from a liquid. However, it is perfectly capable of emulsifying smooth drinks aka "whole juice".
Frozen ingredients/desserts:  The blender has enough power to process frozen ingredients and ice cubes in drinks. It also able to shave ice to produce frozen treats and frozen drinks like margaritas, and other types of your favorite slushes.
Nut milk: This machine is able to pulverize nut in liquids to produce excellent quality nut milk.
Pureeing: The gadget has enough power to puree raw and cooked veggies to make a variety of recipes from the mashed potato to the most delicious spreads and dips.
Soup/ hot ingredients: This blender can handle hot liquids. It is even able to make hot soup from cold ingredients heating them via frictions up to the 201F (94 C) and blending at the highest speed 8 for about 8 minutes.
Chopping/food prep: This machine has a good range of speeds and pulse function. So it is perfectly able to perform a range of food prep tasks from chopping veggies for coleslaw to making a salad dressing, salsa, and marinades. It is also will chop nuts and grate cheese.
Nut butter: HealthMaster Elite has enough power to make a decent quality nut butter only with some oil or water added. It also equipped with a tamper which the necessary tool for such challenging tasks as processing thick mixtures.
Grinding/milling:  This machine is designed to grind coffee beans and herbs. It also perfectly capable of milling the baking quality flour.
Dough/batter: This machine is designed to knead dough and mix batter.
HealthMaster Elite is a very versatile blender. It is equipped with enough power and range of speed to perform even the most challenging tasks such as producing frozen desserts and nut butter. However, as any multitasking machine, it requires the time and effort to master all these functions.
Speed Settings and Programs
HealthMaster Elite comes with 8 speeds, pulse function, ice cycle, and quite unusual digital control panel. The control panel equipped with ON/OFF, PULSE, RUN/STOP, ICE buttons, and a digital LED display with two ((+) and (-)) TIME and two ((+) and (-)) SPEED buttons that regulate speeds.
The blender activated with pressing the ON button which illuminates also LED display. One of eight speeds selected by pressing the SPEED's (+) or (–) buttons and time from 0 to 10 minutes selected by pressing the TIME's (+) or (-) buttons. Then a machine is ready to run by pressing the RUN/STOP button. The unit will not run until the time is selected and if speed were not selected then it will operate on speed 1. When a user needs to blend ingredients for less than 1 minute the STOP button should be pressed manually when desired consistency is achieved.
Pulse functions run by pressing and releasing the PULSE button for each pulse burst. The machine is also equipped with a special ICE button that supposed to be used for processing ice and pre-programmed as continuous pulse bursts until a user manually stops it by pressing the STOP button.
The HealthMaster Elite control panel is not absolutely straightforward to operate and requires some learning to master it.
Check here today's best price for HealthMaster Elite Blender
Ease of Using and Cleaning
Operating: This blender is very easy to assemble for use because it has an irremovable blade system and does not have any container and lid locking mechanisms. So, the user just has to securely sit the jar on the top of the base unit. Ones it sits properly the safety weight switch at the back of the base unit will be activated. Then a user may fill the container with ingredients, push firmly the lid on the top of the jar until the lid meets jar lip and it is ready to operate. The jar equipped with vented 2–part lid (rubber lid and lock cap). So the locking cap could be removed for adding extra ingredients during blending or for using the tamper. The cap also intends for releasing the steam pressure during the processing of hot ingredients.
Tamper: This machine comes with a plastic plunger designed for helping to process the thick mixture and removing the air pockets.
Cleaning: The HealthMaster Elite is also very easy to clean. Although, this machine is not dishwasher safe it could be easily clean with hand or using self-clean-up – adding few drops of soap into the container filled halfway with water and run for 1 minute at the highest #8 speed. Then rinse thoroughly and dry with a cloth.
Base Unit and Motor Power
This machine comes with powerful 1200 watts motor that rotates blades at the speed of 22,000 RPMs (enough to heat liquids via frictions). The unit also has to overheat protection system that automatically shut off the machine for 35 minutes when it is overheated.
However, it seems that the unit manufactured the way that it cannot handle the high loads for an extended period of time and few fatal faults make the motor not very durable. For example, the bearings at the bottom of the jar are not welded into the blade system but glued in with silicone. And when the unit runs at high speed the silicon melts and causes the bearing to shift away. The unit starts to vibrate and produce some unusual sound. All this indicates the wearing out of the motor.
Container and Blades
This machine comes with 60 oz. (1700 ml) polycarbonate container and permanently inbuilt into it blade assembly. The container made from low-quality material and as reported by a customer may develop some cracks within 1 – 1.5 years of use. The replacement container is quite expensive and costs around 2/3 of the blender price. The container has the rubber lid and lock cap which are well-made and sit on the jar securely during blending.
The 4-prongs serrated blades are made of good quality stainless steel. However, it has a major fault with bearings to jar connection. That is fixed so badly that often cause the cracking of the container just near the bearing connection what result in leaking liquids and other resulting problem.
Special Features
Colors: This machine is available in three colors – black, white, and red. The white is the cheapest one currently.
Certified Refurbished: The certified refurbished models are available for this machine. However, the price is almost similar to the original version.
Use in countries outside of USA/Canada: This machine comes with a 110-120 voltage system for use in the USA/Canada. The blender could operate via voltage transformer in counties with 220-240 Volts system but it will void the warranty. 
Set Includes
Base unit with 1200 watts motor;
60 oz. (1700ml) BPA-Free pitcher with permanently inbuilt stainless steel blade system;
2-parts vented lid;
Custom tamper;
Recipe book (over 100 recipes, hardcover);
User manual. 
Warranty and Customer Service
The HealthMaster Elite comes with a 3-month LIMITED warranty for the machine and lifetime warranty for the motor. However, the manufacturer tries to avoid honoring the lifetime motor warranty and often claim that they discontinued the model you have the warranty for and offer to buy the refurbished unit instead of repairing or replacing the faulty motor. The replacement parts are so expensive and will require paying shipping costs that often worth as much as the new unit. In addition, Montel Williams also charges the shipping cost for returning or replacing the initially faulty item. That means that the HealthMaster Elite warranty almost does not exist. 
Noise
This machine is very noisy and outputs more decibels than other blenders with similar power capacity.
Optional Accessories and Attachments
There are no extra accessories or attachments available for this machine. The replacement parts could be obtained from manufacturer customer service. However, they are so expensive that often not worth to replace and cost as much as a completely new machine.
In addition, the manufacturer recently changed the design of this machine and no part from the previous version as compatible with the new models. So, this machine has a lot of problems with replacement parts.
Dimensions
It is a bulky machine with a footprint of 8.25 x 9 inches and a height profile of 19.75 inches. This blender is too tall to fit under standard kitchen shelves. However, this machine has very neat cord storage beneath the base unit.
The machine is quite heavy and with a weight of 10 pounds, it does not travel over the counter during operation.
Pros and Cons
Pros:
This very powerful and versatile machine which is able to produce good quality smoothies including the green ones;
The blender can not only heat liquids making the hot soup via frictions but also makes frozen desserts and even knead dough;
The gadget comes with tamper and allows easily to process any thick mixtures;
The machine is very easy to use and clean.
Cons:
The HealthMaster Elite is not very durable and has the average life expectancy of about 1-1.5 years;
The machine comes with few designed problems such as faulty bearings to jar connection and leaking container;
The blender comes with only 3 months of warranty for the unit part and lifetime for the motor, however, the manufacturer avoids to honor it;
This machine is noisier than other blenders with comparable motor power.
HealthMaster Elite Consumer Reviews
The blender has a very good initial concept, comes with a powerful motor and very professional promotion. However, the machine has a very high failure rate what often reflected in customer reviews.
Amazon rating – 4.4
HealthMaster Elite Price
The price dropped significantly for HealthMaster Elite in the last 2-3 years from $200 to about $75. The machine has a number of design faults that manufacturers were not able to correct. So it is a compulsory measure the manufacture implements to attract consumers.
Check here today's best price for HealthMaster Elite Blender
Summary
HealthMaster Elite could be a real winner if only the manufacturer invested more money into higher quality components and better construction methods. As for now, it is the very versatile machine that is able to perform functions the typical commercial type blender does. It blends with great smoothies and excellent frozen treats to heating soup from frictions and even kneading the dough. Unfortunately, this machine does not last and after a short period of excellent performance. It may start to fall apart with a reduction in quality of performance.
So, this it can only suit to those consumers who want to try the powerful machine until it last (average life expectancy is about 1-1.5 years). Otherwise, it is better to look for a more durable alternative in the segment of powerful blenders under $100.