It is rec­om­mend­ed that one should con­sume squeezed juice imme­di­ate­ly after extract­ing it to enable your body to uti­lize the nutri­ents in the juice before they dis­si­pate. How­ev­er, you might not have all the time to make one glass of fresh juice at a time.
To ensure that you take fresh juice every time, you need to store it in the right con­tain­er just after juic­ing. Con­sum­ing a juice that shows signs of oxi­da­tion like unusu­al col­or, dif­fer­ent taste, and smell can be detri­men­tal to your health. The amount of time fresh juice can be stored in a par­tic­u­lar con­tain­er depends on the fol­low­ing factors:
The juicer mod­el is used in the extrac­tion of juice. Some juicer mod­el, like slow juicers, pro­duces juice that has less ten­den­cy to oxidation.
Food ingre­di­ents are being juiced. Some food ingre­di­ent prod­ucts like apple juice oxi­dize at a quick­er rate com­pared to cit­rus juice.
The method used in stor­ing the juice. For exam­ple, in the freez­er, fridge, or at room temperature.
Juice made using a cen­trifu­gal juicer should not be stored for more than 8 hours, while that made using a slow juicer should be stored for 24–72 hours.
Dis­clo­sure: As an Ama­zon Asso­ciate we may earn an affil­i­ate com­mis­sion for pur­chas­es you make when using the links on this page.
Read More: The Best Man­u­al Sin­gle Auger Mas­ti­cat­ing Juicers — Entry Juicer Options
The Best Storage Containers for Juice
In par­tic­u­lar, own­ing a set of com­mon kitchen con­tain­ers does not guar­an­tee your juice's fresh and hygien­ic stor­age. You need to know the best con­tain­ers to pre­serve your favorite fresh juice for healthy liv­ing. The best con­tain­ers include; stain­less steel water bot­tles, glass bot­tles, or stain­less steel-lined ther­mos. These con­tain­ers are key in your juic­ing activ­i­ty and will help pro­long the shelf-life of the fresh juice that you need to con­sume on a dai­ly basis. Do not use the avail­able plas­tic con­tain­ers for juice stor­age. Sci­en­tif­ic research has shown that these con­tain­ers (includ­ing the HDPE plas­tics) leach tox­ins in drinks and food stored in them.
Ball Mason Wide Mouth Quart Jars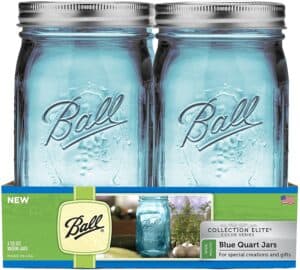 Ball Mason pre­serv­ing jars are avail­able in a few pack­ages — 8 oz., 12 oz., 16 oz., 20 oz, 32 oz., and half-gal­lon glass con­tain­er — that comes in a set of 2, 4, 6, 9, 12, or 24 items. Here, you get a chance to choose the size of the jar that fits your need. With these Mason Jars, you will be able to enjoy has­sle-free hand clean­ing since this mod­el has a large, wide mouth. The mate­r­i­al that makes up this jar is not only food safe but also of sol­id con­struc­tion qual­i­ty. More­over, this mate­r­i­al is heat resis­tant. Its attrac­tive and bril­liant fun col­or suits the col­or choice of most customers.
The qual­i­ty seal pre­vents the entry of oxy­gen into the jar to ensure your juice remains fresh as you cre­at­ed it. On the oth­er hand, the model's seal­ing com­pound is time-test­ed and has an under­side coat­ing to ensure that the pre­served juice's nat­ur­al acids do not cor­rode the lid. Also, the out­side lid has a new sil­ver design that can per­fect­ly match your kitchen design. Ball Mason jars are known to be afford­able, and there­fore most cus­tomers can afford to pur­chase them.
Brieftons Glass Water Bottles with Stainless Steel Lids
This is a mul­ti-pur­pose con­tain­er that just not only pre­serves juice but can also be used to store bev­er­ages, water, kefir, brew, and oth­er drinks. The bot­tle has a stain­less steel cap, which is both water and air­tight to make the con­tain­er leak-free. Oxy­gen can­not enter the bot­tle to degrade your juice since every cap has an O‑ring lin­ing made from sil­i­cone. If you mind about space, wor­ry no more. This is because the bot­tle mod­el has a slim design and can fit in most places like lunch bags, fridges, or cup holders.
Brieftons bot­tle mod­el comes with a unique clean­ing brush, which ensures has­sle-free clean-up of the con­tain­er. More­over, fill­ing and clean­ing are also made eas­i­er by the wide mouth of this glass jar. Unlike oth­er types of stor­age con­tain­ers that leach tox­ins and chem­i­cals, Brieftons bot­tles are gen­er­al­ly safe. They are free of BPA, lead, phtha­lates, and cad­mi­um. Besides, this juice bot­tle mod­el is known to have high-tem­per­a­ture resis­tance and a low expan­sion rate. This makes it suit­able for cold and warm drinks.
Juice Bottles — Wide Mouth Glass Bottles with Lids
Par­tic­u­lar­ly, this juice bot­tle mod­el is unique since you need no bot­tle brush to clean it. Both the bottle's mouth and neck are wide enough to allow easy clean-up. Addi­tion­al­ly, the wide mouth allows you to pour smooth­ies, juice, water, or home­made bev­er­ages with­out spills. It has a stain­less steel lid, which is both air­tight and leak-free. That means you can eas­i­ly pack your juice with con­fi­dence with no wor­ries of a leak. The sleek design of this bot­tle mod­el takes less space, and there­fore, you only need a small space to store it.
Notably, the Wide Mouth Glass Bot­tle is suit­able for the stor­age of both cold and hot drinks. So, you can pour your hot or cold water, tea, cof­fee, or even milk into this con­tain­er with­out issues. A borosil­i­cate glass (pre­mi­um qual­i­ty glass) is used to craft this bot­tle. Such high-qual­i­ty glass is BPA-Free, lead-free, and does not stain, to guar­an­tee you a pure and safe drink­ing experience.
Life4u Reusable Sports Borosilicate Glass Water Bottle
Life4u is one of the glass water bot­tles that stand at the pin­na­cle of the juice bot­tle mar­ket. Specif­i­cal­ly, this mod­el has a nar­row mouth design- a fea­ture that is not avail­able in most juice bot­tle mod­els. The nar­row mouth allows you to enjoy your drink with­out a spill. Anoth­er unique fea­ture of this brand is its avail­abil­i­ty in two sizes. As a user, you can opt to pur­chase a fam­i­ly-size mod­el or an indi­vid­ual-size mod­el. Also, the lid of the bot­tle has a sil­i­cone seal to ensure it is leak-free.
Fur­ther­more, the brand is made from borosil­i­cate glass that is known to be ther­mal shock resis­tant. There­fore, the bot­tle is suit­able for both hot and cold drinks. This bot­tle mod­el's lid has a rope han­dle, which elim­i­nates the has­sle of car­ry­ing the bot­tle when on the go. Besides, the mate­r­i­al that makes up this mod­el is BPA-Free and does not leach tox­ins. Such mate­r­i­al ensures that you enjoy a fresh and safe drink with no bad odor. It is also worth not­ing that car­bon­at­ed water is not suit­able for this juice bot­tle mod­el. The man­u­fac­tur­er of this brand gives after-sales ser­vice to customers.
IRON FLASK Sports Water Bottle
Iron Flask water bot­tle is unique due to the pres­ence of dou­ble-wall insu­la­tion that ensures that the mod­el is sweat-free. More­over, this insu­la­tion enables your drink to remain hot for at least 12 hours or cold for 24 hours. This iron flask is non-tox­ic and 100% BPA-Free since it is made from 18/8 high-qual­i­ty stain­less steel. From this bot­tle, you enjoy tak­ing a harm­less and fresh drink that fits your health.
The brand comes with three types of lids: Flip Lid (which has a han­dle), Stain­less steel lid, and a Sprout Lid to ensure the con­tain­er is leak-free. Also, you can car­ry your juice along with this con­tain­er. You can opt to car­ry your drink to the gym, office, or when head­ing for out­door activ­i­ties like hik­ing or camp­ing. Besides, the juice bot­tle mod­el is easy to hand wash; all you need is soapy hot water. More­over, it does not rust or adds a met­al taste to your drink. Note that only the 22oz, 18oz, and 14oz flask fit in cupholders.
Glacier Point Vacuum Insulated Stainless Steel Water Bottle
This juice bot­tle mod­el has a high-qual­i­ty dou­ble-wall vac­u­um, which ensures that sweat­ing does not occur. It can pre­serve a hot drink for at least 12 hours and up to 24 hours for cold drinks. 18/8 stain­less steel is the mate­r­i­al used in mak­ing this con­tain­er. The mate­r­i­al is food grade and BPA-Free with­out bad odor and does not add unwant­ed taste to your drink. It comes with an extra sports cap that is fit­ted with a straw to enable you to flip and drink eas­i­ly, espe­cial­ly when on the go.
On the oth­er hand, the brand has a medi­um mouth open­ing suit­able for ice fill­ing and drink­ing. More­over, you can car­ry your juice in this juice bot­tle at var­i­ous places like in the office, gym, and when going for out­door activ­i­ties like camp­ing, hik­ing, bik­ing, run­ning, or even moun­tain climb­ing. It has a high-qual­i­ty pow­der coat­ing to pro­tect the bot­tle mod­el from bumps and scratch­es. In addi­tion, the Glac­i­er Point water bot­tle comes with a life­time war­ran­ty, includ­ing work­man defects.
Summary
There are innu­mer­able mod­els of juice bot­tles on the mar­ket, but you got to choose the best to get the best results. The above juice bot­tle mod­els are the lead­ing in the mar­ket; all you need is to choose the mod­el that com­pli­ments your require­ments. Most of them are made from grade food mate­ri­als and do not leach tox­ins. You will no longer fear stor­ing your favorite drinks with these pow­er­ful tools.