It is recommended that one should consume squeezed juice immediately after extracting it to enable your body to utilize the nutrients in the juice before they dissipate. However, you might not have all the time to make one glass of fresh juice at a time. To ensure that you take fresh juice every time, you need to store it in the right container just after juicing. Consuming a juice that shows signs of oxidation like unusual color, different taste, and smell can be detrimental to your health. The amount of time fresh juice can be stored in a particular container depends on the following factors:
The juicer model is used in the extraction of the juice. Some juicer model like the slow juicers produces a juice that has less tendency to oxidation.
Food ingredients being juiced. Some food ingredient products like apple juice oxidize at a quicker rate compared to citrus juice.
The method used in storing the juice. For example, in the freezer, fridge, or at room temperature.
Juice made using a centrifugal juicer should not be store for more than 8 hours while that made using a slow juicer should be stored for 24-72 hours.
The Best Storage Containers for Juice
In particular, owning a set of common kitchen containers does not guarantee you fresh and hygienic storage of your juice.  You need to know the best containers to preserve your favorite and fresh juice for a healthy living. The best containers include; stainless steel water bottles, glass bottles, or stainless steel-lined thermos. These containers are key in your juicing activity and will help prolong the shelf-life of the fresh juice that you need to consume on a daily basis. Do not use the available plastic containers for juice storage. Scientific research has shown that these containers (including the HDPE plastics) leach toxins in drinks and food stored in them.
Ball Mason Wide Mouth Quart Jars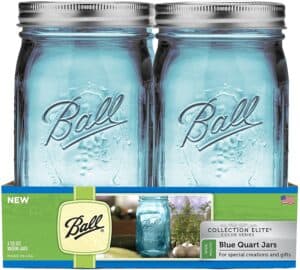 Ball Mason preserving jars are available in few packages – 8 oz., 12 oz., 16 oz., 20 oz, 32 oz., and half-gallon glass container – that comes in a set of 2, 4, 6, 9, 12, or 24 items.  Here, you get a chance to choose the size of the jar that fits your need. With these Mason Jars, you will be able to enjoy hassle-free hand cleaning since this model has a large, wide mouth. The material that makes up this jar is not only food safe but also of solid construction quality. Moreover, this material is heat resistant. Its attractive and brilliant fun color suits the color choice of most customers. 
The quality seal prevents entry of oxygen into the jar to ensure your juice remains fresh as you created it. On the other hand, the model's sealing compound is time-tested and has an underside coating to ensure that natural acids in the preserved juice do not corrode the lid. Also, the outside lid has a new silver design that can perfectly match your kitchen design. Ball Mason jars are known to be affordable and therefore most customers can afford to purchase them.   
Ball Mason Wide Mouth Quart Jars, via Amazon
Brieftons Glass Water Bottles with Stainless Steel Lids
This is a multi-purpose container that just not only preserves juice but can also be used to store beverages, water, kefir, brew, and other drinks. The bottle has a stainless steel cap which is both water and airtight to make the container leak-free. Oxygen cannot enter the bottle to degrade your juice since every cap has an O-ring lining made from silicone. If you mind about space, worry no more. This is because the bottle model has a slim design and can fit in most places like lunch bags, fridges, or cup holders.
Brieftons bottle model comes with a unique cleaning brush which ensures hassle-free clean-up of the container. Moreover, filling and cleaning are also made easier by the wide mouth of this glass jar. Unlike other types of storage containers that leach toxins and chemicals, Brieftons bottles are generally safe. They are free of BPA, lead, phthalates, and cadmium. Besides, this juice bottle model is known to have high-temperature resistance and a low expansion rate. This makes it suitable for cold and warm drinks.
Brieftons Glass Water Bottles with Stainless Steel Lids, via Amazon
Juice Bottles – Wide Mouth Glass Bottles with Lids
Particularly, this juice bottle model is unique since you need no bottle brush to clean it. Both the bottle's mouth and neck are wide enough to allow easy clean-up. Additionally, the wide mouth allows you to pour smoothies, juice, water, or homemade beverages without spills. It has a stainless steel lid which is both airtight and leak-free. That means you can easily pack your juice with confidence with no worries of a leak. The sleek design of this bottle model takes less space and therefore, you only need a small space to store it.
Notably, Wide Mouth Glass Bottle is suitable for the storage of both cold and hot drinks. So, you can pour your hot or cold water, tea, coffee, or even milk into this container without issues. A borosilicate glass (premium quality glass) is used to craft this bottle. Such a high-quality glass is BPA-Free, lead-free, and does not stain, to guarantee you a pure and safe drinking experience. 
Juice Bottles – Wide Mouth Glass Bottles with Lids, via Amazon
Life4u Reusable Sports Borosilicate Glass Water Bottle
Life4u is one of the glass water bottles that stand at the pinnacle of the juice bottle market. Specifically, this model has a narrow mouth design- a feature that is not available in most juice bottle model. The narrow mouth allows you to enjoy your drink without a spill. Another unique feature of this brand is its availability in two sizes. As a user, you can opt to purchase a family-size model or an individual-size model. Also, the lid of the bottle has a silicone seal to ensure it is leak-free.
Furthermore, the brand is made from borosilicate glass that is known to be thermal shock resistant. Therefore, the bottle is suitable for both hot and cold drinks. The lid of this bottle model has a rope handle which eliminates the hassle of carrying the bottle when on the go. Besides, the material that makes up this model is BPA-Free and does not leach toxins. Such material ensures that you enjoy a fresh and safe drink with no bad odor. It is also worth noting that carbonated water is not suitable for this juice bottle model. The manufacturer of this brand gives after-sale service to customers.
Life4u Reusable Sports Borosilicate Glass Water Bottle, via Amazon
 IRON FLASK Sports Water Bottle
Iron Flask water bottle is unique due to the presence of double-wall insulation that ensures that the model is sweat-free. Moreover, this insulation enables your drink to remain hot for at least 12 hours or cold for 24 hours. This iron flask is non-toxic and 100% BPA-Free since it is made from 18/8 high-quality stainless steel. From this bottle, you enjoy taking harmless and fresh drink which fits your health.
The brand comes with three types of lids, that is; Flip Lid (has a handle), Stainless steel lid, and a Sprout Lid to ensure the container is leak-free. Also, you can carry your juice along with this container. You can opt to carry your drink to the gym, office, or when heading for outdoor activities like hiking or camping. Besides, the juice bottle model is easy to hand wash, all you need is soapy hot water. It does not rust or adds metal taste to your drink. Note that only the 22oz, 18oz and the 14oz flask fits in cupholders.
IRON FLASK Sports Water Bottle, via Amazon
Glacier Point Vacuum Insulated Stainless Steel Water Bottle
This juice bottle model has a high-quality double-wall vacuum which ensures that sweating does not occur. It can preserve a hot drink for at least 12 hours and up to 24 hours for cold drinks. 18/8 stainless steel is the material used in making this container. The material is food grade and BPA-Free without bad odor and does not add unwanted taste to your drink. Comes with an extra sports cap that is fitted with a straw to enable you to flip and drink easily especially when on the go.
On the other hand, the brand has a medium mouth opening which is suitable for ice filling and drinking. Moreover, you can carry your juice in this juice bottle at various places like in the office, gym, and when going for outdoor activities like camping, hiking, biking, running, or even mountain climbing. To protect the bottle model from bumps and scratches, it has a high-quality powder coating. The Glacier Point water bottle comes with a lifetime warranty including workman defects.
Glacier Point Vacuum Insulated Stainless Steel Water Bottle, via Amazon
Summary
There are innumerable models of juice bottles in the market but you got to choose the best to get the best results. The above juice bottle models are the leading in the market, all you need is to choose the model that compliments your requirements. Most of them are made from grade food materials and do not leach toxins. With these powerful tools, you will no longer fear storing your favorite drinks.