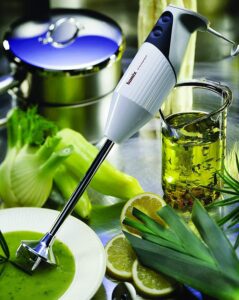 The Bamix is an orig­i­nal immer­sion blender that was invent­ed and patent­ed in 1950 and then man­u­fac­tured in the same Switzer­land fac­to­ry. All oth­er immer­sion blenders on the mar­ket just dupe the Bamix mod­el. Nev­er­the­less, it has remained the num­ber one immer­sion blender for pro­fes­sion­al chefs for many years.
Here we review a very pop­u­lar Bamix Gas­tro 200 mod­el to exam­ine all the pros and cons of this leg­endary machine and make it eas­i­er for you to decide if it is worth adding to your kitchen gad­get collections.
Dis­clo­sure: As an Ama­zon Asso­ciate, we may earn an affil­i­ate com­mis­sion for pur­chas­es you make when using the links on this page.
Read More: Blender vs Food Proces­sor – Which One to Choose for Your Kitchen?
Functionality
The Bamix Gas­tro 200 blender comes with a sin­gle shaft and four (4) inter­change­able blades that are designed to per­form the fol­low­ing tasks.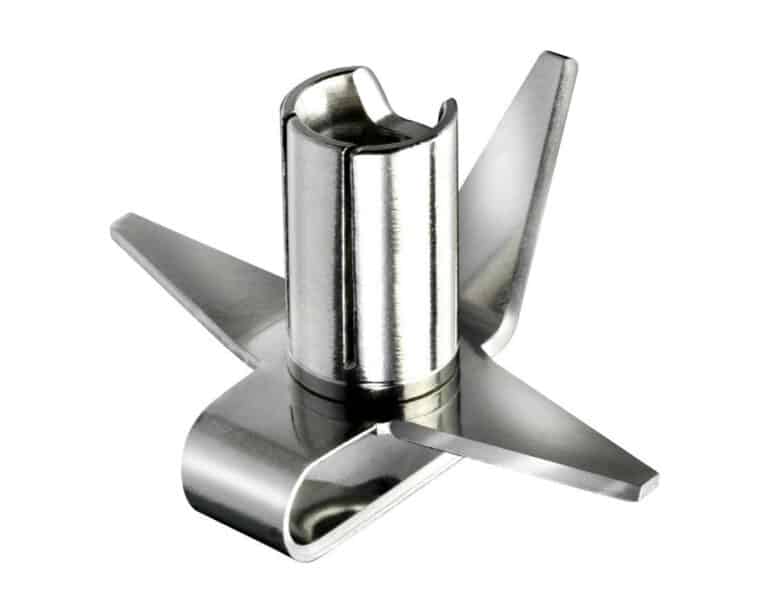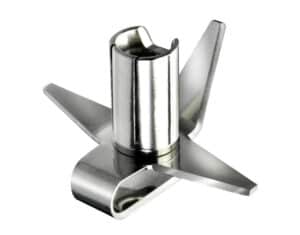 Mul­ti-Pur­pose Blade (C‑blade) – is designed for cut­ting, crush­ing, and chop­ping and used for 90% of all tasks; it can han­dle small (the liq­uid must cov­er the blade head only) and large batch­es of food (up to 1 gallon/5L of flu­ids, and soups, up to 2.65 quarts/3L of sauces)
Cuts, chops, and purees raw or cooked veg­eta­bles, fruit, or berries;
Make slush­es and iced alco­holic drinks;
Per­fect for bul­let-proof coffees;
Blends smooth­ies;
Blends soups, the met­al guards of the shaft head pro­tect the cook­ware from scratching;
Chops and crushed cooked meat;
Blends nut milk;
Makes a vari­ety of baby food recipes;
Crush­es ice cubes and frozen fruits and veg­gies even with­out liq­uid added and makes frozen treats such as ice cream or sorbets;
Mix­es cake and pan­cake batters;
Per­fect for minc­ing, purée­ing, strain­ing, and stir­ring any thick mixtures;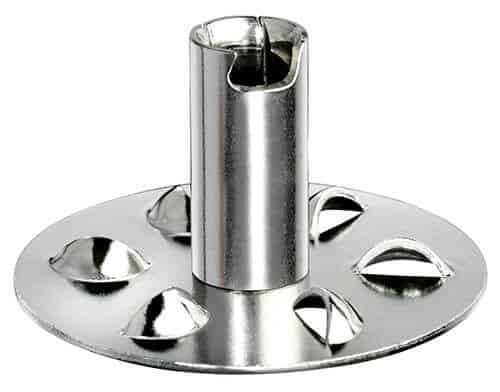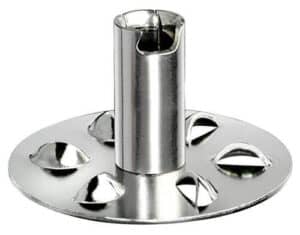 The Whisk blade (A ‑blade) is designed to stir and mix shakes, drinks, and purees and can han­dle up to 2.65 quarts /3 L of liq­uids, 1.8 quarts/2 L of sal­ad dress­ing, and 0.45 quarts/0.5 L of max­i­mum batch­es. This blade must be run only at speed 1.
It is ide­al for emul­si­fy­ing liq­uids, sauces, creams, dress­ings, may­on­naise, or any oily ingredients;
Per­fect for whip­ping a thick or creamy consistency;
Mash­es potatoes;
Mix­es light doughs;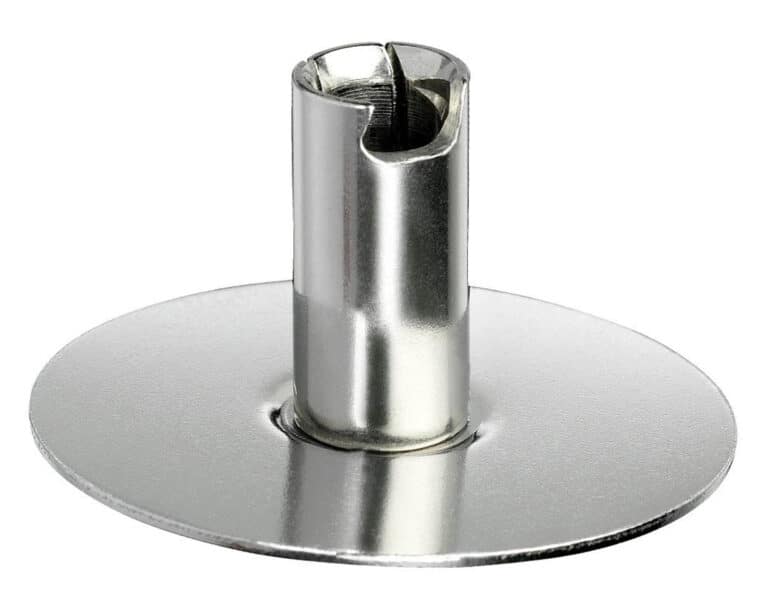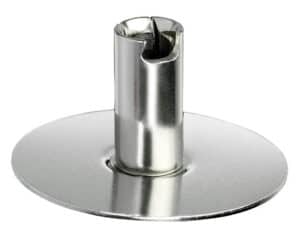 Beater/aerating blade (A — blade) – this blade could also be called a beat­ing or aer­at­ing blade and is used for all recipes that need light and fluffy. The blender with B‑blade han­dles max­i­mum batch­es of up to 1 gallon/5 L Liquid,1.8 quarts/2 L of sauce, 5 eggs whites, or 0.45 quarts/0.5 L of cream.
Beats, aer­ates, blends egg-white and cream;
It makes per­fect meringue;
Ide­al for frappes, etc.;
Whip even low fat (1%) and non-dairy milk like oat or nut milk, but the milk must be very cold just out of the freezer;
The whipped cream recipes may even con­tain fresh lemon juice and stay sol­id with­out curdling;
Motor Unit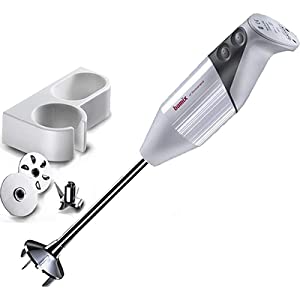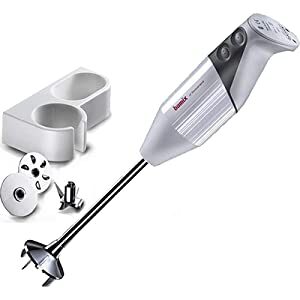 The blender han­dle is made of soft shat­ter­proof nylon, which is sol­id and durable and com­fort­able to hold. It is equipped with only two (2) speed but­tons and is designed to oper­ate with one hand.
How­ev­er, the gad­get's key fea­tures are 200 watts, 120V 60Hz AC motor, and US-plug and have an effec­tive pow­er of about 1HP. Despite hav­ing only 200 watts, it endures a very pow­er­ful torque. So the blender will retain a con­stant even when blend­ing ice or oth­er thick mix­tures. It has all cop­per wiring and all-met­al dri­ve con­nec­tions. It is bal­anced to reduce vibra­tion and ensure qui­et operation.
The motor's high qual­i­ty is not sur­pris­ing as it is assem­bled in sev­er­al stages in the Bamix fac­to­ry locat­ed in Met­tlen, Switzer­land. Due to going through a pre­cise bal­anc­ing pro­ce­dure, the blender does not vibrate dur­ing oper­a­tion and thus does not heat the hand while work­ing at high speed. Final­ly, all Bamix blenders under­go a final 10-minute con­tin­u­ous run qual­i­ty test, and only after the human test decides if it meets the standard.
Besides, the Bamix motor is designed for up to 5 min­utes of con­tin­u­ous use, which is unlike any oth­er immer­sion blender on the mar­ket. At the same time, most immer­sion blenders can run up to 1 min of con­tin­u­ous operation.
Design and Shaft
The Bamix is the orig­i­nal immer­sion blender and thus has a unique design. Unlike any oth­er hand blenders on the mar­ket, which have remov­able shafts and attach­ments (such as whisk shaft, mul­ti­func­tion­al blade shaft, or mash­ing shaft), it also comes with irre­mov­able shaft-body con­struc­tion and is inter­change­able blades. The blades are designed to con­nect to the end of the post and are intend­ed for dif­fer­ent tasks.
The Gas­tro 200 has a nylon body and chrome-plat­ed brass shaft; the body nylon is heat resis­tant and seals the inter­nal parts so its 1.8 inches/4.5cm part can be sub­merged into liq­uid safe­ly. Also, the nylon arear that is designed to immerse is made of food-safe mate­r­i­al that will not leach any harm­ful chem­i­cals into your blending.
Speed Settings
The Gas­tro 200 blender comes with two (2) speed but­tons where the speed (1) runs at 12000 pm and is designed for all light, airy dish­es, and small food batch­es, while speed two (2) runs at 17000 RPM and is intend­ed for all vis­cous, firm ingre­di­ents and large food batch­es. There is no oth­er immer­sion blender on the mar­ket with a high speed of 17000 RPMs, even those that come with a much more pow­er­ful motor of 800 Watts.
Attachments and Accessories
Shaft and blades: The Gas­tro 200 fea­ture an irre­mov­able shaft and a set of inter­change­able blades. The 9.8 inches/25 cm shaft is made from chrome coat­ed brass with 1.8 inches/4.5 cm of the motor base that is safe to sub­merge in the liq­uids, extends the blender's immer­sion sec­tion, and allows the blender to be used in very deep con­tain­ers. No "lead­ed brass" mate­r­i­al is used in blender con­struc­tion; all wiring is made from cop­per, thus no lead leach­ing into the food.
The set of blades includes — Mul­ti-Pur­pose Blade (chops), whisk (blends), and beat­er (aer­ates). All blades are made from 18/10 stain­less steel and blunt by design (s‑blades are slight­ly sharp­ened). Thus, they are very safe to han­dle. In addi­tion, the blades are very high-qual­i­ty work­man­ship and fit pre­cise­ly into the shaft.
Wall hold­er — the wall hold­er is designed to store the blender and blades neat­ly; it could also be screwed to a wall.
Extra Attachments and Accessories
There is a range of option­al acces­sories avail­able to buy for this blender:
Grinder — 1 cup grinder for wet and dry ingredients.
Proces­sor – 1 cup capac­i­ty min­cer and grinder for wet and dry ingredients.
SliceSy – 3 cups mini food proces­sor that han­dles wet and dry food.
Slic­ing blade (S‑blade) – this blade does pre­cise­ly the same job as the mul­ti­pur­pose blade (C‑blade) but is able to cuts, chop, and minces cooked or uncooked meat and fish, and firm veg­eta­bles. It is also per­fect for baby food con­tain­ing meat, fish, or raw veg­eta­bles. It can han­dle a max­i­mum of up to 1.1. lbs/500 g of meat or veg­gies per batch.
Set of 1.7 cups/400ml and 2.5 cups/600ml beakers.
Assembling, Dissembling, Using, and Cleaning
Assembling/disassembling: The Bamix Gas­tro 200 is very easy to assem­ble and dis­as­sem­ble. Since all blades are blunt (with only S‑blade slight­ly sharp­ened), it is safe to han­dle them. Each Gas­tro blade is con­nect­ed to the shaft by sim­ply snatch­ing its hol­low rid side over the dri­ve shaft stub; the hol­low rod has a slight recess while the stub has a tiny pin; when the pin engages into the pit, the con­nec­tion is made secure.
Just pull it from the stub and slight­ly turn to the side to dis­en­gage the pin's recess to remove the blade.
Clean­ing: No Bamix Gas­tro parts are dish­wash­er safe. How­ev­er, it is so easy to clean the user does not even require clean­ing in the dish­wash­er. The user requires to sub­merge the shaft with the blade into the jug with clean water, run the blender for a few sec­onds, then rinse it under the run­ning water and remove the blade. It is also pos­si­ble to wash blades, remov­ing them first. Since the Bamix shaft and body are oil and smell repel­lent, it does not even require soap to clean the blender.
Noise
The Gas­tro 200 blender is very qui­et and releas­es only 50–60dB noise depend­ing on the pro­cess­ing ingredients.
Warranty
The Bamix Gas­tro 200 comes with a Life­time Motor Guar­an­tee and a 1 Year War­ran­ty on Parts and Acces­sories start­ing from the date of pur­chase. How­ev­er, this gad­get is very durable and will eas­i­ly last for over 15–20 years.
Dimensions
The Gas­tro 200 has a mod­er­ate size of 15.5″/39.5cm x 2.5″/65cm x 3.3″/77cm, con­sid­er­ing an immer­sion depth of 10.6″/27cm. With a weight of only 2.2lbs /1 kg, it is the light­est pro­fes­sion­al blender on the market.
Country of Production
The Bamix Gas­tro 200 Blender's all parts are man­u­fac­tured and assem­bled in Met­tlen, Switzer­land. More­over, a human qual­i­ty check is car­ried out for every blender before being released from the factory.
Set Includes
Motor base and shaft;
Mul­ti-Pur­pose Blade (C‑blade);
Whisk (B‑blade);
Beat­er (A‑blade);
Wall hold­er;
User man­u­al;
Recipe Book.
Pros and Cons
Pros:
High torque motor with low wattage safe energy;
All-met­al dri­ve con­nec­tion that ensures excep­tion­al dura­bil­i­ty of the blender;
Cop­per wiring and chrome-plat­ed shaft do not allow any chem­i­cals and lead to leach­ing into the food;
Long wand and 1.8 inch­es of body unit safe for liq­uid sub­merg­ing than make easy oper­at­ing blender and extend the shaft length;
The very small size of attach­ments (only blades) that do not occu­py much stor­age space;
Light­est immer­sion pro­fes­sion­al blender on the market;
Ergonom­ic handle;
The 1.8 inch­es of the motor body is safe to be exposed to the liquids;
Very high speed of operation;
The blender is repairable;
An extend­ed war­ran­ty on the motor;
All mate­r­i­al is envi­ron­men­tal­ly friend­ly and safe to con­tact with the food;
The shaft and blades are smell and oil repel­lent that mak­ing them easy to clean;
100% man­u­fac­tured in Switzerland;
Cons:
Expen­sive;
The post is not removable.
Price
The Bamix Gas­tro 200 blender is a pre­mi­um gad­get with a high price tag.
Summary
The Bamix Gas­tro 200 is a tru­ly ver­sa­tile and unique immer­sion blender. It is not only a rec­og­nized kitchen tool by most pro­fes­sion­al chefs but gen­uine­ly can do its job to the lev­el no oth­er immer­sion blender on the mar­ket can do. In addi­tion, it is very durable, easy to use, clean, and takes lit­tle stor­age space as it does not include any bulky attach­ments but only inter­change­able blades.
Besides, it is ener­gy-sav­ing (200 Watts motor pro­duces up to 17000 RPMs speed) and an envi­ron­men­tal­ly friend­ly gad­get built with 100% food-safe material.
Check out the 8 Best Immer­sion Blenders for all Bud­gets for more alternatives.